There are signs that the US stock market is heating up, and global markets in Asia and Europe are suggesting a surge may be coming and soon too. Now is the time to prepare yourself for this surge and put together that list of stocks you like. Should the breakout happen, it's likely to lead to a sharp and rapid move higher in prices.
Investors seem to be anxiously waiting for the other shoe to drop and for the S&P 500 (SPY) to plunge back to its recent lows. Here's a news flash, it isn't likely to happen.
The Moment of Truth
The moment of truth is likely coming over the next few weeks as earnings season kicks off and forward-looking guidance begins to roll out. The first FOMC meeting of 2019 occurs at the end of January followed by another press conference. If the stock market doesn't retest or fall to new lows after earnings and the FOMC meeting, one has to wonder what will cause a steep pullback?
The Economy is Still Strong
The economy, despite all the negative headlines, is rather strong. For example, the ISM Purchasing Managers Index was at 54.1 for the month of December, which suggests that the manufacturing sector is still growing. Many viewed the decline from November's reading of 59.3 as worrisome, but one must consider that a PMI reading at nearly 60 is an extremely elevated level. Going back to the year 2005, the chart below shows the recent PMI reading had been at historic highs. A reading of 54.1 is a normal and healthy level. It would suggest a slower rate of growth than the second and third quarters, but certainly not a recession.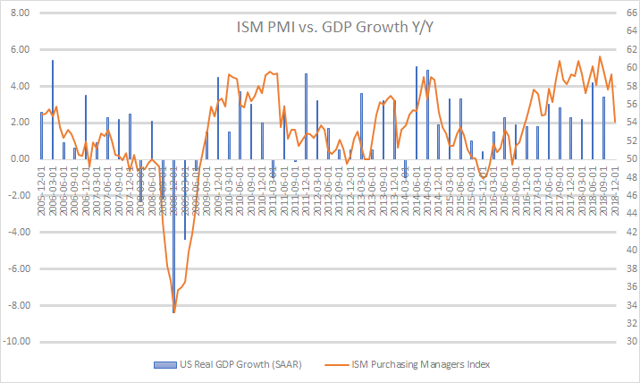 (Mott Capital)
The ISM non-manufacturing index also is very strong and showing expansion with a reading of 57.60. We should not forget that services by far make up the largest portion of the U.S. GDP, the manufacturing sector is just a small piece of the U.S. economy. According to the World Bank manufacturing represents less than 12% of the U.S. GDP as of the end of 2016.
(World Bank)
The latest job report also was very strong. It was so strong that the unemployment rate increased. Yes, it rose because people who have been on the sidelines are now re-entering the workforce. The chart below shows that the total civilian population grew by 180,000 people, while 237,000 people moved from not in the labor force into the labor force, resulting in approximately 417,000 entering the labor force. Of those individuals, 142,000 found new work and 276,000 where now counted as unemployed. It pushed the labor participation rate to 63.1%, its highest since 2014, and the unemployment rate to rise to 3.9%.

(BLS.gov)
If this trend continues, the labor participation rate will continue to rise, and the unemployment rate will continue to increase as people begin to re-enter the work force. The trend does not speak of a weak economy.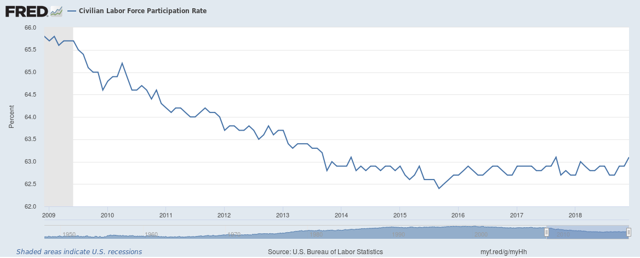 Balance Sheet Worries
Bearish investors have worried about the Fed's shrinking balance sheet of $4.5 trillion which has been steadily shrinking since the fall of 2017. But in some ways, there's no better time than now to reduce the balance sheet while global interest rates are low, making U.S. Treasuries attractive.
Since July 2017 the Fed's total assets have fallen from $4.46 trillion to $4.06 billion, a decline of about $400 billion.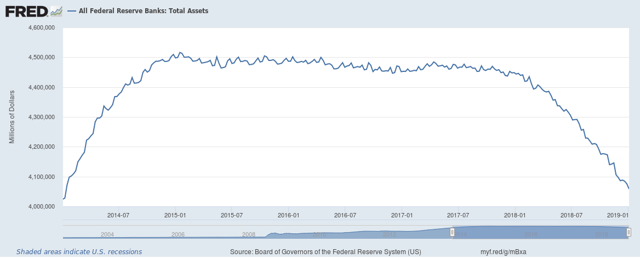 Consider that interest rates on a 10-year Treasury are approximately 2.7%. That is a high yield when compared to German 10-year Bunds which trade at roughly 25 basis points or a Japanese 10-Year Government Bond which trade sat 5 basis points - it makes our bonds attractive to foreign buyers.
When we look more closely at the U.S. Treasury report on significant foreign holders of U.S. Treasuries, we find that since the beginning of 2017, foreign holdings among the 32 largest countries increased by $335 billion through October 2018, which is the most recent data. Given the sharp decline in interest rates since October it would not be surprising if total foreign holdings continued to increase.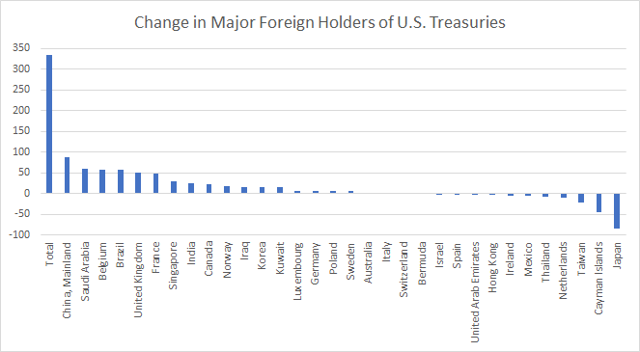 (Chart by Mott Capital/ Data from the U.S. Treasury)
The chart below shows that the holdings of these top 32 countries have steadily increased over time, which would suggest that international buyers have not lost their appetite for U.S. Treasuries.

(Chart by Mott Capital/ Data from the U.S. Treasury)
The notion that the unwinding of QE is having an effect on the overall market may not be the case at all.
Earnings Growth
We also should consider that earnings for stocks are still expected to grow in 2019 and 2020. According to Thomson Reuters Refintiv Research, the consensus estimate for 2019 for the S&P 500 is $173.63 per share and to increase 11% to $192.96 by the year 2020. That leaves the S&P 500 trading at 14.9 times 2019 earnings estimates and just 13.4 times 2020 earnings estimates. If those estimates hold up, it would suggest that the S&P 500 is likely a bargain, trading at the lower end of the PE's historical range.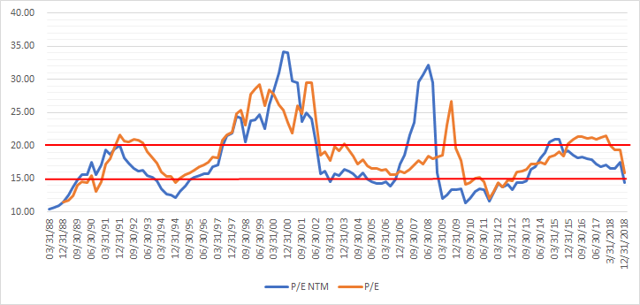 (Mott Capital, Data From Dow Jones S&P Indices)
Technical Break Out
The S&P 500 is approaching a critical level of technical resistance at 2,630 and should it break out it could go on to rise to roughly 2800. Additionally, the relative strength index has been trending higher and is nearing a significant turning point should it break a long-term down trend.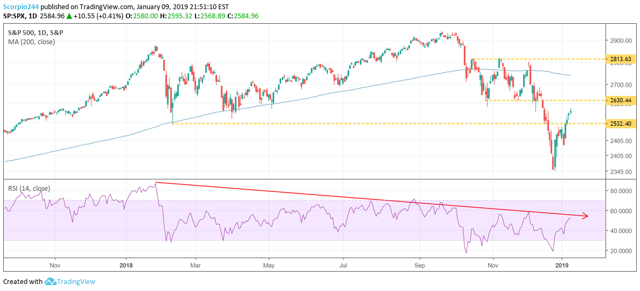 (Tradingview)
The interest rate sensitive PHLX Housing Index (HGX) is nearing a significant break out should it rise above technical resistance at 270. It may result in the index rising to around 297.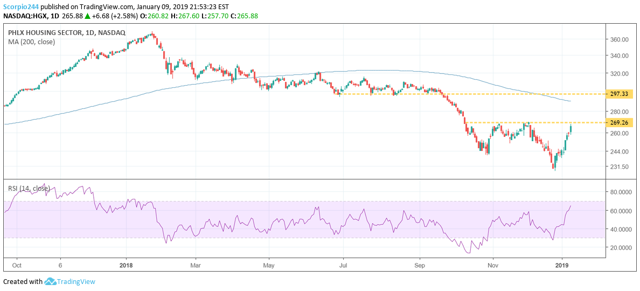 (Tradingview)
Another factor is that global equity markets are showing signs of breaking out based on the technical charts. For example, the Hong Kong Hang Seng index broke above a major level of technical resistance at 26,000 which could trigger a rise to 28,200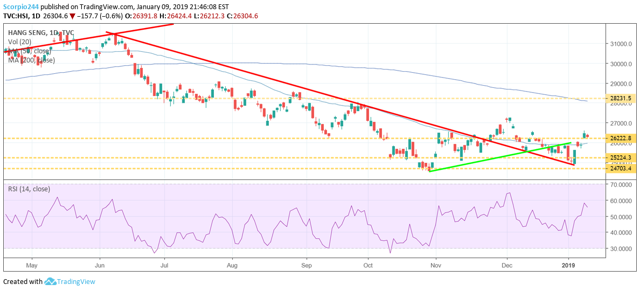 (Tradingview)
Then there's the German Dax index which is nearing technical resistance around 11,000. Should the index rise above that level it could result in the index surging to 11,500. The index also has cleared a major short-term downtrend, another bullish indication.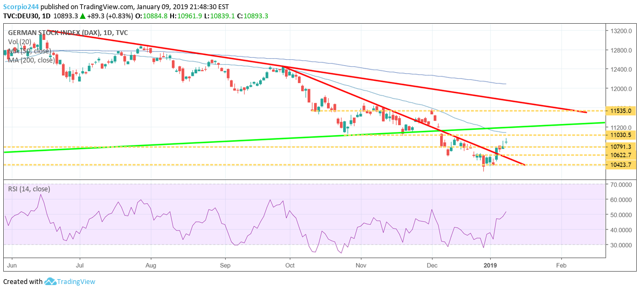 (Tradingview)
Warnings Signs
The most glaring risk to the thesis is that the S&P 500 earnings estimates for 2019 and 2020 are too high and decline. That would cause the earnings multiple of the S&P 500 to rise, making the overall market more expensive.
But more glaring is the budget deficit which some project to increase to more than $1 trillion in 2019. That's likely to result in more U.S. debt coming to the market and that could force Treasury yields higher. The pressure of a Fed unwinding its balance sheet at the same time as big U.S. government issuances may simply be too much for the market to absorb. Should that happen interest rates could rise sharply. That could dampen the outlook for stocks resulting in earnings multiple compression with investors having more options to earn a return on their investments.
Additionally, there are signs of a global slowdown. For example, German industrial production fell 1.9% in December below estimate for a gain of 0.3%.

Additionally, the China Caixin Manufacturing index contracted in December falling to 49.7.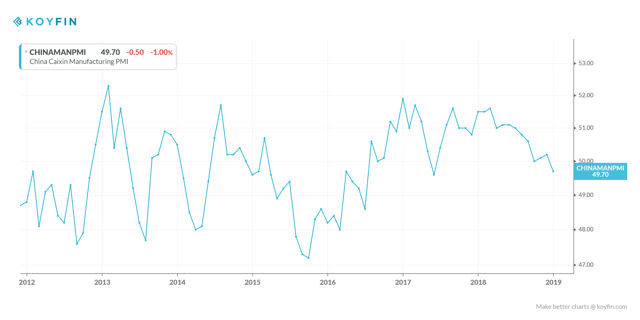 Of course, most notably was Apple's quarterly pre-announcement noting iPhone sale weakness in China due to a slowing economy.
Despite many signs of a strong U.S. economy, there are warnings signs across the globe which suggests a slowdown is at least a possibility at this point. Although it does not suggest a U.S. recession is coming.
One More Thing
The decisive point we have not touched on which could serve as a major catalyst is the potential for a trade deal between the US and China. Should that happen it would likely alleviate many of the manufacturing slowdowns we have seen in Germany, China and the US. A deal in itself could act as a stimulative force for the global economy and stocks.
In all, it would seem the global stock market is on the cusp of a significant rise and perhaps now is the time to prepare or at least put together a shopping list of the all the stocks you have always want to get involved in but missed. If the S&P 500 can manage to rise above 2,630 and the other markets all rise above their levels of resistance it's likely to lead to a significant global stock market surge.
The time to prepare is now. The surge is likely to come sooner than you think, it almost always does.
Disclosure: I/we have no positions in any stocks mentioned, and no plans to initiate any positions within the next 72 hours. I wrote this article myself, and it expresses my own opinions. I am not receiving compensation for it (other than from Seeking Alpha). I have no business relationship with any company whose stock is mentioned in this article.