British American Tobacco (NYSEMKT:BTI) is an almost $75 billion British multinational cigarette and tobacco manufacturing company. BTI's stock dropped by more than 50% in 2018 due to potential FDA regulations. As a result, as we'll see through this article, the company is heavily undervalued at this time and has the potential to generate strong returns for investors.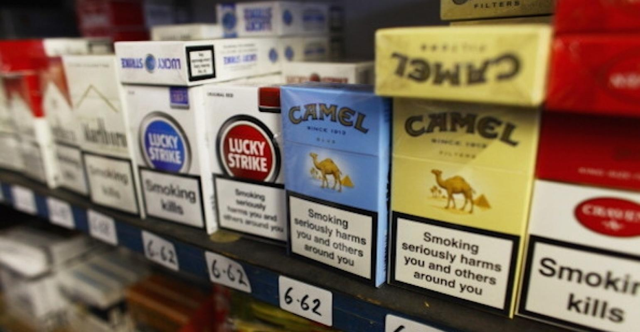 Source: British American Tobacco - Industry Week
British American Tobacco Consistent Strategy
Despite recent difficulties, British American Tobacco has continued to deliver consistently.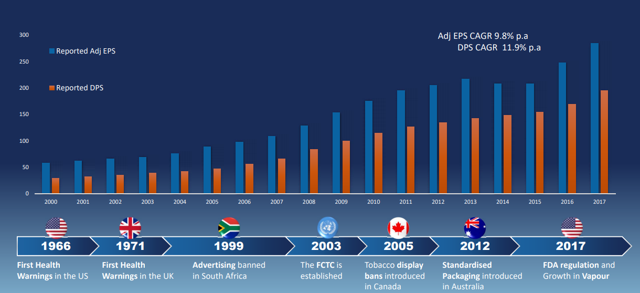 Source: Investor Presentation
Since 2000, BTI has consistently increased its adjusted EPS, while increasing its dividends to shareholders. The company has managed to increase its EPS at almost 10% annually, while increasing its dividends per share by almost 12% annually. This is in the face of numerous regulatory hurdles that started in the late-'90s and have continued since then.
The company currently offers investors a quarterly dividend of $0.674 per share, which amounts to more than 8% annually. This is incredibly impressive, and should be direct evidence to shareholders of how much the stock price has dropped. At the same time, BTI is actually operating in a growing market after all the regulations of the early-2000s.
The nicotine customer pool declined from 366 million people in 2007 to 345 million in 2012. Since then, it has recovered almost back to where it was in 2017 at 362 million people. I actually believe that Juul, Altria's (NYSE:MO) investment, along with e-cigarettes and increased marijuana deregulation will help this trend. All three of these things are making the idea of smoking "cool" again especially among the younger crowd.
All of this shows British American Tobacco's consistent strategy towards future growth. The company has continued to achieve strong performance in an industry going through a difficult time.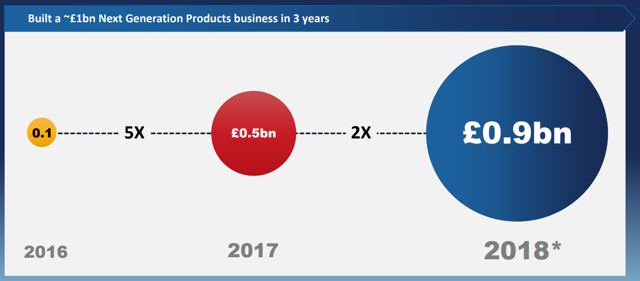 Source: Non-Combustible Growth - Investor Presentation
At the same time, BTI has been building up its non-combustible business. The company has grown the business to a 1 billion pound next-generation products business in a mere three years, and it's likely that growth should continue going forward. Its enormous reduced risk business should continue to grow going forward.
British American Tobacco has continued to focus on its long-term combustible strategy.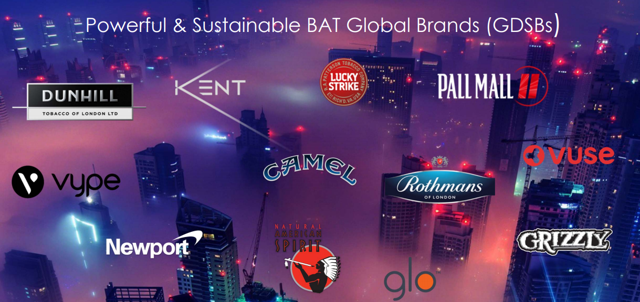 Source: Combustible Growth - Investor Presentation
BTI has continued to outperform the industry and has seen its volumes decline only 1-2% compared to industry volumes of 2-3%. The company has continued to increase prices at well above the inflation rate. This has enabled it to continue to increase revenues despite declining industry volumes.
Today, British American Tobacco has a 50 billion pound portfolio growing at double digits annually. This is spread across a number of brands, meaning the company has minimal risk from any single brand. Does having double-digit growth sound like a company that currently has a P/E ratio in the single digits. This helps to support how undervalued British American Tobacco is.
New Product Segments
On top of its focus on a consistent strategy, and its delivery in those segments, the company has continued to focus on new product segments.

Source: THP Industry - Investor Presentation
The THP (tobacco heating products) industry is spread across both established markets and growing markets. The industry is growing rapidly as smokers try and continue to receive nicotine without the other risks of smoking. For example, to give an example, switching to nicotine gum is thought to remove 90% of the health risks associated with smoking.
That means products that can satisfy a nicotine addiction, without smoking, have enormous room for expansion. It also means that such products might be less heavily regulated by governments.
Another enormous growth industry for British American Tobacco could be marijuana. The marijuana business is anticipated to become an enormous $150 billion business by 2025, and British American Tobacco, along with other major alcohol and tobacco conglomerates, could enter that in a huge way. Like alcohol or tobacco, marijuana companies will likely be considered "sin stocks," meaning higher returns.
Financials
British American Tobacco has strong product lines and is growing; however, the company's current financials (along with its anticipated future financials) are the main reason why I recommend investing.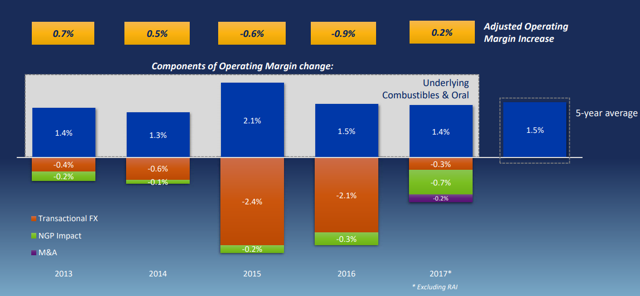 Source: Operating Margins - Investor Presentation
First, the company is focused on improving its margins. It has consistently improved its operating margin; however, it has had to deal with losses from transactional FX issues and next-generation products. Despite these losses, BTI's continued focus on improving its margins should help to support increased earnings going forward.
The company remains focused on 50-100 basis points of average margin growth going forward. That seems to be well within the lines of the previous margin growth and it should continue going forward. This will result in strong adjusted earnings for shareholders.
British American Tobacco anticipates a free cash flow ratio from adjusted earnings of roughly 80%. From this, the company plans to have a dividend ratio at 65%. As a result, this will leave 15% of the company's adjusted net earnings available for debt paydowns. This will leave more than $1 billion annually for the company to pay down its debt each year.
At the same time, BTI received another 1.4 billion pounds in net cash flow in 2018 to reduce debt following an early MSA payment. That will enable it to pay off its worrying debt even faster.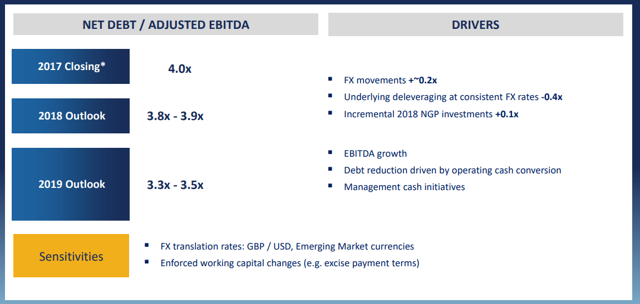 Source: Debt Improvements - Investor Presentation
To give a reference, the above picture shows British American Tobacco's plan to pay off its net debt quickly. The company bought Reynolds American for just under $50 billion in 2017 and closed 2017 at a 4.0x net debt/adjusted EBITDA ratio. The 2018 outlook is a 3.8-3.9x net debt/adjusted EBITDA ratio. Going into 2019, the company anticipates rapidly decreasing its net debt/adjusted EBITDA to 3.3-3.5x.
This shows British American Tobacco's commitment to rapidly decreasing its debt. The company anticipates reducing net debt/adjusted EBITDA by 0.4x per annum excluding the impact of Fx, showing its commitment to improving the financial position. This is especially impressive when this debt paydown will come from money on top of the company's dividends of more than 8%.
Potential Risks
The impressive financials do come with some risks. Cigarette makers recently took a significant stock price hit on the potential risk of a menthol ban. That's because 55% of British American Tobacco's U.S. volume comes from menthol cigarettes. However, even if this ban was implemented today, it's anticipated it wouldn't go into force until late 2020/early 2021.
More so, as someone who has been watching this potential regulation carefully, it seems that it's lost its steam. Based on the FDA's recent comments it seems, at least for now, the FDA is more worried about the potential rise in electronic cigarette use among teens that it is about menthol regulation (which has been shown to lead to potentially higher rates of addiction).
In fact, a recent FDA press release included this:
"These changes will not include mint- and menthol-flavored ENDS. This reflects a careful balancing of public health considerations. Among all ENDS users, data suggests that mint- and menthol-flavored ENDS are more popular with adults than with kids…. Any approach to mint- and menthol-flavored ENDS must acknowledge the possibility that the availability of these flavors in ENDS may be important to adult smokers seeking to transition away from cigarettes. Moreover, I recognize that combustible cigarettes are still sold in menthol flavor, including in convenience stores. I don't want to create a situation where the combustible products have features that make them more attractive than the non-combustible products."
As can be seen, the FDA seems to be more focused on flavorings with e-cigarettes than menthol cigarettes. While menthol regulation is still an enormous risk to British American Tobacco, I believe it has already been priced in.
Another significant aspect of British American Tobacco's risk is the company's debt load. BTI has more than $50 billion in debt, which, while noticeably below its equity ratio, is a significant amount of debt. That means something like a menthol ban that significantly affects the company's profits could affect it having spare capacity to pay off its debt.
Should such a situation happen, British American Tobacco would almost certainly have to cut its dividend to repay its debt. While the company could likely significantly repay its debt in such a situation, it would almost certainly cause a very significant stock price impact, which will impact shareholders negatively.
However, at the same time, paying off its debt gives it a huge potential. British American Tobacco has stated its interest in paying off 0.4x of its debt/adjusted EBITDA ratio or roughly 10% of its debt annually. That $5 billion annually is costing the company several hundred $ million in annual interest. Each year it pays that off is significant additional capital it can return to shareholders.
For reference, if the company pays off its debt in the next decade, that would mean an additional $2+ billion in annual cash flow. That would reward shareholders incredibly well.
For those looking for a worst-case scenario, in the event of a total ban on menthol cigarettes, BTI's profits could drop 25% (its current profits from menthol cigarettes). This is because the company owns Newports, one of the most popular menthol cigarette brands in the United States. I do not believe the drop will be this severe however.
The reason for this is because all these people who were previously smoking menthol cigarettes are still addicted to nicotine. Even if they turn away from menthol cigarettes, they will likely still go to either some sort of e-cigarette or towards a traditional combustible cigarette. Either way, British American Tobacco would manage to get some of these users back.
Above we saw how the company converts 80% of adjusted EPS to cash flow and pays out 65% as dividends. In a worse-case scenario where the FDA starts the ban process immediately, the company will still have two more years of debt payoffs. This would result in $500+ million in annual cash flow from less interest payments.
Given the company's current dividend costs it $6.3 billion annually, this could support it significantly.
In fact, British American Tobacco's earnings dropping by 25% would amount to a roughly $2 billion in lost earnings annually. Assuming that happens in two years, the company would have enough earnings left to pay its dividend still but at a 100% payout ratio. More likely, the company would cut its dividend by 50% or so and use that towards paying back debt.
However, in such a scenario, it could quickly pay debt, rewarding shareholders.
Conclusion
British American Tobacco has had an incredibly difficult time recently. The company has seen its stock price drop by more than 50%. This is due to the potential of a menthol cigarette ban from the FDA which would significantly impact the company's earnings. Despite this, the company still has enormous potential going forward, and it remains focused on its objectives.
In the event of a menthol cigarette ban, earnings would drop 25%, and I would expect the company to cut its dividend by 50%. Despite this, it would be a temporary measure, as the company could rapidly pay down its debt. Such a measure also assumes that it would lose all of its menthol sales but not gain any back and that the ban comes into effect immediately.
For these reasons, despite the risk, I anticipate British American Tobacco's stock is a classic situation with more reward than risk.
Disclosure: I am/we are long BTI. I wrote this article myself, and it expresses my own opinions. I am not receiving compensation for it (other than from Seeking Alpha). I have no business relationship with any company whose stock is mentioned in this article.