At the end of every month I publish a Cash Flow Kingdom 'CFK' Synopsis article which reviews the month, current Best Opportunities (includes both growth and income), updates the CFK Income Portfolio and takes care of some housekeeping chores (upcoming calendar, YTD realized gains and losses disclosure, etc.). Normally this Synopsis article is not released to the public. However, with CFK members' acquiescence, a suitable delay, and a few edits, I thought I'd do this one time. If it's well received, I may provide it to Seeking Alpha readers for free once per year.
CFK Year End Review:
Q4 was a lousy quarter for the market. Between September 24th and December 24th the S&P 500 dropped 20% while the Russell 2000 dropped 26%. While this was official bear market territory, I suggested investors not worry about it too much publishing, "Fear in the Streets: Ignore it, Go Play with the Kids", on the 24th.
For various reasons-- a few days off, a chance to calm down and gain perspective over the holidays, Chairman Powell doing an about face on interest rate increases, good early indicators coming in for Christmas sales, a strong jobs reports, etc.-- we've seen a pretty nice recovery since then. From the December 24th through yesterday (1/4/2019) the Russell 2000 has rebounded almost 8% and the S&P 500 6.4%. We are off to a very strong start for 2019. With some additional trade deal help from Chairman Xi and President Trump, I think we can see this continue.
For Calendar 2018 the CFK Income portfolio lost 9.7% vs. a 13% loss for its primary benchmark, the Russell 2000.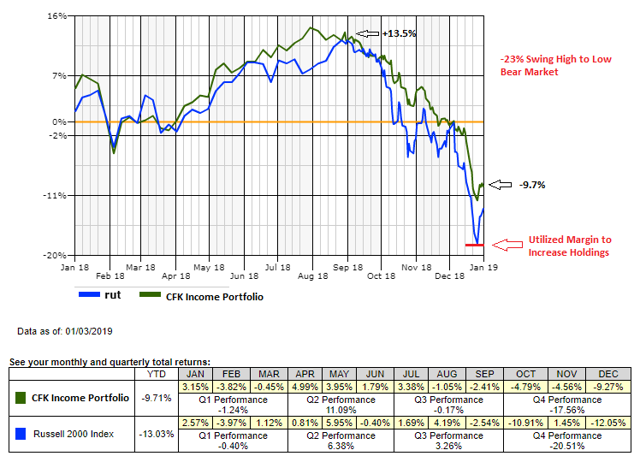 Source: Etrade
While beating the primary benchmark is always nice, no one likes to see negative numbers in the year to date column.
Since inception (1/1/2016) the CFK Income portfolio has enjoyed a 33.5% return (vs. 17.6% for the Russell 2000). Most of that comes in the form of income.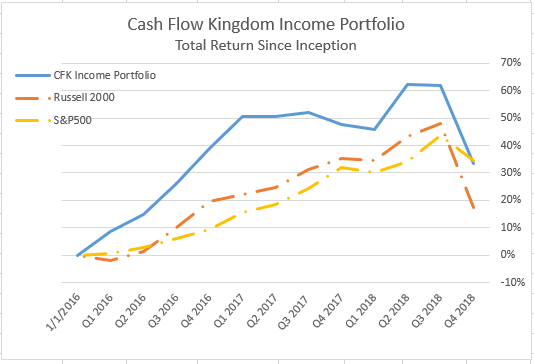 Source: Etrade
Over long periods of time studies indicate dividend producing equities, particularly dividend growing equities with solid coverage, outperform non-dividend stocks.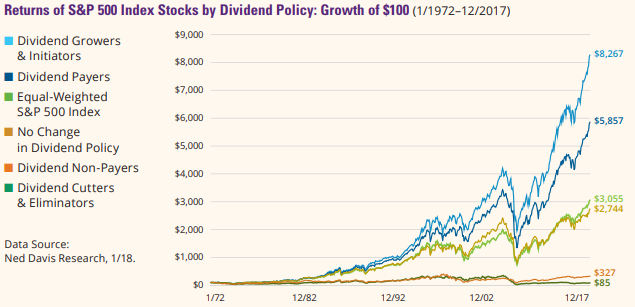 Source: Study commissioned by Hartford funds
However, I find the psychological effect of the yield being produced by these stocks just as important. The CFK Income portfolio currently enjoys an 11.1% forward dividend yield, with historically most of its returns come from that yield.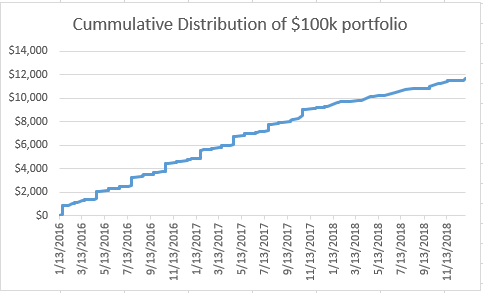 Source: Etrade
For me, the way my mind works, the relatively steady income stream, plus the increased dividend yield, combines to exert a calming influence which helps me to act rationally during times of stress. It might do the same for you.
Significant yield generation helps me to realize were I to sell in a panic, I'd be giving up that income stream. Indeed to the extent I have cash from dividends available to reinvest, I frequently see times like these as opportunities to "capture a raise" or even "increase risk in order to take advantage of a relatively rare opportunity to significantly increase my income stream". One of the very positive aspects of dividend focused portfolios therefore is not just a higher long-term return expectation, but also the increased psychological ability to do the right thing, buying stocks when they are "on sale".
Worst Performers:
The biggest losers in December were Navios Maritime Partners (NMM, -19%) and Archrock (AROC, -14%). I continue to hold both feeling they are cheap because, while the stock prices have declined, the cash flows have not.
That being said, I am in no way unaware that NMM has thus far been a mistake. I also wonder if, while this company is cheap, the money might be better redeployed in other cheap names with better thought of management. Star Bulk Carriers (SBLK) for instance is also a cheap dry bulk name trading at .66 times estimated NAV with management which shows better alignment and capital allocation skills than NMM. They for instance recently instituted a buyback program which NMM is yet to do (hopefully that will change). Were SBLK (.66x P/NAV) trading at a discount similar to NMM (.31x P/NAV), the decision between the two would be a lot easier.
As outlined in, "Booming Natural Gas Volumes: Compression Companies Profit", and "Archrock Q3 2018 Earnings Review", I see AROC as a very attractive equity at these prices. It is important to note that Archrock, which offers a 6.5% dividend yield on current price (53¢ annually), could actually pay out more than 16.5% ($1.40 per year) and still have that dividend decently covered (more than 1.1x). Archrock just chooses not to. Instead they only distribute about 1/3rd what they could and use the excess to buy more compressors. ArchRock enjoys lots of demand; sources have indicated orders to be backlogged up to a full year on the higher horsepower units. Thus ArchRock not only generated 39¢ in DCF last quarter which represents an 18.6% annualized DCF yield on Friday's closing price; that DCF is highly likely to grow.
Why has Mr. Market sold off Archrock so deeply?
Well, in my opinion Mr. Market is both irrational, buying and selling whole swaths of stock via ETF's and Index Funds regardless of individual company performance, and bipolar, sometimes loving stocks then later hating them when the underlying performance hasn't actually changed much in between.
Best Performers:
Best income portfolio performers over the last month were Blue Capital Reinsurance (BCRH, +2%) and International Seaways 8.5% baby bonds (INSW.PA, -1%).
Blue Capital Reinsurance being up in December is probably just bounceback from a heavily oversold condition. It was one of the worst performers both last quarter and over the last year, and started out the month of December with an Relative Strength Indicator 'RSI' below 30. Blue Capital has probably been my worst mistake since starting this service; one reason why I reached out to The CrickAnt to start covering the insurance sector for us. Frankly he couldn't do any worse than I have.
That INSW.pA was the second best performer for the month, yet was down 1%, shows just how lousy and oversold this market has become. With a yield to maturity 'YTM' of 10.6%, INSW.pA is currently a good, low risk investment; yet I'm actually considering selling it and buying something like the Etracs 2x leveraged small cap, high dividend ETF (SMHD) in order to up the risk in the portfolio.
Looking Forward:
I can see a few tailwinds, or at least reduced headwinds, going into 2019.
The US economy continues to do well:

US Consumer sentiment has remained at very favorable levels during 2018, with the November reading near the center of the eleven month range from 95.7 to 101.4.
The US consumer is still buying. Overall Christmas retail sales are predicted to exceed $1 Trillion dollars with online retail up a whopping 16.6% and brick and mortar up a still respectable 4.4%.
The December jobs report came in strong with 312,000 jobs added, and a low 3.9% unemployment rate.

Tax loss selling is over
The Powell Put is In. Chairman of the Federal Reserve, Jerome Powell, gave a prepared statement yesterday which in my opinion signalled not only a pause in interest rate hikes, but also if necessary a halt to their balance sheet runoff.
Additionally, negotiations on the US-China Tariff War progress with the US clearly sitting in a relatively strong negotiating position. Put simply, Chinese exports to the US represent a much bigger percentage of their economy than do US exports to China. Thus, China is being much more hurt by the MAD (Mutually Assured Destruction) trade war than the US is.
Additionally, on the timing front I think it key to realize real negotiations could only progress after the US midterm elections. Before then Chairman Xi had amply reason to believe President Trump would cave to political expediency. Previous US Presidents, both Democrat and Republican, had done so rather than lose Congressional seats for their party. Now that China is very aware President Trump is willing to be unpopular in order to do what he feels right, both sides know better where they stand. They can now sit down to serious negotiations. This is a good thing, a beginning of the end and a necessary step for a deal to occur.
For these reasons stated above-- the US economy doing well, tax loss selling ending, the Powell Put, and increased probability of a satisfactory trade deal occuring-- the stock market could see a pretty strong January effect / rebound this year. Look for some of the most beaten down stocks (e.g. small cap, energy, materials, shipping) to display some of the greatest upside, particularly if a US - China trade deal is announced.
Best Opportunities:
Data Powered by Intrinio. Yellow is just a reminder to me that I have to update this price and dividend by hand. The Best Opportunity list is updated each week in the CFK box.com shared file. Members can email for full access to these files. These are not "recommendations," investors need to pursue their own further due diligence.
Changes and Other Notable Items:
AROC and RCI Hospitality (RICK) remain at the top of the Best Opportunity list as my highest conviction buys.

AROC is now trading at a 18.6% DCF yield. A DCF which is almost certain to grow next year thanks to significant compressor backlog and demand.
RICK management has indicated they will continue to buy back shares as long as the shares remain below $27. As can be seen in, "RCI Hospitality Sept 2018 Quarterly Earnings Preview" I expect them to produce an EPS of $2.75, and an EBITDA per share of $5.76 in calendar 2019, plus plenty of cash to be put towards buybacks. Though this stock fell below $20 in Q4, I continue to see no reason to change its $36.50 target.

I added significantly to DLNG.pB, GLNG, and RICK even going on margin and sort of breaking my 10% allocation rule to do it (allocations should be about half those shown above once my Canopy Growth (CGC) shares transfer into the account).
I raised Dynagas LNG Series B Preferred (DLNG.PB) and Teekay LNG Series B Preferred (TGP.PB) higher on the list and removed any other bond or preferred stocks in order to add emphasis to them. For those seeking low risk distributions, I can't see any better picks out their than Dynagas LNG Preferred B and Teekay LNG Preferred B. (See linked articles for more information.)
Otherwise, the names on the Best Opportunity list are similar to last month, mostly they have just become better opportunities as stock prices fell but the underlying cash flows these companies are generating have not.
Calendar: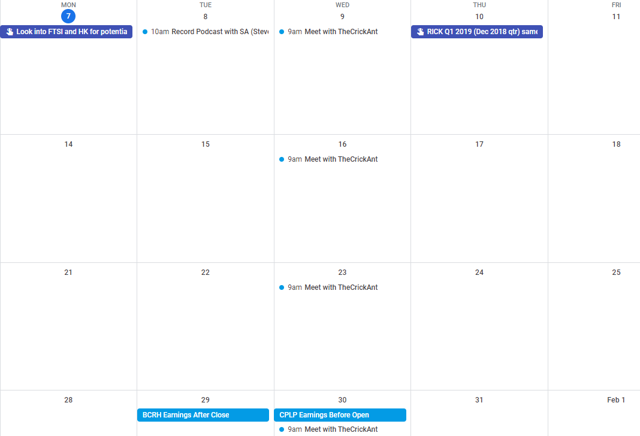 I'm recording a general podcast about Cash Flow Kingdom with Seeking Alpha on Tuesday which should be available in the next couple weeks. I'm sure they will want some stock picks. I'm likely to provide information about natural gas volume growth and the companies I expect will benefit from it. Here's the public version of the latest natural gas opportunity article: "My Top Idea For 2019"
Going forward TheCrickAnt will be covering the insurance sector for Cash Flow Kingdom. TheCrickAnt is an actuary who has published extensively about insurance investments on Seeking Alpha. I have a weekly meeting scheduled with him as he comes up to speed and gets more familiar with Cash Flow Kingdom. Please join me in welcoming him, and feel free to ask him any insurance related questions you would like.
RICK is holding a conference call after same store sales are announced this Thursday. This is out of the norm; however, I don't read all that much into it. They have stated it's primarily because the New Years Eve earnings call was announced last minute and expected to be poorly attended. We will see if there's more to it than that. I for one will be very interested to hear whether they have done any buyback purchasing in the 4 days between the earnings blackout period ending and that call.
Otherwise, the calendar is pretty empty. As you can see in the appropriate Best Opportunities and Income Portfolio columns, earnings season doesn't get into full gear again until February.
If you create an Google Calendar and link it to the CFK calendar, you can have CFK calendar entries, including earnings releases and ex-dividend dates, automatically update in your personal investment calendar. Members can simply email me and request access. You'll also get little upfile hints I leave myself like, "look into XYZ, the spin-off sellers should be done selling by now" or "end of year tax loss selling should start soon, look into potentially front running by selling some of your stock which have been losers year to date". Note the "Check BCC signals" reminder is a set of mathematical general market timing signals which I check when they come out every Tuesday.
The Income Portfolio: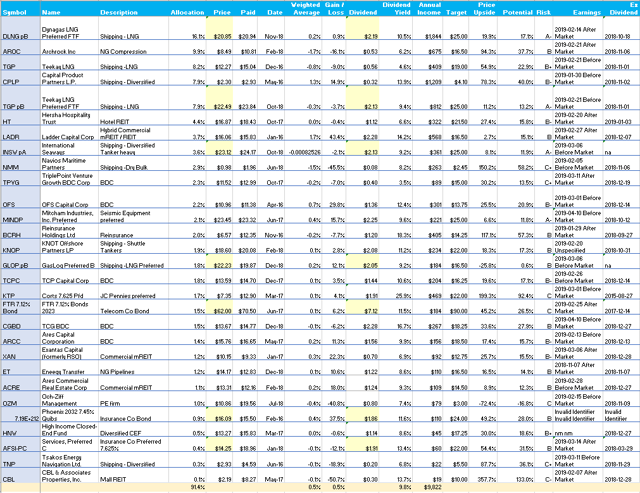 Data Powered by Intrinio. The income list is ordered according to my personal allocation as a sense of my personal conviction on each name. Please also pay attention to the risk rating before making any purchases. If you are new to Cash Flow Kingdom, I do not recommend starting with anything at less than a B- risk rating.
Changes and other Notable Items:
As price fell I added significantly to DLNG.pB, even going on margin and sort of breaking allocation rules to do it. Dynagas LNG Partners (DLNG) is at risk of a dividend cut, their preferred (DLNG.PB) isn't. It's important to remember if DLNG does cut its common dividend, it will be to free up cash in order to fund excellent growth prospects.
Added an initial position in Gaslog Partners preferred B (GLOP.PB).
Added an initial position in Energy Transfer (ET).
Sold Invesco High Income (IHTA), Investors Real Estate Trust (IRET), KKR & Co (KKR), Sanchez Midstream Partners (SNMP), Radisys Corporation (RSYS) plus partial sales in Mitcham Preferred (MINDP), Pioneer Diversified High Income (HNW), and Exantas (XAN) to help fund purchases. I continue to think MINDP, HNW, and XAN good investments which I would add to at current prices, I just thought the other purchases and adds: DLNG.pB, RICK, GLNG, GLOP.pB, and ET better uses of the capital.
IRET is also undergoing a reverse split which I wanted to avoid. I probably would have sold it even if I didn't want to redeploy the cash elsewhere.
RSYS was a merger which completed thereby paying out cash.
Purpose of the Income Portfolio:
Many members, probably due to the name, came to Cash Flow Kingdom 'CFK' seeking to capture longer term income streams. The cash flow in Cash Flow Kingdom however was meant to refer to paying particular attention to corporate cash flows, refi's, and improvements in access to capital not just liking dividend investments. This means a CFK stock doesn't have to pay a significant dividend though most do.
Well over half my portfolio ends up being yield oriented investments. I have thus created a separate income portfolio seeking to highlight these investments for those investors most focused on them. The hope is this will encourage members to look at these investments as a whole portfolio. It's designed for those seeking to provide a reliable income stream rather than focusing on trading. The idea with income portfolio therefore is not necessarily to wait for an optimal time to invest, which may never come, but rather to capture good individual income streams at decent prices. In this way we hope to create a portfolio which produces a decent overall total return with good income generation and stability. We also tend to trade around these positions rather than outright sell them when they achieve what we consider a "fair market value".
With the income portfolio it is suggested investors consider gradually stepping into their investments. The income investor is typically looking to accumulate a portfolio which is going to pay them for years and decades, not days or months. Thus, there is no need to be in a hurry or to overinvest in one name. If your normal allocation to any one individual security is 3%, maybe you buy 1% at first, adding a second 1% when the stock drops for some temporary reason, then coming to the full 3% allocation only later when positive events occur which are not fully priced into the stock. Maybe like myself you even trade a bit around these core positions.
Some situations which can make good times to initiate or add to an income portfolio position include:
Following drops due to new share issuance on a company you are otherwise happy to own.
Following drops due to a dividend cut IF the cut was more due to management wanting to use the cash elsewhere rather than an actual decline in incoming cash flows (provided you agree with the alternate use of cash flow).
Relative Strength 'RSI' on a stock you want to own or add to dropping below 30 (oversold condition)
Anything weighing on the stock which you believe temporary in nature.
I also highly recommend members adopt an individual equity allocation buy limit (mine is 10% but I'm an aggressive investor), and a separate and higher forced trimming limit (mine is 15%). Please see the article, "Trading and Allocation Strategy" for additional information. I also think it essential that investors write down your their buy limit and trading rules, storing them somewhere where they can easily refer to them. Doing so helps to solidify these rules in your mind and make you less likely to cheat. Some might even consider framing them and putting them on the wall next to their computer.
Final note regarding risk. Please do not start investing by investing in stocks which I have assigned a risk rating of C+ or worse. I am more risk tolerant that the average investor, these are risky stocks. They may be suitable for a small position down the road, but are not a good place to start. Also note positions near or under 0.5% allocation, are typically token positions and should probably be ignored. I provide them in order to be thorough and give full disclosure but all they really tell you is I am paying attention to this stock for possible future investment and/or trying to generally mask my overall real holding focus in public SA articles, etc.
Housekeeping: Trade Disclosures, Gains and Losses
Buys and Sells:
You will find all buys and sells same day in both the comment section below each months Synopsis article as well as in chat. The best way to receive notification of these trades is to click the follow box at the bottom of each Synopsis article.

2018 Realized Gains and Losses:
2018 Realized Gains and Losses (includes dividends)
Symbol
Paid
Date Purchased
Received
Date Sold
Gain / Loss
XAN
8.3764
1/18/2017
10.75
12/20/2018
28.3%
IRET
5.7372
1/8/2018
5.3034
12/20/2018
-7.6%
KKR
$20.28
3/29/2018
$21.46
12/10/2018
5.8%
IHTA
$9.31
8/14/2018
$9.53
12/7/2018
2.3%
MNDO
$2.11
8/2/2018
$2.23
12/6/2018
5.7%
MINDP
$23.12
6/12/2017
$26.00
12/6/2018
12.4%
SNMP
$4.86
11/12/2018
$2.13
12/6/2018
-56.1%
RSYS
$1.50
7/30/2018
$1.71
12/4/2018
14.0%
Sold KNOP $22.50 Calls
-$0.55
9/10/2018
-$0.05
11/26/2018
90.9%
MINDP
$3.84
5.31/2018
$3.55
11/21/2018
-7.6%
KKR
$21.01
4/17/2018
$21.36
11/20/2018
1.6%
HNW
$15.95
3/22/2017
$15.63
11/20/2018
-2.0%
ARCC
$16.59
5/5/2017
$17.58
11/20/2018
6.0%
DLNG
$8.34
6/21/2018
$7.57
11/16/2018
-9.3%
OFS
$10.62
5/4/2018
$12.00
11/14/2018
13.0%
CBL 5.95% bonds
$82.90
6/11/2018
$86.04
11/14/2018
3.8%
FRO $6 Nov Puts
$1.30
8/22/2018
$0.25
11/14/2018
-80.8%
LPG
$7.68
9/19/2018
$7.40
11/12/2018
-3.6%
LADR
$12.16
1/22/2016
$19.73
10/19/2018
62.3%
HK
$3.95
6/19/2018
$3.94
10/19/2018
-0.3%
LPG
$7.46
8/16/2018
$7.63
10/8/2018
2.3%
SAFE
$0.20
9/27/2018
$0.23
10/5/2018
16.5%
OZM
$2.02
7/11/2018
$1.41
10/2/2018
-30.1%
CPLP
$3.37
7/16/2016
$3.42
10/2/2018
1.5%
TSLX
$17.76
6/25/2018
$20.78
9/18/2018
17.0%
FTR
$12.79
2/27/2018
$13.87
9/17/2018
8.4%
BKEP
$3.04
7/20/2018
$2.49
9/17/2018
-18.0%
AMR
$7.19
6/19/2018
$4.59
9/17/2018
-36.2%
MINDP
$23.33
3/13/2017
$27.01
9/4/2018
15.8%
USAC short call spread
$3.61
8/6/2018
$3.61
8/29/2018
0.0%
FRO $6 Nov Puts
$0.95
8/22/2018
$0.89
8/23/2018
-6.8%
TGE
$18.87
3/15/2018
$27.01
8/21/2018
43.1%
MLPG
$25.08
1/3/2018
$26.20
8/16/2018
4.5%
BCRH
$11.70
2/6/2018
$10.68
8/14/2018
-8.7%
FSIC
$7.63
12/11/2017
$8.16
8/10/2018
6.9%
CPLP
$3.01
5/26/2016
$3.34
8/8/2018
11.0%
FTR Nov $5 Calls
$0.65
7/25/2018
$0.95
8/3/2018
46.2%
TSLX
$17.85
6/21/2018
$20.22
8/2/2018
13.3%
FTR 7.125% bonds
$65.90
3/13/2018
$73.84
7/25/2018
12.1%
SSW Nov '18 $10 Puts
$0.90
7/9/2018
$1.50
7/18/2018
67.6%
UAN
$4.00
1/8/2018
$3.83
7/16/2018
-4.1%
EGC
$6.30
4/23/2018
$8.97
7/11/2018
42.3%
KKR
$20.97
4/17/2018
$27.33
7/3/2018
30.3%
EGC
$6.17
4/18/2018
$8.97
6/28/2018
45.4%
FTR 10.5% bond
$84.10
2/2/2018
$95.43
6/25/2018
13.5%
AROC
$9.18
2/22/2018
$12.28
6/22/2018
33.7%
EGC
$4.80
3/16/2018
$8.99
6/19/2018
87.3%
RICK
$28.06
2/7/2018
$30.45
6/15/2018
8.5%
FRO Puts
$0.94
3/7/2018
$0.34
6/15/2018
-63.5%
RICK
$25.45
10/10/2017
$31.44
6/14/2018
23.5%
MLPG
$23.82
12/4/2017
$23.96
6/13/2018
0.6%
TK
$5.52
6/20/2017
$7.74
5/24/2018
40.1%
RICK May 18 $30 put
-$2.25
4/9/2018
$0.00
5/18/2018
100.0%
EFF
$18.07
6/17/2014
$21.18
5/4/2018
17.2%
ARCC
$14.13
6/14/2016
$18.93
5/4/2018
33.9%
TCPC
$13.77
3/20/2018
$14.41
5/4/2018
4.7%
MLPG
$22.00
3/15/2018
$21.52
5/3/2018
-2.2%
MRCC
$12.44
3/20/2018
$12.61
5/3/2018
1.4%
XES
$16.17
8/16/2017
$17.32
4/25/2018
7.1%
PEO
$18.40
3/6/2018
$19.58
4/23/2018
6.4%
SDYL
$44.25
12/20/2013
$94.87
4/18/2018
114.4%
CALF
$25.64
10/2/2017
$27.56
4/17/2018
7.5%
TGP
$13.69
9/2/2016
$19.22
4/17/2018
40.4%
BRYFF
$0.25
11/30/2016
$0.50
3/20/2018
102.4%
RICK
$11.45
11/3/2016
$29.48
3/15/2018
157.4%
EDPFY
$29.94
4/3/2013
$48.72
3/15/2018
62.7%
TGP
$14.64
9/27/2016
$19.96
3/15/2018
36.3%
BRYFF
$0.20
10/4/2016
$0.50
3/6/2018
149.0%
GNK
$11.93
10/30/2017
$14.83
3/5/2018
24.4%
SBLK
$10.09
10/13/2017
$12.60
3/5/2018
24.9%
GNRT
$4.65
10/30/2017
$5.95
3/5/2018
28.0%
FTR short
$7.00
2/27/2018
$7.84
2/28/2018
12.1%
APLP
$13.07
12/9/2016
$14.11
2/22/2018
7.9%
SALT
$7.08
10/13/2017
$8.21
2/21/2018
15.9%
BRYFF
$0.40
7/15/2017
$0.50
2/7/2018
26.2%
OZM
$2.34
3/17/2017
$2.46
2/6/2018
5.4%
TGP
$13.80
9/6/2016
$20.83
1/24/2018
50.9%
TK
$5.52
6/20/2017
$9.36
1/24/2018
69.6%
UAN
$3.64
9/20/2017
$3.79
1/23/2018
4.1%
WAC
$1.61
3/20/2017
$0.79
1/23/2018
-50.7%
IMH
$12.42
9/14/2017
$10.18
1/19/2018
-18.0%
SBLK
$10.72
10/30/2017
$12.21
1/8/2018
14.0%
SSW
$7.23
10/13/2017
$7.24
1/8/2018
0.1%
* In the case of multiple buys or sells: weighted average price paid = Paid, weighted average price sold + dividends received = Recieved, and first available transaction date for the buy and sell is used
Addendum: Short Description of Various Positions in Alphabetical Order
The idea here is you see something that interests you in Best Opportunities or the CFK Income portfolio. Read the short description here, and then if it still interests you read the latest article in CFK, comments and chat. These short descriptions are purposely somewhat generic and can be a bit out of date as they don't get updated very often. However, they should give you a general idea on whether you wish to look further.
Archrock (AROC, APLP), leases gas compression engines. Thus it benefits from increased gas production volumes, and the gas "relief valve" effect resulting from recently completed North American gas export infrastructure. More can be found about it in, " Got Gas? - Archrock Partners Has A 15% FCF Yield And May Be About To Increase Its Distribution" as well as, " Got Gas? – ArchRock Partners Q2 2017 Earnings Review". ArchRock tends to trade along with energy prices, but it is really more directly the volume of gas flowing down the pipes that matters for it. Sometimes this creates dichotomies one can take advantage of. So, regardless of where short-term energy prices are currently, realize newly opened pipelines to Mexico, and LNG distribution ports are very likely to continue increasing volumes by providing a relief valve effect for formerly stranded gas production.
Ares Commercial Real Estate Corporation (ACRE) though smaller than many, is a commercial mREIT with solid backing. Unlike most of the REIT space, Commercial mREITs lend at variable rates. Thus, they tend to benefit from interest rate hikes (management estimates earnings climb 12.4% for every 100 basis point increase in rates). ACRE has been able to lower finance costs and grow the portfolio which should increase spread and help it cover the distribution. It has decent portfolio risk, alignment, and fee's, but there's nothing particularly special about it vs other commercial mREITs. Buy it when it just happens to be one of the better risk vs. reward commercial mREITs at the time.
Ares Capital Corporation (ARCC) is a large, solid BDC. The stock price fell following a weak quarter where it did not cover the distribution with NII; this provided the opportunity for SFV to take its initial a position. The weakness was essentially just growing pains from its ACAS purchase. ARCC readjusted the former ACAS portfolio from lower yield and non-income producing assets, into more typical ARCC assets. ARCC has also been doing a good job of lowering its borrowing rates: refinancing it's 5.875% Senior Notes and receiving a credit outlook change from negative to positive at Moody's. Between the two, I expect ARCCs spread to improve over time relative to other BDCs (e.g. excluding overall market spread compression changes). Management has previously agreed to waive up to $10 million per quarter for 10 quarters as necessary to support NII and the dividend. They also offer a reasonable fee structure-- 1.5% of AUM (1% on assets over 1x leverage) plus 20% of profits with a 7% hurdle. Thus, I consider management reasonably shareholder friendly and well aligned. This BDC would also benefit were interest rates to continue to increase. I wrote a little about ARCC in the blog post, " A Comparison Of 6 Top Tier BDCs: OFS, ARCC, HTGC, TCPC, GBDC, GSBD".
Blue Capital Re-Insurance Holdings ( BCRH) is a disaster re-insurance company. In theory at a discount to book value it trades at a reasonable price, offers a decent regular dividend, and potentially an additional special dividend in years when there are not a lot of catastrophe related losses (hurricanes, etc.). The last two years however, there has been a lot of catastrophic losses and book price has suffered. I target .9 - 1x book. BCRH is mostly held because it diversifies the portfolio thereby theoretically reducing overall portfolio risk (hurricanes in Florida have little in common with recession or interest rates changes). Since BCRH holds mainly short-term cash and cash equivalent type investments as collateral, it should also benefit from short-term interest rates increases. I wrote about BCRH back in 2015 with, " Why I Am Buying Blue Capital Reinsurance And Selling HCI Group". So far BCRH has been one of my biggest misses; I confess I too now wonder whether disaster insurance rates are adequately compensating hurricane re-insurers given global warming.
Blueknight Energy Partners (BKEP, BKEPP) is a smallcap master limited partnership with assets in asphalt and oil storage, pipelines, and oil trucking. Its parent, $3.7 billion in revenue Ergon, has a lot of these types of assets to drop down, so over time I expect it to grow accretively. Blueknight has had some challenges (oil backwardation, pipeline construction) which caused its distribution and stock price to decline. However I expect some of these challenges to be overcome and synergies to begin to show through. The Cimarron pipeline in particular by bringing oil from Alta Mesa Resources (AMR) wells to BKEP Cushing storage tanks seems almost certain to increase long term demand for those tanks. We don't currently own BKEP, but are considering re-entering a position now that WTI oil futures have gone back into contango.
BriChem ( BRY.TO, OTC:BRYFF) is an obscure, micro-cap, drilling mud provider which benefits directly from North American energy drill counts. The more volume of holes drilled, the more volume of mud needed. At one time it was a large portfolio allocation, because it has gained so much from original purchase, but was subsequently trimmed in the 30¢ - 55¢ prices range.
North American drill counts are a main driver for this company's revenue. Permian and Canadian bottlenecks a significant challenge limiting growth. However, when drilled but not completed wells start getting completed, we should see a rebound as unordered completion mud gets ordered.
Readers can find out more about BriChem in, " Drill Baby, Drill: Earnings Preview And Forecast". This may sound contradictory given the portfolio's previous large allocation, but for new investors a smaller than normal allocation is called for. BriChem is both a microcap and in the highly volatile energy sector. One also needs to use limit orders as this is very thinly traded.
Capital Product Partners (CPLP) is a shipping MLP which issues a normal 1099 instead of a K-1. I covered it most recently with my review of their recent deal with Diamond S shipping, " Capital Product Partners Gets No Respect". In short the deal should produce both a yieldco and a separate product tanker growth play which could unlock hidden value. I expect ongoing turmoil here as the split happens and shareholder base transforms, but the stocks just too cheap to ignore.
CBL & Associates Properties (CBL) is a mall REIT turnaround whose strategy seems to be to transform malls into town-centers. So where most people see the locations CBL owns as malls; management and I see them as prime locations near major transportation routes which will one day be town centers. By town centers I mean an integrated collection of high density: service providers, office space, shopping, apartments, entertainment and restaurants, etc.
Thus, we can expect CBL to sell some locations, while doubling down on conversions of others. They have the cash flow and team to potentially do this, but its a long term bumpy road that may not work so for now I have only a token position. I may become less hesitant to add after the Sears bankruptcy is complete and we start seeing some results from repurposing those locations.
Frontier Communications (FTR, FTRPR). Frontier provides telecom services to residential, business, and wholesale customers in the United States. A significant portion of those services are old, copper wire, voice services in rural areas. Thus, Frontier should be thought of as a cash cow investment in a declining industry. However, MO, the maker of Marlboro cigarettes, is also a cash cow in a declining industry. That did not prevent MO from being one of the highest returning investments in existence over the last 50 years. Cash counts, if management can successfully milk this cow, pay down debt, and just minimize the decline, investors win. So far they have been unsuccessful in doing so which is why this remains a fairly small position relegated to the bonds.If via improved customer service, operations, and new technology, they can actual turn the company around, the common could be a multi-bagger. The operational risk is high, management missteps are a concern, and it is priced accordingly. Readers hate it, "Arf, Arf, this one is worse than Valeant" and "I'd rather take my money to Vegas" being a sample of typical comments made.
However, plowing excess cash back into debt, thereby creating a debt pay-down snowball, could be enough to provide a very strong return. Frontier is one of the more written about equities on SA. I recommend the ongoing work of The Owl and Anchorite.
Impac Mortgage Holdings (IMH) is a mortgage originator which holds sizable amounts of Mortgage Servicing Rights 'MSRs'. MSRs benefit when interest rates rise. While this company's origination arm suffers when the number of people refinancing their home mortgages decline, their MSR divisions benefit. IMH is both obscure and completely controlled by the Pickup family. The Pickups seem to buy more and more every time it dips. A favorable court case ruling (Timm vs. Impac, Maryland 94-7, available in CFK Google folder) caused me to buy the preferred series B (OTCPK:IMPHP). It may eventually cause payment of all series B distributions suspended since Q4 2008, or more likely some sort of settlement in lieu of payout in cash. This case however has been dragging on for a decade.
Investors Real Estate Trust (IRET) is a turnaround investment. It was Mid-Western diversified REIT well on its way to becoming a REIT specializing in Mid-Western apartments. As such it may eventually trade for the higher multiple more common in that sector. In the meantime however they are doing a reverse split which I would like to duck. I'm therefore waiting to potentially take a position a month or so after that is complete.
JC Pennies Preferred (NYSE: KTP). JC Pennies (JCP) is the heavily indebted, troubled retail chain with declining same store sales (-1 to -3% annually). Bankruptcy continues to look likely for JCP in 2023. KTP however is the publicly traded JCP CORTS, an unsecured 2097 bond in a trust wrapper. This isn't the first time we've owned KTP. I purchased it back during the last scare in the $15s and $17s, later selling in the $20s. If possible, I would like to take that kind of round-trip again.
While I don't necessarily think JC Pennies will thrive, I do think it will continue to survive for at least a few more years (until 2023 debt comes due). The company should remain cash flow positive and doesn't have any serious debt coming due until then. Thus Pennies should continue to limp along for the next few years at least paying the interest on KTP. Meanwhile maybe Pennies gets some good news and KTP pops back into the low 20's (at which point I would once again sell). If it doesn't and instead goes bankrupty in 2023, KTP trades low enough that shareholders should get all their money back in interest payments between now and then with any bankruptcy recovery being upside. KTP, though a baby bond, is not a low risk situation.
KNOT Offshore Partners (KNOP) is a shuttle tanker leasing company with long term charters and predictable cash flows. Those cash flows cover the $2.08 tax advantaged distribution well, investors receive a standard 1099, not a K-1. Shuttle tankers are one of the more stable specialized niches in shipping. This helps to ensure adequate returns on investment.
When Mr. Market drops price to an attractive range (below $20) I tend to buy, when Mr. Market raises price into the $22s I tend to sell or issue covered calls. Due to convertible's there is a headwind on price upside starting at about 1.15x book (they yield 8% and convert based on book value). However, conversion would not be the end of the world as it would provide cash to pay off debt or drop down more tankers while also getting rid of a distribution payment above the common. This would effectively make the dividend even more secure. Bottom line, I'm buying for the distribution.
Ladder Corp. ( LADR) is a hybrid real estate investment trusts (REIT) which makes commercial real estate loans (2/3rds), securitizes real estate loans (1/6th), and owns a variety of commercial rental property (1/6th; net lease: walgreens, grocery stores, office buildings, and condo complexes). I consider LADR a buy and hold due to superior capital allocation discipline and good management alignment with shareholder interests (approximately $190 million worth of equity is owned by management). When it is hard to lend, and thus rates are attractive, they lend. When CBMS are in the dumps, they buy them. When they can find attractive deals on buying commercial real estate they do that too. But most importantly, if they can't find anything attractive, they do nothing.
This is rare and admirable discipline in a company (most feel they have to continuously invest and grow their fiefdom) which leads to long term industry leading ROIs. These ROIs however tend to not be reflected in the valuation multiples people pay because LADR usually pays out a little less (approximately 85%) than other REITs (90% - 100%+). " Looking For A Dividend That's Fatter? Try Ladder" and " One Thing You Should Know About Ladder Capital" are two articles by Brad Thomas, a well-respected author who has been covering LADR well for a long time.
Investors who already have positions, but are not at allocation limits, might want to consider adding on dips (e.g. after stock issuance's) or when growth does not yet seem reflected in price. New investors might consider dipping their toes in, getting to know the company, then adding on dips. Again, this is a long-term buy and hold.
Mitcham Industries Preferred (NASDAQ:MINDP) Mitcham manufactures, sells and leases seismic equipment. It isn't my typical preferred play, as it is neither deeply discounted, nor is it a company I expect to survive but not thrive. This is a company with no debt, positive EBITDA, positive operating cash flow, and a tangible book value that is about 9x the value of the preferred. If you are looking for preferred because you want lower risk, this may be a good choice. Again these preferred are actually in first position as there is no debt in front of them.
Navios Maritime Partners (NMM) is a dry bulk shipping firm which also has some container ships on longer term charters. Its parent Navis Maritime (NM) has shown itself willing to try to take advantage of the relationship in the past but backed down on investor protest. Average age of its ships is a relatively old and at one time it was also relatively close to bankruptcy. However with significant refinancing and equity raises it was able to bring itself back from the edge. It was also able to use funds to make some timely purchases of vessels near the bottom of the market. This is not the highest quality bulk shipping carriers but it is the cheapest relative to NAV, and the one with the most to gain should strong bulk shipping rates improve. J Mintzmyer with Value Investors Edge periodically covers NMM.
OFS Capital Corporation ( OFS) is an under-followed, small-cap, but solid BDC which benefits from its relationship with its much larger $12 billion AUM manager, OFS management. It also has a shared services agreement with related $20 billion under management, CIM group. In " OFS Capital: An Attractive BDC", I explain OFS benefits significantly from the sourcing provided by this relationship. It also benefits from increasing interest rates because the vast majority of the loans it makes are floating, while almost all of the money it borrows to make them is fixed. As rates go up, the spread OFS earns between the two widen. OFS is also rather unique in that over 20% of shares are held by management aligning them well with shareholder interests.
Phoenix 2032 QUIBS (71902E208). Somewhat like KTP, this was a special purpose security designed to be debt traded in the equities markets. Phoenix (PFX) was an insurance company that in turn got bought by $17 billion in asset, Nassau Reinsurance. This it is now a more secure note paying 11.9% (at cost) through 2032, an example why small and obscure can be beautiful. I am not sure if you can buy these on the open market anymore. If even available they will be very thinly traded, only limit orders should be utilized, and one should consider it a buy and hold forever type investment.
Pioneer Diversified High Income (HNW) Fund seeks high current income with capital appreciation through investment in preferred stocks, floating rate loans and insurance linked securities. As such it provides diversity for the portfolio. I generally only buy Closed-end funds when they are trading at a greater than normal discount to NAV (z-score of -1 or less). HNW is a buy when it has a one-year z-score of less than -1 and a discount to NAV of 10% or more.
RCI Hospitality (RICK) is an operator of strip clubs (aka nightclubs), and has a new startup sports bar division called Bombshells. This is a buy and hold, growth at a reasonable price opportunity. While cyclical, this sector enjoys high margins and strong cash flows. As the only publicly traded company in the sector, RICK has access to superior borrowing and capital that other more fragmented mom and pop locations just don't have. This is an advantage when those operators look to retire and sell. RICK can buy nightclubs at 3-4x EBITDA while trading at 8x EBITDA or more. If Bombshell operations take off, it could further accelerate RICKs bottom line (current net operating income per location is 2x that of your typical Darden restaurant). However, even without Bombshells, just the roll-up of the strip club industry is very attractive (pardon the pun). What makes RICK a buy and hold however is not excellent margins and cash flow, but management's significant holdings of the stock, strong alignment with shareholders, and good capital allocation discipline. You can find out more about RICK in, " Booming Economy: Sinful Profits ". Make fun of this business all you want, but do yourself a favor and also follow the money.
Exantas (XAN) mREITs is another sector which I usually want to have some allocation to in the CFK Income portfolio. However, with the 2, 10 Treasury spread so low, most mREITs are not attractive. Turnaround RSO which got renamed Exantas is an exception. New management took over and changed strategy. They took large write-downs, putting all non-core assets up for sale (everything except commercial real estate assets), cut the dividend significantly, cleared the decks, and actively focused on what they know best, commercial real estate loans. In other words, a turnaround.
The dividend cut led to attractive pricing on its common (more than a 20% DCF yield at the time), and made its significant discount to par preferred less risky. That preferred was subsequently bought away from me at par for a nice gain. The common has seen first the dividend reinstated to 5¢, then 10¢, then 15¢, then 17.5¢, and I expect will exceed 20¢ once portfolio leverage similar to Balckstone Mortgage (BXMT) is achieved.
TCP Capital (TCPC) is a solid BDC with a good cost of capital which has consistently over earned its dividend, but still periodically falls off in price with the sector. Management compensation at 1.5% base fee, 20% incentive with 8% hurdle and lookback that declines to 1% base fee and 17.5% incentive on leverage amounts over 1x. Thus they are also decently aligned. Like most BDCs, I buy them when they see temporary price declines then sell them when they become more fairly valued.
Teekay LNG Partners (TGP, TGP.PB) is a 1099 issuing LNG shipping MLP that current pays out 56¢ per share in annual distribution (an uninspiring 5.2% as I type this). Its DCF yield however is much higher, growing, and reasonably predictable due to a lot of long term, fixed rate contracts. The primary reasons TGPs common payout is this low is they are funding a bunch of new ship growth, and debt pay-downs. It is not outside the realm of possibility that they actually pay-out 56¢ or more PER QUARTER some day a few years form now. If this ever happens, you can expect me to sell these and plow whatever cash I have into the parent who owns their IDRs, Teekay Corp. (TK). TGP and TGP.pB are two of my top 2019 picks for companies which benefit from natural gas and liquid natural gas transport. You can read more about them and the rest of my picks in this sector in the inventively titled, "My Top Ideas For 2019".
Triple Point Venture Capital (TPVG) is a BDC specializing in the venture capital world. As such it enjoys much higher than normal yields on the loans it makes, while partially controlling risk via good underwriting and relationships with the VC companies which sponsor these startups. In a booming economy, TPVG benefits not just from interest, but also upfront fees paid on what frequently ends up being a short term loan, and also sometimes warrants which become significantly in the money. Goldman Sachs is their largest shareholder, potentially providing some control and co-operation benefits. They have a regular challenge re-growing their portfolio due to early paybacks, but in this case that's not the worst problem to have in the world, and they are used to it. Recent rules changes which allows greater BDC leverage may help TPVG in particular maintain a higher portfolio average balance as the portfolio size will continue to fluctuate with payoffs, but hopefully from a higher average base.
Tsakos Energy Navigation (TNP) is another shipping company whose strategy and cash flows have been underestimated by the market. Like holdings CPLP and TGP, TNP has less near-term cash flow risk than average in the industry due to a fair amount of ships leased out on longer term contracts (roughly 2/3rds). They also offer diversification of ship type (crude, product, LNG), and some staggering of lease periods. However, they have significant debt that I worry a bit about so the position is kept small.
Disclosure: I am/we are long ALL EQUITIES AS MENTIONED IN THE ARTICLE. I wrote this article myself, and it expresses my own opinions. I am not receiving compensation for it. I have no business relationship with any company whose stock is mentioned in this article.
Additional disclosure: The article discusses a risky and thinly traded investments. I do not know your goals, risk tolerance, or particular situation; therefore, I cannot recommend any specific investment to you. Please do your own additional due diligence.
Editor's Note: This article covers one or more microcap stocks. Please be aware of the risks associated with these stocks.