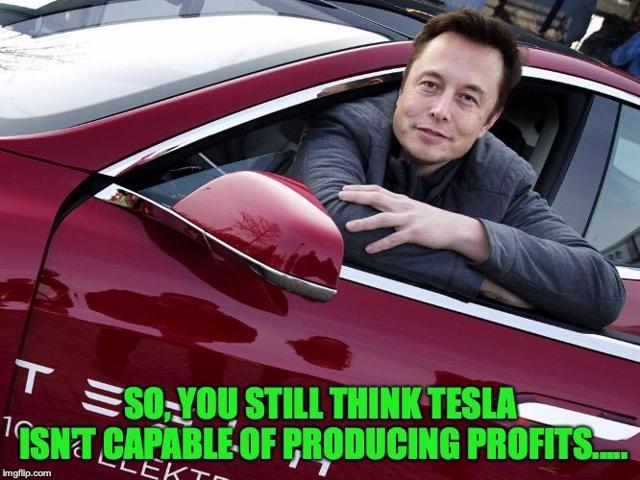 Source: imgflip.com
Tesla (TSLA) had another rollercoaster ride in 2018 as the stock maintained its wide trading range of $250 - $390. The company's shares have been trapped in this 56% trading range over the past year and a half.
Tesla 1.5-Years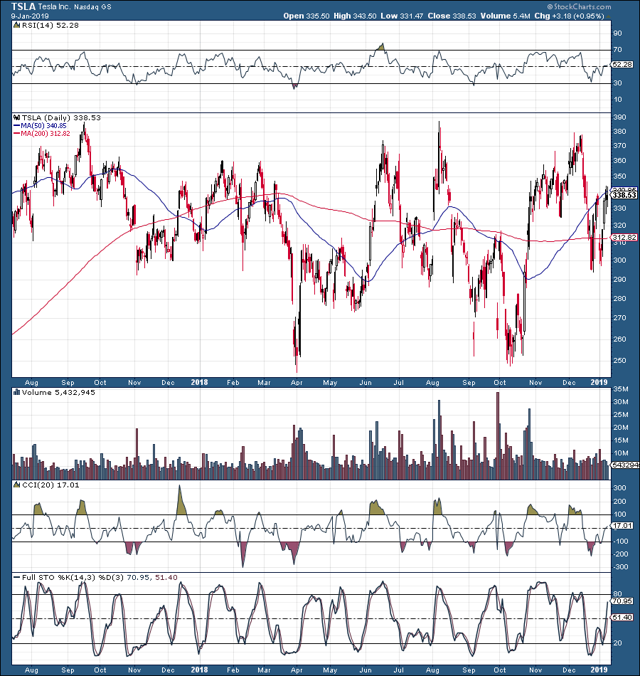 Source: StockCharts.com
Tesla recently released its quarterly production and delivery data, and the report indicates Tesla is likely to report another profitable quarter that will probably exceed Q3's profitability. Analysts also are starting to wake up to the Tesla story, with many revising their earnings estimates sharply over the past 90 days.
Tesla's profitability in Q4 2018 may cement the idea of Tesla's transformation into an economically viable and possibly highly profitable enterprise with significant long-term growth prospects. Furthermore, 2019 estimates could see another wave of upward revisions following the company's Q4 results, and the stock could finally break out of its prolonged trading range.
In this report, I provide detailed Q4 2018 revenue and income estimates. Additionally, I believe Tesla's shares can break out to new all-time highs following Feb. 6 earnings announcement. Ultimately, Tesla's shares could reach $500 or more in 2019 if the company continues to demonstrate it can proceed to grow revenues and become increasingly more profitable going forward.
Delivery Data – Far from Disappointing
There was a lot of chatter on Wall Street following Tesla's Q4 production and delivery report, as the company delivered "only" 90,700 vehicles in the quarter. This was about 1,300 vehicles shy of the 92,000 total deliveries analysts were looking for.
However, when examined closely, the data is far from disappointing and points to the likelihood of a very productive and cash flow positive fourth quarter.
Here are a few numbers to consider, Tesla:
Produced 86,555 total vehicles in Q4, an 8% QoQ increase over 80,142 vehicles produced in Q3, and a remarkable 252% YoY increase over the 24,565 vehicles produced in Q4 2017.
Delivered 90,700 total vehicles, also 8% more than last quarter's 83,500 vehicles, and a 204% YoY increase over the 29,870 deliveries in Q4 2017.
Produced 61,394 Model 3s, a 15% QoQ increase.
Produced 25,161 Model S/X vehicles, vs 26,903 last quarter, a decrease of 7%, and a 13.65% YoY increase over the 22,140 Model S/X vehicles produced in Q4 2017.
Delivered 63,150 Model 3s, a 13% QoQ increase.
Delivered 13,500 Model S vehicles, a 6.7% decrease vs 14,470 last quarter, and an 11% decrease YoY.
Delivered 14,050 Model X vehicles, a 6.5% increase QoQ, and a 7% increase YoY.
Total deliveries for the year equated to 245,240 vehicles, 145,846 Model 3s, and 99,394 Model S/X vehicles.
Delivered about 136% more total vehicles YoY in 2018.
Delivered 99,394 Model S/X vehicles in 2018, a YoY decrease of 1.9%.
We see incredible improvement in production capacity over the past year, which strongly suggests most of the problems associated with Model 3 production have been alleviated. Moreover, it's likely that production efficiency will continue to improve as the company continues to focus on improving productivity and the company's economy of scale capabilities proceed to materialize.
The relatively modest increases in Model 3 production (15%) and deliveries (13%) QoQ imply that the company is focusing on improving production efficiency and gross margins are likely to continue to strengthen as a result.
Also, we see that the company's Model S/X deliveries were roughly in line with the projected 100,000 goal set by the company. Also, the slight decline QoQ and YoY in Model S vehicles does not appear to be a systemic problem having to do with demand, but is likelier just a normal seasonal fluctuation. Model X deliveries were up both YoY and QoQ, suggesting continued robust demand for the vehicle.
Overall, this was an excellent quarter production and delivery wise despite coming in slightly lighter than analysts had envisioned. Tesla does not always meet estimates, missed by an extremely slight margin, and is likely focusing on profitability at this stage of its production cycle.
So, What's with the Price Decline?
If demand for Tesla's vehicles is so great, what's with the price drop? Along with the production and deliveries report Tesla also announced a $2,000 price drop on all models across the board. This was another factor troubling to investors and part of the reason the stock dropped by about 10% on the day of the report.
However, the price drop is far likelier a part of a pricing strategy rather than a signal of declining demand. Since Tesla has gone over the 200,000th vehicle sold mark, the full $7,500 tax credit will get cut in half, to just $3,750. Naturally, this is a relatively noticeably hit to some car buyers.
Nevertheless, by dropping the price by $2,000 the company covers more than 50% of the reduced tax credit, providing stimulus for potential buyers to choose Tesla vehicles. Furthermore, increased production efficiency and the company's ability to control costs will likely offset the very slight price reduction of its vehicles.
Model 3 Demand Remains Stellar
The most important element concerning demand is that demand for Tesla's mainstream vehicle, the Model 3, remains incredible. In fact, December was another record shattering quarter for the vehicle, as the Model 3 sold an estimated 25,250 cars in the month. This was about a 13.5% surge over its prior record month of September, in which the Model 3 sold 22,250 vehicles.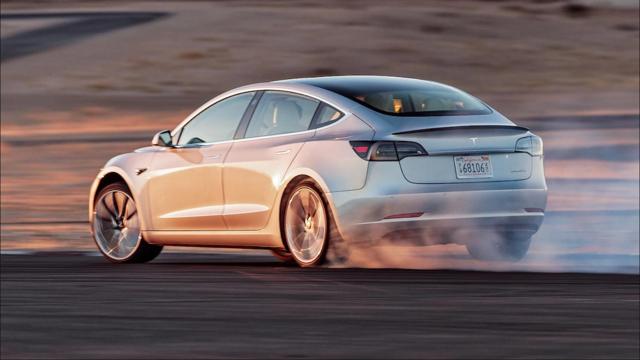 Source: Teslarati.com - Here's something you don't see every day, an EV burning rubber...
Just to be clear, Model 3 December sales figures are still estimates at this point. InsideEV's estimates are for 25,250 vehicles, while Cleantechnica's are for 25,570 vehicles.
Another remarkable factor to consider is that Model 3 sales equated to roughly 32% or about one third of all small and midsized luxury cars sold in the U.S. in the month of December. According to Cleantechnica's estimates the Model 3 vastly outsold its counterparts, essentially surpassing the total number of vehicles sold by its five nearest competing models combined in the month of December.
Small and Midsized Luxury Car Segment Share U.S. Market (December 2018)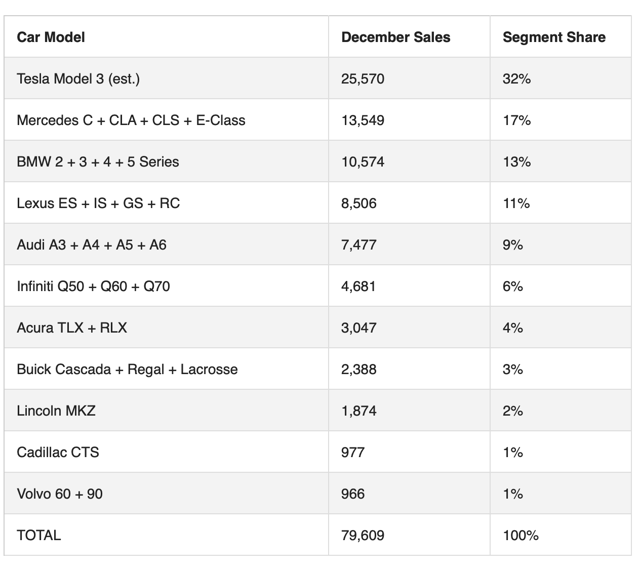 Source: Cleantechnica.com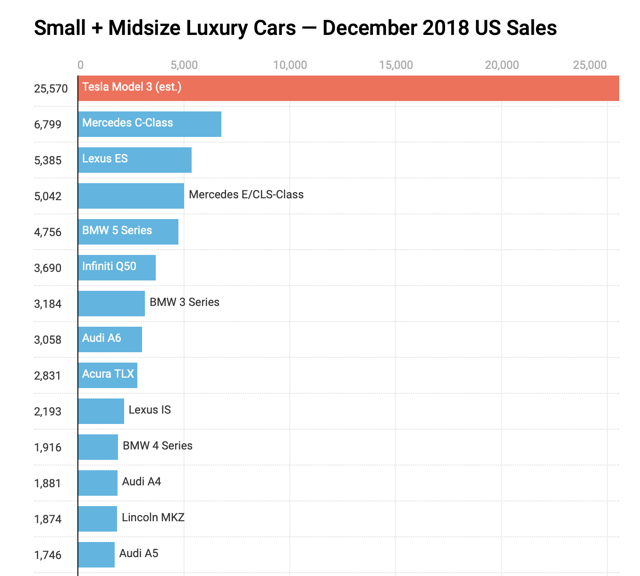 This clearly illustrates extremely strong demand for the Model 3 vehicle in the U.S., and it's unlikely that the reduction in the tax credit will have a meaningful impact on sales. Furthermore, Tesla appears to be on track to begin deliveries of the Model 3 vehicle to European customers in February, and is set to begin delivering to China in March.
The Model 3 vehicle may garner similar demand on the European continent as well as in China. To handle the potentially extraordinary demand, Tesla has broken ground on its factory in Shanghai, a facility that's likely to begin partial production as early as later this year. This facility should be a gateway to the Asian market for Tesla, and should substantially increase both revenues and profits at the company down the line.
Q4 Earnings Preview
To get an idea for what Tesla's Q4 earnings could look like let's factor in Tesla's deliveries numbers and see what the company's revenues and profits are likely to look like for Q4 2018.
Model 3 revenue: 63,150 vehicles, at an estimated average selling price ASP of $55,000 - $60,000 (we will us the half way point $57,500). 63,150 X $57,500 = $3.63 billion.
Model 3 gross margin: In a prior analysis on Tesla I deduced that the company achieved a gross margin of roughly 23.5% for the Model 3 vehicle in Q3. For the sake of remaining conservative I will apply the same gross margin for the Q4 projections.
Model S revenues: 13,500 Model S vehicles, at an estimated ASP of $95,000 (approximately consistent with prior results and analyses). 13,500 X $95,000 = $1.28 billion.
Model X revenues: 14,050 Model X vehicles at an estimated ASP of $105,000 (approximately consistent with prior results and analyses). 14,050 X $105,000 = $1.48 billion.
Model S/X gross margin: 27% (approximately consistent with prior quarterly estimates and results).
Other revenues and gross margins: Estimates will be based on prior growth trajectories or fluctuations.
Operating expenses: Estimates will use slight to moderate increases over the prior quarter.
ZEV credits: Estimates will incorporate $100 million worth of ZEV credit revenues (a relatively light figure based on the possible accumulation and stockpiling of ZEV credits by Tesla).
Tesla Q4 Projections Vs Q3/Q2 Results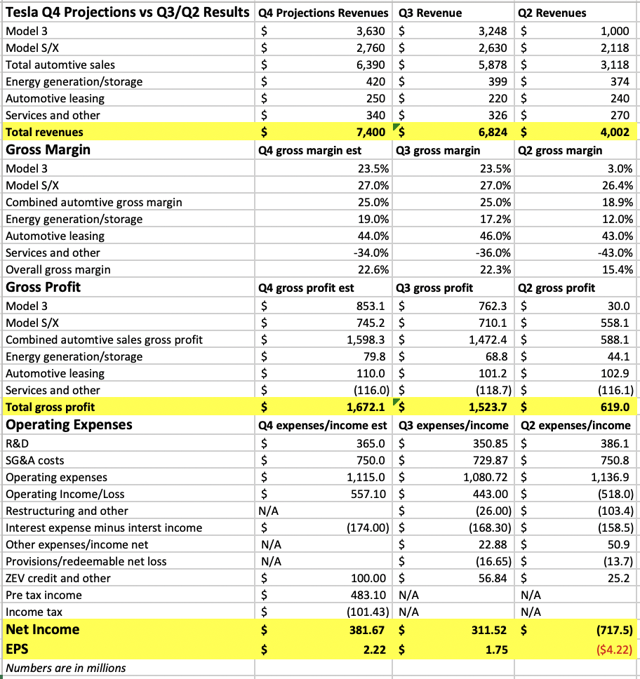 Source: Author's Material
I want to stress the fact that these are relatively modest estimates that don't take into consideration any potential operational efficiency improvements from last quarter and don't take into account any potential for further cost cutting on the administrative side. Nevertheless, Tesla is able to establish a very nice profit simply by keeping operations roughly on par with last quarter, without making any notable enhancements.
According to my estimates Tesla can deliver net income of about $382 million for the fourth quarter, which would equate to an income of roughly $2.22 per share. This is a remarkable improvement over last year's $3.04 per share loss the company reported for the same quarter. This also is an impressive 27% sequential QoQ increase.
Also, the company reported revenues of $3.29 billion in Q4 2017. So, analysts are expecting a YoY revenue surge of 116.4% (consensus estimates), but if Tesla can achieve the figure of $7.4 billion I presented, that would be a YoY increase of about 125%.
Moreover, if the company can achieve a Model 3 gross margin closer to 25% for the quarter Tesla could report a net income of about $2.50 per share in the Q4 (provided all other estimates remain constant). Also, if you think my projections are generous, just take a look at what Wall Street analysts are projecting.
Analysts Finally Waking Up
My official estimate is $2.22 for the quarter, with a higher end range of about $2.50 if Model 3 margins improve further in the quarter. Surprisingly, this is only slightly higher than what consensus estimates are now looking for in Q4. It appears that Wall Street analysts are finally waking up to the Tesla story, with consensus estimates on the street standing at $2.12. This is notably higher (about 200% higher) than the 72 cents per share income consensus estimates were projecting just 90 days ago.
Also, consensus estimates for the year (2019) are now at $6.88, more than double the $3.21 consensus estimate from 90 days ago. By the way, $6.88 still seems quite light for the entire year in my view, and the overall range varies wildly, from the -36 cents lowest estimate to the $19.82 highest estimate.
This implies analysts are still very divided on the company and need to see more results to narrow the range. Well, results are coming in less than a month, on Feb. 6. Right now, Tesla trades at a forward P/E of about 48 (based on the $6.88 consensus figure). However, if Tesla can earn closer to $10 per share this year, the company could be trading at a P/E of about 33.5 times forward earnings, which is relatively inexpensive for a company growing earnings at such an astonishing pace (2017 EPS -$8.66, 2018 EPS -$1.44 EST, 2019 EPS $6.88 EST).
The Bottom Line: New All-Time Highs Likely in 2019
Despite the company's highly profitable Q3, and the likelihood of Tesla delivering even a more profitable Q4, the company's shares are essentially trading at similar levels they were one year ago. This was a time when the company was reporting half and three quarter billion-dollar losses. Now the opposite is true, Tesla is starting to report multi-hundred million dollar quarterly gains.
If the company can demonstrate that it can deliver another substantial net income in Q4 it should reflect very favorable on the sentiment surrounding Tesla, which could be followed by another wave of upward revisions by analysts. This may also imply that Tesla can beat full-year consensus estimates of $6.88, and may earn closer to $10 (my and other slightly more bullish analysts' estimate) in EPS this year. This would make the company's shares appear relatively inexpensive in context to Tesla's revenue and income growth.
I expect momentum and earnings revisions following the Q4 earnings results to drive Tesla's shares higher, which should enable the stock to break out of its 1.5-year trading range. Moreover, improved sentiment could spark a wave of buying coupled with a short squeeze above the $390 level, which should enable Tesla to trade up to and possibly above $500 by year end. Tesla remains a conviction long-term buy in my view, and is a core holding in my diversified stock and ETF portfolio.
Threats to Tesla
Despite my relatively bullish view on Tesla investors should be aware that threats to the company remain. One threat is the possibility that such robust Model 3 demand is the result of a massive backlog that's working itself out, and once it's gone, demand could level out or decline. Another concern is that the U.S. market may become oversaturated by Tesla vehicles, and Tesla will need to get sales from other, less profitable regions.
Yet, another concern is that competition of comparable, new all-electric vehicles will arrive from legacy automakers and will take over Tesla's market share. Yet another but rather unlikely risk is that the EV movement is a phase and not a revolution and may fizzle out over time.
Also, Tesla could become unprofitable once again, capital could dry up, and the company may run out of cash to fund future factories and other endeavors. So, risks do exist, but in my view, they are outweighed by the enormous potential that the company is likely to realize in coming years.
Disclaimer: This article expresses solely my opinions, is produced for informational purposes only, and is not a recommendation to buy or sell any securities. Investing comes with substantial risk to loss of principal. Please conduct your own research, consult a professional, and consider your investment decisions very carefully before putting any capital at risk.
Want more? Want full articles that include technical analyses, trade triggers, trading strategies, portfolio insight, option ideas, price targets, and much more? To learn how to best position yourself for a rally in Tesla please consider joining Albright Investment Group.
Subscribe now and receive the best of both worlds, deep value insight coupled with top-performing growth strategies.
Enjoy access to AIG's top-performing portfolio that has outperformed the S&P 500 by 40% over the past year.
Take Advantage of the limited time 2-week free trial offer now and receive 20% off your introductory subscription pricing. Click here to learn more.
Disclosure: I am/we are long TSLA. I wrote this article myself, and it expresses my own opinions. I am not receiving compensation for it (other than from Seeking Alpha). I have no business relationship with any company whose stock is mentioned in this article.