Apple's (AAPL) iPhone XR is not receiving the enthusiasm forecasted by many analysts. After reports of continuous production cuts, Nikkei has mentioned that there will be another 10% cut in production from January to March. The main reason behind these cuts is the lower demand for new iPhone models in China and other important international markets.
Customers might delay the upgrade of their iPhones or choose an older iPhone model which is priced modestly. This becomes more important when we note that there won't be a 5G iPhone in the next cycle. Also, the bill of material to retail price ratio of older models will be much higher than the newer models. This would reduce Apple's margin in its most profitable segment. Investors should buckle up for a long bearish sentiment for Apple.
Poor pricing strategy?
Before the start of this cycle, I mentioned that we could see new iPhone models priced modestly. However, the company surprised the markets and most of the analysts by shooting for a big increase in iPhone price. This was initially seen as a proof that the company believes it has better pricing power. Reports are now suggesting the demand for new iPhones, including iPhone XR, is quite low.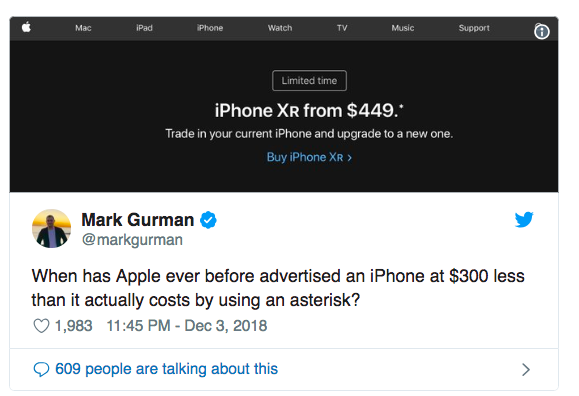 Fig: Discounts offered by Apple show future margin trouble. Source: CultofMac
Massive production cuts of nearly one-third out of the 70 million iPhone XR units have been mentioned. These would have been built between September and February. A massive production cut in a model which was touted as the biggest driver of unit sales is challenging for the company.
One of the reasons behind this cut is the lower demand of iPhone XR in international markets. Even though the company forecasted that a cheaper version of iPhone XS would improve the addressable market, the price of this model is still too high. Many emerging market economies are facing challenges in terms of currency devaluation and slower economic growth. This has reduced the demand for iPhones and also increased the prices in the local currency.
Another important factor is the rapid growth in Chinese OEMs in China and other regions outside US. We can see this from the recent growth of OnePlus devices which are generally priced in $400-600 range and have very high specifications. OnePlus has also worked on improving the branding of the devices which has helped the device stand out as premium products.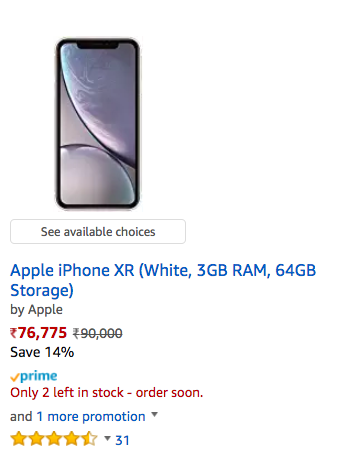 Fig: iPhone XR reception in India. Priced at INR 76,775 or $1,078. Source: Amazon

Fig: OnePlus 6T reception in India. Priced at INR 37,999 or $535. Source: Amazon
We can see from the above images that OnePlus 6T has a much higher unit sales than iPhone XR. Both the models were released around the same time. Despite much higher brand equity, iPhone XR will find difficulty in increasing traction in a market with devices like OnePlus 6T which are priced at half the cost and higher specs.
Higher demand for older models
Due to price reduction in older models, we should see a greater share of these iPhones in the total product mix. Even in the last cycle, the share of older models was increasing.
Source: CIRP
We can see in the above image that for June 2018, iPhone X sales made less than 20% of the total sales. At the same time, older models of iPhone 7, 7 Plus, and 6S cornered more than 40% of the total sales.
Due to higher prices in the latest models, if customers opt for older models, it will end up putting pressure on the margins. IHS Markit's teardown of iPhone 7 showed the bill of material, BOM, cost equal to $224.80. The retail price of iPhone 7 in the latest cycle is $449. Even after inflationary pressure, if we assume the BOM of iPhone 7 was in the same range, the margin on this device is only 50% in the current cycle. On the other hand, the BOM of iPhone XS Max is $390 which puts the BOM cost equal to only 35.8% of the retail price.
iPhone segment is still very important for Apple as it contributes over three-fifths of the total revenue. Lower demand for flagship models will end up putting enormous pressure on the revenue as well as income of the company.
Next step
I think the stock will continue to see bearish sentiment for some time. At the current level, the EV/FCF ratio is close to 10. This is near the average level it has been in this decade. The initial euphoria over ASP growth has vanished and the market is more concerned about unit sales, especially for the flagship models. Lack of unit sales data from Apple also does not help.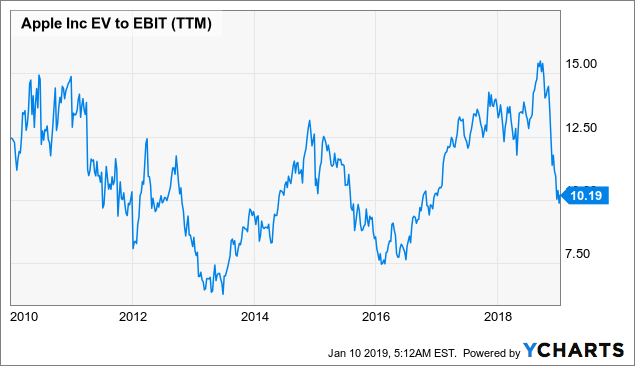 Investors looking for an ideal entry point should wait for further correction and price stabilization. At lower valuation multiple, Apple will also benefit from a higher share count reduction and a better yield. The next bullish run in Apple will not happen until the company can find another growth engine. A possible option is streaming and ad business. But it would take several quarters before either of these verticals shows meaningful results.
Investor Takeaway
Apple could have made a big mistake in the pricing of the recent flagship models. The demand for these devices in international markets is not as strong as earlier estimated. Many of the international regions are also suffering from lower economic growth prospects and a higher currency devaluation. This has increased the price of Apple devices in these markets. At the same time, Chinese OEMs are becoming more aggressive in their branding and their pricing.
We should see the current bearish sentiment in the stock continue for some time. Once the price has stabilized at a lower valuation multiple, value investors could look at this stock as a possible option for a long-term buy-and-hold.
If you enjoyed reading this article, don't forget to hit the Like button at the bottom of the article.
Disclosure: I/we have no positions in any stocks mentioned, and no plans to initiate any positions within the next 72 hours. I wrote this article myself, and it expresses my own opinions. I am not receiving compensation for it (other than from Seeking Alpha). I have no business relationship with any company whose stock is mentioned in this article.