Unless otherwise (specifically) mentioned, we are using the following as references/benchmarks whenever a performance or an investment trend is being discussed: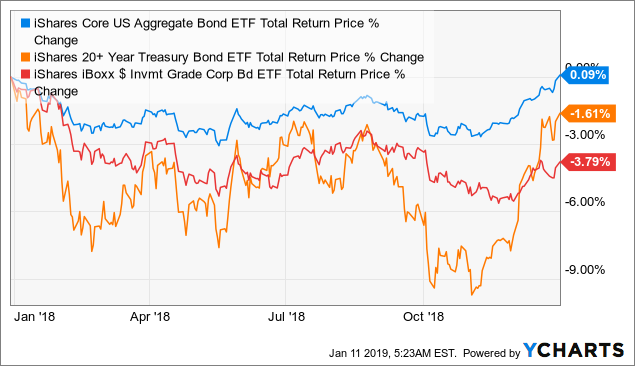 Prologue
The first part of this series dealt with stocks, one of the riskiest and most volatile asset classes, generally speaking and especially in 2018. Therefore, it only makes sense for the second part to shift to the other side of the risk spectrum, focusing on what is supposed to be a much-calmer asset-class.
"Suppose" indeed, because 2018 was a strange year for Investment-Grade ("IG") bonds. Calmer than stocks, perhaps, but certainly not calm in absolute terms.
The risk-on environment during the first nine months of 2018 had seen investors losing appetite for safe-haven assets. As stocks kept moving higher and higher, IG bonds took the exact opposite way.
Then came the fourth quarter and everything has turned upside down. IG bonds, especially the highest-graded ones, were back in fashion.
What about 2019?
As we explained in the first part of our "The World's Economy Is Cooling Off (But It's Not All Bad)" series:
Our approach over the past year was to remain fully invested, but to shift:

From a more aggressive approach to being more defensive.
Less growth (e.g. technology), more income (e.g. REITs).
Reducing risk and HY, adding safety and IG.
Dumping long-duration, focus on short-to-medium duration and relatively shorter tenors/intervals.
Increasing the floating-rate exposure at the expense of fixed-rate.
Employing more hedges by using pair trades, option-trading, and short selling.

Such a shift, although it provides no protection against a market correction, has put us in a much better position to withstand the -20% drop that stocks went through over a short period of time.

We strongly suggest for readers to keep their eyes wide-open and adhere to the most important thing when it comes to investing: Risk management.

Risk management isn't a recipe to avoid losses, but it's an ongoing process of asking yourself many "what IFs" type of questions. For example: What if there's no trade deal agreement? Are you ready for this?
(Delivering) The Good(ies)
If stocks in 2018, covered in part I of this series, were "The Bad", IG bonds (AGG, BND, LQD, BSV, TIP, VCSH, VCIT, SHV, SHY) were "The Good"; that's in relative terms, of course.
While stocks (SPY, QQQ, DIA, IWM, IWN, IWO) started the year strong and ended it very poorly, IG bonds did the exact opposite.
Stocks gained during the first three quarters and collapsed during the last three months of the year. Meanwhile, bonds struggled during most of 2018, and it was only the sharp decline of stocks that pushed IG bonds' prices higher, allowing for a decent ending to a challenging year.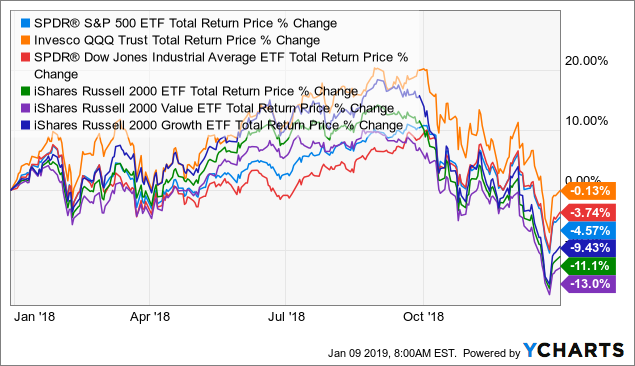 IG bonds can -- and should -- be split into two sub-groups: US Treasuries ("UST") and Corporate debts. Below you can see that the former did a bit better than the latter.
The average total return in 2018 of five leading UST ETFs (listed below) was +0.79%, with only the longest-duration ETF (TLT) finishing the year in negative territory.
The average total return in 2018 of five leading IG corporate ETFs (listed below) was -0.81%, with 3 out of the 5 finishing the year in negative territory.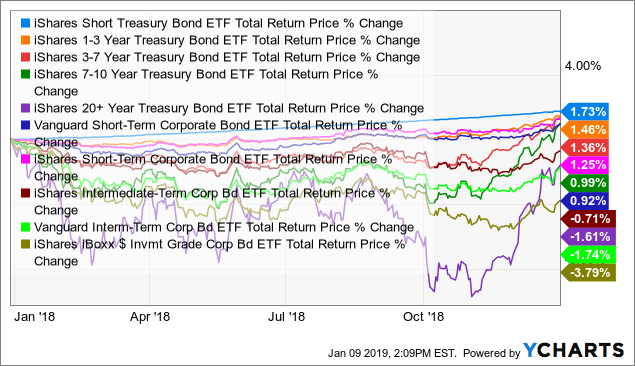 When we look at the broad/total bond market, we get a less mixed, though still uneven, picture.
The average total return in 2018 of 10 leading broad/total bond ETFs (listed below) was +0.92%, with only 3 out of the 10 finishing the year (only slightly) in negative territory.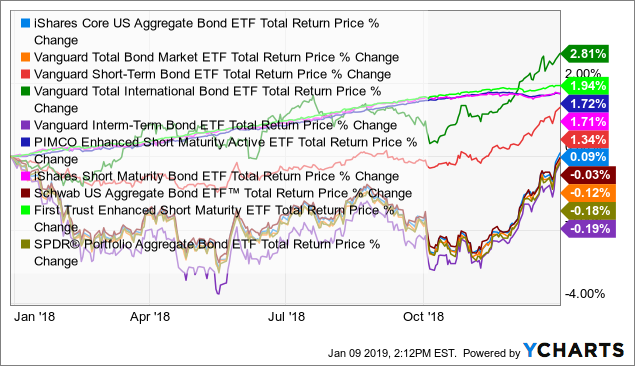 What is already clear from the above charts is that when it comes to bonds in 2018:
Without stocks falling 20%+ peak-to-trough, bonds would have ended 2018 in the red.
The safer (i.e. higher rating) the better.
The shorter (duration) the better.
It's all relative. Saying that bonds were a "good" investment in 2018 is only true when they are measured against stocks (or other risky assets). In absolute terms, there can't be much excitement about an asset-class that delivered more-or-less flat returns. A 1-year time deposit could have (and actually had) returned more than that in 2018.
With short-duration outperforming long-duration, it's no wonder that part of the yield curve has already inverted.
Now let's dive into these observations, adding more color to each.
... and the Oscar Goes to... Stocks!
I wish to thank members of the (S&P 500) academy, as without them - none of this would have happened - Mr. Bond thanking Mrs. M(arket)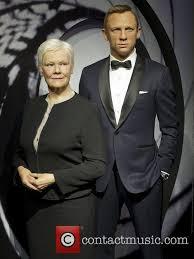 It was a very close race to the finish flat-line, and a very late comeback allowed bonds (AGG) to turn positive on the very last day of 2018.
Non-incidentally, AGG turned positive for the first time in 2018, just as UST 10-tear yield hit an 11-month low.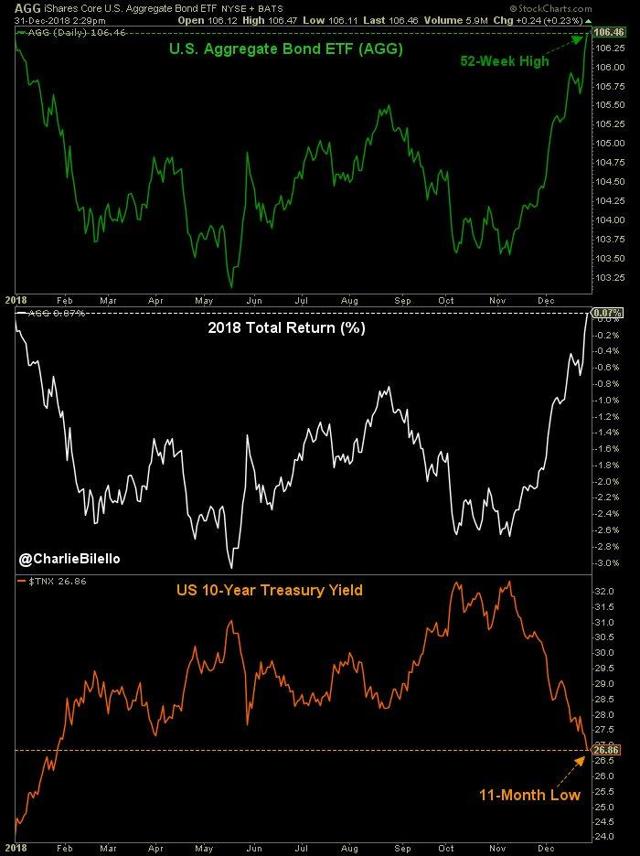 Bond ETFs
Out of the major/largest bond ETFs...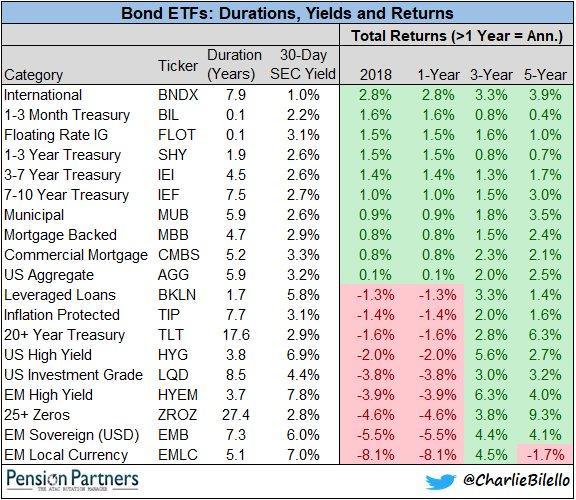 Yield Curve
Generally speaking, the rule in 2018 was: The shorter the duration, the more basis points ("bps") were added to its yield.
UST 1-month yield rose 116 bps vs. a rise of only 29 bps for UST 10-year yield (and even less for UST 7- and 30- years, with 26 and 28 bps, respectively).
This short-end of the yield curve has partially inverted, as the 6-month yield (at 2.48%) ended the higher than the 3-year yield (at 2.46%).
This is the first time we are witnessing any kind of inversion (at year-end) since 2007. Recall that the following year (2008) hadn't ended too well...

Fast forward to January 4th...
The spread between the UST 10-year yield (2.56%) and UST 3-month yield (2.41%) ended the day at 15 bps. That's the flattest curve we've seen since August 2007!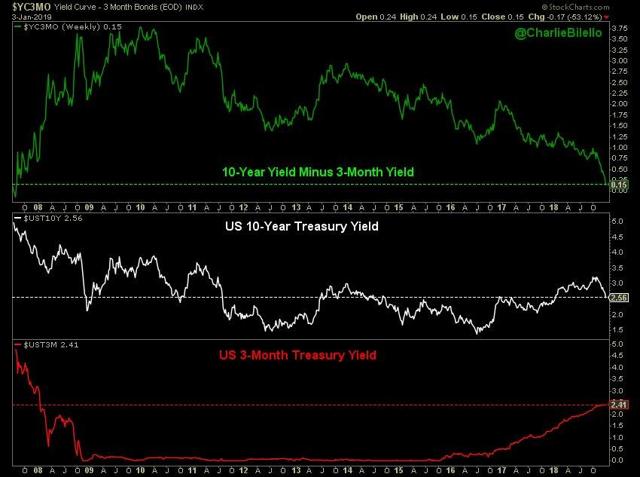 The spread between the UST 5-year yield (2.37%) and UST 6-month yield (2.47%) ended the day at -10 bps. That's the most inverted curve we've seen since January 2008!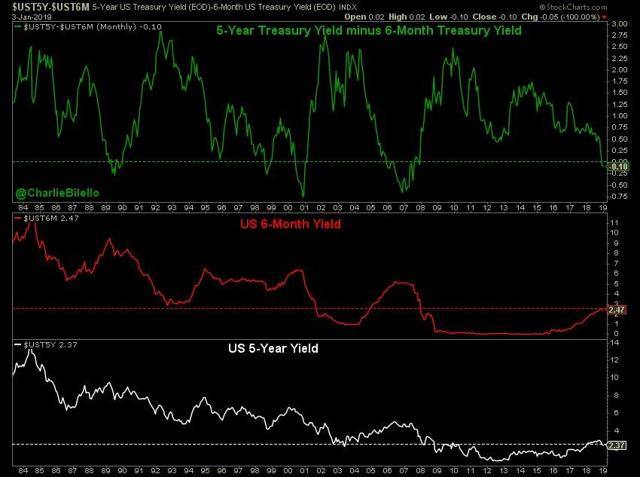 Around the World
The UST 10-year yield lost steam in 2018 and after touching 3.261% in mid-August ended the year at 2.686%; 57.5 bps off peak and only 29 bps higher than where it was at the end of 2017.
| | | | |
| --- | --- | --- | --- |
| Country | 12/13/2017 | 12/31/2018 | Change |
| US | 2.40% | 2.69% | +0.29% |
| Germany (EWG) | 0.43% | 0.25% | -0.18% |
| Japan | 0.05% | 0.00% | -0.05% |
Out of the three largest developed economies, the US was the only one seeing its benchmark yield move up in 2018.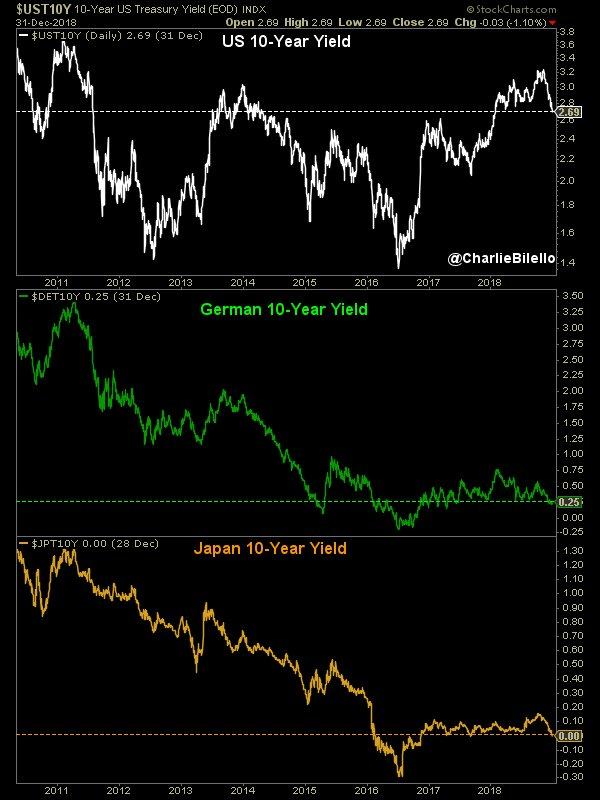 The amount of outstanding negative yielding debt has risen by USD $2.6 trillion to $8.39 trillion since early October, an increase of no less than 45%!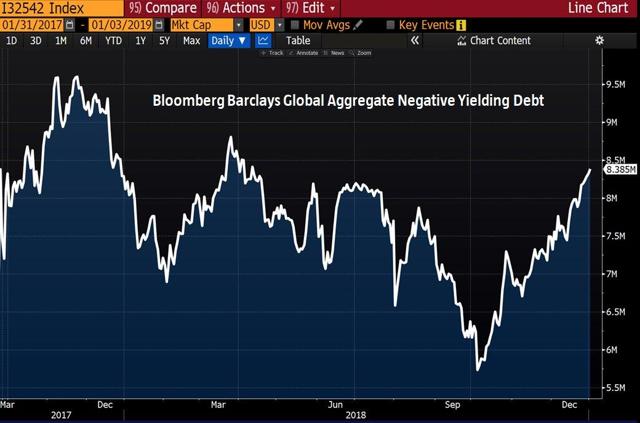 Final, Important, Observations/Questions
1. Shutdown
No, we are not referring to the US government shutdown. We are talking about debt primary market, i.e. new issues of bonds.
US credit markets have remained closed so far in 2019. Here's a look at investment-grade bond sales in the first eight days of 2019 vs. the same period in prior years:
Having said that, there are a handful of BBB-rated companies planning to sell bonds soon (even today). It'll be interesting to see what the demand for those looks like.
2. Trade Deal = Higher Yields?
This is not surprising, but very significant.
Trump, reportedly, wants to close a deal with China to allow for stocks to rally (already doing so...). If both Trump and the Fed are inclined to cater to the whims of equity investors, that's bullish for stocks in the short run.
In the medium-to-long term, however, this is not good for risk assets. That's because if equities rally significantly (and you may say they already have) that will likely allow UST yields to rise more than many expect. Higher yields will lead to less risk appetite, especially this late in the credit cycle.
For that reason, we believe that an unexpected sharp rise in yields is one of the biggest risks in 2019.
Having said that, the growing consensus is that global bond yields will stay very low for a long time.
3. US Treasuries Remain Safe-Haven?
According to BlackRock (BLK), UST have regained their safe-haven status, drawing an end to a slump that drove yields to a seven-year high last year.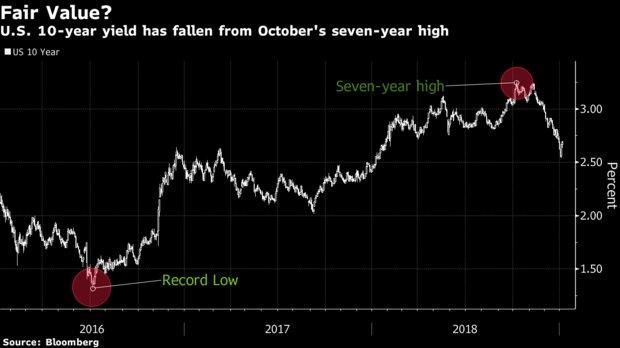 In spite of recent rumors regarding a US credit-rating cut, Moody's (MCO) sees no urgent reason to consider a US downgrade. Should March 1st, the debt-ceiling deadline, go by without an agreement on a higher ceiling, they will have to downgrade as a technical default event will be triggered. Nonetheless, this would be technical and temporary, thus not expected to scare investors away.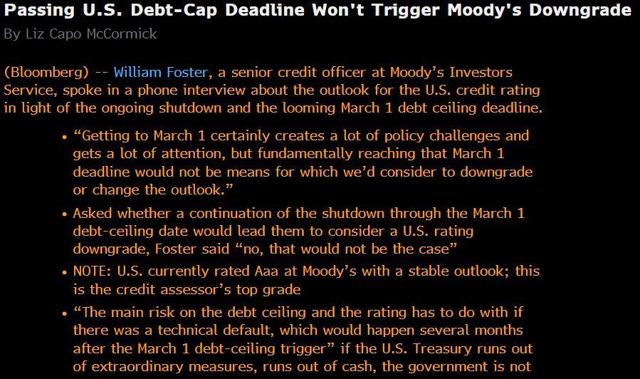 Having said that, demand for UST is at its weakest since 2008, which may be a worrisome sign for the bond market.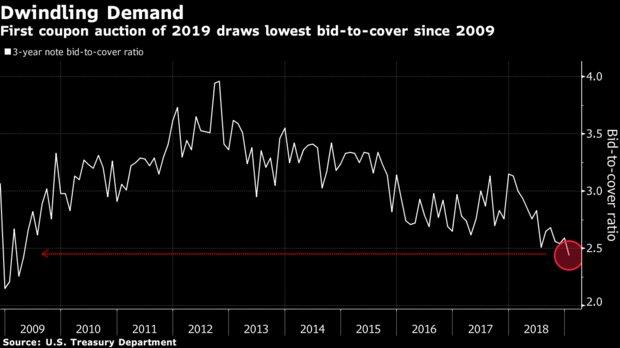 4. Recession?
According to J.P.Morgan (JPM), equity markets appear to be pricing in a 60% chance of a US recession. A mild earnings recession, i.e. when earnings fall by ~9%, appears to be fully priced in.
A 55% chance of a US recession is likely reflected in the levels of US IG (high grade) corporate credit spreads.
When it comes to UST, the probability of a recession jumps to circa 70%.
The outlier here are HY bonds, assigning a very low probability for a recession at only about 10%.
This is a rarely large divergence between the safe-haven UST, anxiously waiting for a recession, to the risky HY bonds, almost completely ignoring that risk.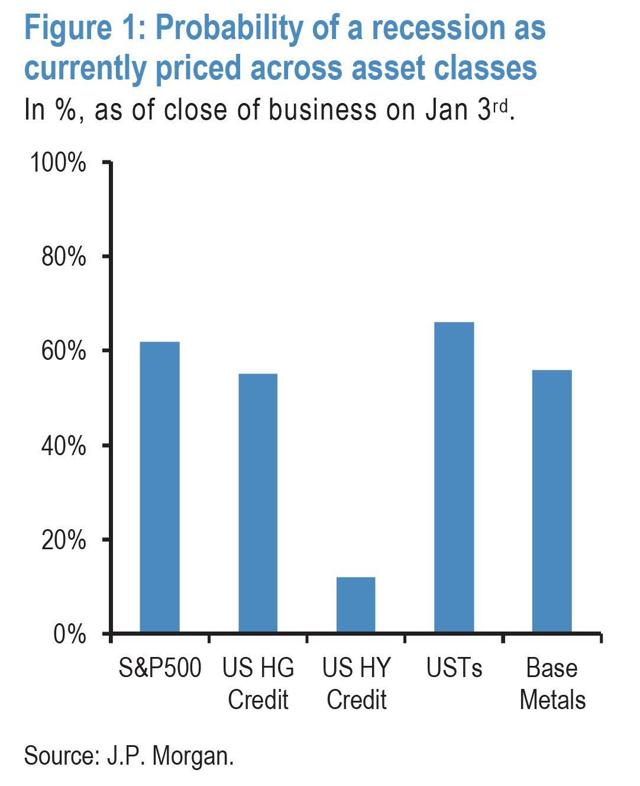 Overall, a JPM model, which is based on economic data, assigns a 39% probability for a recession within the next 12 months.
Having said that, models incorporating (not only economic data but also) financial markets data are showing much higher probabilities (for a recession) than that.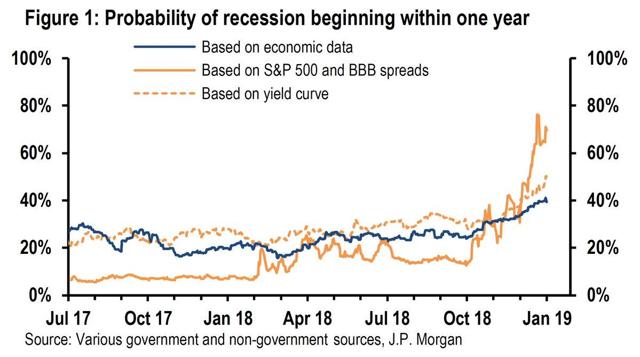 5. IG = The Best Hedge/Investment for 2019?
Bonds are back as investors' favorite hedge against a stock-market doom.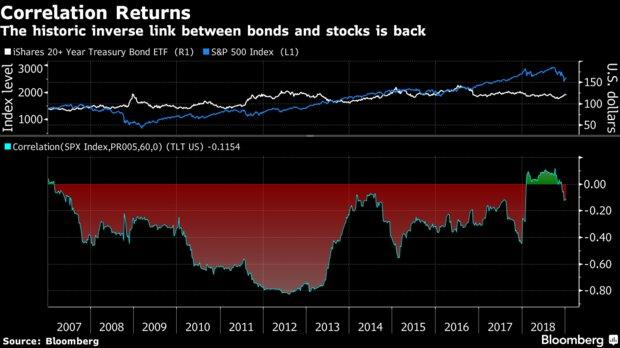 Goldman Sachs (GS) has lifted its outlook for global bonds in the face of slowing growth.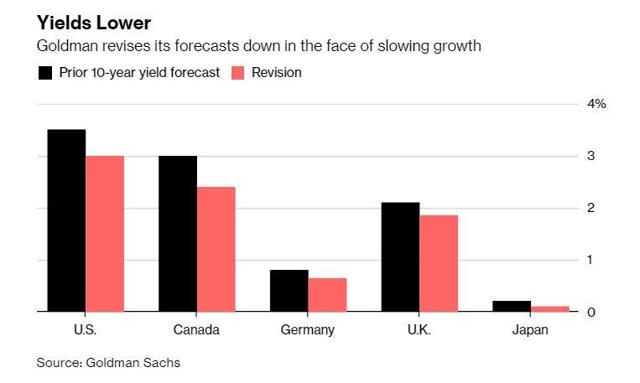 Having said that, the inverse correlation between bonds and stocks is still low, relative to what we've seen historically. This suggests that while bonds might be a good hedge, they are far from being a perfect hedge.
The best hedging for stocks is likely to be found in other asset-classes or more hedging-focused investment strategies that don't necessarily involve bonds.
Epilogue
Now that long-duration, high-grade, bonds already made their move, we don't see an attractive risk/reward playing long TLT and the like. Sure thing, if there's no trade deal, and/or if the US government keeps being shut for long - we are likely to see another leg down in yields, i.e. another spike in the price of TLT.
Nevertheless, yields are still relatively low and we believe that from the current level (2.70%), there's at least a 2:1 ratio in the up:down bps move that we may see in 2019. Putting it differently, the UST10Y might go down up to 30 bps from here (2.40% is where we see a floor), but it can easily move up at least 60 bps from here too (3.30% is not a concrete-made ceiling).
We believe that short-duration remains one of the key aspects and we intend to maintain a high discipline here. We intend to stick with short duration of up to 3-4 year maximum, and/or instrument that have a reset/floating feature inside the next 5 years.
Having said that (last time, we promise!...), since we believe that the Fed is going to pause soon (if it hasn't paused already) - something that we already communicated and anticipated for in November - there's no reason to shun fixed-rate debts anymore. To some extent, fixed-rate instruments may benefit much more than floating-rate, if and when the Fed pauses.
Bear in mind, though, that floating-rates are almost always tied to short-term rates, usually the 1- or 3-month Libor. As such, and since the Fed is unlikely to cut ahead of a real-significant slowdown, we see little risk for these rates to pull back meaningfully, at least during the first half of 2019.
Of course, 1-2 year from now, we may be in the middle of a recession (or at least, a significant slowdown) and the Fed might cut. However, this is a 2020-story and this article is still putting 2018 to sleep, so I'll cut it short now and let you enjoy the positive start to 2019, before spoiling it for you with future-doomed data/projections...
The Wheel of FORTUNE is one of the most comprehensive services, covering all asset classes: common stocks, preferred shares, bonds, options, currencies, commodities, CEFs, etc.
Take advantage of our special offer (valid till 1/14/2019): 10% discount introductory fee, two-week free trial, full access to our monthly review (where all trades since launch are), ongoing (though not daily!) trading alerts, 19-part "Getting Ready For 2019" series (where all 11 sectors plus 8 segments are covered). and our brand new model portfolio (aimed at beating the S&P500 performance).
Make your move now! Nothing to lose, Plenty to gain!!!
Disclosure: I am/we are long JPM. I wrote this article myself, and it expresses my own opinions. I am not receiving compensation for it (other than from Seeking Alpha). I have no business relationship with any company whose stock is mentioned in this article.
Additional disclosure: Short GS puts