2019 can be considered a landmark year for the BRIC group of large emerging market countries. Coined in 2001 by Jim O'Neil as an acronym of Brazil, Russia, India, and China, the term turns 18 this year as its name inspired "BRICS Bank" (now known as the "New Development Bank") enters its fifth year in force. It can be said that BRIC has been the most successful shortlist of emerging market countries so far this century, just as G7 has remained one of the most widely used shortlists for developed market economies. Personally, I start my top-down allocations with the five main economies in the acronym JUICE (Japan, US, India, China, and the EU), which leaves out the first half of BRIC, but wanted to do this review specifically to see if now would be a good time to increase allocations to that first half: Brazil and Russia.
One "big picture" way I have long understood the four original BRIC economies is as a balance of natural resource exporters (Brazil and Russia) vs natural resource consumers (India and China). This, combined with the sharp declines in commodity prices since 2014 (for example, the fall in oil from $100 to below $50/bbl) helps to explain why Brazil's and Russia's stock benchmarks have significantly underperformed India's and China's.

BRIC large cap ETFs relative performance, 2014-19, source: Yahoo! Finance

BRIC small cap ETFs relative performance, source: Yahoo! Finance
This article takes a "quick picks and lists" view of the four BRIC markets with some high-level analysis of the ETFs and top stocks / ADRs for each one. For those simply seeking blanket BRIC exposure, there is the iShares MSCI BRIC ETF (BKF). BKF cap-weights to 59% China, 17.5% India, 15.5% Brazil and 8% Russia, though I do believe it is worthwhile to dive deeper into these four markets and construct a significantly different allocation. I have chosen to reference ETFs tracking MSCI benchmarks for consistency across all four markets, with the exception of Russian small-caps. Proportionately, these four markets also make up about half of the widely-traded iShares MSCI Emerging Markets ETF (EEM), and so are too big to ignore for broad emerging market investors.
Brazil: Cleaning up to finally become a quality emerging market?
For years, if not decades, Brazil has excited investors and economists and then repeatedly disappointed them. Brazil's benchmark ETFs for US investors are the iShares MSCI Brazil Capped ETF (EWZ) and iShares MSCI Brazil Small-cap ETF (EWZS).
I once heard "Brazil is the country of the future, and it always will be." More recently The Economist has repeated its cover designs in a series of at least three covers so far showing the latest cycle of enthusiasm and underperformance of Latin America's largest economy.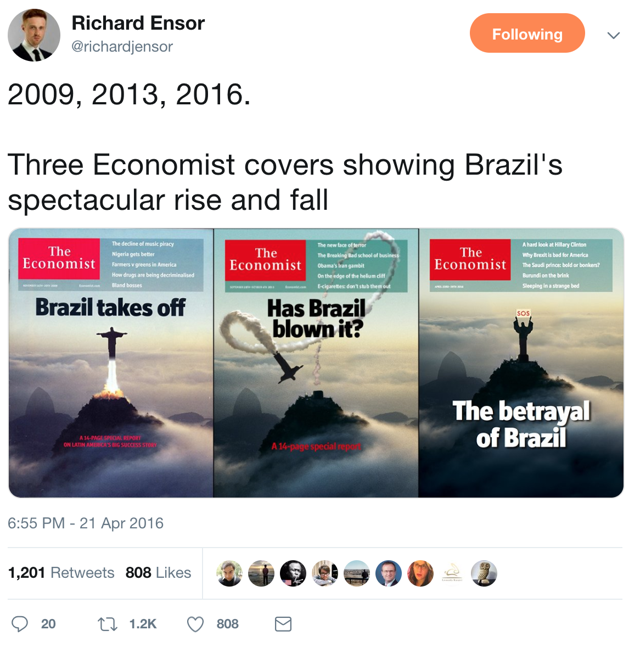 Series of three covers from The Economist showing the most recent cycle of excitement and disappointment on Brazil. Source: Twitter
The most recent round of excitement comes with the October 2018 election and this month's inauguration of Brazil's new right-wing president, Jair Bolsonaro. Bolsonaro's agenda so far seems to be focused on at least five items of significant interest to investors: anti-corruption, pension reform, privatizations, tax cuts, and removing environmental restrictions to further extraction of Brazil's natural resources. Since the month before Bolsonaro's election, EWZ and EWZS have both risen by more than 30%, with most of the increase surrounding the new president's October election and January inauguration.

Source: Yahoo! Finance
My initial view is that this rally has already priced in a large percentage of the value Bolsonaro's reforms are likely to deliver investors over the next five years. The price-to-earnings (P/E) ratios of 17.6 and 14.5 for EWZ and EWZS, respectively, already seem "fully valued" for an emerging market with as much uncertainty as Brazil still has. Brazil's large cap index is 36% financials and almost 30% energy and materials, with top components being Itau Bank (ITUB), Banco Bradesco (BBD), mining company Vale (VALE), and national oil company Petrobras (PBR). Brazil's small caps, on the other hand, are almost 30% consumer and 20% utilities, so at first look represent both better value and a better representation of sectors likely to still have more upside from Bolsonaro's reforms
Russia: Too cheap to ignore?
It is obvious that Russian stocks are cheap. Investors wary of value traps would next ask why they are so cheap, and how likely future cash earnings are likely to add up relative to these cheap share prices. The MSCI benchmark ETF for Russia is the iShares MSCI Russia ETF (ERUS), which currently reports a P/E ratio of 7.8 and a price-to-book (P/B) ratio of 0.88. iShares does not currently have an MSCI Russia small-cap ETF, so for Russian small caps I use the VanEck Vectors Russia Small-Cap ETF (RSXJ), which compliments the much larger VanEck Vectors Russia ETF (RSX). RSXJ reports a P/E ratio of just 4.6 and a P/B ratio of 0.67.
Back in April 2015, I compared Russia to Canada, pointing out their similar industry and sector compositions, and asking whether all of Russia's issues deserved such a steep 65% discount to Canadian shares. Since then, RSX and RSXJ have significantly outperformed the iShares MSCI Canada ETF (EWC), and the P/E and P/B multiples of ERUS, RSX and RSJ remain 40-70% below those of EWC.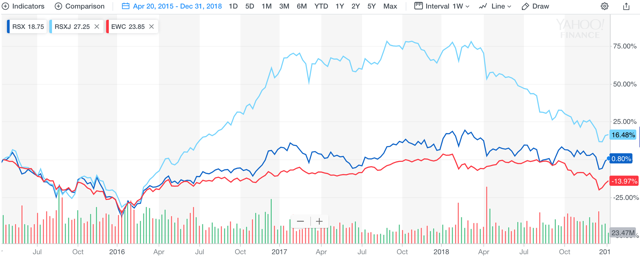 Source: Yahoo! Finance
While I would keep an eye on Russia's dark prospects as pointed out by Oleh Kombaiev, I usually find the odds in my favor when I buy companies between 5-8x "sustainable cash earnings".
MSCI Russia, as tracked by ERUS, is 50% energy (oil and gas), 21% minerals and mining, and 16% financials, with 40% of the whole benchmark made up of three companies: Lukoil (OTCPK:LUKOY), Gazprom (OTCPK:OGZPY), and Sberbank (OTCPK:SBRCY). It is not surprising that the ups and downs of ERUS and RSX are closely tied with the ups and downs of oil prices, and so the two main risks I see in these remain political risk and commodity price risk.
As with EWZS, RSXJ is far more diversified away from big oil and more into industrial, consumer, and utility companies. It is worth noting (at least according to a quick and dirty DCF calculation) that a 4.6x P/E implies that free cash flow per share of this portfolio could decline gradually to zero over the next 10-15 years and you'd still break even at these prices.
India: Expensive enough to trim
On the opposite extreme from Russia's, India's stock market has performed relatively well over the past five years, and is now the most expensive BRIC market. The iShares MSCI India ETF (INDA) currently trades at over 20 times earnings and almost 3 times book value, while the same ratios for the iShares MSCI India Small-Cap ETF (SMIN) trades are around 19 and 2.2 respectively. Price to book ratios are important for these India benchmarks since financials (mostly banks) represent about 1/4 of both the large cap and small cap ETFs.
India's enduring high valuations come at the end of a year where its local Nifty 50 was one of the few stock market benchmarks that rose in 2018, but only in local currency terms. The decline in the Indian rupee against the US dollar meant that holders of INDA still lost over 10% in dollar terms, and Indian small caps lost almost 30%.

Source: Yahoo! Finance
A falling currency might seem good for an export-oriented economy like China's that regularly runs trade surpluses, but India has historically run large trade deficits. Economies that import more than they export are hindered rather than helped by a weaker currency, so the weak rupee is not good news for stock investors at these levels.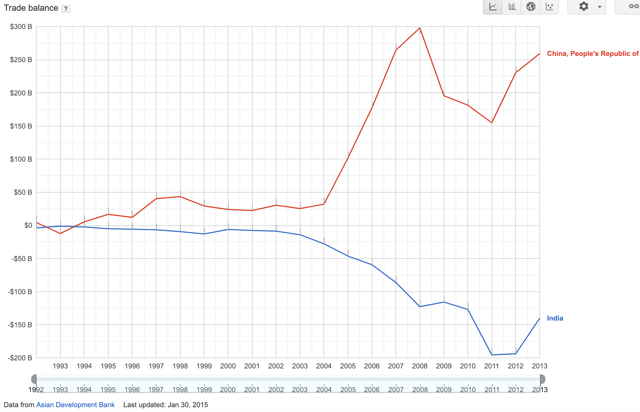 India's trade deficit vs China's surplus, source: Google Public Data
For an economy and market of its size, India has also somewhat disappointed investors by remaining difficult to access. Like many other emerging market currencies, the Indian rupee is managed and not freely convertible, but India has not even set up trading access programs like China's stock connect with Hong Kong. Unlike Brazil and Russia, the largest stock in India, Reliance Industries, does not have a direct ADR listed in the US. The two largest US-listed Indian companies with US listings are HDFC Bank (HDB) and Infosys (INFY), with number four Tata Consultancy Services (OTCPK:TTNQY) trading on the pink sheets.
Last year I compared 11 different India ETFs listed in the US, and expressed a preference for the earnings-weighted WisdomTree India Earnings Fund (EPI) over INDA, but still don't see enough difference in valuation in any of these India ETFs to justify overweighting India vs any other BRIC.
China: A stock pickers' market, but beware of debt
Last but not least is China, which is by far the world's largest emerging market, and arguably one of the most developed as a market. Technology-wise, China rivals the US's Facebook, Amazon, Netflix, and Google ("FANG") with its own tech giants Baidu, Alibaba, Tencent, and JD.com (known as "BAT-J"), where even Europe and Japan do not have comparable competitors. As a market, Chinese stocks are almost as numerous and diverse as the US, with its benchmark CSI 300 more closely resembling America's S&P 500 than any other domestic emerging market index.
Valuation-wise, Chinese stocks seem cheap relative to their quality and growth potential, with the iShares MSCI China ETF (MCHI) trading at just over 11 times earnings and the iShares MSCI China Small-cap ETF (ECNS) at just below 9 times earnings. As the MSCI inclusion of China A-shares has yet to be fully implemented, it is worth noting that Chinese stocks traded onshore in Mainland China, as measured by the iShares MSCI China A share ETF (CNYA), still trade at a slight premium of 12 times earnings.
The main worry I have had about investing in Chinese companies has been financial quality, both in terms of quality of earnings and assets, as well as in the quality of financial statement reporting. As one would expect from a rising emerging market, I have seen these gradually and unevenly improve across companies over the past few years, and believe this dispersion in quality provides opportunities for discerning stock pickers and quants. Debt levels are one specific factor to be especially wary of at this stage in China's cycle, and I am especially avoiding Chinese property developers and most banks for this reason. Of the top 10 Chinese stocks, my top pick over the past year has been China Mobile (CHL), which in addition to a strong market position and high sustainable cash flows has a very manageable debt burden.
Last May, I recommended an allocation of China ETFs that were mostly non-MSCI benchmarked that I felt offered even better value than the above three, and stick with the even balance between large vs small and A vs H vs N shares. Invesco's decision to close its Chinese Yuan Dim Sum Bond ETF (DSUM) fortunately came after this sell-off in Chinese shares, as these valuations do present a much better level to sell those bonds and put 100% of a US portfolio's China allocation into equities.
Conclusion
Last year's sell-off in emerging markets, of which these four BRIC markets make up about one half, lowered the valuation multiples of China to attractive levels, and Russia to levels too cheap to ignore. I would look to add allocation to Russia, and look for high-quality, low-debt single names in China. While Brazil is not as cheap as Russia or China, President Bolsonaro's policies may boost Brazilian small caps through drivers less correlated to other markets. India remains too expensive for an emerging market with as much uncertainty as I see there, and so I will continue to trim and underweight exposure to India.
Happy EM investing in 2019!
Tariq Dennison is a portfolio manager at Hong Kong based GFM Asset Management, where he directs global investments in US IRA and 401k plan accounts.
Disclosure: I am/we are long EWZ, EWZS, RSX, RSXJ, MCHI, ECNS, CNYA, INDA, SMIN, EPI. I wrote this article myself, and it expresses my own opinions. I am not receiving compensation for it (other than from Seeking Alpha). I have no business relationship with any company whose stock is mentioned in this article.
Additional disclosure: My firm is also long shares of companies listed in this article and components of ETFs listed in this article, as well as similar foreign shares and foreign ETFs and holding substantially similar positions.