Last November, I had the pleasure to attend the Nordic Real Estate Conference in Tallinn, Estonia. It is an annual conference that gathers market leaders from all over Europe, the Nordics and the Baltics to discuss global trends in the real estate markets. Numerous REIT executives, fund managers, and even the Estonian minister of finance were present to share their perception of today's investment markets. Not surprisingly, a great deal of time was spent discussing the items mentioned below.
Where Are We in the Cycle?
We are now over 10 years into the expansion, unemployment is below 3.9% for the first time since 1969 and investors are rightfully asking themselves how long this can last: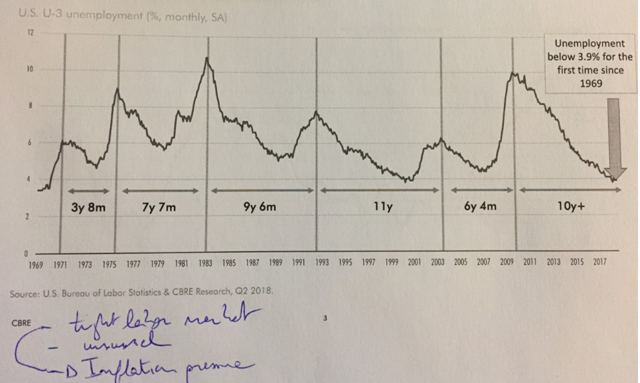 Source: Author's picture, Booklet of NREC
Such low unemployment rates are commonly achieved towards the very end of a cycle and shortly followed by a downturn.
Market intelligence point out that our current cycle is already stretched and approaching its end.
Most conference participants believed that we still have 1-2 good years before a slowdown in the global economy.
The U.S. tax stimulus boosted the current cycle, but the inevitable slowdown is only pushed forward by 1-2 years. The tight labor market, risk of inflation, trade wars and growing populism are putting increasing pressure on the current cycle.
You will never get timing perfectly right, but if history has any value, now is the time to become more prudent.
What do you expect to be the key driver of stock market performance in 2019?
We are today seeing two large themes play out in the capital markets:
1) Lower growth: GDP growth will be trending lower and as a result, earnings growth will be decelerating in 2019. This isn't too surprising considering the phenomenal earnings in 2018. We expect a gradual slow-down with lower growth in every quarter of 2019.
2) Lesser interest rate hikes: with slower growth and rising risks of a recession, the Fed will become increasingly cautious with further interest rate hikes. Currently only two hikes are expected in 2019 (compared to four in 2018) and we would not be surprised if even this outlook was cut to only one. If we look at the 10-year Treasury yield, it has pulled back from 3.2% to 2.8% meaning that investors are already factoring in lower inflation and lower interest rate expectations.
We believe that this change in market leadership will have a profound effect on the investment performance of different investment strategies. Investors will become less confident about future growth and will see greater value in a fat dividend and stable cash flow. This speaks very favorably for "Value" and "High Yield" stocks and less so for "Growth" stocks, especially if and when the valuation differential is sizable. We are positioning our core portfolio to benefit from this capital rotation with less growth-driven investments and a greater focus on high immediate income generation. Our portfolio currently has a 12.27% cash flow yield, which pays out 8.64% in dividends and reinvests the remaining in future growth.
Source: HYL Portfolio Sheet
As we approach 2019, are you bullish or bearish on U.S. REITs?
At the end of the day, REITs are investments just like others and it all comes down to the fundamentals and pricing. Today, we are bullish on REITs for the following reasons:
They enjoy strong fundamentals:
Solid NOI growth
Record-low leverage
Historically low pay-out ratios
FFO on the rise
Continued dividend hikes
They are offered at low prices:
FFO multiples stand at historically low levels.
Discounts to NAV are exceptionally high.
Dividend yields are at a multi-year high.
When you combine good fundamentals with low prices, you have a recipe for market outperformance. Moreover, as the market focus moves from "interest rate hikes" to "decelerating GDP growth," we believe that REITs are well-positioned to benefit from capital rotation away from "growth" stocks to "value" stocks.
Back in September, we said that the time was opportune to lock-in some gains to increase cash levels. Today, we are reinvesting some of these proceeds in the presently undervalued REIT market.
In terms of asset allocation, how are you positioned heading into the New Year?
We are being increasingly cautious in our capital allocation. The next downturn will come sooner or later, and it could come as early as 2020 according to many market experts. This does not mean that we should go all cash and wait around until it finally happens. But preparing for it is crucial to ultimately sustain as much value and income as possible.
REITs as a whole remain opportunistic today, but we identify large disparities in fundamental strength which will guide performance in the next recession. Our portfolio is today already well-positioned with a sizable allocation to quality names, and as we move forward, we intend to continue shifting capital from higher-risk investments toward our safer convictions.
To be more specific, we are looking for REIT investment opportunities with the following characteristics:
Defensive properties. Preferred sectors include net lease, self-storage, residential, specialty and healthcare.
Long remaining lease terms with automatic rent escalations.
Conservative balance sheet and/or a focus on deleveraging.
High dividend yield, low payout ratio, little reliance on growth to generate attractive total returns.
What 'surprise' do you see in the market that isn't currently getting sufficient investor attention?
The REIT market seems to have missed that Retail is having its best holiday season in six years. Retail sales in the U.S. from Nov. 1 through Christmas Eve were up 5.1% to more than $850 billion, according to Mastercard. Interestingly, the surge in spending comes amid the latest fluctuations in the stock market and worries about a slowing economy and a government shutdown. Despite these strong numbers, the mall REIT sectors has remained under intense pressure as the market remains focused on the "Retail apocalypse" narrative.
One of the strongest sectors within retail this holiday season is apparel with sales up nearly 8% from Nov. 1 through Dec. 24, their best growth since 2010. Thomas notes that "clothing retailers like Lululemon (LULU), Abercrombie & Fitch (ANF) and Old Navy had already kicked off the holiday shopping season on a high note, seeing strong sales during Black Friday weekend."
Clearly, this is bullish for mall landlords who benefit from higher sales by hiking rents and achieving stronger occupancies. We believe that Class A mall players such as Brookfield (BPY), Simon (SPG) and Macerich (MAC) are posed to report strong numbers in the 4th quarter and there could well be positive surprises from the Class B mall REITs such as CBL (CBL), WPG (WPG) and Pennsylvania (PEI).
What issue is receiving too much investor attention and/or already priced in?
REITs have been under pressure for the past three years due to concerns over interest rates. We believe that these concerns are at least partly unjustified and have been very vocal about it.
What the market is missing is that the interest rate hikes are the result of the strong economic growth. This leads to higher occupancy rates, higher rents, and more demand for real estate space in general. All very positive for REITs.
Moreover, the market also seems to forget that REITs have steadily fortified their balance sheets since the great financial crisis, leaving the industry in an exceptionally resilient financial position. The leverage levels are very reasonable today, with the average debt-to-assets at just ~35%, and the majority of that is structured as long-term fixed-rate debt. As such, the exposure to interest rate movements is minimal today. With NOI rising, and little debt, REITs are set for more cash flow growth, regardless of a few interest rate hikes.
This could come surprise markets in 2019 and result in sizable upside from the currently discounted levels.
What is one of your best ideas for 2019, and what is the story?
Brookfield Property Partners (NYSE:BPY) is one of our largest positions going into 2019 because 1) it is a blue chip company with exceptional track record and yet it trades at a 40% discount to NAV and a mere 7.6x FFO; 2) it combines a hefty 7.4% yield with high anticipated growth of 5-8% per year and a safe ~65% payout ratio; 3) the management is already the largest shareholder and it is today making aggressive additions to its already sizable position; and 4) with high yield, high growth, insider buys, and large upside potential, we expect the shares of BPY to significantly outperform in 2019.
If you enjoyed this article and wish to receive updates on our latest research, click "Follow" next to my name at the top of this article.
High Yield Landlord is one of the largest and fastest growing communities of real estate investors with over 180 members. We provide a comprehensive service ranked among the very best in uncovering high yielding securities of undervalued real estate companies. Subscription includes:
A real-money portfolio funded with $55,000 currently yielding 8.2%.
Timely buy and sell alerts for simple portfolio emulation.
A wealth of data and market intelligence on REITs, mREITs, and other real assets.
If you are looking for the newest and most profitable real estate opportunities, you have come to the right place. For a 2-week free trial, click here.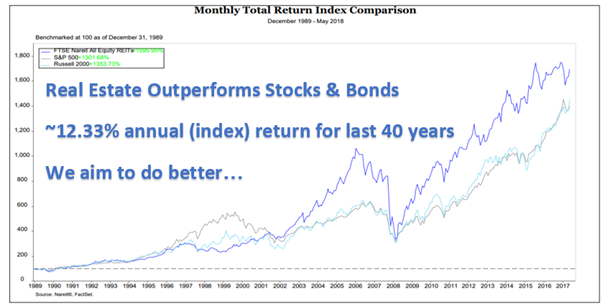 Disclosure: I am/we are long BPY, WPG, CBL, (ALL STOCKS IN CORE PORTFOLIO AT HIGH YIELD LANDLORD). I wrote this article myself, and it expresses my own opinions. I am not receiving compensation for it (other than from Seeking Alpha). I have no business relationship with any company whose stock is mentioned in this article.