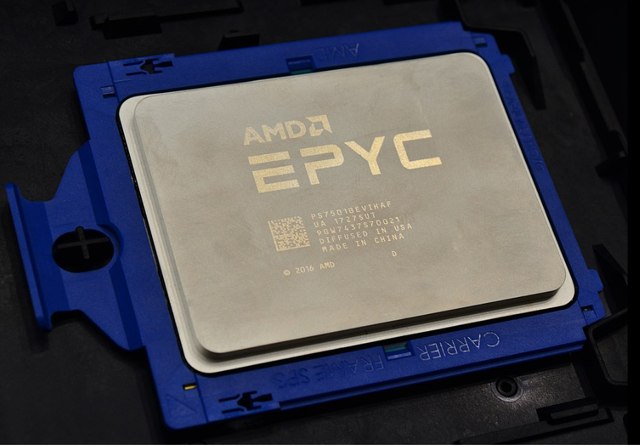 Image Source: Wikipedia
Thesis
There are a lot of rosy assumptions built into Advanced Micro Devices' (NASDAQ:AMD) stock price that are normally reserved for companies with impeccable track record. AMD's irrational valuation is nothing new and might not be corrected anytime soon. But investments based on expectations of continued market irrationality are not sound strategy.
Is AMD Worth the Price?
We think not. AMD is trading at a trailing 12 month (TTM) P/E of about 60 and forward P/E of about 30. Given the recent technology selloff, these numbers are highly inflated. By contrast, NVIDIA (NVDA), the gold standard in semi space, is trading at a TTM and forward P/E of 19.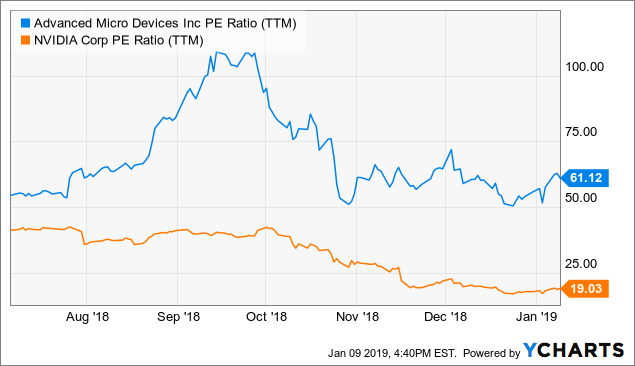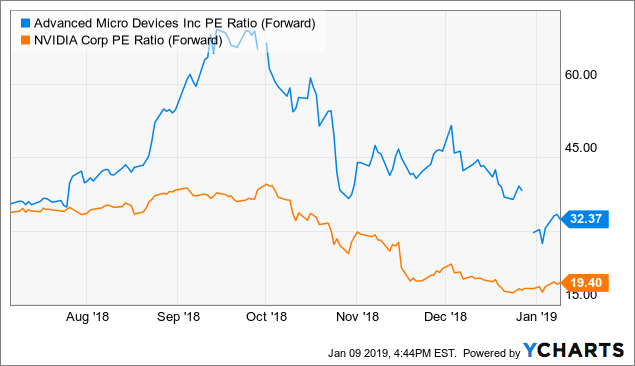 Until this past ER, NVIDIA hadn't missed earnings since 2015. It is surprising to see AMD with its spotty earnings record at such premiums over NVIDIA. But the surprise doesn't end there. AMD is actually a deeply cyclical stock. As such, one would expect it to trade like cyclical semiconductor companies such as Micron Technology (MU), but that obviously is not the case.
AMD, the Cyclical Company
If you are surprised, welcome to the club. We were quite surprised too, but charts don't lie. Below are several charts showing AMD with cyclical behavior not much different from Micron. The reasons behind the cycles may be different, but why would that matter if the stocks have consistently behaved similarly?
Below is the price comparison between the two companies. Since the 1980s, each stock has seen exactly five cycle peaks.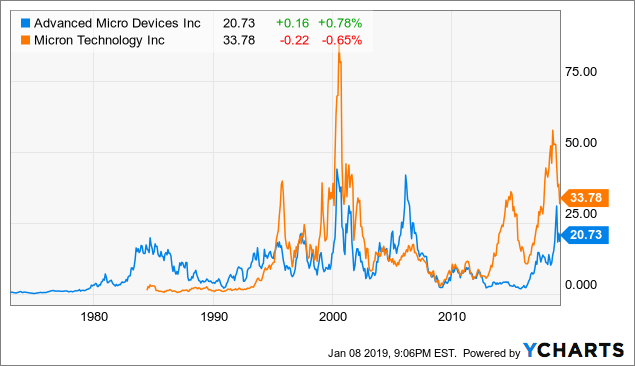 The EPS for the two companies exhibit the same overall pattern as well. Micron is actually the more positive of the two.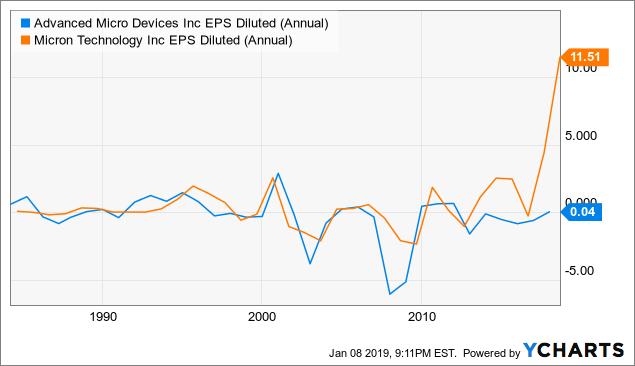 Often, inflated valuations are associated with the potential for normalization in the future. With a forward P/E of over 30, AMD is not priced for valuation normalization within the next year. As can be seen in the chart, there is a large disconnect between Micron and AMD. If AMD was valued based on Micron's forward P/E, it would be trading around $2.6 per share.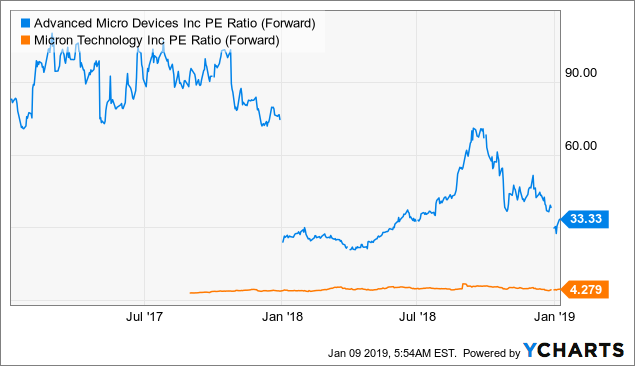 Finally, the TTM P/E chart really tells the tale. This chart shows that AMD has a history of drastic spikes followed by years of underperformance. Relatively speaking, MU has behaved far better. The current TTM P/Es also show a huge disconnect between the two valuations. If AMD was trading based on Micron's TTM P/E, it would be priced around $0.9.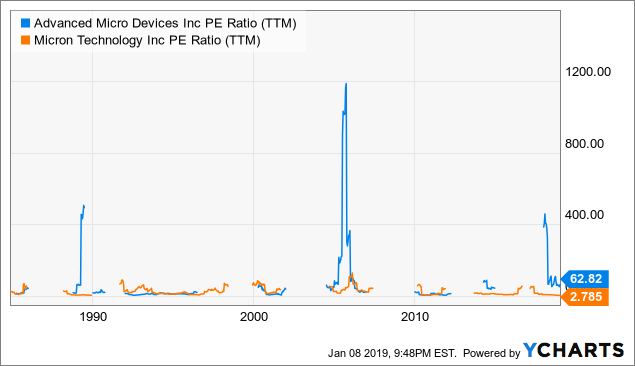 The Chinese Connection
AMD may have shown poor judgment by providing Chinese companies with the know-how to duplicate its computer processors. It is no secret that China has sought to obtain semiconductor design IPs by any means possible. It would be naive to think that the designs AMD has licensed to Chinese companies will not find their ways to other organizations that will ultimately become competition. The impact could be significant on AMD's ability to generate the kind of growth that justifies current valuations.
Consistency vs. Spurts
AMD is expected to gain significant market share in the server market in 2019. That is a remarkable feat. But history shows that AMD's strides have been in spurts. Until AMD shows that it can sustain the same level of performance for several quarters, it would be premature to give it high growth valuations.
By the Numbers
To gain an understanding of how much AMD stands to gain from the server market, let's look at the numbers. According to Intel's (INTC) Q3 2018 10-Q, Intel earned $5.637B in net revenues from the data center group. Overall revenue growth in 2018 for the data center group was roughly 3% per quarter. Extrapolating revenues for FY19, we arrive at a total of $25B.
AMD's latest earnings filing shows an operating margin of around 12%. Crunching the numbers, if AMD is able to gain 15% of the server market in 2019, that would equate to about $450M in operating income or $0.45 contribution towards the EPS. That is certainly a respectable number. If consistency is proven, it would justify about $10 in share price contribution if AMD can also show continued potential for high growth.
Conclusion
AMD's end products may not be naturally as cyclical as memory chips, but the company has nevertheless exhibited the exact same pattern. The underlying reason doesn't matter if the thesis is supported by over 30 years of data. Under normal circumstances, the market would not buy a growth story until the company proves that it can maintain the growth for at least one cycle. AMD hasn't done that. Every rise in the past 30 years has been followed by an equal drop. Nevertheless, market has irrationally assigned inflated multiples to AMD.
It would not be wise to short AMD, but at the same time, current valuations do not support going long as a sound investment strategy.
Disclaimer: The author is not a financial adviser. The information contained in this article is not guaranteed to be accurate or reliable. The information provided is informational only and should not be construed as a recommendation to buy or sell certain instruments (equities, derivatives, etc.), or to enter into any other kind of financial transaction. Please do not rely on this information as the basis for any financial decision. All financial transactions including investments contain risks and can lead to significant losses.
Disclosure: I am/we are long MU, INTC. I wrote this article myself, and it expresses my own opinions. I am not receiving compensation for it (other than from Seeking Alpha). I have no business relationship with any company whose stock is mentioned in this article.