Editor's note: Seeking Alpha is proud to welcome Oleksandr Pylypenko as a new contributor. It's easy to become a Seeking Alpha contributor and earn money for your best investment ideas. Active contributors also get free access to the SA PRO archive. Click here to find out more »
Recently, Agenus, Inc. (NASDAQ:AGEN) was awarded $1 million approximately from the Bill & Melinda Gates Foundation to develop a novel technology for QS-21 production. This grant will focus on an evolving alternative manufacturing process in order to ensure an uninterrupted future supply of QS-21 Stimulon adjuvant. In my view, it is a great opportunity for the company to decrease the cost of production for QS-21 using Python Biotech's technology.
Agenus is an immune-oncology (I-O) company that focuses on the finding and cultivation of therapies that include antibodies, vaccines, and cell therapies. The company was founded in 1994 and was listed on the Nasdaq stock exchange in 2000.

Source: Company's website
Agenus has had an eventful 2018 with a lot of agreements. Despite the fact that it had a number of good deals, the stock tumbled more than 31 percent from the mid-March and continued that decline through August. During this period, the company had two weak quarterly reports which are below market expectations: -$0.35 actual versus -$0.29 Wall Street estimate (20.69% surprise) in March and -$0.53 actual versus -$0.30 Street estimate (78.65% surprise).
But Agenus beat analyst estimates in August, and shares are up ~30% from the bottom line.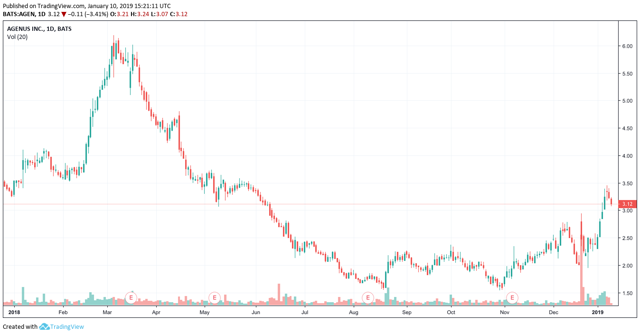 AGEN data by Tradingview
Lead Antibodies Showed Clinical Benefit
Phase I/II Study Of CTLA-4 AGEN1884 + PD-1 AGEN2034 showed early symptoms of safety and efficacy in phase I and phase II studies. These studies determined that AGEN2034 3mg/kg + AGEN1884 1mg/kg is shown to be safe for a maximum combination dose level.
Early phase I results showed 3 partial responses in patients with cervical, ovarian and breast cancers in the 1-mg/kg and 3-mg/kg groups.

Source: Phase I/II study of AGEN2024
Phase II study included 6 females over 60 years of median age with cervical cancers. In September, a total of 9 patients (3 from phase I and 6 from phase II) had been treated with PD-1.
The summary of Best Overall Response is shown below:

Source: Phase I/II study of AGEN2024
As we can see, the duration of best overall response for each patient is indicated in parentheses. AGEN2034 is a pharmacologically active, well-tolerated PD-1 antagonist, demonstrating early signs of clinical activity in phase I and II portions of the study (2.8 and 1.6 months, respectively) in patients with refractory malignancies.
As for safety and tolerability, this phase I/II studies showed that in patients taking 3-mg/kg PD-1:
No DLTs were reported for any of the patients, and 5 of the 6 patients reported a TEAE. TEAEs occurring in >1 patient included abdominal pain (n=3) and pyrexia (n=2).3 patients experienced a TEAE of grade ≥3, including anemia, international normalized ratio increased, back pain, diarrhea, and abdominal pain. Serious TEAEs occurred in 3 patients, including colitis, abdominal pain, back pain, diarrhea, and pyrexia (n=1 each). The events of diarrhea and colitis were considered related to treatment.1 patient had a TRAE of grade ≥3, which was serious (diarrhea). No TEAEs led to treatment discontinuation or study withdrawal.
By the end of November, Agenus treated more than 130 patients with CTLA-4 and PD-1 Antibodies:
PD-1 (AGEN2034) monotherapy has treated more than 88 evaluable patients with metastatic solid tumors, including 3 out of 7 evaluable patients with cervical cancer, and observed clinical benefit in more than 68% of them.
PD-1 + CTLA-4 (AGEN1884) has treated more than 82 patients with ovarian, breast, and sarcomas and observed clinical benefit in more than 63% of them.
Dr. Anna Wijatyk, Agenus' VP of Clinical Development, met with the FDA and confirmed that PD-1 and CTLA-4 are designed to support a BLA filling as early as 2020. Furthermore, Agenus delivered next-generation CTLA-4 (AGEN1181) in 2018. Thus, on the chance of approval and launch of AGEN1884/AGEN2034, the company will see significant growth in its income and stable source of cash inflows.
Pipeline
The pipeline shows three fully-owned immune modulating antibodies at phase II of development. The company also has fully-owned AutoSynVax at phase I of development, the first-generation individualized vaccine made by combining synthetic versions of each patient's own cancer antigens with heat shock protein 70. Agenus has four more fully-owned candidates at preclinical development.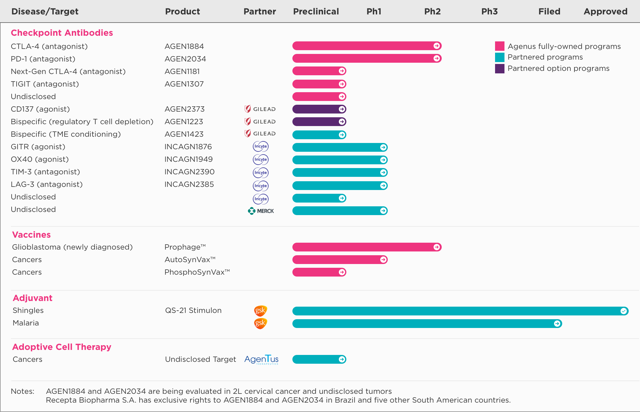 Source: Company's website
The company had collaboration with large-cap biotechs. Let's discuss this in detail.
Partnership deals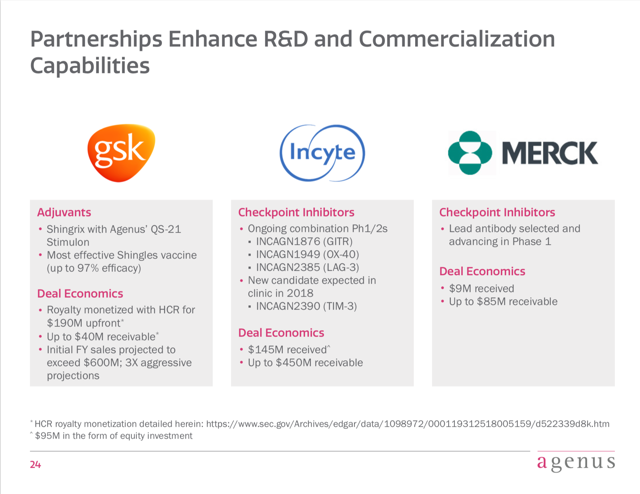 Source: Company investor's presentation
Financials
As of September 30, 2018, Agenus closed the third quarter with a cash balance of $46 million, which is 68% of the total current assets, total assets of $130.4 million, and total liabilities of $261.867 million.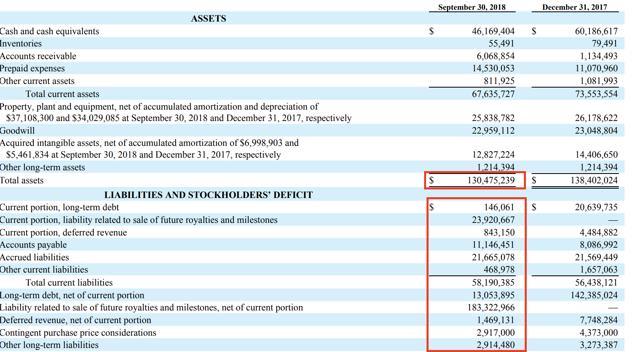 Source: Company's 10-Q
This implies an asset\liability ratio below one. Thus, investors may want to be wary about signs coming from the company's financial situation.
This was a comment that was made by Christine Klaskin, who is the VP of Finance of the Agenus:
As you can see from these numbers, we continue to manage our cash prudently ending this quarter as we projected with a cash balance above that of the end of the second quarter.
The company had an accumulated deficit of $1.1 billion since its inception and successfully financed operations through the sale of equity, notes, corporation partnerships, and interest income. Important to note that on October 10, 2018, Agenus entered into a Stock Purchase Agreement and sold 18,459 convertible preferred shares at a purchase price of $2,167 per share and received $39.9 million in cash (10-Q filling, page 5, 22). On the other hand, in the long-term, that policy has increased the company's debt and required more cash in the future as the loss of early extinguishment of debt was $10.8 million for the nine months ended September 30, 2018, according to the Note Purchase agreement with Oberland Capital SA Zermatt LLC dated September 4, 2015. Also, for the nine months ended 2018, repayment of the debt has made up approximately 65% of the cash flow from financing activities.
As you can see below, a significant amount of cash was used in operating activities, an average of ~68%. R&D expense made up approximately 74% of the operating expenses, which will be used to fund the company's unique pipeline portfolio.


Source: Company's 10-Q
As seen above, for the three months ended September 30, 2018, the total loss reported was equal to $26.07 million, but with the new SPA cash, Agenus believed that it would be enough to fund its pipeline into Q2 of 2019. With total assets of $130.4 million and cash on hand from the most recent partnership deal, the company seems to have enough liquidity to finance its operation for a few years without the need for a new cash inflow. In the third quarter, the biotech has recognized revenue of $13 million, which includes a milestone achievement of $6 million from research and development under collaboration with Incyte and $0.3 million earned from the amortization of deferred revenue. Also, $6.5 million was recognized from a royalty purchase agreement according to which the biotech sold 100% of its worldwide rights to GSK. Keep in mind that the commercial sales of Shingrix beat forecasts, and this implies a high probability of possible revenue increase in Q4.
Technical outlook
The weekly chart below shows the price of AGEN, currently located at the highest level within the borders of the upward channel. This is above the original resistance seen at the $3.00 price level. This is the same place where the price originally found support in April 2016.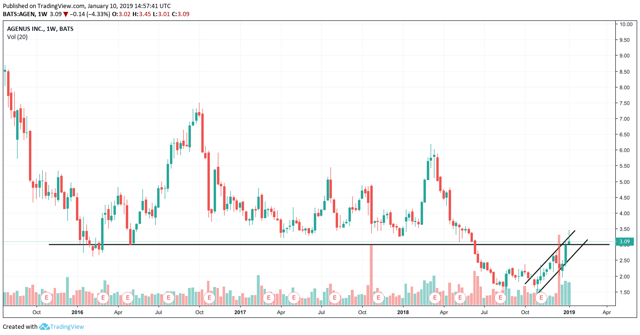 AGEN Weekly Chart: 1/10/2019 (Source: Tradingview)
To get a picture of what is going on with AGEN, we turn to the daily chart. As seen in the chart below, the price has set a higher adjusted close within the area of the upward channel. The price has tested $3.00 area several times over the course of the last month and broke it out a few days ago. This implies a possible rally to the $5.00 level from here.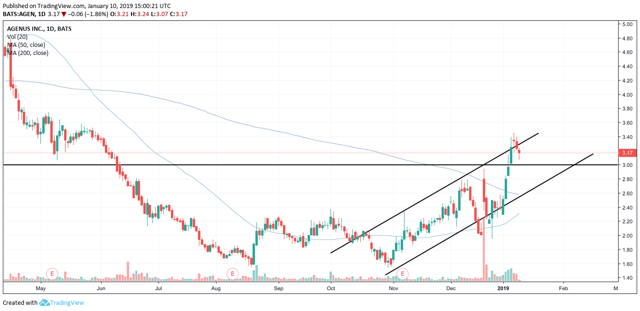 AGEN Daily Chart: 1/10/2019 (Source: Tradingview)
In the chart above, we can see the following implications:
Price has tested the upper channel limit and broke out the resistance level of $3.00
The MACD is rising (bullish signal)
The shares are above 200ma and found strong support at the 50ma
As seen in the table below, the call option with the price strike of $3.00 that expires on January 18, 2019, rises in price by 66%, and the call option with the strike price of $4.00 that expires on the same date rises in price by 150%.

Source: Yahoo Finance
Conclusion
The mid-term and long-term market sentiment for AGEN is bullish because the price has crossed the strong resistance level of $3.00, and we enter into a long-term bullish trend. We expect the company to continue to develop its collaborations with Gilead and others in order to be eligible to receive more fees and milestone payments. The stock has enormous growth drivers as the company develops its oncology pipeline with solid future growth potential.
In my opinion, AGEN is a great candidate to buy at these levels from a fundamental and technical standpoint.
Disclosure: I/we have no positions in any stocks mentioned, and no plans to initiate any positions within the next 72 hours. I wrote this article myself, and it expresses my own opinions. I am not receiving compensation for it (other than from Seeking Alpha). I have no business relationship with any company whose stock is mentioned in this article.