Opportunity
NV5 (NVEE) is a fast growing under the radar infrastructure consulting firm. There have only been 4 articles on NV5 since they IPO'd over 5 years ago and only 5 analysts who follow the company. The lack of coverage is not uncommon with small stocks as major investment banks cannot buy major stakes in the company for clients without drastically increasing share price due to current trading liquidity.
The recent drop in overall stock market and recent capital raise at $79/share has left NV5's share price down nearly 30% from the recent highs. I believe this offers an attractive risk-reward with NV5 trading at 23.54 trailing P/E ratio as of today. Analysts have an estimate of $3.88 EPS for 2019, implying a forward P/E of 17.46. This would put NV5's forward P/E below the market's current P/E at 19.87, making an attractive entry point given strong runway for growth.
Historical range of P/E has ranged from 38.38 at the high to 10.63 at the low end giving an average of 24.5 P/E midpoint. Shares are currently right near the midpoint thus leading to a reasonable time to pickup a half or full position in NV5. I have initiated a recent buy and hold strategy at $59/share and believe buying shares near or below current prices will produce significant alpha.
Company Background
NV5 provides professional and technical engineering and consulting services to public and private sector clients in the infrastructure, energy, construction, real estate, and environmental markets in the United States and internationally. NV5 operates two segments: Building, Technology, & Sciences segments and the Infrastructure division.
The company offers site selection and planning, design, water resources, transportation, structural engineering, land development, surveying, power delivery, building code compliance, and other services; and construction materials testing and engineering, geotechnical engineering and consulting, and forensic consulting services.
Management has indicated that the Total Addressable Market for their various services is $3.6 trillion. The American Society of Civil Engineers gave the hard assets that help our economy function a D-plus grade for quality. Incredibly, the highest-rated category was rail at a B. The massive need for investment in American infrastructure is the opportunity that NV5 has been executing on.
Revenue from Government and Quasi-Government projects was 68% in 2017, 81% in 2016, and 60% in 2015. Management has proven their ability to win government bids and profitably deliver consulting services. NV5 uses both organic growth and acquisitions to increase their market share as they have acquired 32 companies since 2009 and Dickerson has acquired over 100 since founding U.S. Laboratories (more on this later).
Industry Roll-up strategy
There are currently 144,000 competing engineering firms that are largely small and medium sized. The market is highly fragmented thus creating a large roll-up opportunity for acquisitive firms like NV5. Management focuses on small "tuck-in" companies who can easily be integrated. This strategy decreases acquisition risks as any one failed acquisition would not bankrupt or significantly jeopardize the company.
Management has created a platform that has proven success in decreasing General and Administrative costs as compared to a percentage of revenue. The platform to onboard acquired companies is focused around decreasing back office and operational inefficiencies, integration of technology and shared platforms, and cross selling by moving into tangential engineering fields.
Revenue has increased from $68.2M in 2013 to $333M in 2017 and General & Administrative cost increased from $6.7M to $26.7M over the same period. General & Administrative costs as a percentage of revenue has decreased from 9.8% in 2013 to 8% in 2017. The percentage gives credence to management's ability to increase operational efficiency of acquired companies. (SA Data) This is further supported by NV5's ability to raise income from operations from $3.9M in 2013 to $26.6M in 2017.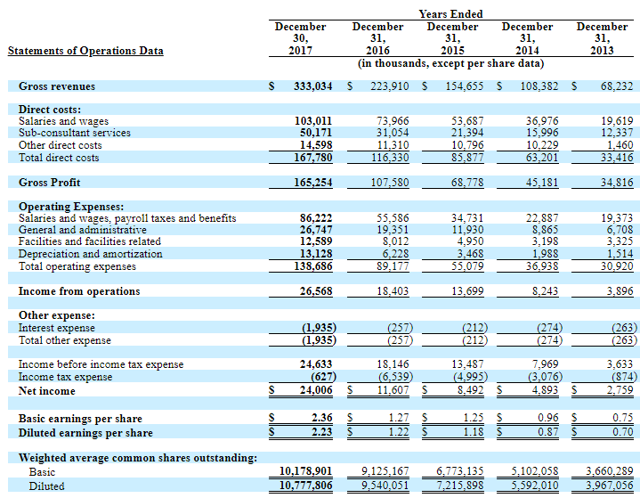 Source: SEC filing
Roll up strategy in a highly fragmented industry can lead to tremendous results if properly executed. There are a multitude of companies such as Middleby (MIDD), TransDigm (TDG), and Match Group (MTCH) that have created tremendous shareholder value by rolling up an industry. A common theme among these companies is primarily focusing on small tuck-in acquisitions rather than purchasing massive companies that if failed, could cause the whole company to collapse or cause crippling debt.
Debt load and ability to service that debt load is a key component as well. NV5 currently has $56.2M (All figures in USD) in cash with short-term debt of $14.2 and long-term debt of $19M giving them a net cash balance of $23M. Having a strong balance sheet is key when watching the sustainability of a company with a serial acquisition strategy. The most common issue is when industry consolidators take on excessive debt compared to cash flows and when the economy or industry takes a dip, the company can no longer service their debt.
NVEE is not at all at risk of this at present moment given their recent stock raise of $115.4M on an average stock price of $79 a share. The equity raise paid off nearly $50M in debt and gave the company ample room to further pursue their acquisition strategy. NV5 has ample cash and ability to raise debt in order to continue their acquisition strategy. Dickerson's capital allocation was quite prudent as the $79 share price was fairly close to all time highs for the stock.
Increasing revenue and Backlog
NV5's organic and non-organic growth strategy has led to top line growth, from $29.2M in Q2 2014 to $105.5M in Q3 2018 representing 261% growth. Earnings per share have also significantly increased pointing to the effectiveness of their strategy and not just growth for growths sake. EPS over the same period have increased from 19 cents per share to 65 cents representing a 242% increase (SA data). Management has been able to increase Operating Margin from 5.71% in Q3 2013 to 8.53% in Q3 2018.

Management is not sitting still in their success and has set a goal of reaching $600M by 2020 that would call for roughly a 50% growth in top line from trailing 12 months. Rapidly expanding contract wins are leading to strong growth in backlog from $274.5M in Q3 2017 to $342M in Q3 2018, representing a 24.5% increase in just 1 year. Management is guiding for top line growth of 29% with organic revenue coming at 8%. This is roughly double the industry average.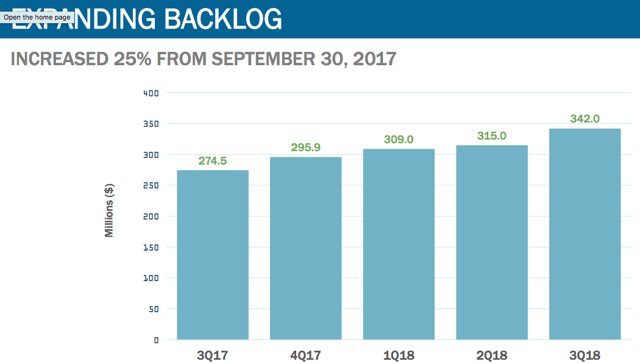 Source: Investor presentation
Intangibles
Management currently owns nearly 30% of the outstanding shares. CEO Dickerson Wright owns just shy of 20% of the company himself. I always prefer to invest in companies who have high insider ownership as it proves interest alignment with common shareholders. Mr. Wright has served as Chairman of the Board and Chief Executive Officer since NV5's inception in December 2009 and has over 35 years of uninterrupted experience in managing and developing engineering companies.
Wright was CEO of a company called Bureau Veritas prior to starting NV5. The company had mostly an international revenue stream with little presence in the US. Mr. Wright grew the US operations to $280M a year in revenue with over 2,700 employees when he left to found NV5 in 2009.
Mr. Wright founded U.S. Laboratories, an engineering and consulting firm, in October 1993 and served as its Chief Executive Officer through its initial public offering in 1999 and ultimate sale to Bureau Veritas in 2002. Dickerson Wright has a strong track record of building highly efficient engineering and consulting firms and growing through acquisition. I see no reason why he can't continue his success with NV5.
Major Risks
The biggest risk I see to NV5 is Dickerson Wright leaving the company. Dickerson is currently 71 years old making one wonder how much longer he will continue with the company. Mr. Wright does own 20% of the company so I would be surprised for him to step away completely given a large portion of his wealth is tied to stock performance. NV5's management team is filled with highly experienced leaders with 20+ years of experience who have been with the company for a long time and are able to maintain the current strategy.
Government or semi-government contracts accounted for 68% of revenue in 2017. Any significant slow down in government infrastructure budgets or a government shutdown could materially impact results. The American Society of Civil Engineers gave the hard assets that help our economy function a D-plus grade for quality. The very low quality of US infrastructure makes any slow down in investment unlikely and points towards a need for an increase in spending. This would serve as a long-term tailwind for NV5.
Natural Gas and Oil industry is a significant portion of non-governmental revenue stream. The commodity nature of Natural Gas and Oil industry causes cyclicality in spending and drilling activity. Cyclicality in the industry can cause projects to be delayed or canceled unexpectedly. This can lead to uncertainly for NV5's business. Management has a long track record and has managed to operate profitably in all cycles of the business, thus reducing this overall risk.
Investment Thesis
Dickerson Wright is a "been there, done that" CEO in the technical engineering and consulting industry. U.S. Laboratories, Bureau Veritas, and now NV5 are thriving under his meticulous roll up strategy focused around acquiring small tuck in firms with strong management teams. The current industry has 144,000 companies that are mostly small and medium sized leading to plenty of additional targets to supplement their organic growth. NV5 has plenty of capital to deploy with a $56M in cash and an overall net cash balance of $23M. Growing operating income and aggressive top line growth target of reaching $600M of revenue by 2020 gives me strong confidence that management will continue to outperform the market creating significant alpha over the long term.
Disclosure: I am/we are long NVEE. I wrote this article myself, and it expresses my own opinions. I am not receiving compensation for it (other than from Seeking Alpha). I have no business relationship with any company whose stock is mentioned in this article.