Glencore's Peer Comparison
Glencore (OTCPK:GLNCY, OTCPK:GLCNF) is one of the world's largest natural resource companies. It essentially has three core businesses: (1) mining and refining of metals, (2) coal (coking and thermal), and (3) agricultural products that are all integrated with its marketing division which handles logistics and trading of the commodities.
The following tables show how Glencore stacks up against its two closest peers — BHP (BHP) and Rio Tinto (RIO):
| | | | | |
| --- | --- | --- | --- | --- |
| as of June 30, 2018 | Total Assets (billion) | Book Value (billion) | Market Cap (billion) | Invested Capital (billion) |
| BHP | $112 | $55 | $125 | $100.4 |
| Glencore | $134.5 | $45.5 | $52 | $97.4 |
| Rio Tinto | $86.7 | $39.3 | $84 | $78.9 |
| | | | | |
| --- | --- | --- | --- | --- |
| as of June 30, 2018 | Price to Book | 10-Year Average Return On Invested Capital (ROIC)* | Price to Earnings | Price to Cash Flow |
| BHP | 2.27 | 11.9% | 19.8 | 7.1 |
| Glencore | 1.14 | 3.73% | 8.7 | 10.5 |
| Rio Tinto | 2.14 | 8.2% | 8.0 | 5.2 |
*source: Morningstar
Despite having a similarly sized capital base to BHP, Glencore's market cap is less than half that of BHP's. The reason becomes clear when we compare returns on invested capital. According to Morningstar, the average annual return on invested capital over the last 10 years for BHP has been three times higher than that of Glencore. More recently, based on my calculations for the July 2017 to June 2018 period, the ROIC for these three miners were BHP 7.5%, Glencore 5.3%, and Rio Tinto 17.5%.
Here's a seven-year weekly chart of BHP (yellow), Glencore (black), and Rio Tinto (red) which is supposed to be adjusted for dividends: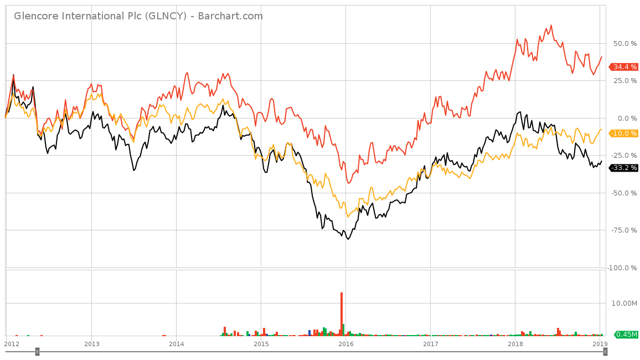 chart courtesy of barchart.com
Over the last seven years, shares of Rio Tinto have appreciated 34%, whereas those of BHP and Glencore have fallen 10% and 33%, respectively. Rio Tinto's higher ROIC over the last few years partially explains its outperformance.
One reason that BHP and Rio Tinto have enjoyed higher returns over the last decade is due to the fact that each miner has a sizable iron ore business, whereas Glencore does not. 59% of Rio Tinto's 2017 earnings before interest taxes depreciation & amortization (EBITDA) came from iron ore and 45% of BHP's fiscal year 2017 EBITDA came from iron ore. Iron ore has been a cash cow for the likes of BHP, Fortescue (OTCQX:FSUMF; OTCQX:FSUGY), Rio Tinto, and Vale (VALE).
In 2017, Glencore derived 35% of its EBITDA from copper, 29% from energy (mostly coal), and 21% from zinc. Absent an outperformance of the base metals over iron ore in the coming years — a scenario which I see as highly likely — is there anything else Glencore can do to unlock value? Yes.
Glencore's Advantage
Electric vehicles and energy storage have ushered in a new era of growth potential for the industrial metals mining industry. Key metals of focus are cobalt, copper, lithium, manganese, nickel, rare earths (neodymium and praseodymium), tin, and vanadium.
Glencore is the leading producer of cobalt, the fourth-largest copper producer, the third largest nickel producer, and owns one of only three primary vanadium mines (second-largest primary producer). Yet, these assets accounted for about only 18% of Glencore's adjusted EBITDA during the first half of 2018. The value of these assets remains "trapped" behind Glencore's broader structure. For example, its vanadium mine Rhovan produced about as much vanadium in 2018 as Largo Resources' (OTCQX:LGORF) Maracas Menchen. Largo's market cap is currently $1.6 billion. Is Glencore's $52 billion market cap reflecting any value for Rhovan? I doubt it.
Introducing GlenTech
Glencore could spin off its (1) African copper business, (2) Integrated Nickel Operations, (3) Australian nickel operations, and (4) South African vanadium operation into a new company which I will hereafter refer to as GlenTech. GlenTech would be positioned as the world's leading producer of the key materials needed for electric vehicles and energy storage. Furthermore, GlenTech also could start with the right capital structure so that it would have the room to make an acquisition (or two) in the lithium space where assets can presently be had on the cheap. This would position GlenTech as the investment vehicle for the electric vehicle and energy storage revolution. Furthermore, GlenTech would not be a coal producer which some investors may welcome.
In the following table, I separate the assets of GlenTech from the existing Glencore structure to show specifically what would remain for each:
| | | | |
| --- | --- | --- | --- |
| Commodity | Glencore (remaining) | GlenTech | GlenTech Rational |
| Copper | Collahuasi, Antamina, Other South American, Australian, Custom Metallurgical (smelting & refining) | African Copper | Gives GlenTech the leading cobalt business and also a top 10 copper producer which is also a key metal for EV infrastructure build. |
| Zinc | All including Custom Metallurgical (smelting & refining) | | |
| Nickel | Koniambo | Integrated Nickel Operations,Australia (Murrin Murrin) | Nickel and cobalt are needed for battery cathodes. Murrin Murrin also produces cobalt. |
| Ferroalloys | Ferrochrome(Chrome, Platinum, Carbon) | Rhovan | 2nd largest primary vanadium mine in the world which is being used in vanadium redox flow batteries (VRFB) for grid storage. |
| Energy | All | | |
| Marketing | All | | |
| Agriculture | All | | |
Heritage Glencore would be left widely diversified and fully integrated across the commodity spectrum. Its existing core business rationale would remain intact.
I estimate that GlenTech could perhaps have revenue of $8 billion, EBITDA of $3.2 billion, and net income of $2 billion in the current metals price environment. Growth-oriented investors would likely be willing to pay a premium for an entity like GlenTech with direct, yet diversified, metals exposure to these new technology industries. At a multiple range of 10 to 12, GlenTech's market cap could be $20 to $24 billion on $2 billion in earnings.
85% of Glencore's 2017 EBITDA came from copper, energy, and zinc. They would be losing roughly 13% of this to GlenTech through African Copper. Adding in the nickel assets, I estimate that Glencore would be losing about 20% of the value it is currently being assigned for the GlenTech assets which based on its current market cap would be worth $10.4 billion. Again, keep in mind that this would not disrupt heritage Glencore's integrated refining, logistics, and marketing operations. If GlenTech ultimately trades with a market cap of at least $20 billion, then this could unlock $10 billion in value for Glencore's shareholders.
Strategic Conclusion
Glencore has been a leader in acknowledging and preparing for the transition to electric vehicles. I think they should take this one step further and spin off their related assets into a new company that would provide investors with a more direct way to invest in the growth opportunity that electric vehicles and energy storage provide.
Important Disclosure
I'm an investment advisor and owner of True Vine Investments, a Registered Investment Advisor in the State of Pennsylvania (U.S.A.). I screen electronic communications from prospective clients in other states to ensure that I do not communicate directly with any prospect in another state where I have not met the registration requirements or do not have an applicable exemption.
Any investment advice or recommendations involving securities referenced in this article is general in nature and geared towards a readership of sophisticated investors. This article does not involve an attempt to effect transactions in a specific security nor constitute specific investment advice to any particular individual. It does not take into account the specific financial situation, investment objectives, or particular needs of any specific person who may read this article. Individual investors are encouraged to independently evaluate specific investments and consult a licensed professional before making any investment decisions.
All data presented by the author is regarded as factual; however, its accuracy is not guaranteed. Investors are encouraged to conduct their own comprehensive analysis.
Positive comments made regarding this article should not be construed by readers to be an endorsement of my abilities to act as an investment advisor.
Industrial Minefinder™
Looking for unique perspective on metals & mining? Check out my Industrial Minefinder™ Marketplace service which covers the industrial metals & mining sector. I present what I think are the best opportunities across the full spectrum of majors, intermediates, and juniors. Subscribers like how I put numbers on juniors and provide ongoing rankings and target prices for stocks I cover.
If you are interested in subscribing to Industrial Minefinder™, you can sample my work by reading my "author's picks" accessible from my Seeking Alpha profile. Direct message me with any questions you may have.
Disclosure: I/we have no positions in any stocks mentioned, and no plans to initiate any positions within the next 72 hours. I wrote this article myself, and it expresses my own opinions. I am not receiving compensation for it (other than from Seeking Alpha). I have no business relationship with any company whose stock is mentioned in this article.
Additional disclosure: Fortescue & Largo Resources are holdings in some client portfolios through which I earn a management fee. I have an economic interest in these companies.