Shares of hyper-growth online food ordering and delivery giant GrubHub (GRUB) have fallen about 45% off their all time highs during the recent market selloff. But, we have reason to believe that the worst may be over for GRUB stock, given that the secular revenue growth drivers remain intact and that the stock is now rubbing up against price and valuation levels which have historically provided strong support during selloffs. As such, we think now is the time to buy the dip in GRUB stock, and we further see substantial upside in the medium to long term window.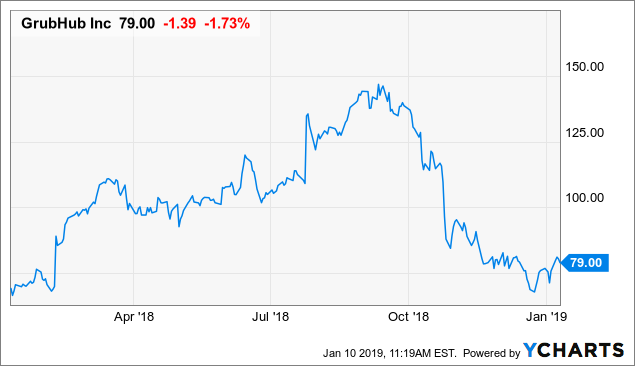 The story at GrubHub isn't too complex. Much like Amazon (AMZN) pioneered the era of e-commerce, GrubHub has pioneered the era of online food ordering and delivery. This market has grown by leaps and bounds over the past several years due to secular trends such as the rise of the at-home and gig economies and accelerated digital service adoption. As the market has grown, so has GrubHub, due to the market's relative infancy and lack of viable competitors.
Now, competitors are entering the scene. There's data showing that GrubHub is rapidly ceding market share to faster growing yet smaller peers like UberEats, DoorDash, and Postmates. This competition isn't showing up on the revenue line. Last quarter, revenues rose over 50%, active diners rose by nearly 70%, daily average grubs rose by over 35%, and gross food sales rose by 40%. All of those growth rates are in-line or above historical averages. Instead, the competition is showing up on the profit line. Management gave a huge down-guide for fourth quarter EBITDA margins back in October due to increased investment to maximize growth. Specifically, the company is rapidly expanding delivery services to new markets (100 new markets in Q4, versus 100 through the first three quarters of 2018), and significantly upping advertising spend to grow brand awareness.
What's going on under the hood? Revenue growth isn't being adversely impacted because, much like the e-commerce industry, the online food ordering space is growing quickly enough and will be big enough to accommodate multiple large and hyper-growth players. The online food delivery market comprises just 5% of addressable restaurant spend. That's a small digital penetration rate. For all retail sales, the digital penetration rate is nearly 10%, while for things like apparel sales, the digital penetration is nearly 30%. Plus, there's the whole international market, which is largely untapped. With such a low global digital penetration rate relative to other industries, the online food delivery market has tremendous growth prospects over the next several years, implying sustained big growth for GrubHub and its competitors alike, much like Amazon, Walmart (WMT), Target (TGT), Wayfair (W), and Etsy (ETSY) are all still growing side-by-side in the secular growth e-commerce market. In the big picture, secular growth markets can give birth to more than one huge company.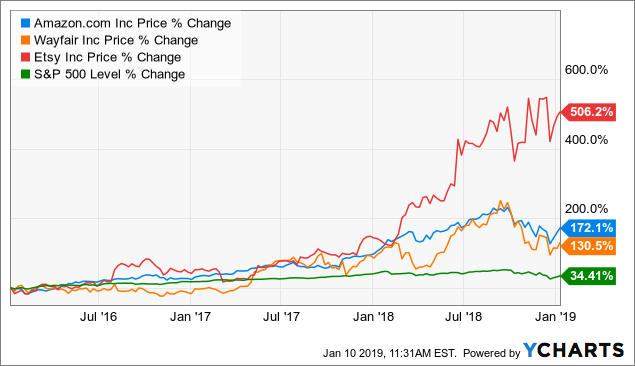 Profit margins, however, are being impacted. GrubHub needs to spend to protect itself from losing too much share, and/or missing a growth opportunity. The company needs to stay on its toes, continue to innovate, and continue to expand. That requires investment, and investment dilutes margins. Thus, diluted margins going forward are the new norm.
The bull thesis is two-fold. One, the long term growth drivers underlying GRUB stock remain robust, considering the huge growth potential over the online food ordering industry and GrubHub's market leading position. Over time, market growth will override lower margins, and both revenues and profits will grow by leaps and bounds. Companies that grow revenues and profits by leaps and bounds usually have stocks that rise by leaps and bounds, too.
Two, GRUB stock is now rubbing up against price and valuation levels which have historically provided support for the stock, and is bouncing nicely off them, implying that a bottom has been put in. Namely, at its low, GRUB stock dropped ~55% off its recent highs. That almost matches the stock's biggest correction ever, which was back in 2015-16, and was a 60% draw-down from all time highs. The stock nearly hit those levels in late 2018, and has since bounced back. That's bullish price action.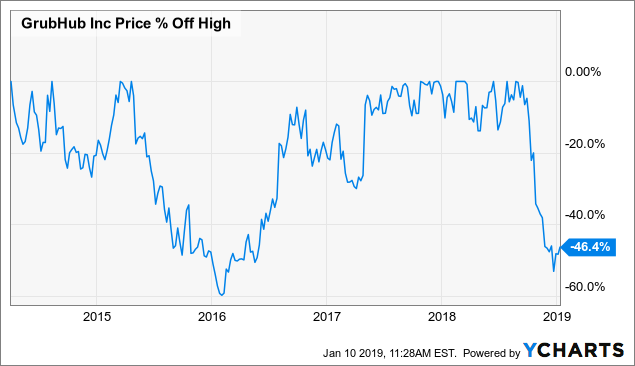 On the valuation front, GRUB stock hit a low of around 50x trailing earnings in late 2018. That, too, is a level which has historically been a valuation bottom for the stock during multiple selloffs over the past few years. This level should hold again. Revenue growth today is above where it has been historically, and although margins are lower, the long term EPS growth trajectory remains roughly where it's been over the past several years in the 20-30% range. Thus, the fundamentals remain largely the same, implying that the valuation should remain largely the same, too. From this perspective, 50x trailing earnings should be the bottom, and that is roughly where we are today.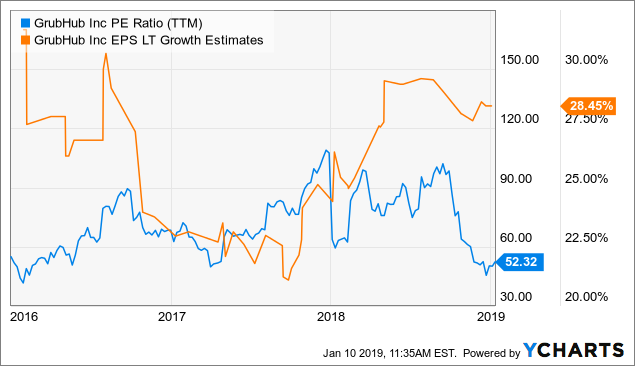 Overall, the worst may be over for GRUB stock. The long-term growth drivers remain healthy, and the stock has successfully tested and held critical price and valuation support levels. We believe a bottom has been reached, and see this stock bouncing back in a big way from here over the next several months.
Disclosure: I am/we are long GRUB, AMZN, TGT. I wrote this article myself, and it expresses my own opinions. I am not receiving compensation for it (other than from Seeking Alpha). I have no business relationship with any company whose stock is mentioned in this article.