Welcome to the alignment edition of Natural Gas Daily!
Weather models now align for a much more bullish outlook for natural gas heating demand by the end of January. The American models are leading the pack while the European model is still lagging in intensity. But now, the two major weather models are in agreement that the warmer than normal weather outlook is starting to dissipate and the set-up for February looks bullish.
For us, we doubled our long exposure two days ago when we saw encouraging signals in the weather models.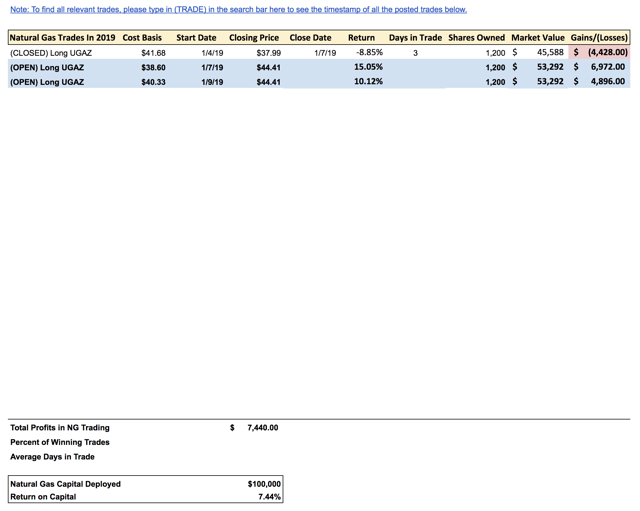 For us, the more obvious trade set-up going forward given the backdrop of negative sentiment is on the long side considering that winter is not over yet, but prices reflected a continuation of bearish weather forecasts.
When price diverges from reality, it usually presents an excellent trading opportunity. On a technical level, we also noted that prices were consolidating at an important trend line, and so far, that trend line has held.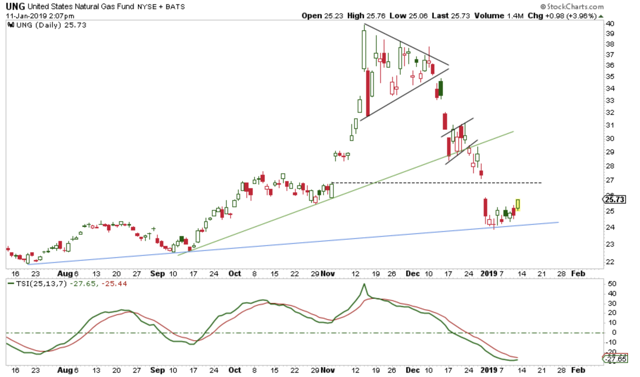 Our view is that if February turns out to be colder than normal, which also is what the long range models are currently forecasting, then we could see March contracts return to $3.50 to $3.75/MMBtu.
But for trading purposes, the most favorable risk/reward move would be to remove half the long positions once the gap is filled and then trade accordingly after. For UGAZ, for example, that level would be around $52 to $53.
This weekend's weather model updates will be very important for next week's move. The ECMWF-EPS long range outlook shows a bullish weather shift taking place by Jan. 28, so the 15-day outlook in the daily models will reflect that this Sunday. If the outlook is bullish, we expect the move in natural gas to happen fairly early next week with the gap closing right away. If not, then we could see range-bound price action for a while longer.
We will be posting all updates, so subscribers will get real-time updates.
For now, we are long UGAZ and we think the set-up favors the bulls.
For readers that have found our natural gas articles insightful, we think you should give HFI Research Natural Gas a try. We are now offering a 2-week free trial and we have the largest natural gas trading community on Seeking Alpha. Come and see for yourself.
Disclosure: I am/we are long UGAZ. I wrote this article myself, and it expresses my own opinions. I am not receiving compensation for it (other than from Seeking Alpha). I have no business relationship with any company whose stock is mentioned in this article.