A year has passed from when I had posted an article where I suggested Materials (NYSE:$XLB) would be the lead sector in 2018. As 2019 rolled in we can now see this was not the case as the real winners for 2018 were defensive sectors, Health Care (NYSE:$XLV) and Utilities (NYSE:$XLU) along with a consumer loving Discretionaries (NYSE:$XLY); each sector returning 9.75% or more on the year.
Unfortunately, Materials ranked as one of the worst underperformers for 2018; coming in with a 9% loss, only surpassed by Energy (NYSE:$XLE) with a 10.3% loss. Losses in Materials were in part caused by misplaced optimism in Trump's Infrastructure plan, compounded by a late-year decline in commodity prices. Other sectors were caught in more middle territory, but mention to Industrials (NYSE:$XLI) and Financials (NYSE:$XLF) which both lost around 6% in 2018.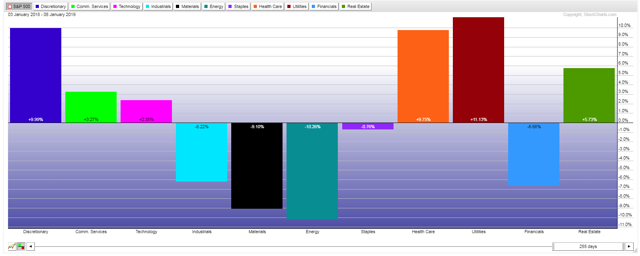 Source: Stockcharts.com
Of the seven Materials stocks I mentioned last year; three of them lost more than 20% with only two coming in at a profit.
| | | | |
| --- | --- | --- | --- |
| Stock | Jan 2nd 2018 | Jan 1st 2019 | Price Change |
| Ecolab (ECL) | 132.98 | 147.35 | +11% |
| DowDupont (DWDP) | 70.26 | 53.48 | -24% |
| FMC Corp (FMC) | 95.17 | 73.96 | -22% |
| International Paper (IP) | 57.60 | 40.36 | -30% |
| PPG Industries (PPG) | 116.02 | 102.23 | -12% |
| Vulcan Materials (VMC) | 130.59 | 137.13 | +5% |
| Bemis Co. (BMS) | 46.54 | 45.90 | -1% |
2019
So what can we expect for this year?
I think the story for 2019 will be about grabbing value; the last time markets offered with opportunity was back in 2016 after the election of Trump, but then you are going back to 2011 and 2009 to when similar conditions emerged. The year has already started with a peak-to-trough loss of 20% for the S&P; this has knocked stocks so hard that the percentage of stocks trading below their 200-day moving average (effectively, the trailing average price of a stock or index for the year) is down at levels associated with the initial sell-off in 2008, the 2001 swing low, and just above the lows from 2016.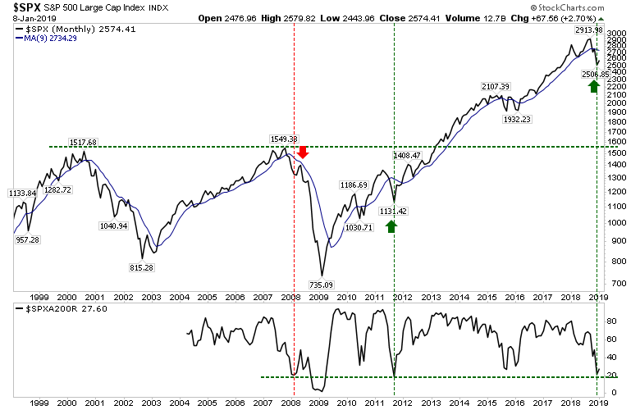 Source: Stockcharts.com
This opens up an important question; are we looking at an early phase crash as happened in 2008/09 or an extended period of selling within a larger bull market, as occurred in 2011 and 2016?
The straight answer is nobody knows. All we can do is react to it as we should have done in past instances.
The first point to make is not to invest everything at once. Yes, we have a value situation, but we could see better value in the months ahead. This is where dollar-cost-average reigns supreme; we commit an investment spread over a period of 12 months and if stock prices continue to fall as they did in 2008 we are getting more stocks for our buck. If stock prices start to rally, well then we are buying less for our money but what we already own is appreciating in value.
The second point is to identify which sectors within the market are likely to benefit most. 2018 was a year defensive stocks did well as more economically sensitive sectors, with the exception of consumer discretionary stocks, underperformed. The strong performance of consumer discretionary stocks was probably tied to historically low unemployment, but millennials' struggles in the housing market could have also contributed with comfort buying by this demographic.
Sectors which are likely to bottom first - and therefore offer the best value - will be the economically sensitive sectors like Technology and Industrials - as shown in the business cycle Sector Rotation Model. Note, the price charts for Technology and Industrial stocks will look ugly; the trap will be avoiding companies which are on the outs, like many of the .coms in the early 2000s.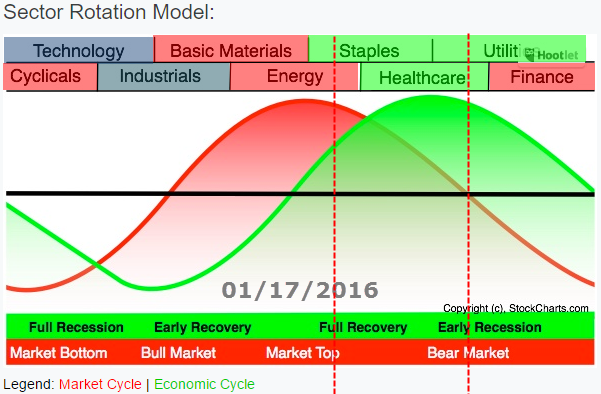 Source: Stockcharts.com and RBC Wealth Management
With this in mind, I'm more inclined to go more cautious and focus on the Industrials stocks which could do well than the more risky (and potentially more rewarding) Technology sector. My prediction for an outperformance in Industrials for 2019 is based on an assumption we are looking at a 2011 and 2016 style correction and not a 2008 collapse; but even in the latter case, I think 5-10 years from now the best relative gains will be from those buying the following Industrial stocks over the full course of the decline in a dollar-cost-average process.
The Candidates
2019 Status

P/E

PEG (5 yr)

PPB

PPS

Debt

/Equity

% Yield

Waste Management (NYSE:$WM)

Leader

16.63

n/a

6.02

2.55

160.5

2.1

Republic Services (NYSE:$RSG)

Leader

17.08

n/a

2.95

2.32

104.1

2.1

Norfolk Southern (NYSE:$NSC)

Value

6.99

0.92

2.57

3.54

73.74

2.1

3M (NYSE:$MMM)

Deep Value

25.16

2.06

10.65

3.33

144.1

2.9

CSX Corporation (NYSE:$CSX)

Value

8.18

0.69

3.79

4.35

100.27

1.4

Expeditors International of Washington (NASDAQ:$EXPD)

Value

19.64

1.71

5.86

1.47

n/a

1.3

Ingersoll-Rang (NYSE:$IR)

Value

14.83

n/a

3.06

1.45

55.7

2.2
Leaders
There are two players to look at in this group: Waste Management Inc and Republic Services Inc. Stock leaders in an underperforming sector have the best chance of attracting investment when money rotates or is redirected into such sectors.
With a yield of 2.1%, Waste Management has been committed to regular increases in its dividend payment dating back to 2004. The company also did well not to cut its dividend during the credit crisis of 2008/09, so we are looking not just at a value play but a dividend-income opportunity for 401Ks/ROTH IRAs.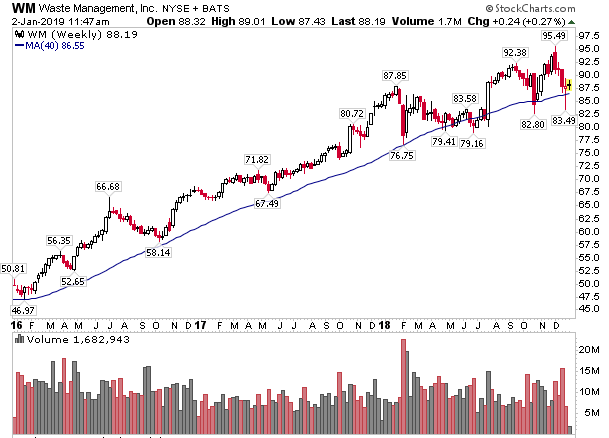 Source: Stockcharts.com
While the company is defined as a member of the Industrial sector it has merits as a Utility and Staple sector stock too. Trash disposal remains an unfortunately necessary growth industry with waste production forecast to increase by 70% by 2050 (world bank estimate). A third of current waste production is sourced from first world countries so it's not hard to see where future revenues will come for Waste Management.
In an era of low unemployment, it has accepted the challenge in retaining skilled employees. The company has taken a lead in compensating hourly employees with a cash bonus, and assumed additional health care costs of its employees. However, the coming slowdown in the economy will ease pressures on labor costs and this will reduce this expense. James C Fish had commented in his Q3 earnings call, "I wouldn't expect to make this $2,000 a recurring payment over a period of years", so the additional bump in employee costs in 2018 is unlikely to extend beyond last year.
However, a projected slowdown in the economy could have an adverse effect on revenues generated on the commercial/industrial side of its business - its most profitable sector after reporting a double-digit growth in pricing for Q3. Recent storms boosted processed waste volumes, and in the era of climate change this is likely to become a more consistent revenue generator outside of its regular waste disposal business.
What goes for Waste Management can also be said for Republic Services. Republic Services carries a slightly higher P/E but a smaller debt/equity ratio than Waste Management. While it shares the same yield as Waste Management, there was a period in 2007 when it slashed its dividend, although it sustained a steady growth of this (reduced) dividend throughout the credit crisis has held into today.
Republic Services grew its revenue by raising prices. This did not have an adverse impact on customer retention, and this raises did help offset a drop in processed volumes. The company is looking to these price rises to keep it a step ahead of inflation.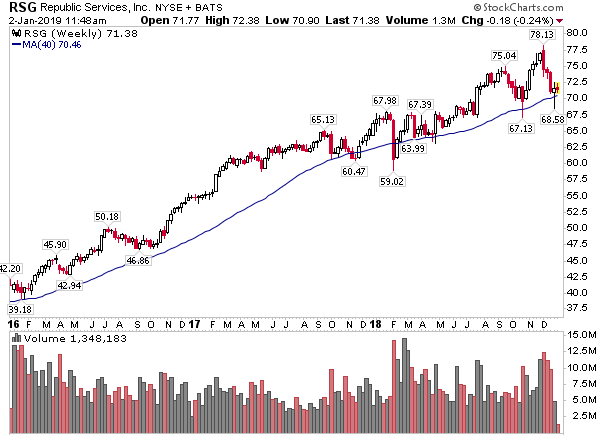 Source: Stockcharts.com
Republic Services is also working to shift its municipal contracts over to a new pricing/recycling model it has initiated which will help sustain its revenue growth and we will see how this impacts in the quarters ahead.
Unlike Waste Management, it does not the same level of exposure to rising labor costs as it uses third-party contractors to move its waste, although Donald Slager did note a rise in these costs in the most recent earnings call without going into specifics.
Base Forming
The next group of stocks we are going to look at I classified as "Value". Value stocks which are trading below their 40-week moving average (the weekly equivalent of the 200-day moving average); because they are trading below this moving average they are underperforming a little, with investors waiting for a catalyst to resume their buying
This group of four stocks are Norfolk Southern, CXS Corporation, Expeditors International of Washington, and Ingersoll-Rang.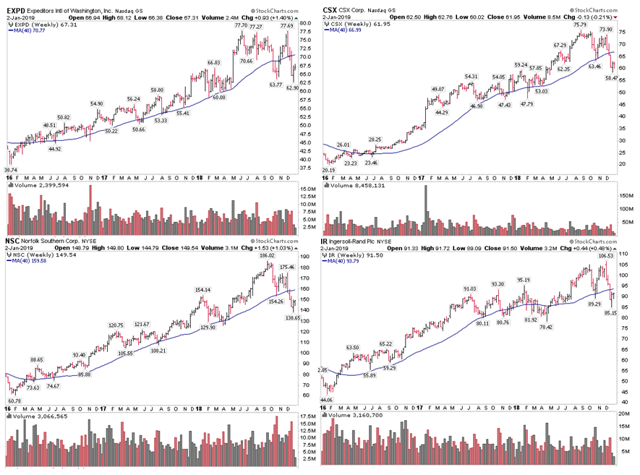 Source: Stockcharts.com
Norfolk Southern and CSX Corporation are both railroad companies and therefore both are bellwethers for the economy in the transport of goods across the country. Each stock was hit by the recent sell-off, although both have begun a new period of underperformance relative to the S&P suggesting there is a greater eagarness to dump these stocks ahead of other underperforming stocks, but this doesn't mean you should.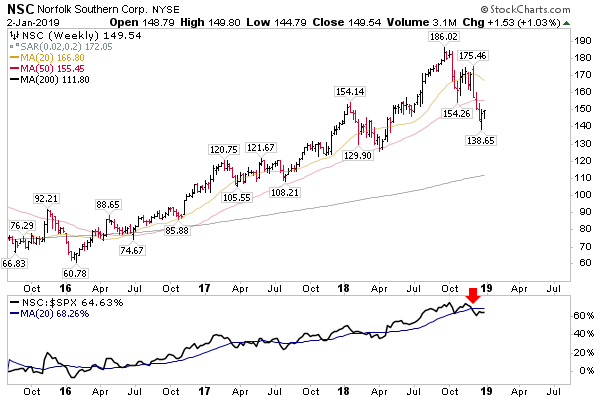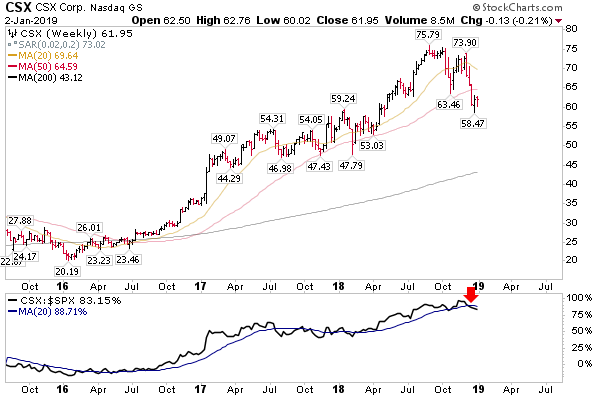 Source: Stockcharts.com
Despite price weakness, revenue growth was positive in the third quarter for both companies. Norfolk Southern recorded a record volume of goods transported in Q3, plus there were volume rises for CSX Corporation.
Norfolk Southern had a 44% year-on-year increase in EPS, helped by its share-buy-back program. CSX Corporation is also engaged in a share-buy-back, having added another $1 billion in shares over the third quarter; part of an authorized $5 billion buy-back.
As an aside, with Apple on the ropes after its disappointing guidance, the theme for the 2018/19 bear market may ultimately be the heavy reliance on share-buy-backs to boost earnings; reflecting a lack of imagination in boardrooms across corporate America (and overcompensated CEOs) in their failure to use cash reserves to drive fresh innovation and invention to market.
Not surprisingly, in the age of Trump, both companies benefitted from his favor towards the coal industry with exports bringing a 14% rise in the revenue of CSX Corporation and a 3% gain for Norfolk Southern (for Q3). However, it was interesting to see both companies noted a decline in coal transport for the domestic utility market; an inevitable slide away from coal usage towards gas and alternative energy production. Norfolk Southern did forecast a rise in coal shipments for Q4, likely in line with higher winter utilization.
In terms of operational cost savings, staff reductions (1% of total) in Norfolk generated helped offset rising materials cost but the company lacks the operational efficiencies of CSX Corporation - an area Norfolk Southern was challenged on by analysts on its Q3 conference call, but improvements in this area would deliver future savings.
On the downside, Hurricane Florence cost CSX Corporation $0.02 in EPS comparable to the costs of Hurricane Irma the year before. Norfolk Southern was not impacted by Hurricane Florence and Irma, with less than 24-hour downtime for the former. Hurricane damage probably remains the biggest risk for both these stocks as storms become more frequent and stronger; it's more of a lottery as to what extent each storm will impact on these companies but based on last year's, CSX Corporation may be a little more vulnerable (greater exposure in Hurricane zones).
Norfolk Southern is a dividend stalwart and has consistently raised dividends even during periods of market turmoil. CSX Corporation sliced off over half of its dividend in 2011 but has consistently raised dividends since.
Deep Value
We now are looking at one of the major underperformers in the sector but could make a strong comeback in 2019.
It's hard to view 3M as the bargain basement stock of the group, but this is a stock which hit its peak well before others in 2018 and then struggled for any traction after that. Chinese exposure, its M*Modal investment, and a new CEO mid-year all contributed to this softness but one would have to say that this all looks priced in. In light of this, October saw a significant jump in the relative performance of this stock against its parent S&P index and this is a good omen for 2019.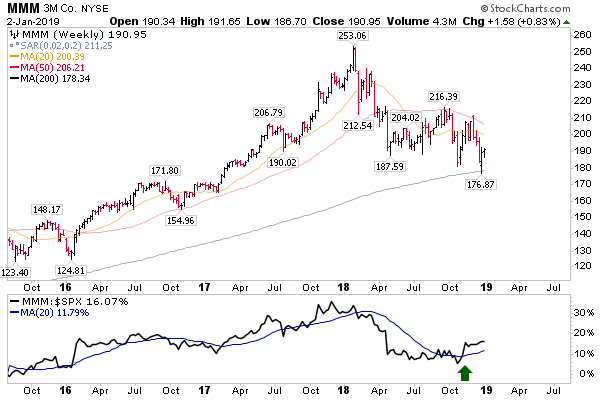 Source: Stockcharts.com
While 3M is often referred to as a dividend stalwart the company wasn't averse to a dividend cut with a significant slice in 2004, but it has been steady in raising its payout since then.
The new CEO struck a cautious tone at the recent Credit Suisse Industrial Conference, forecasting a 2-4% growth in industrial production GDP for the current year with concerns on current economic conditions. Automation was highlighted as one of the biggest drivers for increased productivity and cost savings and despite big steps made in this area over the last decade, there is plenty of scope for improvement. More recent innovations in the field of data and data analytics add another layer to optimize productivity. Collectively, these processes will help 3M's bottom line independent of economic conditions.
So despite slower growth in Q3 the company was still able to report double-digit growth in EPS. There was no real outstanding sector and slow-and-steady was the theme. Trump's tariffs were having an impact but these won't be around forever. Disappointing was the decline in its Healthcare business, citing falling R&D investment from its customers as one of the contributing factors to this weakness; another factor in the torpor of risk-taking by companies which is bad news for the economy as a whole (not a direct reflection on 3M).
However, the company was not immune to the stock-buy-back malaise with up to $5 billion scheduled for the year; at least the company is buying the stock back at a discount.
Summary
We have entered a period of market decline after years of easy gains. The key question we are left with is if what we are seeing now is just a phase I of a much larger decline or is itself, already a bottom.
In either scenario, we need to start investing in companies which are offering the best value for 2019 and Industrials should be one of these sectors.
A dollar-cost-average approach to investing in these stocks with a 12-18 month window would cover both scenarios and leave investors well placed 5-10 years down the road.
Disclosure: I/we have no positions in any stocks mentioned, and no plans to initiate any positions within the next 72 hours. I wrote this article myself, and it expresses my own opinions. I am not receiving compensation for it (other than from Seeking Alpha). I have no business relationship with any company whose stock is mentioned in this article.