Introduction
Here is the third edition of Simple Digressions review of the streaming/royalty sector. Since the beginning of 2019, the STREAM index has lost 0.2%, slightly beating the broad precious metals mining sector represented by GDX (a loss of 0.4%). As for individual stocks, the best performing play was Altius (OTCPK:ATUSF) (discussed below), returning 7.0%. The last in the rank is Metalla (OTCQX:MTAFF), losing 4.6%:
Chart 1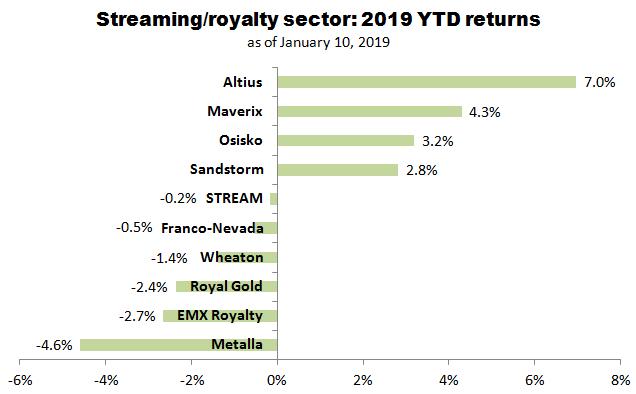 Source: Simple Digressions
Note: The Stream index, replicating the price action of five big streaming/royalty plays (Wheaton Precious Metals (WPM), Royal Gold (RGLD), Franco-Nevada (FNV), Osisko Gold (OR), and Sandstorm (SAND)) was created by the author.
Now, as usual, let me look at two valuation measures.
Valuation
In my opinion, the streaming/royalty sector is considered less risky than classic miners. Keeping this thesis in mind, I have calculated the equity value of the following streaming/royalty companies: Franco-Nevada, Wheaton, Royal Gold, Sandstorm Gold, Osisko Gold Royalties, Metalla Royalty and Streaming, and Maverix Metals (OTCQX:MACIF). Then, using these figures and current share prices, I have identified the undervalued and overvalued picks. Here is my methodology:
Firstly, I calculate the annual (the last four quarters, starting from Q4 2017) cash flow from operations excluding working capital issues
Then, I divide the annual cash flow by a discount rate of 5%. If my basic assumption (a streaming/royalty sector is less risky than classic miners) is correct, a discount rate of 5% seems reasonable. Additionally, I presume that contrary to classic miners, the life of each company under my survey is unlimited
As a result, I arrive at the core value of the streaming/royalty business; in other words, the value of this business is equal to the time value of money generated by the portfolio of streaming/royalty assets held by each company
Then I calculate the equity value of each company using the following formula: equity value = core value of the streaming/royalty business + cash less debt (as at the end of Q3 2018)
Finally, I calculate the ratio defined as current market capitalization/equity value; if this ratio is higher than 1.0, a company is overvalued; on the other hand, if the ratio is lower than 1.0, it means undervaluation
Note: In the case of Metalla and Maverix, the annual cash flow from operations is calculated taking the results delivered in 3Q 2018 (and multiplied by a factor of 4). Simply put, these two plays are growth companies, rapidly increasing their quarterly revenue.
The sector
Applying the above-discussed methodology to most of royalty/streaming plays, I have arrived at these results:
Chart 2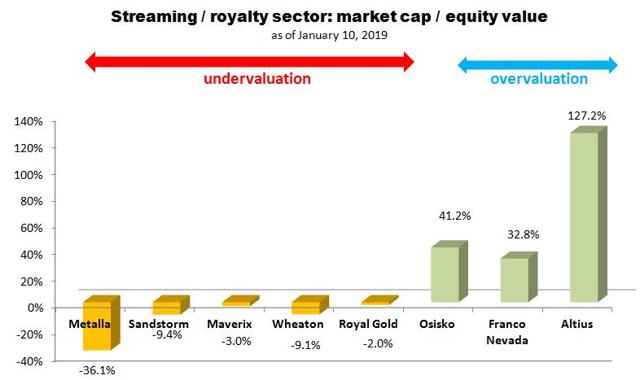 Source: Simple Digressions
Altius
Every perceptive reader will definitely spot that I have added Altius Minerals to the valuation chart. The company is strongly overvalued which means that investors are either totally wrong about the company or betting on something different than Altius streaming/royalty business. Well, I share the latter premise because, apart from the streaming/royalty business, the company holds a set of other interesting mining assets disclosed as:
Investments in associates - Altius holds large stakes in Alderon Iron Ore Corp. (OTC:AXXDF) and Adventus Zinc (OTCQX:ADVZF)
Interest in joint ventures: Labrador Nickel Royalty and three coal/potash partnerships disclosed under the joint name Prairie Royalties
Mining and other investments - the stakes in publicly-listed junior mining companies (mostly at an early exploration stage)
As the chart below shows, Altius is a growth company - the way it builds its asset base is very impressive (particularly since 2015):
Chart 3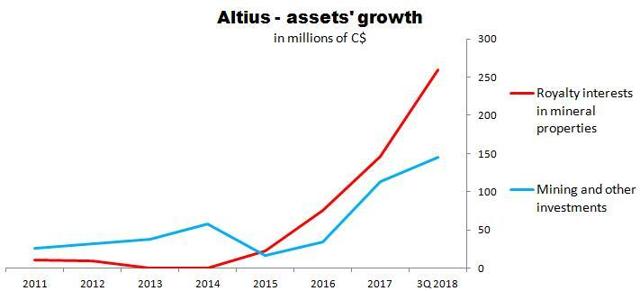 Source: Simple Digressions, using Altius' reported data
Now, Altius is very different from other streaming/royalty plays - instead of focusing on precious metals, the company bets on base metals (copper, zinc, iron, and nickel), potash, and coal. What is more, apart from running a streaming/royalty portfolio, Altius has expertise in identifying prospective mining assets at an early stage of exploration. The upgraded assets are then sold in exchange for a royalty, cash, or stake in the purchaser.
Summarizing - it looks like investors put high value to these assets. As a result, investors are advised to keep in mind that any valuation model based solely on Altius streaming/royalty portfolio returns distorted results (Osisko Gold is a similar example), underestimating the company's value.
However, the chart below may help to solve this problem:
Chart 4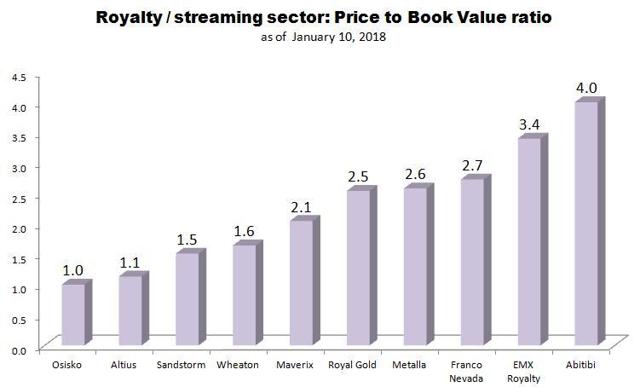 Source: Simple Digressions
The chart shows a Price/Book Value multiple calculated for a bit broader set of streaming/royalty plays. In other words, the Price/Book Value multiple discloses how Mr. Market values the assets held by each streaming/royalty play. And this time, Altius seems to be rather undervalued - these days the company's shares are trading at a Price/ Book Value multiple of 1.1, ranking Altius among the cheapest plays.
Now let me discuss the latest events reported by a few streaming/royalty plays.
Latest developments
Sandstorm
A few days ago, Sandstorm released sales figures for 4Q 2018, reporting sales volume of 14.15 thousand ounces of gold equivalent. The chart below depicts a big picture - the company's sales starting from 2010:
Chart 5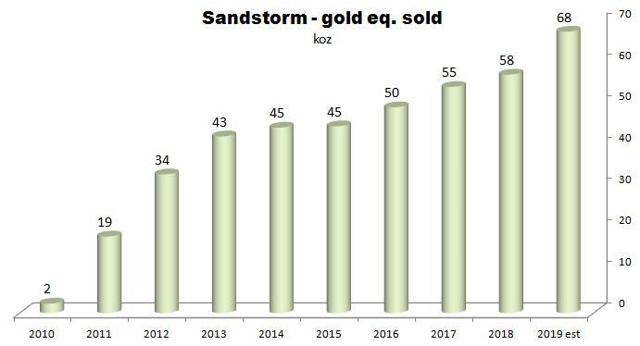 Source: Simple Digressions using Sandstorm's reported data
Further, this year, the company plans to sell 68 thousand ounces of gold equivalent (an increase of 17.2% in comparison to 2018). The planned growth is based on a new silver stream on Cerro Moro - this year, Sandstorm expects to receive up to 1.2 million ounces of silver from Yamana Gold, an owner of Cerro Moro. Using a gold/silver ratio of 82.0, the stream may be recalculated into 14.6 thousand ounces of gold. On the other hand, the temporary silver stream on Minera Florida and Chapada, the two mines owned by Yamana (3.0-3.5 thousand ounces of gold equivalent per year) have just expired.
Metalla
On January 4, 2019, the company closed the second tranche of a brokered private placement. As a result, together with the first tranche, Metalla sold 8.7 million common shares for gross proceeds of C$6.8M. It has to be noted that the second, additional tranche nearly doubled the total offering. Well, it looks like there is strong demand for Metalla shares.
Osisko Gold
In my first survey of the streaming/royalty sector, I mentioned a renewal of Osisko's share buy-back program. On January 7, 2019, the company announced an initial acquisition of 849 thousand common shares at an average price of C$11.56 a share (today, Osisko shares are trading at C$12.0 a share). Additionally, as expected, the company has repaid US$43M on its credit facility. To remind my readers, in December 2018, Osisko exercised an option to repurchase its interest in the Brucejack silver/gold stream. The total proceeds of US$118.5M were to be used to pay off the debt and buy back common shares. Definitely, the company meets its promises…
Altius
On January 10, the company reported initial results for 2018. First of all, the market value of the stakes in junior mining companies (to remind my readers, these stakes are disclosed in the balance sheet line called "Mining and other investments") increased from C$44.1M at the end of 2017 to C$54.4M at the end of 2018 (an increase of 23.4%). Interestingly, the recent case of Evrim Resources (OTC:EMRRF) (Altius holds a 14.4% stake in this miner) had a negative impact on the portfolio's value - on December 6, 2018, Evrim announced poor drilling results at its flagship property Cuale gold project in Mexico. As a result, within a few hours, Evrim shares tanked 74.3%.
On the other hand, Altius has exercised its option to increase a royalty on Gunnison copper project owned by Excelsior Mining (OTCQX:EXMGF), increasing this royalty to 1.5-1.625% (depending on the plant capacity). Excelsior plans to put Gunnison online in the fourth quarter of 2019. As a result, this year, Altius will add another active copper royalty to its portfolio.
Summary
In this edition of the sector's review, I have added and briefly discussed Altius, a base metals/potash/coal streaming/royalty play. I hope that this company will increase the attractiveness of the survey for Seeking Alpha investors and readers.
As mentioned in the beginning of the article, the sector still outperforms the classic gold mining companies. Well, if the current bull market in gold continues, I guess that the sector may slow down a little bit in comparison to the classic miners. Simply put, although, in the long term, streaming/royalty plays outperform GDX (or other proxies for the broad precious metals mining sector) during a vicious bull market in gold, the classic miners show their strength, beating the results delivered by the streaming/royalty sector.
Final Note
Did you like this article? If your answer is yes, please visit my Marketplace service, Unorthodox Mining Investing.
In December 2018 I launched the detailed coverage of royalty/streaming companies related to the precious metals sector (for example, Sandstorm, Metalla, Maverix, etc.). During a precious metals market meltdown these stocks perform much better than classic miners.
Last but not least, now Unorthodox Mining Investing is available at a 5% discount.
Disclosure: I am/we are long CEF, GDX, KL, SAND, ARREF. I wrote this article myself, and it expresses my own opinions. I am not receiving compensation for it (other than from Seeking Alpha). I have no business relationship with any company whose stock is mentioned in this article.