Looking to create some extra cash flow? Or maybe just enhance your yield on your existing holdings? Combining options selling with dividend stocks has provided us and our DoubleDividendStocks.com service's subscribers with multiple income streams over the past nine years.
This article looks at three related Basic Materials stocks, with two options strategies for each of them.
Conoco Phillips (COP) is the largest of the three, with the lowest yield, at 1.80%, followed by its spinoff, Phillips 66 (PSX), with a 3.44% yield. Both of these firms dwarf Phillips 66 Partners LP (PSXP), the yieldco arm of Phillips 66, which has the highest yield of the group, at 6.51%.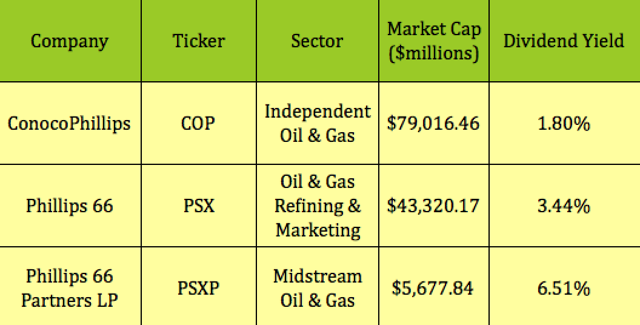 Like many other energy-related stocks, these three have all bounced back a bit so far in 2019. The high yielder, PSXP, has had the biggest bounce, and is up 15.58% year to date, followed by COP, up 8.97%, and PSXP, up 7.88%.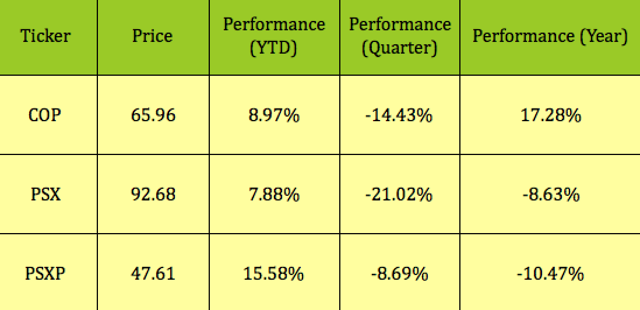 Profiles:
ConocoPhillips explores for, produces, transports, and markets crude oil, bitumen, natural gas, liquefied natural gas and natural gas liquids worldwide. Its portfolio includes North American tight oil and oil sands assets in Canada; conventional assets in North America, Europe, Asia, and Australia; various LNG developments; and an inventory of conventional and unconventional exploration prospects. The company has a strategic cooperation agreement with China National Offshore Oil Corporation. The company was founded in 1917 and is headquartered in Houston, Texas.
In 2012, ConocoPhillips spun off its downstream assets and midstream assets to create the independent energy company, called Phillips 66.
Phillips 66 operates as an energy manufacturing and logistics company. It operates through four segments: Midstream, Chemicals, Refining, and Marketing and Specialties (M&S). The Midstream segment transports crude oil and other feedstocks, delivers refined products to market, and provides terminaling and storage services for crude oil and petroleum products; transports, stores, fractionates, and markets natural gas liquids, exports LPG, and provides other fee-based processing services; and gathers, processes, transports, and markets natural gas. The Chemicals segment manufactures and markets ethylene and other olefin products; aromatics and styrenics products, such as benzene, styrene, paraxylene, and cyclohexane, as well as polystyrene; and various specialty chemical products, including organosulfur chemicals, solvents, catalysts, drilling chemicals, and mining chemicals. The Refining segment buys, sells, and refines crude oil and other feedstocks into petroleum products comprising gasolines, distillates, and aviation fuels at 13 refineries primarily in the US and Europe. The M&S segment purchases for resale and markets refined petroleum products consisting of gasolines, distillates, and aviation fuels primarily in the United States and Europe. It also manufactures and sells specialty products, such as petroleum coke products, waxes, solvents, and polypropylene. In addition, this segment generates electricity and provides merchant power into the Texas market. Phillips 66 was founded in 1875 and is headquartered in Houston, Texas.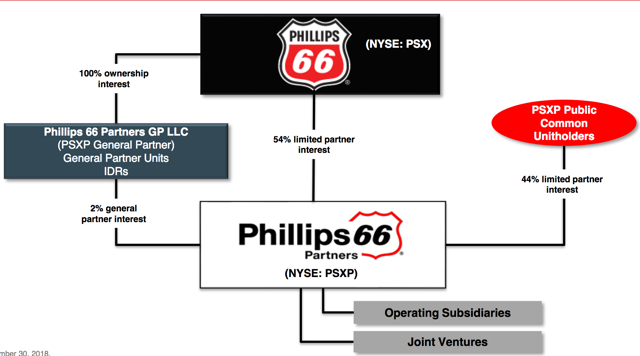 (source: PSX site)
Phillips 66 Partners LP (PSXP) is the yieldco arm of Phillips 66. It owns, operates, develops, and acquires crude oil, refined petroleum products, and natural gas liquids pipelines, terminals, and other transportation and midstream assets. The company operates pipeline assets in Lake Charles, Sweeny, Wood River, Borger/Ponca City, Billings, and Borger; terminal, rail rack, and storage assets in Louisiana, Texas, Illinois, Missouri, Kansas, Oklahoma, New Jersey, Washington, Wyoming, and Montana; marine assets in Lake Charles and Wood River; and natural gas liquids assets in Texas and Louisiana. Phillips 66 Partners GP LLC operates as the general partner of Phillips 66 Partners LP. The company was founded in 2013 and is headquartered in Houston, Texas. Phillips 66 Partners LP is a subsidiary of Phillips 66 Project Development Inc.
Distributions:
COP and PSX pay in a March/June/Sept/Dec. cycle.
COP has a very low dividend payout ratio of 23.20%, but it cut its quarterly dividend in February 2016, from $.74 down to $.25 cents/ share. COP goes ex-dividend next on 2/8/19, hence its negative dividend growth rate.

PSX has a higher dividend payout ratio of 68.27%, but a much stronger dividend growth rate of 19.02%. It yields 3.45% and goes ex-dividend next on ~2/15/19.

PSXP went public in late 2013 and only paid an initial pro-rated distribution that year. It has an impressive distribution growth rate of 27.47% since 2014. It goes ex-dividend on 1/30/19.
PSXP pays in the usual Feb/May/Aug/Nov. LP cycle, and issues a K-1 at tax time. At $48.07, PSXP yields 6.59%. It has a very strong DCF/distribution coverage ratio of 1.37X, equivalent to a dividend payout of 73.13%:
Options - Covered Calls:
You can see more details for these three trades on our free Covered Calls Table, where you can track over 35 covered calls trades, as they update throughout each trading day.
COP has the lowest yield of all three stocks in this group, but it also has some very attractive options yields. For example, its May $67.50 call strike pays $3.95, over 6X COP's quarterly dividend.

Here's a breakdown of the three main profitable scenarios for this trade.
Static - If COP doesn't hit or surpass $67.50 before the expiration date, your total profit would be $4.56, from the $.61 dividend and the $3.95 option premium. This is a 6.9% yield in a bit over four months, or 19.84% annualized.
Assigned pre - ex-dividend date: If COP reaches or surpasses $67.50 before the early February ex-dividend date, your total profit would be higher, $5.41, from the $3.95 call option premium and the $1.46 price gain. The four-month-plus yield would be 8.19%, or over 23% annualized.
Assigned post ex-dividend date: If your COP shares get assigned after the ex-dividend date, you'd have three profit streams - the $.61 dividend, the $3.95 option premium, and the $1.46 price gain, for a total of $6.02.
This would be a 9.02% yield in slightly more than four months, for an annualized yield of 26.20%.

PSX also has attractive options premiums for its May expiration. There should be two $.80 quarterly dividends with ex-dates during this trade, since, in 2017, PSX went ex-dividend on the third Friday in May, which also happens to be the expiration date for this trade.
The May $95.00 call strike pays $5.00, just over 3X the $1.60 amount of the next two quarterly dividends. If PSX doesn't rise to or surpass $95.00 before the May expiration, your total profit would be $6.60, ~7.1% for a four-month plus period, or 15.48% annualized:

PSXP has the lowest option premiums of the group, but they're still attractive. The June $50.00 call strike pays $1.60, just about the same amount of two PSXP quarterly distributions of $1.584.
This effectively doubles your distribution, from ~$1.58, or 7.47% annualized for the next two quarterly distributions, to $3.18 with the additional $1.60 in option premium dollars, for a total annualized static yield of 15.02%, in a bit over five months:

Cash Secured Puts:
Those are pretty juicy yields in those three covered call trades, but what if you're not as bullish on this trio of stocks, but you still want to create some quick cash flow?
Selling cash secured puts below the stock's price/share could be your answer. You'll essentially be getting "paid to wait," and creating a lower entry point. In addition to the three put strikes we profile next, there are other lower put strikes for these three stocks, which, while they won't pay as much, will give you an even lower breakeven.
Note: Put sellers don't receive dividends - we just add them to our tables, so that subscribers can compare them to the options payouts, to see if it's worth selling puts or not.
We've added the following three trades to our Cash Secured Puts Table, which tracks more than 35 put-selling trades throughout each trading day.
COP has an "at the money" May $65.00 put strike, which pays $3.85, giving you a breakeven of $61.15 and an annualized yield of 17.02%. To give you an example of a lower put strike payout - the $62.50 May put strike pays $2.68.

PSX - The May $90.00 put strike pays $4.70, ~2.8X PSX's next two quarterly dividends, for an annualized yield of 15%, and a breakeven of $85.30, which is 8.7% above PSX's 52-week low of $78.44:

PSXP - The June $45.00 put strike pays $2.10, ~$.62 more than the ~$1.58 in distributions during the period of this trade.
The breakeven is $42.90, which is ~5% above the 52-week low. The annualized yield is 10.58%.

Valuations:
Here are trailing valuations for the group. COP's P/E has run from ~11 to 15 for the past five years, which puts its 13.21 P/E just above the median. It's getting a premium price/book, vs. its industry average of <1x.
PSX has a trailing P/E of ~11.66, which is at the low end of its five-year range that's gone as high as over 29. Its price/book is near the industry average of 1.64.
PSXP's price/DCF of 11.96 is higher than the average of ~8.6X which we've seen for other midstream LPs we cover, whereas its price/book is lower than the 2.44 average for midstream companies.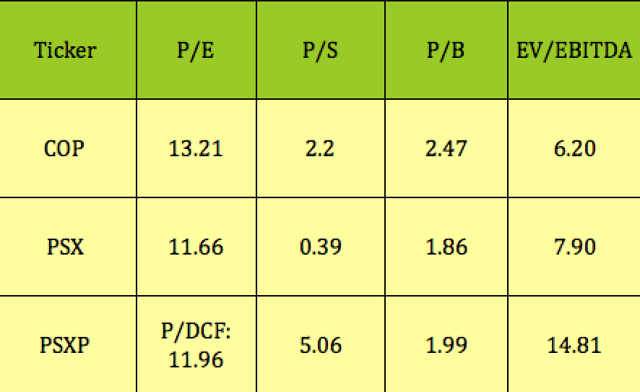 Analysts' Price Targets:
All three of these stocks are priced below analysts' average price targets, with PSX showing the biggest discount, at 29.13%, followed by PSXP, at 19%, and COP at ~12%.
They'll also all report their earnings within the next 3-4 weeks, which could move their prices substantially, depending upon the market's reaction.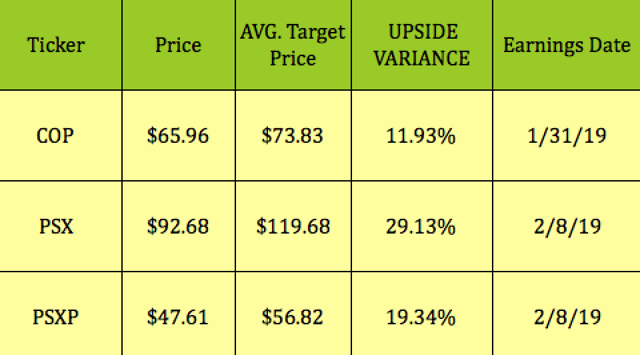 Risks:
Another wrinkle in the cash flow from selling options is that there can be additional leverage involved, depending upon what option level you qualify for. For higher levels, such as level 3, brokers may hold only ~30% - 35% of cash vs. your cash secured puts trade. This amplifies your yields, and can improve your cash flow, but it can work against you, if you don't monitor it closely. We advise keeping an excel spreadsheet of your total exposure, i.e., the total amount of shares X the strike price amount. The amount held by the broker will also increase if the underlying stock's price declines.
Covered call sellers know the exact upside of their profit potential when they make the trade, which many traders find advantageous. However, just realize that your upside price gain is limited to the difference between your basis in the underlying stock and the call strike you sell covered calls at.
Summary
Option selling has been a part of our investment income strategy for many years. It offers a good way to supplement income from your portfolio. A useful feature of this strategy is that, instead of waiting for a quarterly dividend, the option dollar hits your account within three days - in our experience it usually hits the account the same day.
Disclaimer: This article was written for informational purposes only, and is not intended as personal investment advice. Please practice due diligence before investing in any investment vehicle mentioned in this article.
All tables furnished by DoubleDividendStocks.com, unless otherwise noted.
CLARIFICATION: We have two investing services. Our legacy service, DoubleDividendStocks.com, has focused on selling options on dividend stocks since 2009.
Our Marketplace service, Hidden Dividend Stocks Plus, focuses on undercovered, undervalued income vehicles, and special high yield situations.
We scour the US and world markets to find solid income opportunities with dividend yields ranging from 5% to 10%-plus, backed by strong earnings.
We publish exclusive articles each week with investing ideas for the HDS+ site that you won't see anywhere else.
Disclosure: I am/we are long PSXP, PSX. I wrote this article myself, and it expresses my own opinions. I am not receiving compensation for it (other than from Seeking Alpha). I have no business relationship with any company whose stock is mentioned in this article.