Welcome to the latest edition of the Energy Recap. Here are this week's "quick hits" from the energy sector - i.e., brief bits of recent news, along with some suggestions for further reading on each topic. Let us know what you think in the comments section below.
Quick Hits - Energy News
As reported by CNBC on Tuesday, Jan. 8, BP's (NYSE:BP) "investment in next-generation technology just paid off to the tune of a billion barrels of oil. The British energy company has discovered 1 billion barrels of crude at an existing oilfield in the Gulf of Mexico. BP also announced two new offshore oil discoveries and a major new investment in a nearby field. BP is the Gulf of Mexico's biggest producer, and it's making strides to hold that title." Further reading: "BP - The British Empire Might Be Gone, But Not This Company's Empire"
As written by Forbes on Friday, Jan. 11, "OPEC is being marginalized - or, more accurately, is allowing its volumes to be squeezed to protect price. OPEC's share of global liquids supply has fallen steadily from 42% a decade ago to just over one-third today. The decline, of course, mirrors the rise of US tight oil production. Yet on [contributor Simon Flowers'] latest visit to the Middle East in December, [he] was struck, once again, by the commitment to investing in upstream by three Gulf countries that together contribute half of OPEC production - Saudi Arabia, Kuwait and the United Arab Emirates." Further reading: "OPEC's Production Agreement Spells Glut In 2019"
As reported by CNBC on Friday, Jan. 11, "Saudi oil giant Aramco is undertaking a series of moves that may pave the way for a long-delayed stock market debut. The kingdom plans an initial public offering for Aramco in 2021, Saudi Energy Minister Khalid al-Falih said during a news conference Wednesday. Falih backed the latest target for the IPO with several announcements that would essentially prep the market for the debut, which is expected to be the largest ever. Saudi Arabia on Wednesday released the results of an independent audit that confirms the kingdom controls more than 260 billion barrels in oil reserves. The assessment makes the metrics behind the world's largest energy company - long the subject of skepticism - a bit less opaque to potential investors in Aramco." Further reading: "Crude Oil Analytics: Potential Recovery Of Brent Crude Oil Price In 2019"
Energy Articles of Note
"Seven Generations Energy: A Misunderstood Canadian Condensate Producer" by Laurentian Research
"Shell: Kitimat LNG, Trouble Ahead?" by Fluidsdoc
"Baytex Energy: Still A Decent Future" by Long Player
Energy Sector IPOs for the Week Ended Jan. 11, 2019
Here's a list of the most recent initial public offerings in the energy sector:
- None.
Feel free to add any that we might have missed in the comments section below.
U.S. Oil Rig Count
As per Baker Hughes, the number of active U.S. oil drilling rigs fell again this week.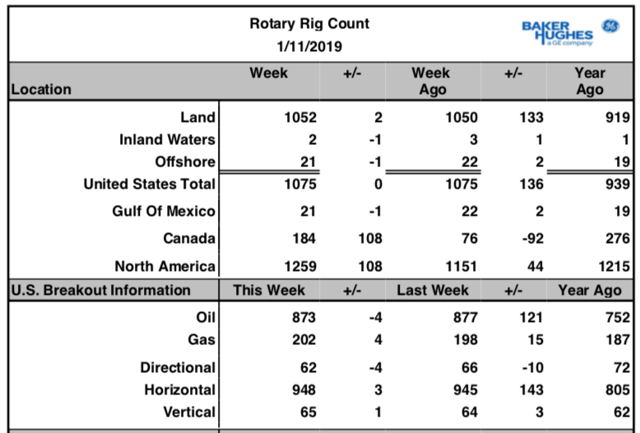 Weekly Natural Gas Storage Report and Summary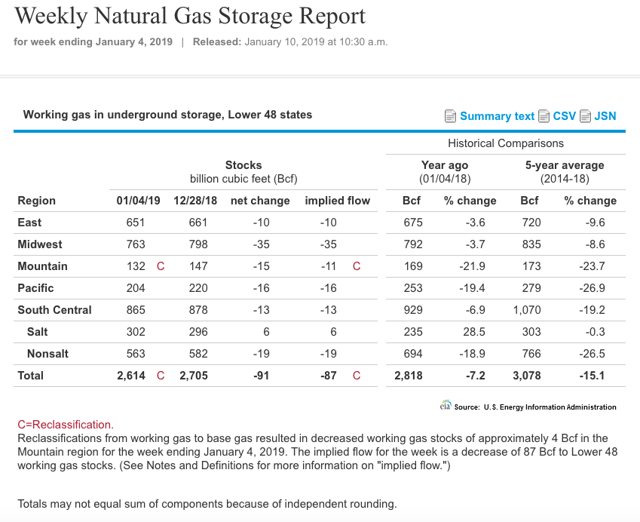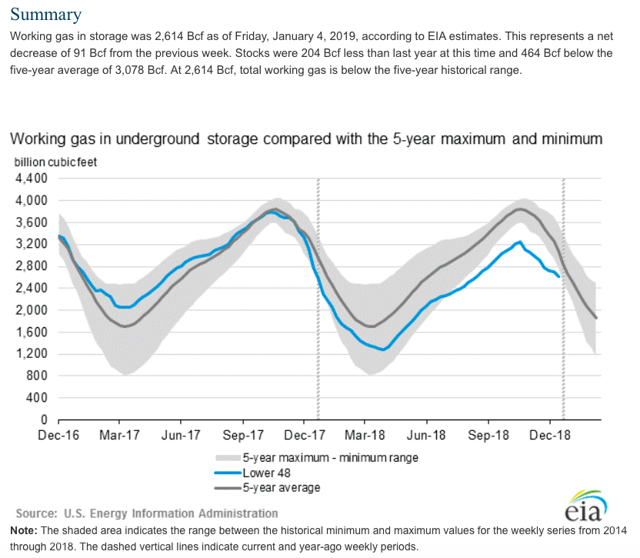 Natural Gas Rig Count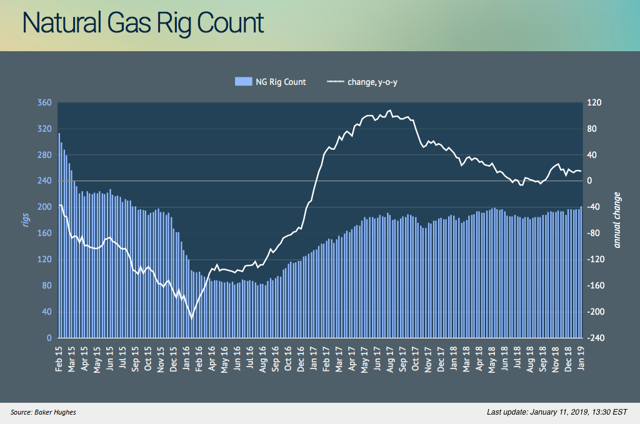 Oil Production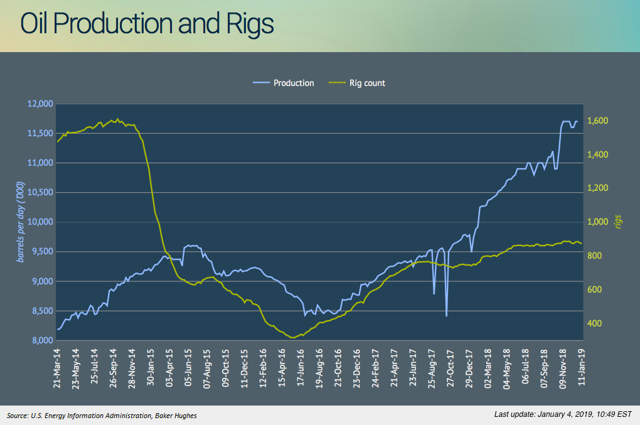 As always, we encourage you to submit your own article by clicking here, if you haven't already done so.
Disclosure: I/we have no positions in any stocks mentioned, and no plans to initiate any positions within the next 72 hours. I wrote this article myself, and it expresses my own opinions. I am not receiving compensation for it (other than from Seeking Alpha). I have no business relationship with any company whose stock is mentioned in this article.
Editor's Note: This article discusses one or more securities that do not trade on a major U.S. exchange. Please be aware of the risks associated with these stocks.