Investment Case
With the recent market volatility, quality stocks are the best defense for investors' portfolios. Canadian National Railway Company (NYSE:CNI) [TSX:CNR] is a high-quality company in a defensive sector with a demonstrated record of achieving growth in negative market conditions. CN Rail is the highest-margin Tier 1 railway operator in North America, thanks to its best-in-class operating ratio. CN enjoys geographic and structural advantages over its peers, which makes it an irreplaceable link between North America's three commercial coasts. This non-cyclical business has the ability to regularly increase prices as well as benefit from investments in its intermodal business. These advantages have enabled steady earnings growth with a record 22 years of consecutive dividend increases. CN should be a core holding for investors seeking to add defensive names to their portfolios.
Current Market Context
In light of the recent market volatility in December 2018, it is important to evaluate the defensive elements of your portfolio and rebalance as appropriate. As a long-term investor seeking both dividend growth and capital appreciation, I want to ensure that the stocks in my portfolio can generate growing cash flow and create value for shareholders in all economic conditions. As a buy-and-hold investor, I don't advocate for radical sector rotations; however, investors should rebalance regularly and consider allocating new money into quality defensive names. Among the sectors with defensive properties are Telecoms, REITs, Infrastructure, Utilities, Consumer Staples, Healthcare, and some industrials. Railways and other infrastructure investments meet this criterion well; of these, Canadian National Railway Company is best-in-class.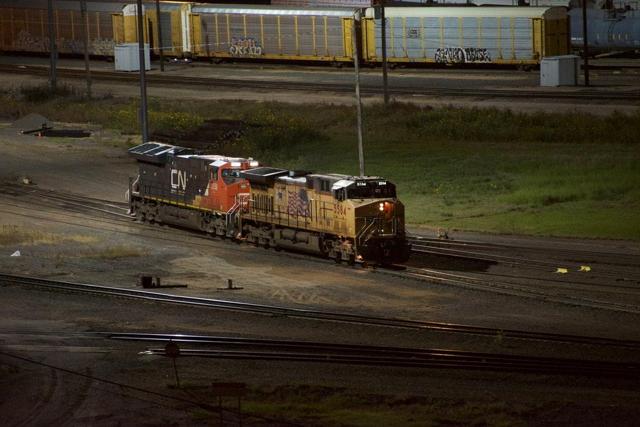 Company Profile
As an owner and operator of some of North America's most crucial transportation infrastructure, Canadian National Railway has a long track record of prospering in all stages of economic cycles. CN owns and operates over 20,000 miles of track connecting the Atlantic, Pacific and Gulf Coasts of North America. CN operates 80 distribution centers across the continent and is responsible for moving over 300M tons of cargo annually. In 2017, the company shipped over $250B in goods and moved 5.7M carloads to and from key ports. With a well-diversified cargo base of intermodal, grain, petroleum, forestry, automotive, coal and minerals, CN provides vital transportation solutions to the industries it serves. CN has long been known as the highest-margin Class I railway in North America and continues to boast the best operating ratio in the industry.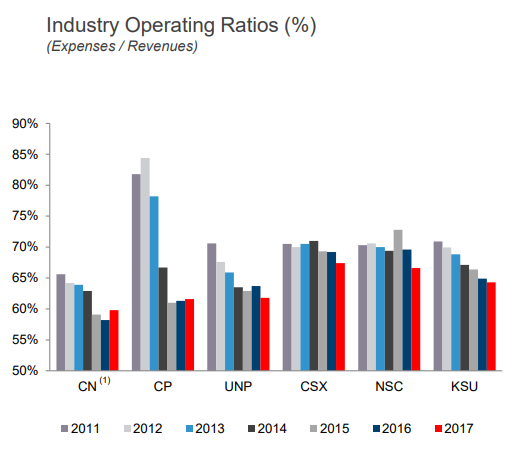 Source: CN Investor Presentation
Defensive Considerations
In Benjamin Graham's 1949 classic, "The Intelligent Investor", Graham dedicates a chapter to "Stock selection for the defensive investor". Joshua Kennon of The Balance uses Graham's criteria to articulate the essential characteristics of defensive stocks. Graham describes the characteristics of defensive stocks as having stable earnings, stable growth, and a long dividend record. According to Graham, defensive stock selection should include the criteria that the enterprise should be of sufficient size and have a sufficiently strong balance sheet. From a valuation standpoint, Graham requires that defensive stocks be acquired only if they have a moderate P/E and a moderate price to asset ratio. CN meets most of Graham's requirements for a defensive stock selection. It falls short on its current ratio; however, the company's balance sheet is in good shape. CN has a Long-Term Debt/Equity ratio of 0.5 comparing favorably to the industry average of 0.2. CN also falls short on Graham's expectations for a moderate ratio of price to assets, with a current P/B of 4.2X; CN trades above the industry average of 1.6X. Despite these results, the company trades at a moderate P/E ratio and meets Graham's criteria for earnings growth, earnings stability, dividend record, size of enterprise.

Graph: Author; Data Source: Morningstar
Geographic Advantages
In addition to its superior operating metrics, CN enjoys systemic advantages over its peers on account of its advantaged geographical footprint. Like its Canadian rival, Canadian Pacific Railway (CP), CN connects Canada east to west. However, unlike CP, CN also has strong north to south connectivity, with major connections to the U.S. Gulf Coast. With links to seven major ports on three coasts of North America, CN has a unique geographic footprint that supports a growing trade with all of North America's major trading partners. The two key geographic elements that set CN apart are its assets in Prince Rupert on the Pacific coast and its route around the important hub of Chicago.
CN's Chicago advantage is well articulated by SA Author Scott Wilkie in his recent article Canadian National Railway Is Driving The North American Economy. Wilkie explains that the 2009 acquisition of a section of track west of Chicago has allowed CN's trains to avoid the congestion of the city. Chicago's rail lines carry 25% of all U.S. rail traffic and the CN track that skirts west of the city allows its freight to avoid the long delays that occur with the congestion of the other Tier 1 railways intersecting within the city. This competitive advantage allows CN to save time and increase efficiency on its major north-south freight traffic.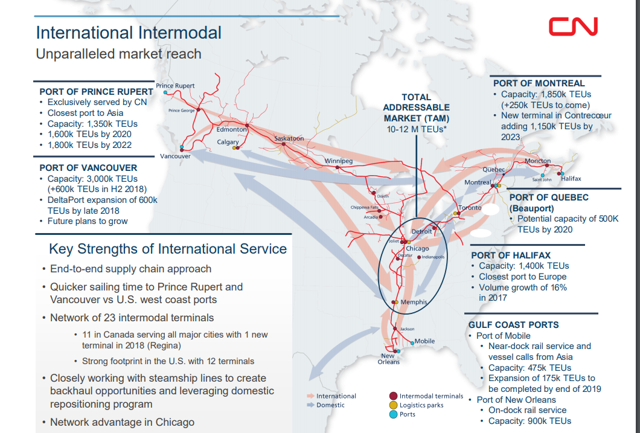 Source: CN Investor Presentation
While the advantaged Chicago network offers an efficiency advantage, CN's link to the growing port of Prince Rupert positions it to leverage the growth in Trans-Pacific trade. Prince Rupert is the closest North American port to Asia and is the deepest harbor on the North American continent. As the gateway to the shortest shipping route across the Pacific, the opportunity that Prince Rupert presents to CN cannot be overstated. The Port of Prince Rupert is North America's closest port to Asia by up to three days sailing - it's 36 hours closer to Shanghai than Vancouver and over 68 hours closer than Los Angeles. A 400 meter (1,300 ft.) long cargo ship crossing the Pacific at 24 knots would burn approximately $130,560/day in fuel. With the fuel savings available to shippers by using the Port of Prince Rupert, there is a compelling case for its continued growth, leaving CN well positioned to benefit from the continued development of this advantaged Trans-Pacific route.

Source: Port of Prince Rupert
In addition to CN's geographic advantages, it is also well diversified by region. CN has significant operations in the domestic Canadian and U.S. markets as well as significant cross-border business. CN's Global West operations are well situated to support the rise in Trans-Pacific trade with China and other emerging markets. In an October 2018 interview, CEO Jean-Jacques Ruest dismissed concerns about the impact of the U.S.-China trade dispute, noting that if trade with China slows, the slack in light manufacturing will be picked up by other emerging Asian markets such as Vietnam, Bangladesh and Malaysia.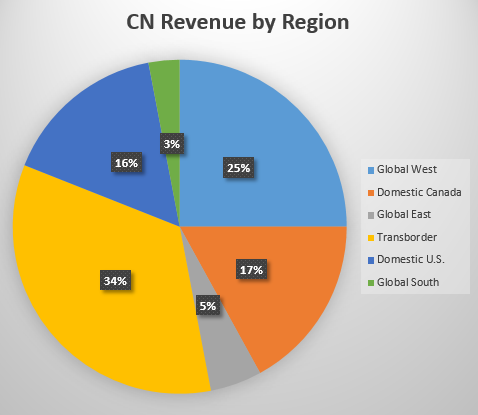 Graph: Author; Data Source: CN
Pricing Ahead of Inflation
One of the best indicators of a defensive stock is the company's pricing power. CN has demonstrated its ability to consistently raise prices through all economic conditions. For long-term investors seeking dividend growth, it is imperative that a company has the inelastic demand required for their services to be able to raise prices ahead of inflation. CN as an operator of critical infrastructure and a cheaper alternative than other transportation rivals has significant pricing power that has enabled it to grow revenue even through downturns and recessions.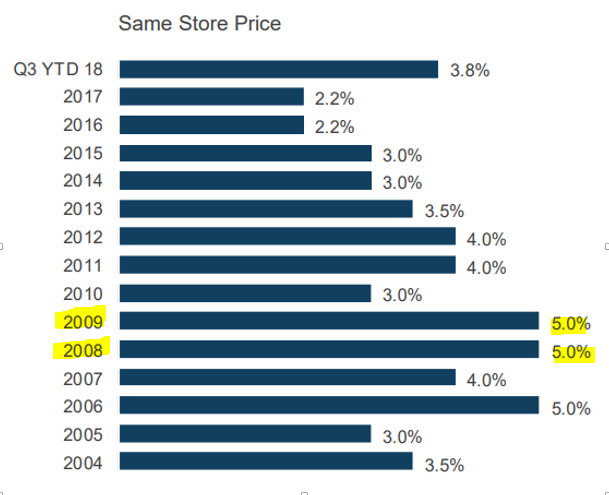 Source: CN Investor Presentation
Investment and Growth Opportunities
In 2018, CN made significant investments in expanding its capacity. By the end of Q3 2018, 24 of the 27 planned infrastructure projects were fully in service. These projects include investments in new sections of double track, sidings and rail yard expansions in Winnipeg and Edmonton. These infrastructure investments will help support coal transportation in Northern British Columbia and the growing crude transport market in Western Canada.
With delays in all three of the major pipeline project proposals to move crude from the Canadian oil sands to tidewater, CN Rail has been able to take advantage of the transportation bottleneck in crude. Transportation of crude by rail in Canada has spiked 400% since 2011 as Canadian oil producers are desperate to move their product in an increasingly strapped midstream energy transportation market. In a recent earnings call, CEO Jean-Jacques Ruest spoke to the opportunity for CN to continue to build on its crude-by-rail business:
As frac sand and lumber volume declined in September, we took the opportunity to onboard more crude business, which crude revenue was up $80 million compared to last year. As the spread between world crude price and Western Canada Select has widened to record level, more Canadian crude exporters are using the CN network.
CN expects that 2019 will be another strong year for the crude-by-rail business segment, with the company allocating as much spare capacity to this product as possible. The growth in crude transportation helps to offset quarterly fluctuations in other cyclical commodities such as sand, coal and forestry.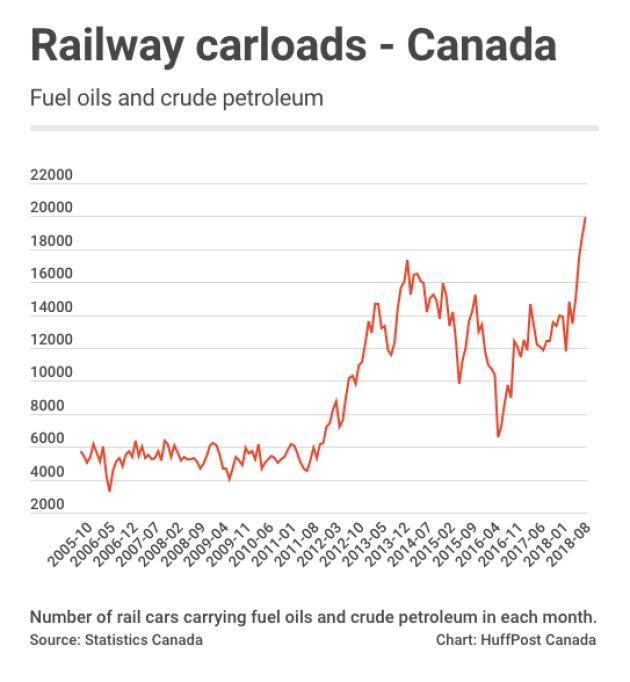 Source: Huffington Post
Results & Valuation
In Q3 2018, CN reported revenue growth of 8% over the same period in 2017, while net income was up 11%. This strong quarter was part of what looks like another positive year for CN. According to a January 4th, 2019, article in the Globe and Mail, Canada's two main railways, CN and CP, reported a 23% increase in oil and other petroleum products in 2018 over the same period the previous year. Shipments of grain were up 3% in 2018, while intermodal container shipments increased 4% for the year. Over the last decade, CN has generated cash flow that is 15% of sales, up from 12% in 2009. CN's long-term results have been positive with free cash flow growing at 13.45% CAGR over the last five years. If the North American economy slows down or enters recession in 2019, companies like CN with proven resiliency will outperform the market.
CN shares have recovered around 7% of their value from the late December lows, but are still down ~12.5% from their September 2018 highs. According to Morningstar Equity Analyst Keith Schoonmaker, shares are currently fairly valued around 78 USD (103 CAD). The recent pullback was likely largely a multiple depression, not an earnings decline. With a forward P/E of 17.8X, CN is currently trading below its five-year average P/E of 19.5X. Despite a historically lower P/E, CN is trading at price to cash flow and price to sales ratios of 9.3% and 13.2% respectively, above their long-term averages. These valuation metrics suggest that the company is likely fully valued at this time. Analysts have an average one-year price target of 92.91 USD (119.89 CAD), suggesting an expectation that CN shares may return to their summer 2018 highs. I expect moderate revenue growth and a stabilization in multiple valuation in 2019 which should lead to high-single-digit returns.
Rewarding Shareholders
Canadian National has a 22-year track record of increasing its dividend. The company boasts a 18.20% five-year dividend growth rate. With a current dividend payout ratio of 22.88%, well below its target of 35%, CN has plenty of room to continue increasing its dividend. In addition to dividends, CN has also been busy repurchasing shares, buying back over 21B CAD of its own shares since 2000. The current normal course issuer bid has CN poised to complete a repurchase of between 2.5% and 3% of outstanding shares before February 2019, adding a nice tailwind to EPS.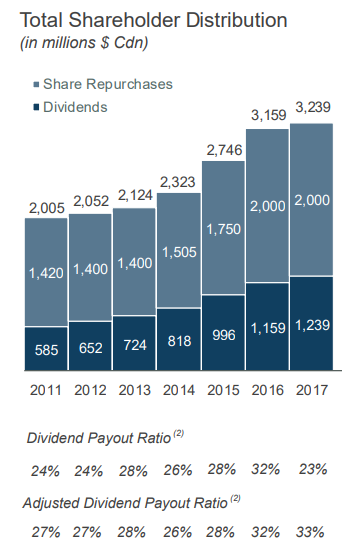 Source: CN Investor Presentation
Risk Analysis
As a non-cyclical stock in a defensive sector, CN's risks are fairly limited to its operations and shipment mix. As a railway, there is very little threat of new companies entering the market, and the cost advantages and fuel efficiency that rail enjoys over trucking means that the railway industry has low risk of being substituted by trucking. CN is the most efficient operator in the industry; its main threats are market forces that can negatively impact operating ratios or drive up costs. Rising fuel prices as well as rising wages are the two most obvious forces that can negatively impact earnings. CN saw a 19% increase in operating expenses in Q3 2018 largely attributable to increasing labor costs and diesel prices. Although fuel prices were up in 2018, CN has taken steps to implement a fuel surcharge program to limit the negative impact on fuel inflation.
In 2013, the company had approximately 23,000 employees; today it has a workforce 4.3% larger than five years prior. This modest increase in headcount is a good example of how CN has continued to improve its operating efficiency. Revenue per employee has increased from $459K in 2013 to $544K in 2017, a 4.6% annualized improvement. Although increases to staffing and training costs have impacted operating expenses, these costs are indicative of the growth CN is driving with the hiring or new staff for the addition of 60 new locomotives.
The company enjoys a reasonably well-diversified customer base and product shipment mix with no one industry accounting for more than 18% of revenue. Forestry is cyclical business and is largely dependent on the U.S. housing market. Shipment of forestry products by rail in Canada decreased by 2% in 2018. While forestry products historically accounted for almost 20% of revenue, CN has diversified its mix. However, with 14% of revenue attributable to forestry products, the company retains moderate exposure to this cyclical industry. The decline in coal shipped over the last few years has been made up for with increases in shipments of crude by rail.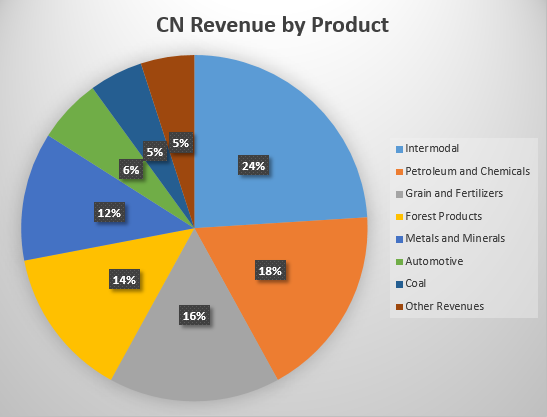 Graph: Author; Data Source: CN
Investor Takeaways
Canadian National Railway Company offers investors a high-quality company in a defensive sector with a demonstrated record of achieving growth in negative market conditions. With a history of stable earnings and demonstrated pricing power, and wide moat, CN will prove to be highly resilient in the event of increased volatility or a market downturn. With a diverse product shipment mix, structural and geographic advantages over its peers, CN enjoys a best-in-class operating ratio and the highest margins in the industry. It has a long track record of returning capital to shareholders through share buybacks and a 22-year record of consecutive dividend increases. CN should be a core holding for long-term investors seeking to add defensive names to their portfolios.
Disclosure: I/we have no positions in any stocks mentioned, and no plans to initiate any positions within the next 72 hours. I wrote this article myself, and it expresses my own opinions. I am not receiving compensation for it (other than from Seeking Alpha). I have no business relationship with any company whose stock is mentioned in this article.