Quick Take
Exeter Finance (XTF) intends to raise gross proceeds of $100 million from a U.S. IPO, according to an S-1 registration statement.
The firm provides subprime auto loans to US citizens.
XTF has shown enviable financial metrics as the industry faces a rising interest rate environment and less-capable lenders exit the market.
Company & Technology
Irving, Texas-based Exeter Finance was founded in 2006 with a focus on providing consumers who have FICO® Scores of less than 620 with auto loans.
Management is headed by CEO and Director Jason Grubb, who has been with the firm since 2016 and was previously Chief Operating Officer and President at Santander Consumer USA Holdings.
Exeter Finance has developed a centralized and automated credit application process with a third-party, model-driven underwriting technology that enables it to return a credit decision to dealers within 30 seconds.
The company has a three-year warehouse facility of $1.75 billion with four commercial banks, $8.6 billion of asset-backed term securitization issuances across 19 transactions since 2012, an unsecured note of $175.0 million issued in June 2018 and due in June 2023.
Moreover, Exeter Finance has a servicing-retained forward flow sale agreement with an institutional investment group for the sale of up to $900 million of retail installment contracts through March 2020.
Exeter is a Blackstone Funds (BX) controlled company since the publicly-held private equity firm acquired it in 2011.
Customer Acquisition
The company focuses its core automobile dealer marketing efforts across franchise dealers, franchise dealer groups and independent used car dealers. As of Sep. 30th, 2018, the company has relationships with about 276,000 consumers and about 10,500 dealers across 49 states.
Moreover, Exeter also markets its products through strategic partnership types which include Independent Dealer Group Partnership, Captive Partnership, OEM Partnership, and Bank Partnership.
As the graphic shows below, since 2016, Exeter has progressively originated more loans through its strategic partners: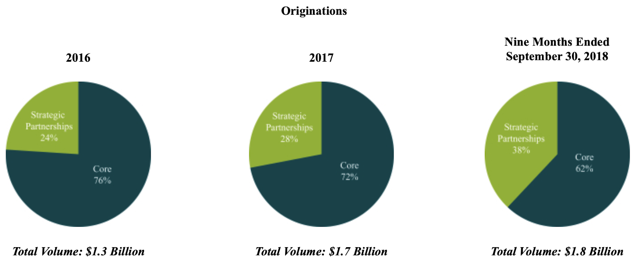 Market & Competition
According to a 2018 market research report by IBIS World, the subprime auto loans market in the US has shrunk to $10 billion in 2018, declining at an annual rate of 2.5% between 2013 and 2018.
The main factors driving market decline are increasing interest rates and rising delinquency rates.
According to a report in Bloomberg in April 2018, smaller auto subprime lenders have faced a tougher environment as rates have risen and buyers focus more on cheaper, used cars: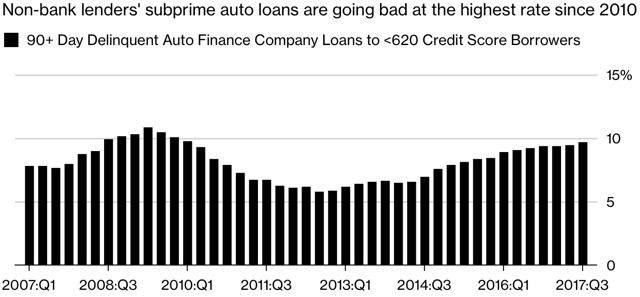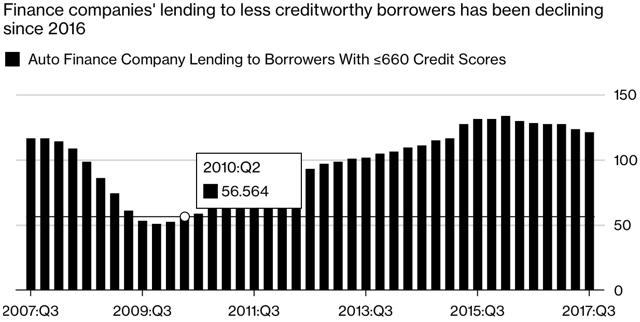 Source: Bloomberg
Major competitors that provide subprime automobile financing solutions include:
Credit Acceptance Corporation (CACC)
Santander Consumer USA (SC)
Ally Financial (ALLY)
American Honda Finance Corporation
Financial Performance
XTF's recent financial results can be summarized as follows:
Accelerating growth in Net Interest & Fee Income
A sharp increase in Income Before Income Taxes
A significant increase in Cash Flow From Operations
Below are relevant financial metrics derived from the firm's registration statement:
| | | |
| --- | --- | --- |
| Net Interest & Fee Income | | |
| Period | Total Net Interest & Fee Income | % Variance vs. Prior |
| To Q3 2018 | $ 457,992,000 | 22.6% |
| 2017 | $ 496,662,000 | 9.7% |
| 2016 | $ 452,917,000 | |
| | | |
| Income Before Income Taxes | | |
| Period | Income Before Income Taxes | % Variance vs. Prior |
| To Q3 2018 | $ 57,382,000 | 372.4% |
| 2017 | $ 45,326,000 | 45.8% |
| 2016 | $ 31,094,000 | |
| | | |
| Cash Flow From Operations | | |
| Period | Cash Flow From Operations | |
| To Q3 2018 | $ 340,288,000 | |
| 2017 | $ 375,205,000 | |
| 2016 | $ 318,023,000 | |
Sources: Company registration statement, IPO Edge
As of September 30, 2018, the company had $301.4 million in cash and $3.6 billion in total liabilities (Unaudited, interim).
Free cash flow during the 12 months ended September 30, 2018, was $417.1 million.
IPO Details
XTF intends to raise $100 million in gross proceeds from an IPO of its Class A common stock, not including customary underwriter options.
The final amount may differ markedly from this typical placeholder figure.
Per the firm's latest filing, it plans to use the net proceeds from the IPO to redeem certain LLC units from existing shareholders and for general corporate purposes.
Management's presentation of the company roadshow is not available yet.
Listed underwriters of the IPO are Citigroup and Wells Fargo Securities.
Expected IPO Pricing Date: To be announced.
An enhanced version of this article on my Seeking Alpha Marketplace research service IPO Edge includes my initial commentary on the IPO.
Members of IPO Edge get the latest IPO research, news, market trends and industry analysis. Get started with a free trial.
Disclosure: I/we have no positions in any stocks mentioned, and no plans to initiate any positions within the next 72 hours. I wrote this article myself, and it expresses my own opinions. I am not receiving compensation for it (other than from Seeking Alpha). I have no business relationship with any company whose stock is mentioned in this article.