"Bureaucracy defends the status quo long past the time when the quo has lost its status" ― Laurence J. Peter
Today, we take a look at a 'Tier 4' developmental concern. The shares sold off in the fourth quarter, like most stocks in the biotech sector. However, some beneficial owners have made some purchases recently and a couple of analyst firms have put some very high price targets on the shares early in 2019. We take a look at this name in the paragraphs below.

Company Overview:
Esperion Therapeutics, Inc. (ESPR) is an Ann Arbor, Michigan based clinical stage pharmaceutical company focused on the development of orally administered low density lipoprotein cholesterol (LDL-C) lowering medications. The original Esperion was purchased by Pfizer (PFE) for $1.3 billion in 2004 to prevent its intravenously administered lipid-deplete form of high-density lipoprotein – clinically known as ETC-216 – from ending up with the competition. After killing the ETC-216 program, Pfizer sold the franchise back to Esperion's management in 2008. The company went public in 2013, raising $72.8 million at $14.00 per share. It now has a market cap of ~$1.18 billion and trades just above $40.00 a share.
The Cholesterol Lowering Marketplace: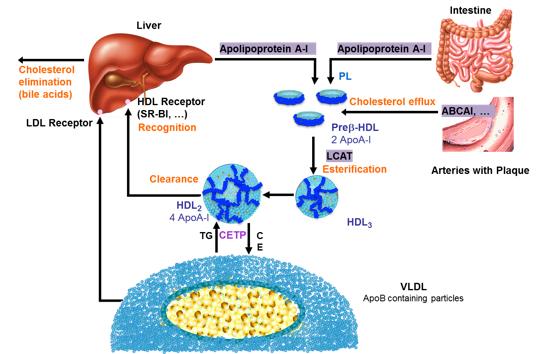 Since the 1980s, statins have been the first line treatment for reducing cholesterol. Statins work by blocking a substance called HMG-CoA reductase, which the liver needs to make LDL-C. They also work by helping the body reabsorb any cholesterol that has gathered on blood vessel walls. When statins do not effectively control LDL-C levels, or when the patient experiences exceptionally high cholesterol levels from a genetic disorder known as heterozygous familial hypercholesterolemia (HeFH), a cholesterol absorption inhibitor (ezetimibe) or drugs called bile acid resins are prescribed. If those modalities prove ineffective, patients can be prescribed recently approved (2015) PCSK9 inhibitors such as Sanofi (SNY) and Regeneron's (REGN) Praluent (alirocumab) and Amgen Inc.'s (AMGN) Repatha (evolocumab). PCSK9 inhibitors (until very recently) were very expensive – north of $14,000 per annum – and must be administered via once or twice-monthly subcutaneous injection and have occasional side effects including kidney and liver problems, diabetes, and dementia.
With that said, it should be noted that in an attempt to lift disappointing Praluent sales (~$195 million in 2017), Sanofi and Regeneron have cut the net price of Praluent to ~$4,500 annually in return for straightforward access for ~25 million Americans covered by the Express Scripts' (ESRX) national formulary. As part of the agreement, Repatha was removed from formulary access. In 2017, generic statins, ezetimibe (EZE), and fixed combination drugs accounted for ~93% of U.S. prescriptions within the cholesterol/LDL-C lowering market. Amgen recently cut the annual cost of Repatha to under $6,000 annually as well.
With a management team partially responsible for discovering the statin Lipitor, it shouldn't come as a big surprise that Esperion's lead candidates are lipid modifying therapies. One is ETC-1002 (a.k.a. bempedoic acid (BA)) and the other is a combination pill comprised of BA and EZE. Like statins, BA blocks HMG-CoA through the inhibition of ATP Citrate Lyase, an enzyme in the cholesterol synthesis pathway; thus, decreasing cholesterol production in the liver. However, owing to its unique mechanism of action (i.e., it doesn't become active until it reaches the liver), BA is inactive in skeletal muscle, meaning reduced muscle-related adverse events (AEs) inherent in statin therapies. In addition to being orally administered, BA was expected to be a much cheaper alternative to the PCSK9 inhibitors at ~$4,000 annually. EZE is available generically and reduces absorption of cholesterol in the gastrointestinal tract, meaning less cholesterol to the liver, which in turn upregulates the LDL receptors.
Bempedoic Acid. BA as a once-daily, orally administered monotherapy has been studied in ten Phase 2 trials encompassing ~1,200 patients, demonstrating up to 30% reduction in LDL-C levels. In four Phase 3 studies evaluating BA in over 3,600 patients – three of which have been readout in 2018 – it has shown additional promise, but with one hiccup.
The first Phase 3 trial (Study 4) was readout in March 2018. In that study, BA 180 mg was evaluated in the treatment of 269 patients with atherosclerotic cardiovascular disease (ASCVD) or at a high risk of ASCVD with HeFH inadequately treated with background EZE 10 mg, and patients considered statin intolerant. (For perspective, four out of five diabetes patients over the age of 65 die from ASCVD.) Study 4's primary endpoint – the reduction of LDL-C - was achieved, decreasing LDL-C by 28% (p<0.001) versus placebo at Week 12. A 33% reduction in an important inflammation marker associated with cardiovascular disease (hsCRP) was also effectuated.
Then, top-line results from a 2,230 patient, 52-week trial (Study 1) in patients with HeFH on maximally tolerated background lipid-modifying therapy were readout on May 2, 2018, in which BA 180 mg demonstrated a statistically significant 20% (p<0.001) reduction in LDL-C versus placebo. However, owing to mortality data (0.9% died during the 52-week study period) that was greater than placebo (0.3%), shares of ESPR sold off ~48% on ~29 million shares (more than all the shares outstanding) in the two days following the news.
About three weeks later, the results of a third Phase 3 trial (Study 3) were readout. The 24-week, 345-patient study assessed the LDL-C lowering efficacy and safety of BA 180 mg versus placebo added to background lipid-modifying therapy in patients with HeFH who were considered statin intolerant. Like the other studies, the primary endpoint was achieved with BA demonstrating a 26% (p<0.001) reduction of LDL-C and a 28% decrease in hsCRP at Week 24.
With the exception of the elevated mortality in Study 1, BA was well tolerated with no differences in occurrence of AEs or muscle-related AEs versus placebo in all three of these studies. Counting Phase 2 trials, Esperion has treated 4,006 patients (2,668 with BA; 1,338 with placebo) in all its completed studies. There were 14 fatal AEs (0.5%) with BA and 2 (0.2%) with placebo. The company has claimed that the deaths were most likely due to cancer or CV disease, and importantly for Esperion, the CV death rate was lower in the BA-treated population than in the placebo group. Either way, the investment community is still skittish. Overall, trial discontinuations totaled 253 (9.3%) with BA and 92 (6.9%) with placebo.
A readout from Study 2 – a 52-week randomized, double-blind, placebo-controlled trial evaluating BA 180 mg versus placebo in 779 patients with HeFH not adequately controlled with current lipid-modifying therapy came out late in October. Results were positive and the company will file U.S. marketing applications in the first quarter for bempedoic acid and bempedoic acid/ezetimibe combo pill for LDL-C-lowering indications. Marketing applications in Europe will follow in the second quarter.
Esperion is also conducting a global CV outcomes trial – known as CLEAR Outcomes – for BA in statin intolerant patients with HeFH and high CVD risk. The trial was initiated in December 2016 and is expected to be fully enrolled in 2019, with a positive outcome likely to support submissions for a CV risk reduction indication in the U.S. and Europe by 2022.
BA/EZE combo pill. In August 2018, Esperion released the top-line data from its orally administered BA/EZE combination therapy trial. The 12-week, four-arm, 382-patient Phase 3 trial was conducted to evaluate the efficacy and safety of the BA 180 mg/EZE 10 mg combination pill compared to BA, EZE, or placebo in patients treated with maximally tolerated statins. In the study, the combo pill lowered LDL-C levels by 35%, whereas EZE alone lowered them 24%; BA 20%; and placebo 3%. For patients considered statin intolerant, the combination therapy lowered LDL-C levels 43%. A 34% reduction of hsCRP was realized in patients taking the combo pill versus 9% for EZE; 20% for BA; and a 1% increase for placebo. The combination therapy was well tolerated with no additional muscle-related AEs. In patients with no statin background therapy across both its Phase 2 and Phase 3 trials, the BA/EZE combo (~45% LDL-C reduction) was comparable to PCSK9 protein inhibitors alirocumab (47%) and evolocumab (53%) in reducing LDL-C. And unlike the PCSK9 inhibitors that have no effect on hsCRP levels, the combo pill lowered these levels by an average of 30% over its two studies.
With results like these, Esperion expects to file an NDA using the 505(b)(2) regulatory pathway and a MAA for both its BA and BA/EZE combination therapy as an adjunct to diet and maximally tolerated statin therapy for the treatment of adults with ASCVD or HeFH who require additional lowering of LDL-C during 1Q19. Neither candidate will be replacements for statins or EZE.
The market for BA and BA/EZE is significant. There are an estimated 12.7 million patients suffering from ASCVD or HeFH with elevated LDL-C, of which nearly 8 million would be candidates for Esperion's therapies.
On January 4th, the company announced a licensing agreement with Daiichi Sankyo providing the Japanese drug maker with exclusive rights to commercialize bempedoic acid and the bempedoic acid/ezetimibe combination pill in the European Economic Area and Switzerland.
Esperion will receive a $150 million upfront payment as part of this transaction as well as significant tiered royalties on commercial sales. In addition, Esperion will get another $150 million upon first commercial sales in Daiichi's territory. Finally, the company will also receive an additional regulatory and sales milestone payment upon the grant of the Marketing Authorization in the EU for the CV Risk Reduction Label.
Balance Sheet & Analyst Commentary:
Esperion held ~$165 million of cash, short-term, and long-term investments with no debt on its balance sheet as of the end of the third quarter. At its current burn rate, there is enough cash to get the company through 2019. Reduced outlays for clinical trials should be offset by spending on a sales and marketing effort assuming FDA approval in 2H19. The upfront payment that it will receive from Daiichi Sankyo significantly increases the company's financial flexibility.
Wall Street analysts have gotten increasingly bullish so far in 2019. Last week Stifel Nicolaus ($112 price target) and JMP Securities ($153 price target) reissued their Buy ratings on ESPR after the deal with Daiichi Sankyo. JMP's analyst stated he 'views this deal as "strong," and sees Daiichi Sankyo as a compelling strategic fit "given its established commercial infrastructure and success in cardiovascular diseases in the region.'
In three transactions from December 17th to January 4th, a beneficial owner picked up an additional 190,000 shares in Esperion.
Verdict:
Since the troubling mortality data of early May, shares of ESPR have mostly traded in a range of $36-$50 per share. The positive late stage trial results in late October boosted the stock quickly and temporarily back up to $60. However, the stock is now back in its previous range due to the poor tape of the sector and market at the moment. Admittedly, the pricing advantage that management presumed BA would enjoy over PCSK9 inhibitors has vanished, possibly forcing Esperion to consider lower pricing upon launch. It will still enjoy a superior ease of administration.
Given that, Esperion can only be recommended as a 'watch item' position within a well-diversified biotech portfolio at best at this time. I personally have a small holding in Esperion established via a Buy-Write option order.
"The greatest power of bureaucracies is to make the smart act stupid and the good to act evil." ― Raul Ramos y Sanchez, Pancho Land
Bret Jensen is the founder and author of articles on The Biotech Forum, The Busted IPO Forum, and The Insiders Forum
Disclosure: I am/we are long ESPR. I wrote this article myself, and it expresses my own opinions. I am not receiving compensation for it (other than from Seeking Alpha). I have no business relationship with any company whose stock is mentioned in this article.