Real Estate Weekly Review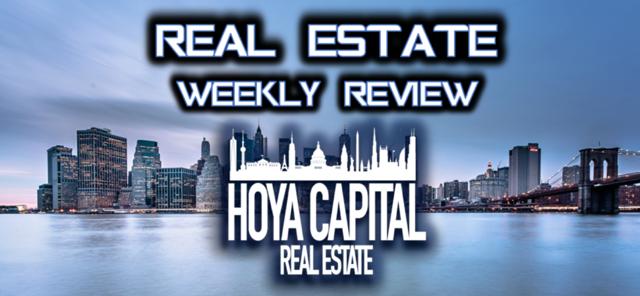 The bear is back in hibernation. US equities rallied for a third consecutive week after briefly dipping into bear market territory just before Christmas. The S&P 500 (SPY) has gained more than 10% while the Nasdaq (QQQ) has climbed 12% in the three weeks since bottoming on December 24 as the combination of benign inflation data, an increasingly dovish Fed, and solid jobs and retail data has removed key headwinds to the 2019 outlook and overshadowed the continued trade war with China and the lingering government shutdown.
Real estate equities have led the rally over the past three weeks after delivering an uncharacteristically weak 2018 performance. For REITs and other yield-sensitive sectors, a hopeful return of "Goldilocks" economic conditions characterized by low inflation and steady growth have bolstered relative valuations in recent months. REITs (VNQ and IYR) climbed nearly 5% on the week led by the hotel and industrial REIT sectors. Mortgage rates receded to the lowest level since April, injecting a jolt of confidence into housing-related equities.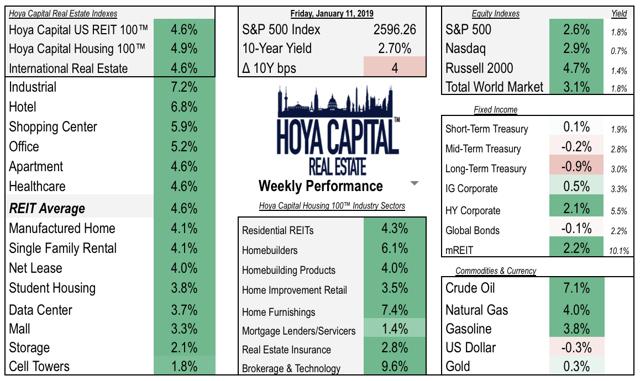 (Hoya Capital Real Estate, Performance as of 4 pm Friday)
The Housing 100, an index that tracks the performance of the US housing industry, finished the week higher by nearly 5%. Homebuilders (XHB and ITB) jumped more than 6% on the week following solid earnings reports from Lennar (LEN) and KB Home (KBH). After plunging 30% last year, homebuilders have jumped more than 12% in the first two weeks of 2019.
The home furnishings sector climbed more than 7% following surprisingly upbeat guidance from Bed Bath & Beyond (NASDAQ:BBBY), which surged nearly 30% on the week. Tempur Sealy (TPX), Restoration Hardware (RH), and At Home (HOME) all jumped more than 10%. Not to be outdone, four of the six names in the real estate brokerage and technology sector surged at least 10%, led by RE/Max (RMAX), Redfin (RDFN), Zillow (Z), and Realogy (RLGY).
Real Estate Economic Data

(Hoya Capital Real Estate, HousingWire)
Inflation Remains Tame As Oil Retreats
Runaway inflation was - and remains - the key threat to potentially ending the nearly decade-long economic recovery. Rising oil prices, along with rising costs from tariffs and trade disputes, had put upward pressure on inflation throughout 2018, but the recent dip in oil prices has quickly quelled much of this inflationary pressure. Headline CPI data declined in December while Core CPI came in as-expected at 2.2%. At 1.97%, 10-year inflation expectations, which peaked at 2.35% in 2018, have moderated considerably since November.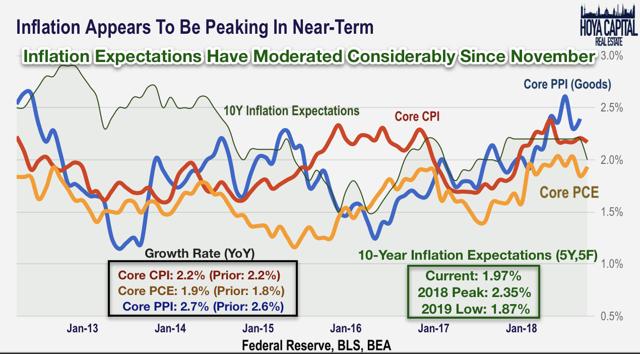 Housing (CPI:Shelter) accounts for roughly a third of the CPI weight, and since 2013, it has been significantly above the overall inflation rate. From 2015 through late 2016, housing inflation was one of the only components keeping Core CPI out of deflationary territory. CPI:Shelter trended sideways in December at 3.2% as slight declines in Primary Rents and OER were offset by a positive rise in Lodging. Core CPI ex-shelter pulled back modestly to 1.45%.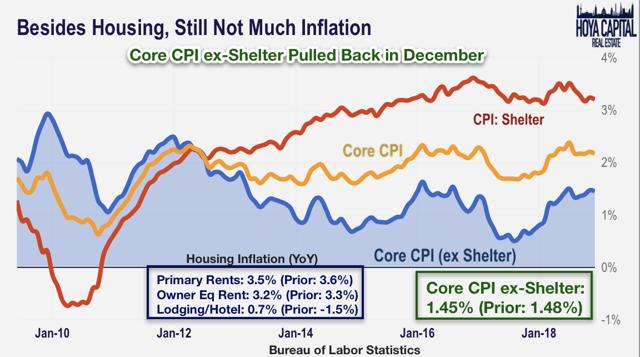 Historically, the path of inflation has been primarily determined by two critical variables: the price of energy and the trade-weighted value of the US dollar. Despite the 20% recent rally over the last three weeks, oil prices remain more than 30% below their recent peak last October. On a year-over-year basis, oil is lower by 22% while the US Dollar is stronger by 5%. Our models suggest that further upward pressure on inflation over the near-term is far less likely than it was in late-summer when oil prices were up as much as 65% YoY.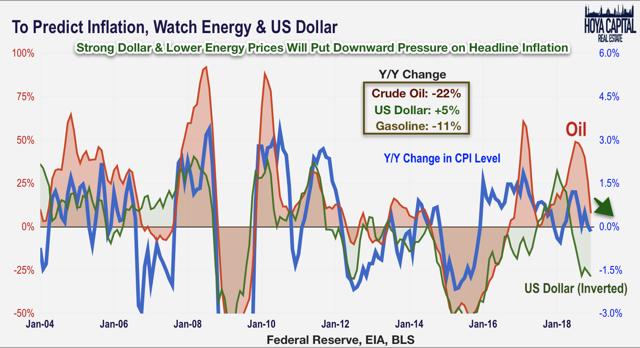 Lower Mortgage Rates Lifts Housing Optimism
After peaking in mid-November, mortgage rates have pulled back sharply in recent weeks, in line with inflation expectations and movements in the 10-year yield. Breathing new life back in the single family housing markets which slowed precipitously in late 2018, the favorable effects of the pullback in mortgage rates is starting to show up in the data. The MBA Purchase Index recorded its second best reading since July while the volatile MBA Purchase Applications surged 23.5% from last week. On a TTM basis, however, the MBA Purchase Index remains higher by just 2%, the weakest since early 2015.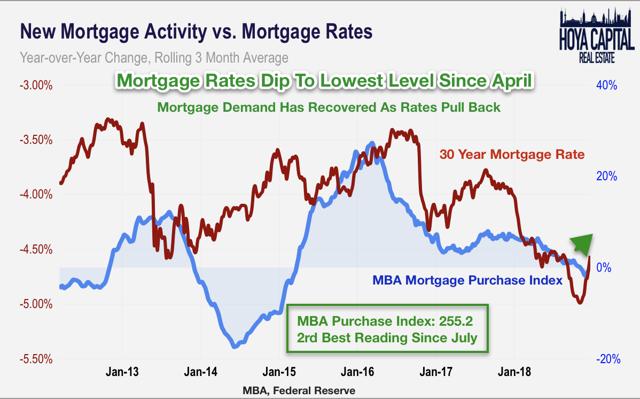 Labor Markets Remain Strong
Last week, we analyzed the strong employment reports released by the BLS and ADP which showed that the US economy delivered another solid month of job growth in December, easing the mounting concern that the US economy may have slowed in the final months of 2018. While not as closely watched as BLS or ADP, we take a look this week at recent trends in JOLTS and jobless claims data. This week, JOLTS data slightly missed estimates, but the underlying trends remain strong with a nearly 14% rise in job openings on a trailing twelve-month basis and a 5.2% rise in hires.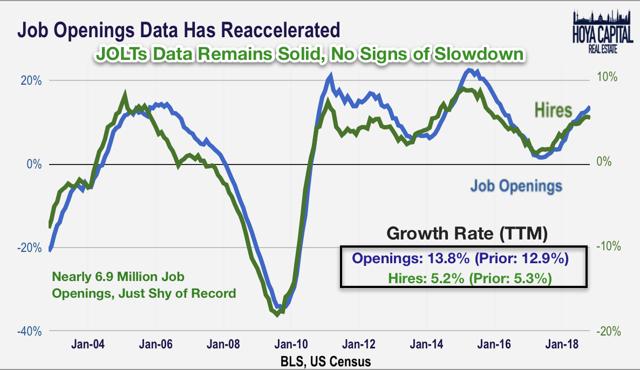 Jobless claims data remains similarly strong with no clear indications that the stock market volatility in late 2018 had any discernible impact on hiring. Initial claims data beat estimates this week and remains near the historically-low 200k level, as it has for all of 2018 amid the post-tax reform economic reacceleration. As a percent of total employment, initial jobless claims continues to remain at record lows at just 0.15%. At 1.2%, the continuing claims rate also remains at record lows, with records dating back to the early 1970s.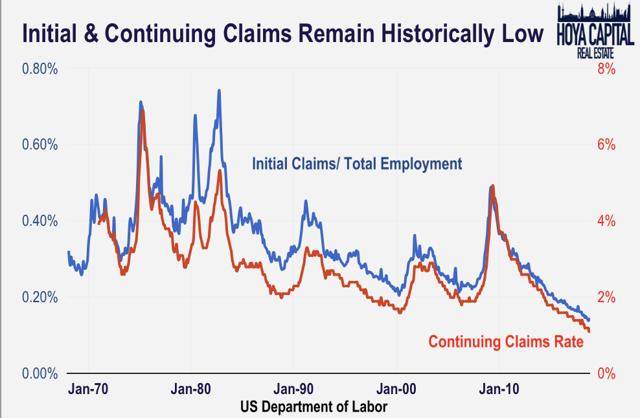 2018 Performance
This week, we published Hotel REITs: Poor 2018 Despite Strong Year for Hotel Industry. The hotel industry is booming, but don't tell hotel REITs. Powered by resurgent corporate travel, hotel demand set yet another record in 2018, offsetting increased supply growth. Just when 2018 looked to be a bright year for hotel REITs, the sector plunged in the final months of 2018 amid economic slowdown fears, delivering a -13% total return. The 102-month stretch of positive RevPar growth was snapped in September, primarily a result of tough comparisons to last year's hurricane-affected data.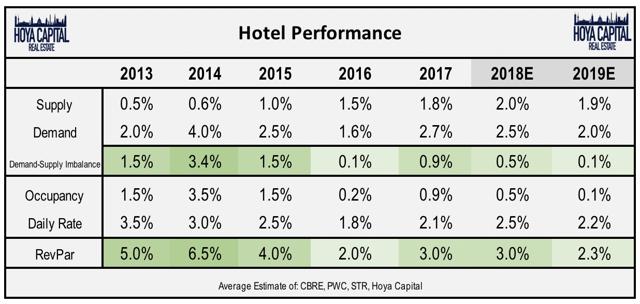 Last week, we published a review of the performance of the real estate sector over the past year, Real Estate Ends Worst Year Since 2008. Despite the strongest year of GDP growth in more than a decade, real estate equities delivered their worst year since the Global Financial Crisis. REITs snapped their streak of nine consecutive years of positive total returns, dipping 4% on the year. Homebuilders tumbled 30% in 2018 after surging 59% in 2017.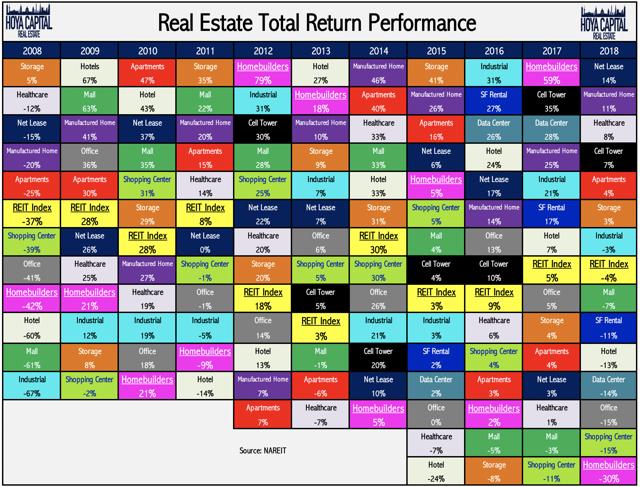 Higher mortgage rates and tax reform shifted incremental demand from the single family to the multifamily markets. Single family housing data softened considerably in the second half of 2018. A symptom of the lingering national housing shortage, home prices ended the year higher by more than 5%. Despite peaking supply growth, multifamily rents accelerated throughout the year.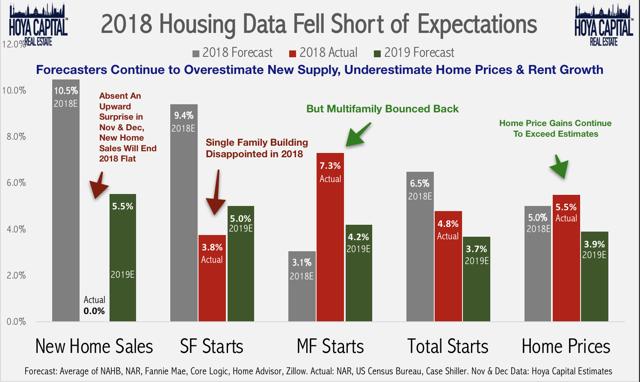 To the extent that recent weakness has been driven by higher interest rates, the outlook for 2019 looks brighter. Demographic trends suggest strong housing demand well into the next decade. REITs and housing-related equities have outperformed the broader US stock market over the last 25 years. The NAREIT All-Equity REIT Index has delivered an 11.4% average annual return while the Fidelity Construction & Housing Fund (FSHOX) has delivered an 11.2% annual return since 1994. The S&P 500, meanwhile, delivered a 10.7% annualized rate of return during this period.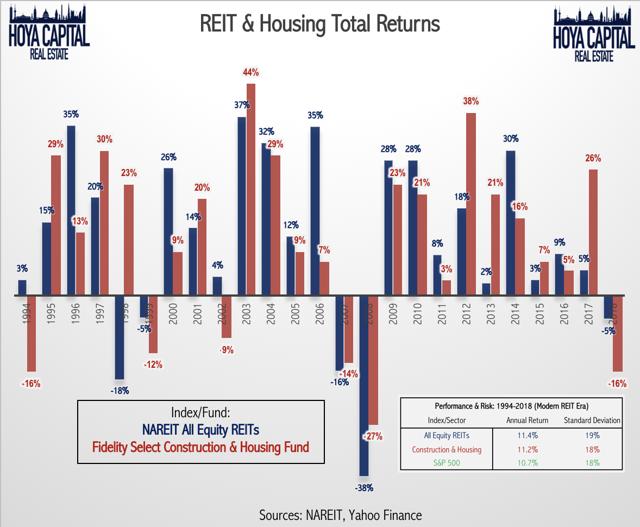 So far in 2019, REITs have climbed 4% and Homebuilders have surged 12%, each outperforming the 3.5% rise in the S&P 500. The 10-year yield has climbed higher by 2 basis points, aided by a 13% jump in the price of crude oil (USO) and a 7% rise in gasoline prices.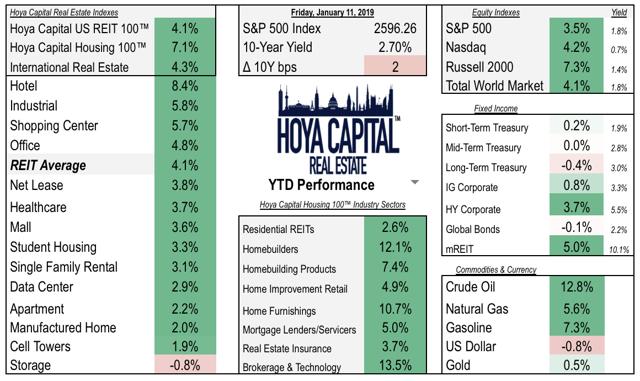 Bottom Line: Rally Continues
Goodbye, bear market. US equities have rallied sharply in 2019 after dipping into bear market territory just before Christmas. The S&P 500 is higher by 10% from recent lows. Real estate equities have led the rally over the past three weeks after delivering an uncharacteristically weak 2018 performance. Homebuilders are up 12% in 2019 while REITs are up 4%.
Dragged down by benign inflation data and an increasingly dovish Fed, mortgage rates receded to the lowest level since April, injecting a jolt of confidence into housing markets. CPI inflation pulled back in December as the plunge in oil prices and the strong US dollar have quelled recent inflationary pressure. Shelter inflation, however, remains unyielding above 3%. All eyes on earnings. Homebuilders Lennar and KB Home jumped after beating estimates. Housing-related retailers delivered a strong week after Bed Bath & Beyond reported a surprisingly upbeat outlook.
For an in-depth analysis of all housing and real estate sectors, be sure to check out all of our quarterly reports: Net Lease, Data Center, Manufactured Housing, Student Housing, Single-Family Rentals, Apartments, Cell Towers, Manufactured Housing, Malls, Shopping Centers, Hotels, Office, Healthcare, Industrial, Storage, and Homebuilders.
Disclaimer: All of our published commentary is for informational purposes only, always provided free of charge. Commentary is purely theoretical and not intended as investment advice. Information presented is believed to be factual and up-to-date, but we do not guarantee its accuracy and it should not be regarded as a complete analysis of the subjects discussed. An investor cannot invest directly in an index and index performance does not reflect the deduction of any fees, expenses or taxes. Data quoted represents past performance, which is no guarantee of future results. The information presented does not reflect the performance of any fund or other account managed or serviced by Hoya Capital Real Estate. Please consult with your investment, tax or legal adviser regarding your individual circumstances before investing. For complete disclosure, view our profile via the link above.
Disclosure: I am/we are long VNQ, XHB, SPY. I wrote this article myself, and it expresses my own opinions. I am not receiving compensation for it (other than from Seeking Alpha). I have no business relationship with any company whose stock is mentioned in this article.