Just about the time Mr. Market had figured that Chesapeake Energy (CHK) was about done, management came up with some decent surprises. Management surprised the market by reporting 468 KBOED volume. Management furthermore asserted that any oil production lost in the sale of the Utica Shale leases had already been replaced. Even though overall production volumes are lower as a result of that significant sale, the oil percentage of production is now clearly climbing. Along with that comes an assumed increase in profitability that makes this stock more favorable in the eyes of Mr. Market.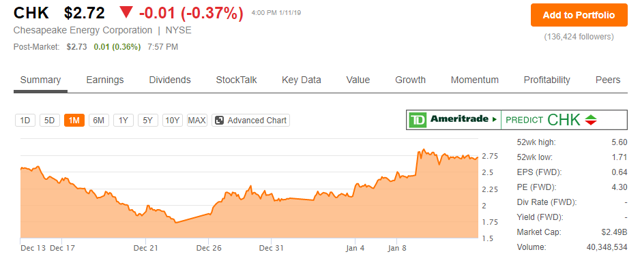 Source: Seeking Alpha Website January 11, 2018
The stock price has now risen from the December "window dressing" or "year-end selling" lows by more than 50%. This stock has been unusually volatile for a large company stock. The January effect trades traditionally target smaller stocks because less volume is needed for a significant increase.
Chesapeake Energy is beating the odds and showing a heady increase by finally demonstrating superior production increases combined with an oil price rally. Oil prices sharply declined on a changing market perception. However, now that the market was so sure that oil prices could only decline, those same oil prices have begun a rally. Should "everyone" decide to climb in including traders and hedging operations, oil prices could shoot higher than many expect. A $3 price now seems very likely and the stock could go far higher if oil prices rally past $60 for a WTI price.
More importantly, management expects to reduce the rig count by 20% but does not appear ready to allow that to impact projected production. Instead, it appears management has the goal of increasing productivity enough to cancel the effect of the rig decline.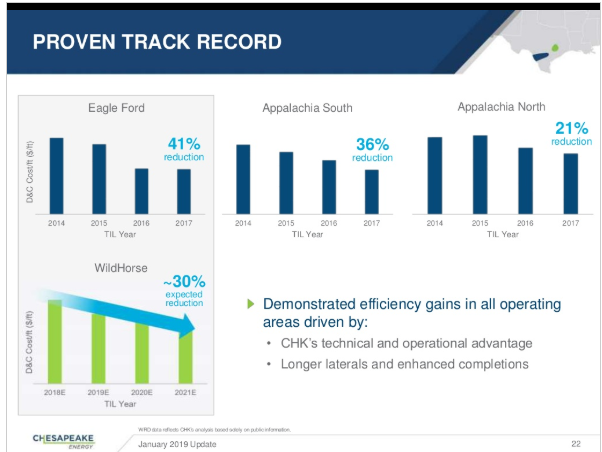 Source: January 2019, Investor Presentation
Management has long been increasing efficiencies. A fair amount of those cost decreases shown above have to be from drilling efficiencies. Operators across the industry have decreased drilling times by fantastic amounts over the last four years. The final fracking and completion process now exceeds drilling costs in several geographic areas. That was an unheard of cost relationship at the beginning of the decade.
But management has also made well production progress. From time to time there have been announcements of new flow rate records. These appear to eventually become regular or even average occurrences in the not-to-distant future.
A continuance of the above trend adds value to the coming WildHorse (WRD) acquisition. The trend shown above adds future value to the acquisition as long as operational progress continues. Right now many managements report no end in sight to continuing operational and production improvements. However, such an assumed cost progress is far from assured in the future. What now looks good for cost progress could easily and unexpectedly halt in the future.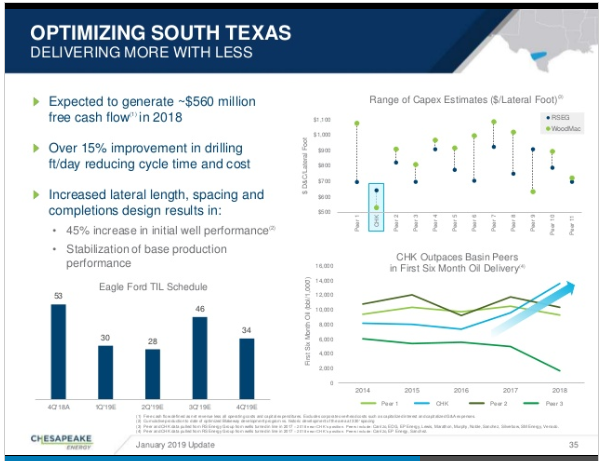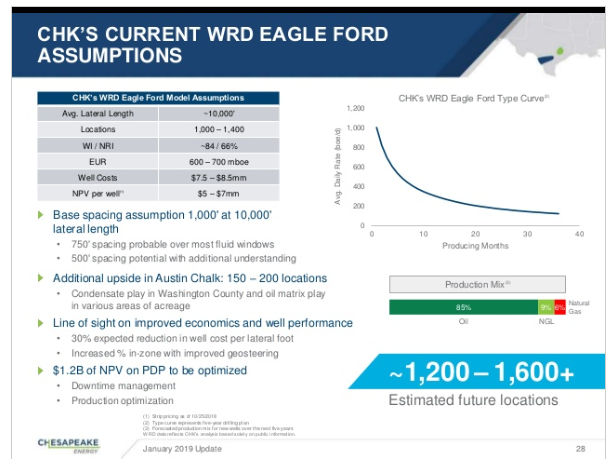 Source: January 2019, Investor Presentation
Chesapeake Energy intends to use some of the Eagle Ford experience to maximize the profits of Wild Horse leases. If this is successful, there could be the considerable savings shown above. However, there is a risk that the acreage of WildHorse Resource could react differently than planned to the above assumptions and the proposed savings would not be realized. Then the backup plan of continuing industry operational improvements would tend to also show significant future savings as long as it continues.
One of the most significant events appears to be the ability to deliver more than 100,000 barrels of oil in the first six months with some of the longer wells. The additional gas and condensate volumes are essentially bonus cash or almost like by-products. These types of production tend to pay back very quickly at far lower oil price levels than previously imagined. A 10,000 foot lateral that delivers ever increasing oil volumes as shown in the top slide is a major break-even reduction event.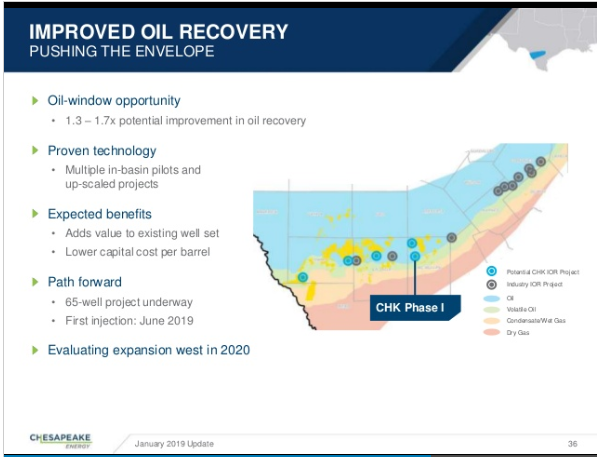 Source: January 2019, Investor Presentation
The fact is that unconventional oil and gas recovery is still relatively new. Some of us are old enough to remember that this technology was so uncertain that recovery factors were initially expected in the low single digits. Now comes proposals to increase that assumption even more than the improving first recovery techniques. If this is successful, it would be still another way that the WildHorse acquisition adds value to the Chesapeake Energy organization.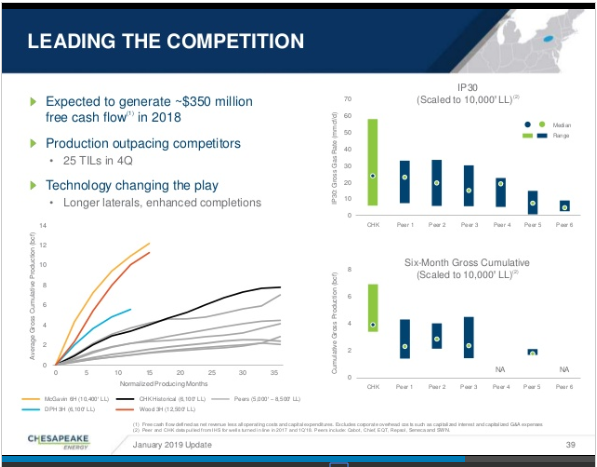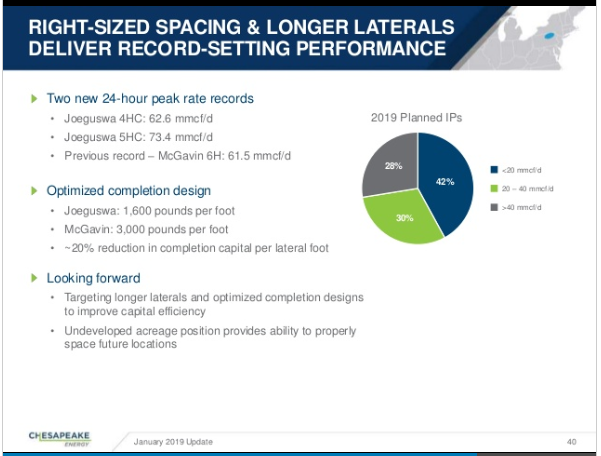 Source: January 2019, Investor Presentation
Management now reports some giant results from the very important gas business. In some ways, the gas production improvements have outpaced the oil improvements. Large companies like Chesapeake with great acreage now produce gas profitably at extremely low break-even costs. Even with fairly steep declines, the well results shown above will be fairly profitable under some extremely low pricing assumptions (especially compared to wells of the past five years or so).
That type of progress should assure relatively low gas pricing for the foreseeable future. Even though demand appears to be increasing to take advantage of low gas prices, the continuing production improvements appear to more than handle any increased demand.
Future Outlook
The combined benefits of continuing operational improvements and the WildHorse acquisition appear to give Chesapeake Energy the best chance at a viable future. This company badly needed to have enough cash flow to properly service the debt in the eyes of lenders. Management now appears to have a decent shot at investment grade debt ratios.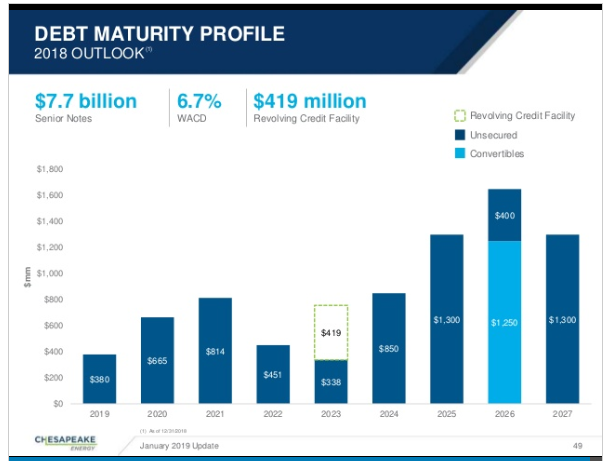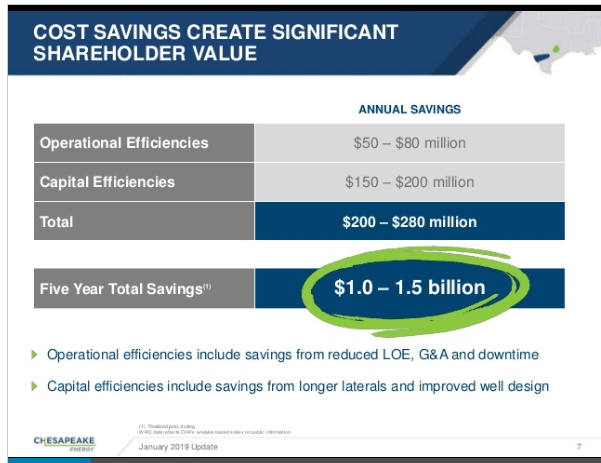 Source: January 2019, Investor Presentation
The recent Utica Shale sale allowed management to pay down a significant amount of debt. That debt repayment probably makes the capital market more willing to finance the debt incurred by the acquisition of WildHorse Resource. Investors should expect a series of new debt offerings after the acquisition as a result.
Management projects several avenues of savings over the next few years. There is always the risk that some or all of those projected savings will not be realized. However, there are several other potential sources of savings noted above that should assure the success of the acquisition.
Debt will climb again as a result of the acquisition and investors need to watch the working capital deficit. Many analysts would consider a climbing working capital deficit as an addition to debt. This company has many times offset any announced debt payoffs with an increased working capital deficit. Long term, the progress expected by the market just did not materialize.
But the Utica Shale sale appears to replace the gas production of the Utica Shale with the oil production of WildHorse Resource while leaving initial debt levels relatively unchanged. Odds are very good that the market likes the concept of more oil production while oil prices rally.
Long-term success will come from the ability to achieve investment grade ratings from the major ratings companies. Chesapeake Energy finally appears to be well on its way to doing just that. Many managements would have thrown in the towel on a company such as Chesapeake years ago. Instead, common shareholders still have a significant stake in the company without the need for a reorganization. It appears that production and operational improvements can finally allow this company to grow its way to a secure future. Many shareholders have waited a long time for that assurance. The result is the current stock price rally should continue for some time. This stock finally has that bright (though speculative) five-year future.
Disclaimer: I am not an investment advisor and this is not a recommendation to buy or sell a security. Investors are recommended to read all of the company's filings and press releases as well as do their own research to determine if the company fits their own investment objectives and risk portfolios.
I analyze oil and gas companies like Chesapeake Energy and related companies in my service, Oil & Gas Value Research, where I look for undervalued names in the oil and gas space. I break down everything you need to know about these companies -- the balance sheet, competitive position and development prospects. This article is an example of what I do. But for Oil & Gas Value Research members, they get it first and they get analysis on some companies that is not published on the free site. Interested? Sign up here for a free two-week trial.
Disclosure: I am/we are long WRD. I wrote this article myself, and it expresses my own opinions. I am not receiving compensation for it (other than from Seeking Alpha). I have no business relationship with any company whose stock is mentioned in this article.