By Rahim Shad, Senior Analyst and Sam Morton, Senior Credit Analyst on Jan 11, 2019, in Fixed Income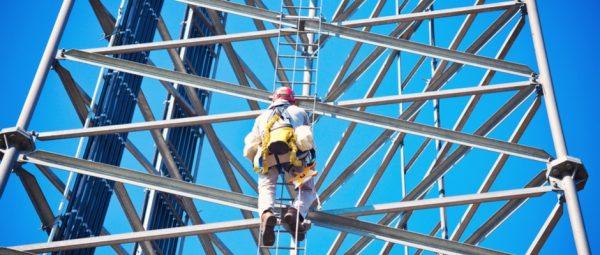 The highly anticipated "5G," or fifth generation, network technology is designed for faster internet download speeds and an overall improved network experience for global consumers. In recent months, there have been a series of announcements regarding its release. We believe understanding the process of 5G network deployment could provide investors with interesting investment opportunities, particularly in a few key segments of the technology, media and telecommunications (TMT) sector that we expect to benefit from the rollout.
What is 5G?
5G is defined by a series of upgrades in current wireless technology. Compared to its previous iteration (4G), 5G technology has the potential to offer a significant speed upgrade (20 times faster data transfer, or "throughput"), a 90% reduction in signal transmission delay ("latency") and denser network coverage (100 times more devices per cellular tower site).
In addition to enhancing the mobile consumer experience, 5G network characteristics can enable commercial applications like the "internet of things," which is critical for realizing future developments such as autonomous vehicles.
We believe the 5G rollout will not place undue strain on mobile operators
As with the rollout of the past four generations of wireless, mobile operators will need to make significant investments before offering 5G services. However, we believe the pace of 5G network deployment will likely be slower than 4G. Therefore, we do not expect an immediate spike in capital expenditures, which is favorable from a credit perspective for most mobile operator creditors, in our view. Initial deployments of 5G will likely target concentrated urban areas - mostly because cities have naturally higher data demands, but also because 5G signals cannot travel long distances. As a result, we expect 5G global population coverage to increase more slowly compared to 4G - from 2% to 34% over the next six years compared to 2% to 55% for 4G over a similar time frame.1
Due to the slower rate of coverage expansion, we believe capital intensity (capital expenditures to sales) among global telecommunications companies will remain near current levels even while the 5G rollout accelerates. This will likely be especially true in the US, where mobile operators already have extensive 5G-enabling infrastructure in place.
Figure 1: 5G ramp-up is unlikely to cause a spike in global capital intensity1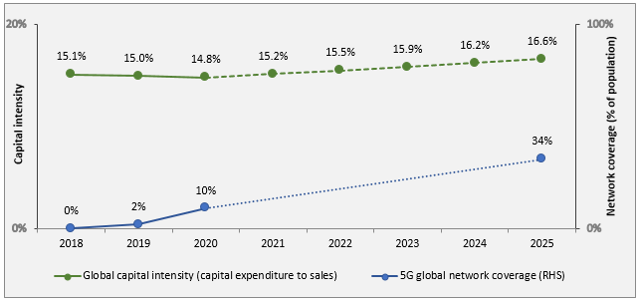 Source: GMSA Intelligence, "The Mobil Economy 2018", data as of Feb. 26, 2018 and Analysys Mason, "Mobile Operator Capex Spending: Worldwide Trends and Forecasts 2016-2025", data as of December 2017.
Overall, the launch of 5G presents a unique set of risks and opportunities for mobile operators. Their eventual success will likely depend not only on effective implementation of the technology, but also the degree of uptake from customers. Therefore, we believe playing this theme via the segments below that could benefit independently of mobile operators may benefit investors.
Segments of TMT sector that will likely benefit from 5G rollout
As mobile operators begin to roll out 5G over the next couple of years, we believe the following segments will benefit:
• Spectrum owners: Spectrum refers to the airwaves that carry communications signals. Spectrum owners own licenses to transmit signals across them. Owners are mostly governments, but also include some private companies. Spectrum will likely remain the lifeblood of all networks, including 5G, and rising demand for 5G services will likely benefit licensed spectrum owners. The Italian government recently auctioned large portions of its 5G spectrum at values above market expectations, despite the country's uncertain economic outlook.
• Equipment vendors: Owners of 5G network equipment, such as radios and antennas, will likely also benefit, as mobile operators will likely need to invest in this equipment before launching 5G services. We expect the best opportunities in this space will include those vendors with strong control over intellectual property. Our analysis suggests that the current legal framework could benefit US and European equipment vendors disproportionately compared to Asian companies.
• Cellular tower owners: Owners of cellular towers will likely benefit, as existing towers may be used to deploy new equipment capable of delivering 5G signals. Within urban areas, where we expect data demands to be the highest and most concentrated, an effective network will likely require strong signals to be carried over short distances. This could be potentially accomplished by deploying networking equipment across a greater number of tower sites.
We expect 5G network activity to ramp up significantly in 2020. However, the preliminary infrastructure and development work could benefit the above three segments as soon as 2019, in our view. Further into the future, we believe additional investment in capital expenditures and benefits to these segments will be based on the ultimate success of 5G services.
1 Source: GSMA Intelligence, "The Mobile Economy 2018", Feb. 26, 2018.
Important information

Blog header image: Henryk Sadura/Shutterstock.com
Many products and services offered in technology related industries are subject to rapid obsolescence, which may lower the value of the issuers in this sector.
The internet of things (IoT) refers to the interconnection of everyday objects via the internet, enabling these objects to connect, send and receive data.
Intellectual property is any creation of the mind (such as inventions or literary and artistic works) which can be protected by law for the benefit of the creator.
This does not constitute a recommendation of any investment strategy or product for a particular investor. Investors should consult a financial advisor/financial consultant before making any investment decisions. Invesco does not provide tax advice. The tax information contained herein is general and is not exhaustive by nature. Federal and state tax laws are complex and constantly changing. Investors should always consult their own legal or tax professional for information concerning their individual situation. The opinions expressed are those of the authors, are based on current market conditions and are subject to change without notice. These opinions may differ from those of other Invesco investment professionals.
| | | |
| --- | --- | --- |
| NOT FDIC INSURED | MAY LOSE VALUE | NO BANK GUARANTEE |
All data provided by Invesco unless otherwise noted.
Invesco Distributors, Inc. is the US distributor for Invesco Ltd.'s retail products and collective trust funds. Invesco Advisers, Inc. and other affiliated investment advisers mentioned provide investment advisory services and do not sell securities. Invesco Unit Investment Trusts are distributed by the sponsor, Invesco Capital Markets, Inc., and broker-dealers including Invesco Distributors, Inc. Each entity is an indirect, wholly owned subsidiary of Invesco Ltd.
©2019 Invesco Ltd. All rights reserved.
The investment implications of 5G network deployment by Invesco US.
Editor's Note: The summary bullets for this article were chosen by Seeking Alpha editors.