Midstream had another big week, helped by recovering commodity prices and strong equity market backdrop. Midstream (U.S. and Canada) fared better on average than MLPs this week, with the AMNA posting a 4.4% gain to catch and pass the Alerian MLP Index for the year so far. Midstream also outperformed utilities by a wide margin.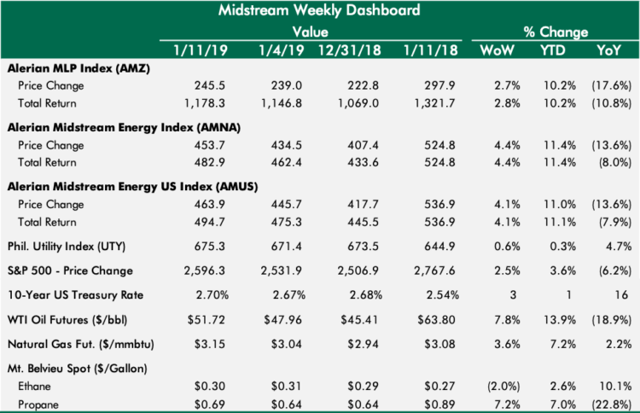 Oil is back above $50/bbl, buoyed by Saudi jawboning and signs of capital discipline from U.S. producers at an industry conference. Perhaps midstream commentary at a conference in Utah next week and from Kinder Morgan (NYSE:KMI) earnings on Wednesday can sustain this early enthusiasm for another week.
Even if midstream can't keep positive momentum going, two straight positive weeks is a good sign, given it had been nearly 5 months since MLPs had back-to-back positive weeks (since second week in August).
Rally Stalls after Record Start: "I think I've Got the Black Lung, Pop"
That first full week after the holidays always feels really, really ridiculously long for us desk jockeys. Five whole work days! Towards the end of this week, midstream vertical move higher seemed to stall out. MLPs posted 6 straight positive days to open the year, tied for the most consecutive positive days to start a year ever. They were negative on the 7th and 8th days, but even still have posted the second best 8-day start ever for the MLP Index just behind 2009.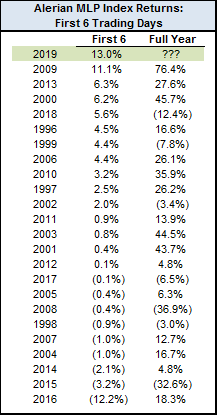 The last time MLPs were up 8%+ over two weeks was the first two weeks of last year. The last two week's performance is the best for MLPs since April 2016.
Poll Questions Recap
In our mid-week post this week, we had two poll questions. The top two results for each question are below:
Biggest headwinds faced by midstream this year:

Negative oil & energy sentiment (59% of respondents)

Too much leverage (22%)

Biggest midstream tailwinds in 2019:

Valuation and yield you can (probably) count on (44%)

Cleaner structures with fewer IDRs (and self-funding) (32%)
The results sync up with dynamic, cross-current forces at play in the market. Investors like current valuation and self-funding, but they are also concerned about high leverage within the context of a negative energy sentiment backdrop.
Self-funding in its current state (self-funding a large capex backlog) is not a recipe for reducing leverage, absent large and accretive asset sales. As high capex rolls off, the self-funding could result in de-leveraging and free cash flow yield, but we aren't quite there yet. That makes 2019 another "show-me" year.
If negative oil & energy sentiment is the #1 headwind to the midstream sector, this week's commentary from major producers should provide some comfort. If producers are disciplined with their capital, macro energy sentiment may improve, which could help incremental investors see past the lower growth outlook for midstream volumes that comes with reduced producer activity.
In that way, this year may end up being another year that makes midstream investors feel like they're taking crazy pills, but this time in a way that benefits midstream. Last year, negative macro energy sentiment trumped outstanding midstream fundamentals when it came to midstream stock performance.
Winners & Losers
The top 5 this week was again filled with some of the big 2018 laggards like DCP, APU, NS as they spring back to life to open the year. On the downside, NBLX gave up some of last week's gains. AM was in the bottom 5 on weaker than expected 2019 guidance update from sponsor Antero Resources (NYSE:AR).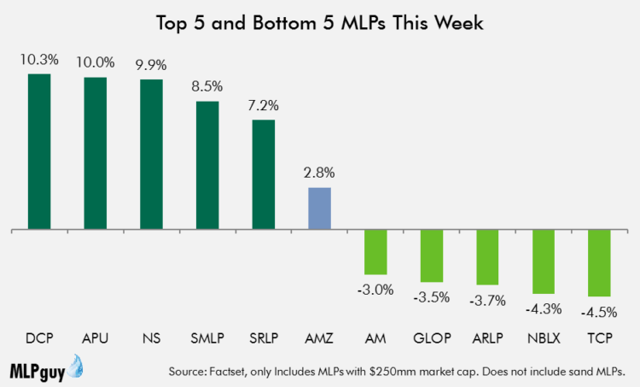 NBLX went from best to close to worst week over week. SRLP repeated in the top 5. On the YTD leaderboard 8 days into the year, SRLP and SMLP are approaching 30% return. Only 2 MLPs are negative.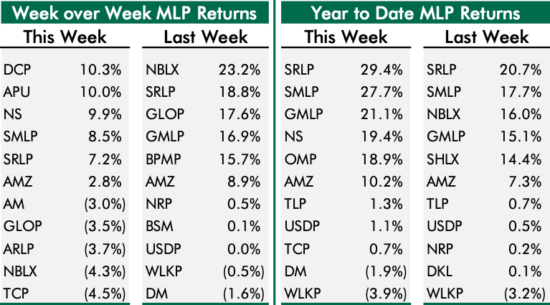 General Partners and Midstream Corporations
The midstream corporation group far outperformed MLPs this week, posting median gains of 4.4%. SEMG and TRGP led the group, continuing their early strength on the commodity price rebound. WMB, OKE and KMI were each up 5%+ as well, all trading with resilience on Friday when MLPs sold off hard.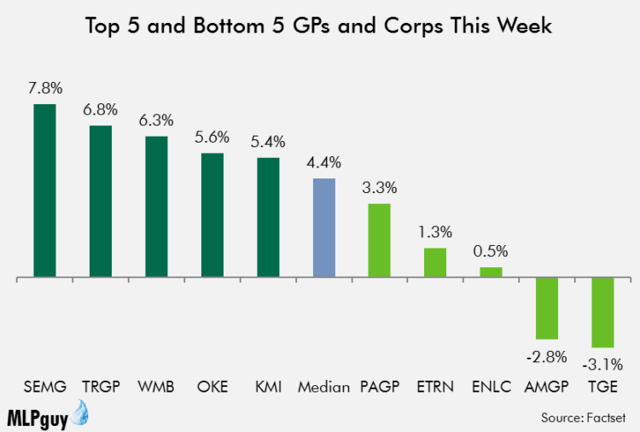 On the downside, AMGP's 33% spike off the bottom was interrupted by the guidance mid-week, and TGE continues to lag while the rest of the sector plays catch-up from December.
SEMG and TRGP repeated in the top 5, and they lead the group so far year-to-date. WMB joined the top 5, replacing AMGP. Only TGE is negative YTD.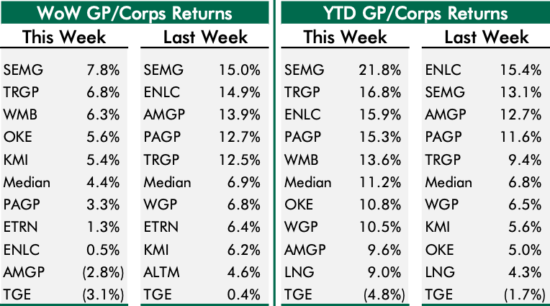 Canadian Midstream
Canadian Midstream, especially big-caps, also outperformed the MLP sector this week, suggesting perhaps some generalist or infrastructure long-only money joined the midstream party this week. ENB led the way, closely-followed by TRP and Keyera (OTC:KEYUF).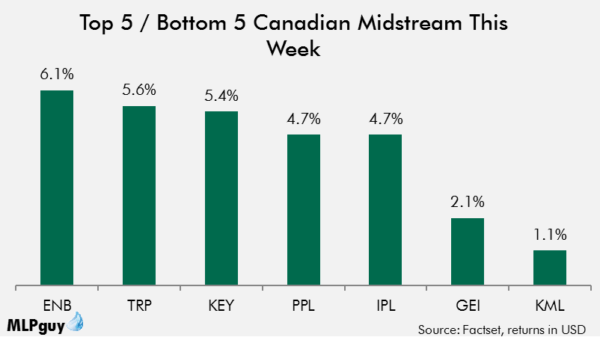 Gibson went from first last week to close to worst this week, TRP was near the top again. The YTD leaderboard is tightly bunched, but TRP is out front after underperforming last year.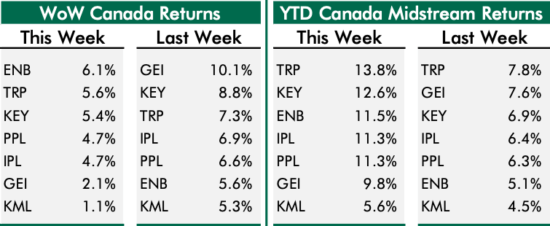 Side Note on Canada
Western Canadian Select (WCS) oil's spread to Cushing (WTI) has gone from negative $50/bbl in October to less than $8/bbl this year. Cuts of around 8% of Canadian production went into effect on January 1st. Curtailment of production and support of rail transportation with rail car purchases is working too well.
WCS seems to be trading at a premium to lighter oil net of a transportation differential, which may speak to the glut of light oil at Cushing, or reflects some nuance related to refinery demand. In any event, the 200%+ move in the price of oil in Canada is incredible.
News of the (Midstream) World
The debt capital markets remain very interested in MLP paper, with $6.0bn in midstream bonds pricing this week. In addition, we saw a combination of two 2018 trends in a single deal: private equity participation in midstream and assets sales. Also, the early stage of distribution announcement season began this week with a mix of 1 raise, 2 flats and 2 cuts. Finally, the sector lost two more ticker symbols this week, with several more set to disappear by the end of the quarter.
Capital Markets
Growth Projects/M&A
Other
Distribution Announcements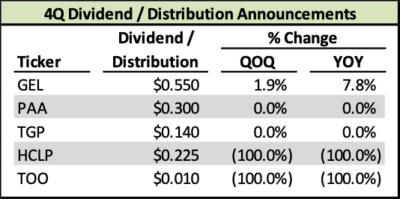 Editor's Note: The summary bullets for this article were chosen by Seeking Alpha editors.