Introduction
The last quarter of 2018 was very rough for the share prices of most defense contractors and BAE Systems (OTCPK:BAESY) was no different. Despite the share price peaking at $36.41 earlier in the year, it was only trading for $23.42 by the time the closing bell was rung for the final time in 2018. Even though the share price has slightly recovered during the last week, it's still down significantly and the dividend yield is hovering around 4.5%. This is considerably above the 3.17% dividend yield offered by the next highest yielding major defense contractor, Lockheed Martin (LMT). Recently another author published an article outlining the desirability of BAE Systems' dividend and whilst I generally agree, there are three important political risks I see emerging.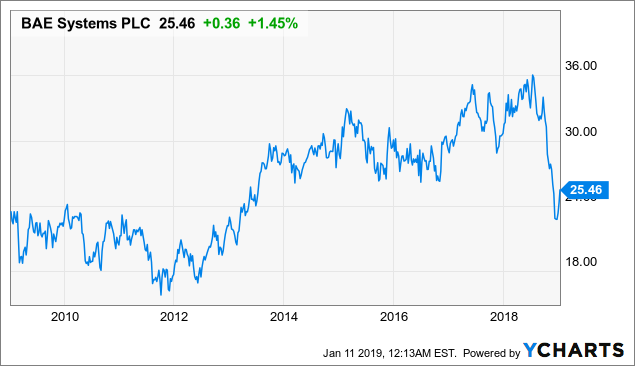 The Emerging Political Risks
The Khashoggi Assassination & The Saudi Arabia Defense Market
Following the widely publicized assassination of Mr Khashoggi there was debate within several Western nations whether they should ban or at least reduce future arms sales to Saudi Arabia in retaliation. Despite Germany following through on this threat, since the United States, United Kingdom and France haven't followed suit and several months have subsequently passed, it appears as though Saudi Arabia was able to dodge this proverbial bullet. If the United Kingdom had banned future arms sales, it would have been a significantly negative event for BAE Systems. During the last full year of results publicly available, 2017, sales to Saudi Arabia comprised 16% of total sales. Naturally losing anywhere near this level of sales would be a significant setback for the company and shareholders.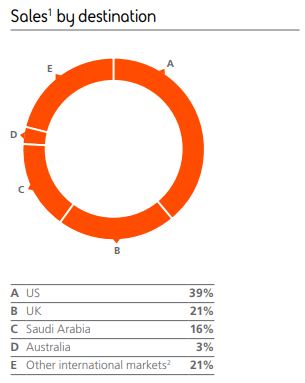 Image Source: BAE Systems 2017 Annual Report.
Even though it appears Saudi Arabia has managed to escape this embarrassing event essentially unpunished, there is still no solid reason it couldn't reoccur in the future. Whilst enough Western politicians seemed willing to move past this latest infraction, any subsequent controversial actions taken by the Saudi State may result in subsequent retaliation.
If nothing else, this event highlighted the risks involved with publicly selling arms to an autocratic government with a sketchy human rights record that is also involved in a particularly unpopular war in Yemen. At the end of last year Saudi Arabia announced a major cabinet reshuffle that resulted in greater power being placed in the hands of Crown Prince Mohammed bin Salman, whom many consider to be ultimately behind the Khashoggi assignation and the Yemen war. I'm not necessarily predicting he will continue making controversial and dangerous geopolitical decisions, however, it's a clear possibility.
The Potential Labour Government
The potential for the United Kingdom to one day elect a Jeremy Corbyn-led labour government is the most concerning emerging political risk I foresee evolving around BAE Systems. Currently the next elections aren't technically expected until 2022, however, given the current political turmoil the country could possibly head to the polls much sooner. Under Jeremy Corbyn's leadership the Labour party has unfortunately turned quite far economically left, even proposing the nationalization of various key industries. The risk to investors is further amplified by the idea being floated that "in some cases investors might not be compensated".
When previously discussing other British companies, such as British American Tobacco (BTI), I was less concerned about this potential risk due to their geographic diversification and less systematic importance to the United Kingdom. Whilst at the moment they haven't especially named BAE Systems as a candidate for nationalization, I believe this could easily change in the future, especially since a former Labour government nationalized their predecessor in 1977.
Since the current Labour party's overall strategy regarding nationalization is directed towards companies they deem to be operating in key industries, I believe this could easily extend to BAE Systems. It's difficult to argue the primary company responsible for developing their nation's military equipment isn't considered to be in a "key" industry. Although it's unknown whether the Labour party will win the next election whenever it occurs, considering the significance of this risk if it occurs, investors should at minimum be aware of the possibility.
Brexit & The European Defense Market
There are both short and long-term risks stemming from a poorly handled Brexit, which unfortunately could still easily occur as the United Kingdom's Parliament has yet to reach an agreement on Theresa May's proposed deal. The short-term risk primarily relates to headline risk, whereby investors and traders indiscriminately sell shares in all British companies regardless of their economic exposure to the underlying concerns. Naturally this isn't particularly concerning for long-term investors as the market should theoretically correct itself.
The long-term risk of reduced or completely lost access to the European defense market is considerably more concerning and important for long-term investors. The main obstacle standing in their way would be mainland European countries turning inwards when developing and purchasing new defense equipment. This would largely be a result of spite towards the United Kingdom for leaving the Euro Zone more than anything else, as their defense goals should remain essentially the same.
A current example of this risk is the development of the new fighter jet that should eventually replace the Eurofighter Typhoon, a project being spearheaded by Germany and France. The Eurofighter Typhoon was produced by a consortium including BAE Systems and other European companies, such as Airbus (OTCPK:EADSF). Despite this previous joint experience, it doesn't appear as though it will be continuing in the future, as the two companies selected to produce the new fighter jets are Airbus and Dassault Aviation (OTCPK:DUAVF).
It's still early days and Brexit hasn't technically occurred yet, although there's only a few months left, so the degree this impacts BAE Systems in the long-term is difficult to determine. Regardless, it's difficult to argue that Brexit will be a positive event in the long-term future for the company. Whilst I don't expect this to cause a catastrophic outcome, unlike a theoretical nationalization, it would certainly drag on the future earnings growth potential and thus shareholder returns.
Conclusion
Despite BAE Systems' share price falling to the lowest level since 2013, I'll continue sitting on the sideline as I'm unwilling to shoulder these particular political risks. Whilst they've been quite fortunate to avoid any negative outcomes at the moment, this could easily change in the future. Therefore, investors should evaluate and monitor these political risks.
Disclosure: I am/we are long LMT. I wrote this article myself, and it expresses my own opinions. I am not receiving compensation for it (other than from Seeking Alpha). I have no business relationship with any company whose stock is mentioned in this article.
Editor's Note: This article discusses one or more securities that do not trade on a major U.S. exchange. Please be aware of the risks associated with these stocks.