Qualcomm (NASDAQ: QCOM) is an almost $70 billion American multinational semiconductor and telecommunications equipment. The company has a strong history of innovation, and has fundamentally changed the landscape of American cellular and wireless technology. As we'll see in this article, despite recent issues with revenue growth, the company has a strong long term market position that makes it a strong investment.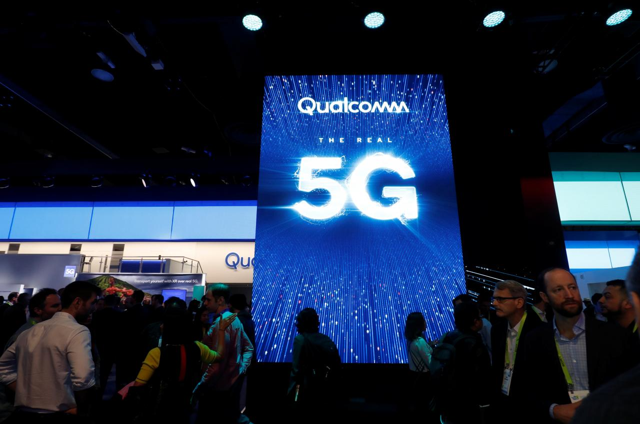 The Lawsuits
The most important aspect of what happens in the long term picture with Qualcomm is the lawsuits the company is currently involved in. As a result, before we discuss Qualcomm overall in further detail, let's begin by evaluation this lawsuit.
I want to preface this section by saying that I am not a lawyer. I am simply looking at this situation from an investment point of view and attempting to draw reasonable conclusions. However, I of course make no guarantees about the outcome or results of these lawsuits.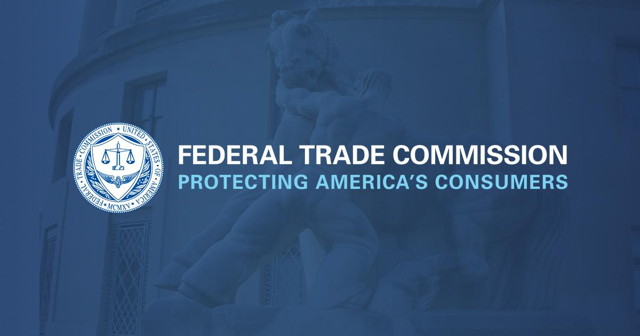 Federal Trade Commission - FTC
The series of lawsuits started in early-January 2017, roughly 2 years ago. Since that time, Qualcomm's stock has dropped by 15%. The FTC accused Qualcomm of using anticompetitive tactics to maintain its monopoly in the semiconductor industry.
Among the claims made in the lawsuit were that Qualcomm uses its IP portfolio to charge customers even when using competitor protects. The FTC also alleged that Qualcomm has refused to license certain patents to competitors. Lastly, the FTC alleged that Qualcomm attempted to extra exclusivity with Apple in exchange for charging Apple lower royalties.
The FTC asked in the court order for Qualcomm to "cease its anticompetitive decisions and take steps to reduce competitiveness in the sector". This was followed up 3 days later with a lawsuit by Apple, followed by Huawei also partaking in the lawsuit. LG Electronics is also a part of the lawsuit. Samsung Electronics was a part of the lawsuit originally before dropping out as a settlement agreement with Qualcomm.
Effectively, these companies all see the FTC lawsuit as a chance to extract money from Qualcomm. These lawsuits have turned into a series of lawsuits across the globe ranging from Taiwan to Germany to the United States. So far, the main beneficiary has been the massive teams of corporate lawyers.
From a government point of view, Qualcomm is in the middle of $793 million in fines from Taiwan, $927 million from Korea, $1.2 billion from the European commission, and an unspecified amount from the FTC (although the FTC's wording implies the agency cares less about fines and more about a change in practices). There are two important takeaways from this set of numbers.
1. Qualcomm recently settled with the Taiwan commission to only pay $93 million instead of $793 million in fines. That massive reduction could be evidence of what's to come. In Korea, Samsung Electronics leaving the lawsuit means it comes in as weaker.
2. This entire series of lawsuits across the globe came as a result of the FTC's lawsuit. Ergo if Qualcomm manages to settle with the FTC without admitting fault, it could be a major boost to its case. The flip side, is also true.
As I stated above, I am not a lawyer, so I will not attempt to "pick sides" here or explain who might win. However, like all other corporate cases, this case and all of the cases that have spun-off will likely be settled. The primary reason for this is the central part of the debate has been how much Qualcomm charges for its IP portfolio. Never has part of the debate been about the validity of Qualcomm's IP portfolio.
Qualcomm's IP portfolio continues to be an essential part of the modern cell phone. Nowhere is this more obvious than in Apple's 5G struggles. Apple, no longer uses Qualcomm, has turned to Intel as a supplier. However, Intel's first gen 5G modem was not even close to competitive with Qualcomm. As a result, Intel has begun to work on a new one, with Apple's 5G ambitions being pushed out.
The above does not even count the fact that Qualcomm has sued Apple on the grounds that Apple shared Qualcomm IP with Intel in an attempt to help Intel with its own 5G modem. Again, without commenting on the likelihood of the lawsuit succeeding, should such a scenario have happened, it's an interesting commentary on the strength of Qualcomm's IP that Intel, the largest chip company, couldn't compete even with secrets.
One other thing that could make Qualcomm's strength clear is that Qualcomm's annual R&D budget is more than $5 billion compared with Intel's $13 billion budget. However, Qualcomm has a lot less to focus on than Intel from an R&D perspective, and Intel has had some other R&D setbacks lately. This shows that Qualcomm is spending the money to remain competitive.
Lawsuit Resolution
Now that the premise of the lawsuits has been thoroughly discussed, let's discuss how in effectively every scenario, the resolution of these lawsuits is advantageous for Qualcomm. The reason for this is Apple, Apple's suppliers, and other companies in the lawsuit have continued to use Qualcomm IP without paying, while waiting for resolution from the lawsuits.
This has particularly hurt Apple. Qualcomm recently posted a $1.5 billion bond which prevents iPhones from being sold in Germany. Some older iPhones have been banned from sale in China. Given that Apple has said a full iPhone ban in China would force the company to settle with Qualcomm, this could be a step in that direction.
Huawei, another major player in the lawsuit, has also been looking to settle with Qualcomm. The company recently agreed to a $700 million interim good faith payment to Qualcomm, and has already paid $500 million of that. While the resolution details remain to be seen, this is a step in the right decision.
These recent developments lead me to believe the lawsuit with Qualcomm will be largely resolved in 2019 and 2020.
The reason this will be a massive boost to Qualcomm is the company is currently getting no revenue from companies such as Apple involved in the lawsuit. Any resolution will involve Qualcomm receiving some money from these companies, and even if it's 50% of what was previously expected, it's still billions of dollars to Qualcomm.
Another important thing to note is that the original FTC suit against Qualcomm is from the Obama era. As a result, conservatives are unhappy about the lawsuit and calling on Trump to drop it. If he does, that could immediately end other lawsuits, given the original FTC lawsuit is what started this mess.
Qualcomm Financial Picture
Now that we've discussed everything there is about the lawsuit, let's discuss the financial picture of Qualcomm.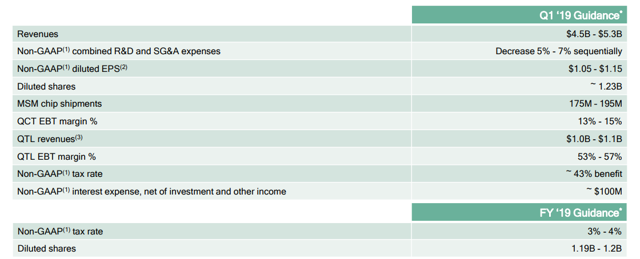 Qualcomm 1Q 2019 Financial Aim - Qualcomm Investor Presentation
Qualcomm recently released its 1Q 2019 and FY 2019 guidance. The company has guided for $4.5-5.3 billion in revenue for the quarter, a 5-7% decline sequentially, resulting in $1.1 per share in EPS. Annualizing this out, this gives the company a P/E ratio of roughly 12.5, in range for chip makers, but quite low in comparison to the remainder of the rest of the market.
Overall, the company is guiding for ~1.23 billion diluted shares for the quarter. For reference, the company last had 1.45 billion in shares outstanding. At the same time for FY '19, the company is guiding for roughly 1.195 billion diluted shares. That means throughout 2019, the company plans to buyback a minimum of 35 million shares or so, which will cost the company more than $1.5 billion.
At the same time, while the decline on revenue is disappointing, it's still respectable given that the company is gaining no revenue from companies in the lawsuit.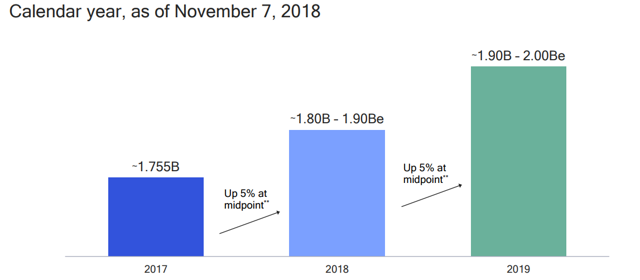 Qualcomm Chip Growth - Qualcomm Investor Presentation
At the same time, chip shipments are expected to go up significantly as 5G comes into play. 5G, the replacement for 4G, will provide investors with significantly faster mobile speeds. In fact, 5G speeds will be able to compete with the fastest home internet systems. 5G, on phones, is expected to be such a significant improvement that consumers are waiting on phone upgrades.
Qualcomm has come out and said that every single Android maker will beat iPhone to the market with 5G. That could potentially be a negative for iPhones at a time when iPhone sales are already struggling. Given Intel's lack of recent 5G modem success, discussed above, Apple might have additional incentive to resolve issues with Qualcomm and rush out a 5G iPhone.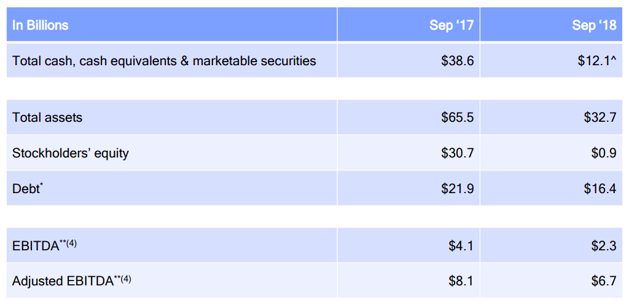 Qualcomm Financial Portfolio - Qualcomm Investor Presentation
At the same time, Qualcomm has been focused on using its financial strength to reward shareholders. For reference, the company repurchased an astounding $22.5 billion of shares in 2018, or almost an astounding 25% of the company's float. The company's financial position has now changed such that it no longer has a heavy net cash position, something left over from its failed NXP acquisition.
Qualcomm's earnings have dropped significantly, however, the company is still earning billions annually. More importantly, the company is continuing to invest in the IP that built its strong portfolio. The company is also focused on making its leading Snapdragon processors, an integral part of its offerings to customers.
As a result, in the event the lawsuits are resolved, that'll mean billions in annual revenue more, most of which will effectively be pure profit. I expected Qualcomm to continue its policy of rewarding this to shareholders through dividends + buybacks.
It's important to be clear that any of these scenarios will result in a material destruction of shareholder value.
Qualcomm Risks
There are three major risks for Qualcomm.
The first is that the growth expectations of 5G and mobile devices don't turn out as planned. Personally, I see this risk as fairly negligible. The chance that the world's population would suddenly stop using their cell phones or stop wanting more interconnected devices is fairly negligible.
The second is that the lawsuits pan out such that Qualcomm stops earning revenue from these companies. I see this risk as fairly low given Qualcomm's recent victories in court. More importantly, as discussed above these lawsuits aren't about the validity of Qualcomm's IP portfolio, but about it's licenses. As a result, any victory will result in more revenue for Qualcomm than it gains now.
Lastly, the risk is that another company like Intel can build a better 5G modem. This is what I view as the potentially highest risk. However, it's important to note through this process, Qualcomm is still investing billions in R&D. More so, even if Intel builds a better 5G modem, it will still use fundamental Qualcomm patents to base the technology on. This should still result in revenue for Qualcomm, but lower revenue.
Conclusion
Qualcomm has had a difficult time since the licensing disputes started. The company attempted to resolve this by making an offer to buy NXP, however, this deal fell through when the necessary regulatory approvals could be obtained. This meant Qualcomm had to pay a $2 billion breakup fee, simply costing Qualcomm without providing the company any benefits.
However, the lawsuits seem to be drawing to a close. On top of this, any revenue from a resolution of the events is more revenue than the company is receiving now. Qualcomm has been focused on aggressively buying back shares, which will reward shareholders well. As a result, it's important with Qualcomm to ignore the noise and look at the long-term.
Disclosure: I am/we are long QCOM. I wrote this article myself, and it expresses my own opinions. I am not receiving compensation for it (other than from Seeking Alpha). I have no business relationship with any company whose stock is mentioned in this article.