On the first trading day of the year, Apple (AAPL) announced a significant downward revision to its guidance. The reasons were slowing emerging market growth -- China -- and the trade war. There is another behemoth in China that may feel some of the same effects of both of these factors; Alibaba (BABA). The slowing economic activity in China is significant enough that the government instituted a 1% tax cut - relative to GDP - in order to stimulate the economy. While Alibaba has been a juggernaut of growth, they are not immune to the basic forces of economics. I believe there may be a significant decline in their earnings due February 7th.
Here is a look at Alibaba's stock over the past few years' time: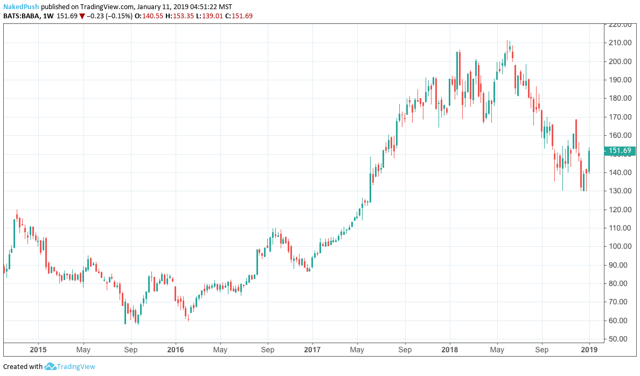 Off of its recent highs - along with the broader stock market - Alibaba's stock may fall if revenues surprises to the downside.
The Slowing Chinese Economy
GDP growth in China is easing. However, and without peeking at the chart immediately below this, easing is a relative term. China's current GDP growth rate is 6.5% off from record highs of over 12% annual growth rate. For comparison, the United States printed 3.4%, off from 4.2%, for the same period.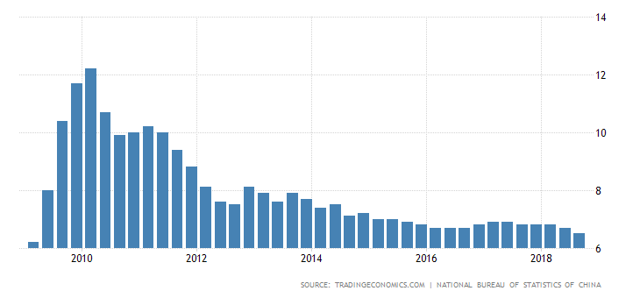 I view the 6.5% growth rate as still being abnormally high. But, China is still considered an emerging market and rates of growth at these levels are more common. Despite my take on the growth rate, the government of China needs these high growth rates in order to service the massive debt accumulated by the government, private citizens and businesses throughout the country, all said to be the highest in the world at 265% of GDP.
This would be one of the reasons why the government instituted a 1% tax cut, relative to GDP, to stimulate the economy. If the country's economy slows considerably, then servicing the debt becomes more and more difficult and burdensome. Having to pay on this debt is one of the issues that is keeping revenues down with companies doing business overseas, such as Apple, and likely, Alibaba.
Apple Takes A Hit
As mentioned, Apple revised its guidance lower by a significant factor. The company was expecting revenue for the quarter of ~$92 billion but downgraded that to ~$84 billion. That is a downgrade of ~$8 billion. And, Apple attributes this to China. I covered this in a widely-read article on this site.
The number one issue was slower iPhone sales. CEO Tim Cook said in his statement that the slowing emerging markets -- specifically, and almost entirely: China -- was the root cause of the sharp decline.
But, it was not all bad news for Apple, and I believe that is something of a small potential positive for Alibaba. Apple hit records in certain areas of their sales numbers. Some of this came from China as well. But, the sales increases were in Apple's Services division, the use of apps, not device sales. This division tends to be immune to price increases simply because once you own a device, paying for an app to use on the device is a minor cost.
My thinking with Alibaba is that just as the general economic slowing will affect the consumption of products in China, this will eventually translate into a slowing of the revenue growth of Alibaba. The rate of growth of domestic consumption by consumers is easing; Alibaba is very likely to feel the same slowing effects that Apple did with this quarter's earnings.
Alibaba's Financials
An overwhelming majority of Alibaba's revenue comes from China; ~80%.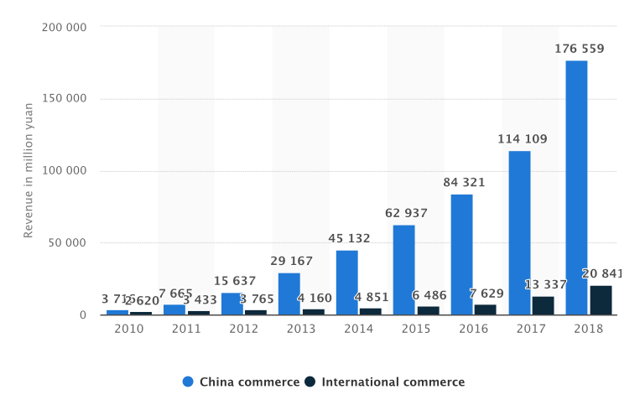 Source: Company Data Via Statista
Overall revenue growth for Alibaba is massive; the company is a juggernaut of revenue growth; the company grew domestic revenue 59.9% from 2017 to 2018. However, with the domestic Chinese economy slowing, I think it is reasonable to assume that this growth rate would slow with the slowing economy.
To be certain, the company has surprised with downward revenue growth twice in the past four quarters. This is what I will be looking for with the upcoming earnings release. But, I also believe this potential slowing of revenue may be short-lived.
Moving Forward
There have been two developments that are going to affect Alibaba's potential, however, these developments are too late for the upcoming earnings release. First, trade tensions appear to be easing and ending between China and the United States. The loosening of tariffs will improve trade among the nations. Alibaba will likely see a benefit from that for anyone purchasing products through their main website to import to the United States.
The second development may have a negative effect, however, albeit relative. The Chinese yuan was pushing lows not seen in several years. Due to the shift in trade tensions, and by a move from the PBOC -- on January 11th, the PBOC increased the trading band of the CNY -- the level of the yuan is increasing relative to the USD, as this recent chart shows (Note: CNY is positioned as terms currency, whereas USD is base currency for viewing perspective):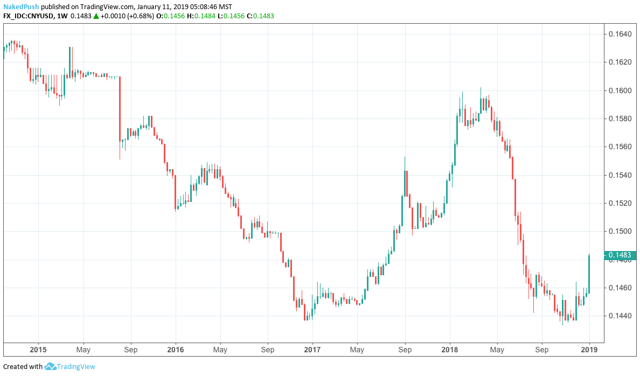 Any gains a company could have gotten from a relatively weak currency are evaporating as the biggest weekly move higher for the CNY is underway.
As of this time, this analysis is perspective of possibility: We will know if Alibaba hits their mark on February 7th. If they miss, I can see winds eventually pushing in the right direction for the company.
If the 1% tax cut stimulates the economy in China as planned, then Alibaba could return to continued earnings growth. If the trade tensions ease and the US economy continues to expand as it has, this will add to the flow of goods through Alibaba's web portals, eventually showing up in the bottom line of Alibaba.
But, it is only logical to me that if Apple took such a large cut to their guidance, then other Chinese companies will see the same kind of results. Given that, I can see a surprise lower in revenue for Alibaba, and a subsequent move lower in the company's stock price.
But, this might be short-lived, and even a significant buying opportunity. Eventually, I see the tax cuts having an effect that would help to see growth in Alibaba's stock. And, easing the tariffs from the trade war will also positively affect revenue for Alibaba.
February 7th should be an interesting day for Alibaba.
Disclosure: I/we have no positions in any stocks mentioned, and no plans to initiate any positions within the next 72 hours. I wrote this article myself, and it expresses my own opinions. I am not receiving compensation for it (other than from Seeking Alpha). I have no business relationship with any company whose stock is mentioned in this article.
Additional disclosure: I am long Apple. I bought on the most recent dip. I believe that Alibaba stock may make a significant move lower off of negative news from revenue. I may be interested in purchasing the stock then.