Rhythm Pharma (RYTM) is a relatively underfollowed company with an ongoing phase 3 trial of lead (and only) drug setmelanotide in two obesity-related syndromes, Bardet-Biedl Syndrome (BBS) and Alström Syndrome, where enrollment will be completed in late 2019, and two other genetic obesity syndromes, Leptin Receptor Deficiency Obesity (LEPR) and POMC deficiency obesity, where phase 3 data will be out by 2019.
Setmelanotide targets the MC4 pathway, which regulates weight by increasing metabolism and reducing appetite. When this pathway is affected by genetic mutations, it can lead to its malfunction, causing early onset obesity, hyperphagia and other related symptoms of genetic obesity, leading to "vision loss, polydactyly, kidney abnormalities, and other symptoms."
Genetic early onset obesity and its related syndromes is the same disease area where Zafgen's Beloranib once failed to achieve success; setmelanotide, however, targets melanocortin-4 while Beloranib targeted a different enzyme called METAP2. They also target entirely different syndromes - beloranib focused on Prader-Willi syndrome. In 2018, Rhythm came up with positive trial results from a midstage study, while mostly avoiding the telltale signs of safety issues that vexed Zafgen. So we ran it through our IOMachine, a proprietary four factor test checking for catalysts, prior trials, cash and competition, to determine if the company is investment-grade. Here are the results.
Catalyst
Phase 3 data from the ongoing trial in LEPR and POMC deficiency will be out by December 2019. This is the earliest major catalyst. Patients will be completely enrolled in BBS and Alström trials; this will be the second catalyst for 2019.
Nearest catalyst is JPM presentation on January 10.
Previous trial data
In November 2016, the company published positive data from its LEPR study (freely available report), while its POMC study data, published in Nature in September 2016, needs a subscription. The earlier NEJM version is free. In October 2018, data from BBS was announced; Alström data came out in November 2018.
Here are the links to all four proof of concept study results:
POMC
This was a 2-patient study whose results can be seen from the following graphs: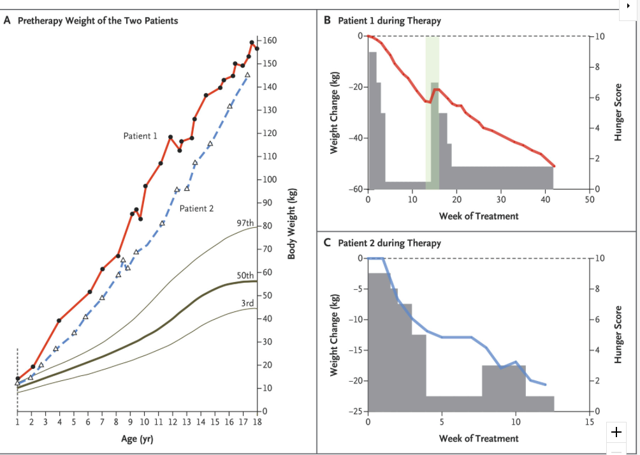 LEPR
This was a single patient study with the following efficacy chart: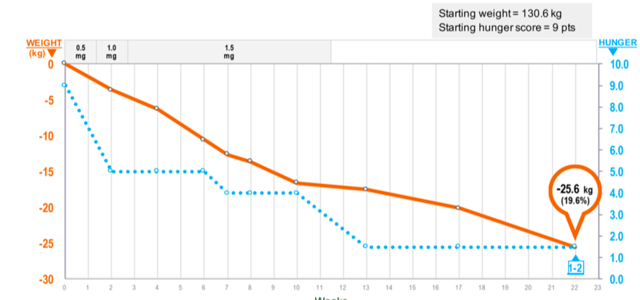 BBS
This was a 14 patient study.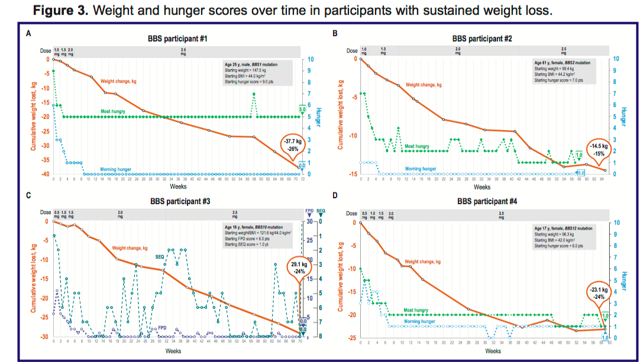 Alström
A four patient study.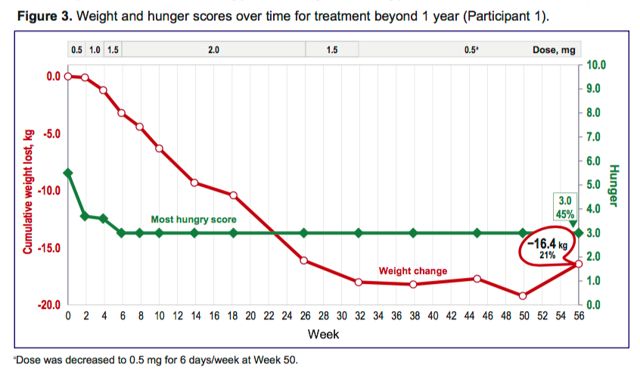 As we can see from the charts above, all four studies saw significant weight loss in these early onset obesity patients, with near-miraculous weight reductions in some of the patients. Hunger scores also reduced; in a patient with POMC deficiency, weight gain started after drug discontinuation, but stopped after drug was restarted; hunger scores also improved. There were no negative metabolic effects of the drug, including on blood sugar levels. Blood pressure did not increase, unlike what was previously reported from other MC4 agonists.
What is most important is that safety profile was pretty mild in all four trials, unlike what was seen with Zafgen. The worst symptoms appear to be slight injection site irritations, change in skin and hair pigmentation, and occasional dry mouth. There were no serious adverse events, and no discontinuation due to safety reasons. Two patients from the BBS trial discontinued due to lack of efficacy.
Admittedly, these trials were quite small, without a control arm, so they have their limitations - which is why we need the phase 3 study. But taken together, over the years, they show that setmelanotide has treated a substantial number of patients nearing 30, and efficacy has been seen in almost all of them. Most importantly, no serious adverse events have been reported, unlike with beloranib.
Execution
The company has a long cash runway of over 4-5 years based on a cash balance of $276mn and a burn rate of no more than $50mn (as seen in the last 3 quarters). On the risk side, the company did file for a $100mn mixed shelf offering, meaning this can hit investors any time, or never, or in parts of $100mn.
Here's a snapshot of recent insider transactions: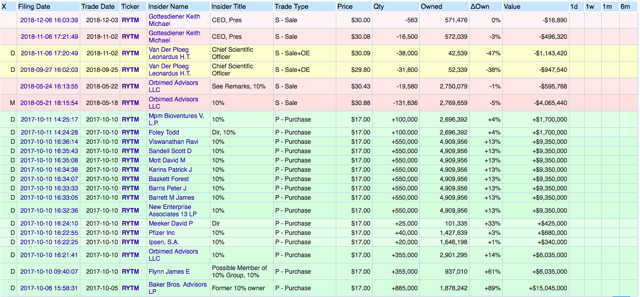 The December sales are probably funding the CEO's expensive Christmas shopping list. The next two sales are option exercises. Orbimed did sell some stake, probably profit taking after a long period of waiting. The entire 2017 was buy only.
Here's how fund ownership looks: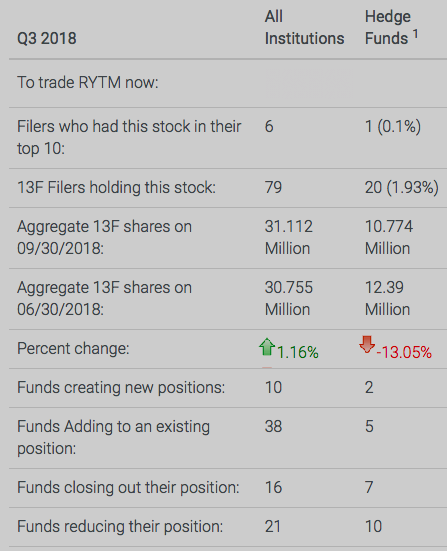 Competition
The company's 10-K indicates there's no immediate competition in the 4 disease syndromes targeted by setmelanotide, and orphanet seems to say the same thing. Bariatric surgery is not an option, according to the company.
As for market potential, here's some material from the company sources: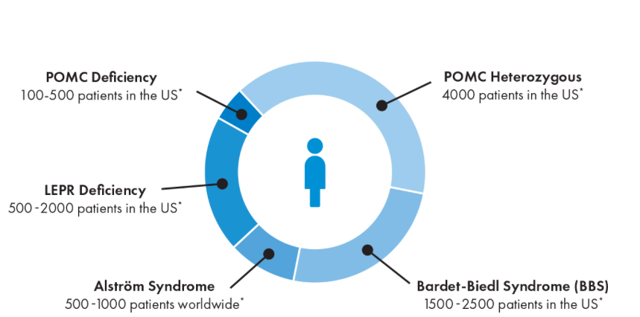 So altogether there's between 6,000 and 10,000 patients, all told, for these diseases combined. Since these are pediatric diseases with life threatening aspects, doubtless a curative therapy can be priced at no less than $50,000 - possibly more. That means we are looking at a potential market worth $500mn. The company currently has a market cap of just $850mn, meaning that if the drug is approved, we are looking at considerable upside from current levels.
Opinion
We are quite impressed with RYTM, and we think this is an investment-grade stock at this time. Risks to investment include the shelf offering that could happen any time, and of course, any divergence from phase 2 trial outcomes that may occur in phase 3 (unfortunately, happens too many times to ignore). Other than these, there's no specific risk factor we can see here. Overall, this looks like a good stock to invest right now. I would wait for phase 3 data before taking a call to sell or book profit.
This idea was discussed in more depth with our subscribers. What does that mean? Long before the catalyst became news, I told Total Pharma Tracker members why they should buy or sell it. I
discussed the catalyst
ran the stock through our IOMachine
gave them price targets
generally guided our members as the stock went through its pre-catalyst phase.
What you are getting now is after the story is done.
To get these ideas before everybody else, subscribe to Total Pharma Tracker. That may mean the difference between making 5% by buying today or making 50% by buying early.
Disclosure: I/we have no positions in any stocks mentioned, but may initiate a long position in RYTM over the next 72 hours. I wrote this article myself, and it expresses my own opinions. I am not receiving compensation for it (other than from Seeking Alpha). I have no business relationship with any company whose stock is mentioned in this article.