Since hitting a low of $2,346.58 on December 27th, the S&P 500 has rallied 8.5%. The combination of "buy the dip" due to the market vastly being oversold and the so-called "Santa Claus rally" has breathed new life into what has been a shaky market of late. Though we are not in the clear by any means, recent news has been positive. We got a good jobs report last Friday, followed by "reported" progress made in the trade talks with China. As we predicted in recent articles, we still believe a trade deal will be made by the end of Q1 this year. It's really just a feeling, or maybe wishful thinking at this point, but we are going to stick with it.
Now, with the intense sell-off we experienced last month, many great dividend stocks became a lot more attractive. We endured a long bull market rally for about 10 years, which pushed many valuations to their max, so to speak, but things are now looking a little better from a valuation standpoint. In our most recent article, we discussed "Our 2 Favorite Triple Net Lease REITs." In this piece, we will discuss our top 3 Dividend (non-REIT) stocks for 2019 and beyond. At Big Ticket Fund Managers, we have always taken the long-term approach. Though it is nice to make a quick buck, that is never our goal, as we are long-term investors looking for great entry points in high-quality dividend stocks.
Dividend Stock #1 - Exxon Mobil
To begin, we start with Dividend Aristocrat, Exxon Mobil (XOM). Based on the market's recent plunge, combined with downward pressure on crude oil since the beginning of October, investors have seen valuations compress for many big-name dividend stocks, including one of our favorites, Exxon Mobil. Oil has retreated 35% since the beginning of October, while XOM has dropped about 18% in the same time frame.
Currently trading at a forward P/E of 14.5x, we like the current valuation. The company has a 5-year average P/E ratio of about 22x, suggesting the stock is vastly undervalued. Now, if that was all we needed to look at as investors, life would be easy! Unfortunately, the past does not always correlate into the future. The past is just a small piece of the whole puzzle when looking into new investments. We like to look at the recent 5-year history rather than long-term historical trends due to businesses adapting to changes over the years. A company tends to be different than it was 10+ years ago. The best example I have for this is a company like Cisco (CSCO), which is another dividend stock we like, that is transforming from a strictly hardware company into a big-time player in software, which carries a different valuation.
One big reason we like Exxon Mobil is the fact that it has been a high-quality dividend payer for quite some time, having paid a dividend every year since 1882! For those doing the math, that is over 130 years! In addition, over the last 36 years, the company has grown that dividend at an annual rate of 6.2%. Over the last five years, its dividend has hovered around a 7.2% annual growth rate. It is currently trading at a yield of 4.55%, compared with its 5-year average of 3.40%. This is another good valuation metric to use for consistent dividend growers, which is currently suggesting the stock is undervalued as compared to recent history. In addition to the high yield you receive right now, XOM only has a payout ratio of 74%, which is the lowest it has been in the last couple of years. This gives us confidence that the dividend increases should continue going forward. Another area to look at when assessing dividend reliability or safety is the company's free cash flow, or FCF. FCF is a company's cash flow from operations less any cash used on capital expenditures. For XOM, its FCF has nearly doubled in the last five years, from $4.3 billion in Q3 2013 to $8.5 billion in Q3 2018. The company is performing extremely well from a cash flow perspective, so the dividend seems well-covered at this point.

(Source: Company website)
Exxon is the world's largest vertically integrated oil company. It operates via three business segments: Upstream, Downstream and Chemicals. The Upstream segment explores, produces, transports and sells crude oil and natural gas. The Downstream division manufactures, transports and sells petroleum products. The Chemical division develops and sells petrochemicals. In fact, if Exxon were its own country, it would be the 8th largest oil producer in the world! You will have your ups and downs with the company due to the volatility in oil prices, but in the long term we believe the stock is a solid investment.
Dividend Stock #2 - The Walt Disney Company
The Walt Disney Company (DIS) continues to be a favorite investment of ours, as we see the company having continued success in three main areas: pricing power at Parks and Resorts, strong growth in the Studio Entertainment segment, and the company's transition to providing OTT services. We expect these three areas to fuel growth for the foreseeable future.
What timing to talk about Disney and its pricing power, as just this past weekend, the "Happiest Place On Earth" kindly greeted guests to another price hike at its parks. This is the company's second price hike in less than a year as it gears up for the opening of Star Wars Land in June. Seeing the responses on social media and elsewhere, you get the typical and obvious (over)-reactions from folks claiming they will "never go to Disneyland again" and that the company is ran by "Scrooge McDuck" or that "it's not about making kids happy anymore." It is funny in a way that the reactions are always the same (though funnier every year), yet this segment of the company continues to perform well. I can only laugh about it myself, as I had a yearly pass I was going to renew last year on a Saturday when we were headed home from the park. I told myself I was too tired to get online and that I would do it the next morning. Much to my luck, that very next day was "price hike" day!!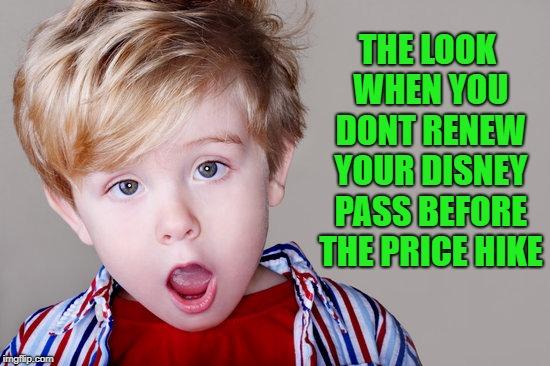 Parks and Resorts brought in revenues of $20.3 billion on the year, which was a 10% increase from the prior year. The segment now accounts for 34% of total revenues at the company. With the opening of Star Wars Land at both Disneyland and Walt Disney World in a few months, we expect that this segment should continue performing quite well going forward.
The price hike was not great as a consumer, but I like it as an investor, so it's a catch-22. Parks and Resorts is not the only thing that has us excited about the future of DIS - the company's Studio Entertainment segment has been on fire (in a good way). During FY '18, the Studio Entertainment segment brought in revenues of $10 billion, which was a 19% increase from the prior year and the company's all-time high for the segment. At the conclusion of Q4, this segment now accounts for 19% of total company revenues, which is a huge jump from 2013, when it accounted for only 6%. The film pipeline is loaded, so we are excited to see continued growth coming from the DIS filmmakers.
The third point that really excites us about DIS going forward is its movement into OTT services. In 2018, the company launched ESPN+, which is a sports app for consumers to watch directly from their phones thousands of sporting events that otherwise may not be within their cable plan or not on TV at all. The new service seems to have resonated well with consumers, as the company has reported having over 1 million subscribers thus far. Based on DIS's Q4 earnings call, management seems to be "very encouraged" with the growth to this point. The next phase of the company's plan is to launch Disney+ in the latter part of this year, which will go toe-to-toe with the likes of Netflix (NFLX) and Amazon (AMZN). Disney+ will offer a rich array of content from the likes of Pixar, Marvel, Star Wars, and National Geographic, along with the company's long list of Disney favorites. The company is also currently shooting original content that will be available on the Disney+ platform as well.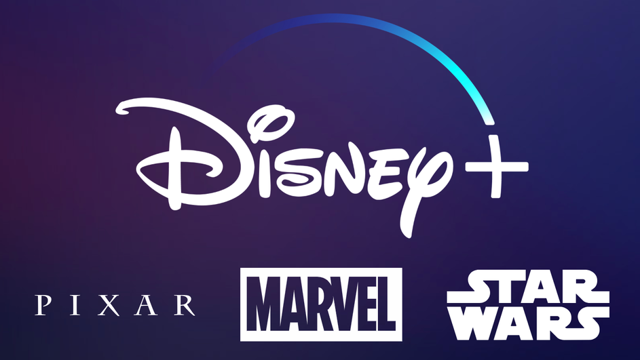 Being the king of content already, Disney will look to build upon that with many new ideas to be provided. One series that is already in production is The Mandalorian, which is the world's first live-action Star Wars series being produced by Jon Favreau, who produced the live-action Jungle Book film a few years ago and is also working on a live-action Lion King re-make. Animation will also be a big part of new content being created for the platform, as the company has plans to launch the next season of Clone Wars and a new series based on the popular Monsters, Inc. franchise.
Dividend Stock #3 - AbbVie, Inc.
Our third dividend stock that we wanted to mention hails from the healthcare sector, that being AbbVie Inc. (ABBV). AbbVie has long been a stock we have liked but wavered on for a little while. The main reason we have doubts about the company in the past was the "one-trick pony" slogan it has carried with it based on its drug Humira. The AbbVie bears, and rightfully so, do not like the prospects of ABBV going forward due to its reliance on Humira. For those of you that do not follow the company closely, Humira is the #1 drug sold in the world. Its trailing twelve-month sales are $20 billion. The next closest drug, Revlimid from Celgene (CELG), is supposed to surpass $9 billion this year, according to Evaluate Pharma. That is a wide gap, which will naturally close over time, but that time is not close at the moment. As of Q3 '18, Humira sales made up 62% of the company's total revenues.
As we mentioned above, an important metric to keep an eye on with pharmaceutical companies and dividend payers is free cash flow, or FCF. It is used to cover the dividend as well as fund the R&D department for ABBV. FCF through three quarters of the year has grown 45% year over year. Strong EPS and growth in FCF will continue to lead to healthy dividend hikes in the coming years. Since beginning to pay a dividend in 2013, the company has increased its dividend 168%.
Humira is obviously the clear leader in the company's drug portfolio, but there are some up and coming stars as well recently released, combined with a loaded pipeline. The company currently possess the second-largest potential drug pipeline in the pharmaceutical industry, of $21.2 billion by 2024, according to Evaluate Phama. Two of the leading drugs in the pipeline are Elagolix and Rova-T.
Now, the risks in the pharmaceutical industry is that the pipeline does not come to fruition, which is currently something ABBV is dealing with in regard to Rova-T. Rova-T was acquired in 2016 for $9.2 billion through AbbVie's acquisition of Stemcentrx. The drug has run into FDA issues in its early testing phase, which has been a major concern for investors of late, and rightfully so, due to the acquisition price. Though the drug is still in the testing phase, it does pose a big risk in terms of a write-down to the Stemcentrx acquisition, so that will be something we will definitely be keeping an eye on.
Elagolix is another drug the company has in its pipeline used to treat endometriosis, which recently received FDA approval and is estimated to have peak annual sales of $1.2 billion, according to Evaluate Pharma. Upadacitinib is an immunology drug that recently wrapped up phase 3 testing, and based on the positive results, the company is expecting to receive FDA approval sometime next year. This drug is expected to bring in peak annual sales of $6.5 billion, according to company management.
These pipeline drugs are just a few that ABBV has up its sleeve, so the company is well-stocked with potential gems, but as we have seen with Rova-T, things can go south quickly. Here is a look at the pipeline and potential launch dates.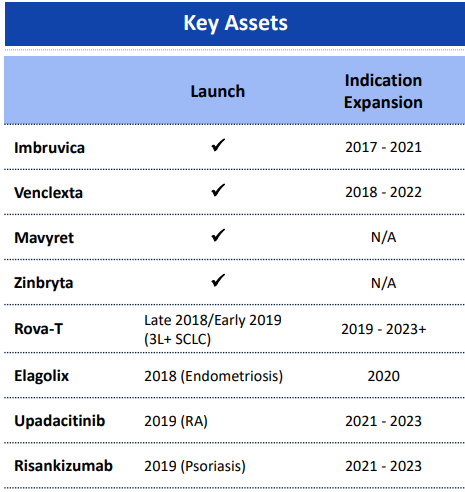 (Source: ABBV Investor Presentation)
Investor Takeaway
After publishing this article about our two favorite triple-net lease REITs this week, we also wanted to pass along two of our favorite non-REIT dividend plays. We are going to make a conscious effort to properly balance our content between REITs and non-REITs, unless the community feels the need for more or less of the other. We want to do what's best for our community.
Presented above we have given three - not an all-encompassing list, but three dividend stocks we really like in various industries: Energy, Consumer Entertainment, and Healthcare. We believe XOM and ABBV are trading at attractive price points right now, but both carry varying risks. Exxon is an extremely diverse company but trades closely with oil prices. ABBV is dealing with issues facing its Rova-T drug, which is looking more and more like a bust thus far. DIS is a stock we have been pounding the table on for quite some time when it hits anywhere near $100, which it recently did and quickly scampered back up to $111. When it comes to DIS, I would probably suggest waiting for our next pullback near $100, which I am sure we will get soon.
Note: We hope you all enjoyed the article and found it informative. As always, we look forward to reading and responding to your comments below and feel free to leave any feedback. Happy Investing!
Author's Disclaimer: This article is intended to provide information to interested parties. We have no knowledge of your individual goals as an investor, and we ask that you complete your own due diligence before purchasing any stocks mentioned or recommended.
About Dividend Growth Edge: We are a community of investors focusing on high-quality dividend stocks to enhance our portfolio. This is a comprehensive service focused on helping you make smart long-term investments. Your subscription includes:
Three model portfolios for investors with varying risk appetites.
DGE Trading Platforms for REITs and Dividend stocks to assist traders in making well informed trading decisions with numerous valuation and data points all in one place.
Monthly newsletter recapping any of our trading activity, economic news from the prior month along with upcoming important economic dates, earnings releases, ex-dividend dates, and much more.
24/7 chat room access.
Join our fast-growing community of Income Investors TODAY. Sign-up HERE.
Take advantage of our LIMITED TIME offer: Introductory Rate, that once locked in will never go up, and full access to our portfolios and DGE Trading Platforms. Prices go UP January 16th!!
Disclosure: I am/we are long XOM, DIS, ABBV. I wrote this article myself, and it expresses my own opinions. I am not receiving compensation for it (other than from Seeking Alpha). I have no business relationship with any company whose stock is mentioned in this article.