The Boeing Co. (BA) is one of my core holdings and, with the current share price selloff, is looking interestingly priced for adding to my position. Boeing is firing on all cylinders and its stock price is reflective of this. While valued somewhat higher than some of its peers, longer-term investors should be pleased with its total return potential.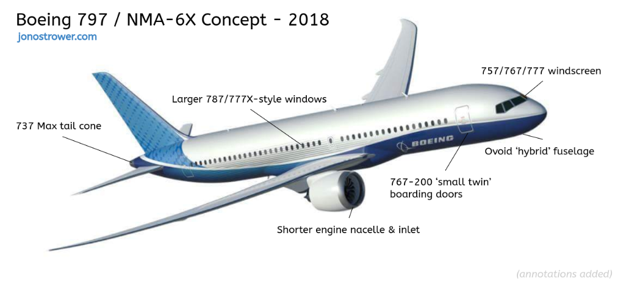 Conceptual rending of Boeing"s NMA New Middle-market Airplane due in 2025, per aircurrent.com
BA business is split between Boeing Commercial Airplanes BCA (63% of 2017 revenues), Boeing Defense, Space & Security BDS (23% of 2017 revs), and Global Services (16% of 2017 revs). BCA is one of two global manufacturers of 150+ seat aircraft, with rival Airbus (OTCPK:EADSY) being the other. While less than a quarter of BA's 2017 revenues, BDS is the world's 2nd largest military contractor. Global Services provides spare parts, aircraft modification, aircraft maintenance and training, and technology-based upgrades and services.
Commercial aircraft production of 800+ annually is supported by a consistently impressive order book to bill ratio of 1.35. This means the current backlog of orders is growing 35% faster than current production. The current backlog sits at 5,500 aircraft, and represent between 5 and 6 years of production, based on estimated exit-2018 monthly production as offered on their fact-sheet page. Below is a table of estimated 2018 and 2019 monthly production rates by aircraft, backlog as of the end of 3rd qtr 2018, and the number of years production represented by the backlog. Keep in mind deliveries in 2017 totaled 763 commercial aircraft.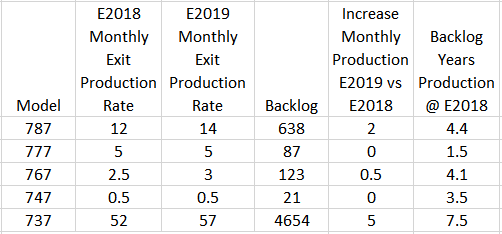 Source: boeing.com
The numbers above do not include the 777x which is still in development. The first test flights took place a few months ago with initial aircraft delivery anticipated late 2020. The company currently has an order backlog of 368 aircraft.
A few weeks ago, SA author Dhierin Bechai offered the following projection of total deliveries for 2019 from AeroAnalysis. At around 890 commercial deliveries in 2019, deliveries should increase by 9% in 2019 from 2018, following a 5.8% increase in deliveries 2018 over 2017.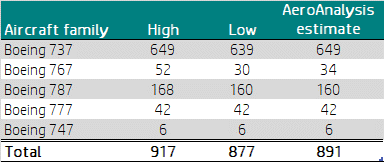 Investors should focus on the trend of substantially higher product deliveries in 2019 and beyond vs pre-2017. Coupled with higher production is a book to bill which continues to extend backlogs. This gives great vision into potential earnings stability. Given the global economy may slow, the company's massive backlog, even if trimmed in a downturn, should support current production levels, with underlying sector strength continuing to drive revenue and earnings higher.
According to Boeing, the long-term outlook for the industry continues to remain positive due to fundamental drivers of air travel growth. BA's 20-year forecast projects a long-term average growth rate of 4.7% per year for passenger traffic and 4.2% for cargo traffic. Based on long-term global economic growth projections of 2.8% average annual GDP growth, Boeing projects total demand of approximately 42,000 new commercial airplanes between 2020 and 2040. With Boeing and Airbus evenly splitting the new commercial market, it seems the underlying demand could support consistent annual production in the 1,000 aircraft range.
While commercial aircraft is the majority of BA business at 63% of revenues, its Defense, Space & Security BDS sector is as large as its formable peers. In 2018, BDS is expected to generate 23% of revenues, or around $21 billion. This division is the same size as a few well-known major US manufacturers, such as Thermo Fisher (TMO), Cummins (CMI), and International Paper (IP). BDS is also the same size as many of its defense peers such as Lockheed Martin (LMT), Raytheon (RTN), General Dynamics (GD) and Northrop Grumman (NOC). Management describes their defense business on their website:
Boeing's expertise spans a broad range of products in defense. Fighter jets, rotorcraft, embedded product support, cybersecurity products, surveillance suites, advanced weapons, missile defense and commercial aircraft derivatives all fit in Boeing's portfolio. The company can leverage this holistic knowledge and deliver the value of those integrated systems to its customers.
Recently, the Pentagon approved Boeing's newest tanker aircraft, KC-46A Pegasus, completing the contentious retaking of the tanker replacement contract from Airbus. Designed from the 767 and worth about $30 billion to BA, the KC-46A aircraft still needs some corrective design measures to address what is described as minor issues. Boeing is already $3.2 billion over budget on the project, with the majority of this amount already being written off. Boeing is currently working on a contract to deliver its initial 18 units valued at $4.9 billion, as part of the total 179 KC-46A aircraft acquisition.
In addition, over the past few months, BDS has announced winning several important defense contracts. These include the MQ-25 Stingray aircraft carrier-based unmanned refueling tanker prototypes valued at $805 million, a replacement for the aging UH-1N Huey helicopter valued at $2.4 billion and the T-X jet training aircraft program valued at upwards of $9.2 billion. While there has been a ramp-up in military budgets over the past few years, the good times will not last forever. However, in addition to the 5,500 commercial aircraft backlogs, BDS has its own $58 billion in backlog log orders, or almost 2.5 years of revenues, as of Sept 30. 31% of the backlog, or almost $20 billion, is from international orders.
Boeing's Global Services (BGS) was created in 2016 as a realignment of responsibilities. The goal is to integrate aircraft and defense product sales with added parts and services agreements. With 2017 revenue of $16 billion, management has a stated goal of eventually reaching $50 billion in BGS revenues. The biggest segment is parts, and Boeing controls the four largest suppliers of aircraft parts. In May 2018, BA announced it was acquiring the largest aircraft parts distributor to OEMs and aftermarkets for $4.25 billion including debt. Management has stated a preference to stay away from commercial aircraft maintenance services while looking at similar opportunities with defense contracts.
Using 3rd qtr. results and most recent 2018 guidance, operating margins for BCS is between 12.0% and 12.5% (up from previous 2018 guidance of 11.5%), for BDS is a reduced 6.5% (down from 10.0% to 10.5%) and for BGS is 15.5% (equal to previous guidance of 15.5%). The updated BDS margin guidance includes $750 million of write-offs for the TX, MQ 25 and KC-46A contracts. The reduced BDS margins overall will reduce corporate 2018 EPS by around $1.60. As these should be one-time events, and without any further write-offs, a return to "normal" margins will aid in 2019 and beyond EPS.
Boeing has been, and will continue to be, aggressive in cost cutting from both internal programs and, more importantly, from its network of component suppliers. Below is a diagram of various major component suppliers of the 787 Dreamliner. As shown, there are plenty of suppliers to lean on.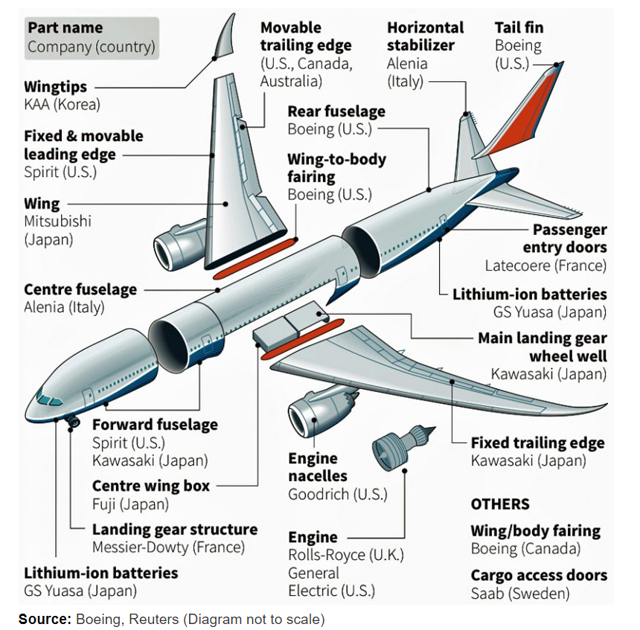 However, not all suppliers are thrilled about Boeing's hard-nosed approach to procurement. A program announced by BA in 2012 to revamp supplier relationships called their "Partnering for Success" has been referred to as "Pilfering from Suppliers". Initially, BA was requesting a 15% cut in component prices. In an updated "Partnering for Success 2.0", management is requesting an additional 10% cut in procurement costs. The consequences of not complying could be a loss of supplier business, such as what happened to United Technologies (UTX) when their landing gear contract was given to a competitor after UTX could not/did not comply with cost reduction requests. From an interesting Bloomberg Feb 2018 review of the impact of Boeing's cost-cutting prowess, their demands are partially behind the current consolidation in the aviation industry:
In September, UTX agreed to pay $23 billion for Rockwell Collins-weeks after Boeing set up a unit called Boeing Avionics to make its own cockpit equipment. In January, Boeing stepped up the pressure by forming a joint venture with Adient Plc (ADNT), a recent spin-off of Johnson Controls (JCI), to make aircraft seats. And there have been rumbles about a joint venture with Woodward Inc., which makes actuators-motors that move plane components like the 777X wingtips.
In addition, Boeing is investing in more production robots to accomplish more mundane work such as drilling and riveting. Overall, BA has been relentless in its goal of driving down costs and driving up operating margins.
Recently, Boeing has moved into the smaller aircraft business by buying an 80% stake in Brazilian aerospace firm Embraer (ERJ). ERJ is the largest manufacturer of passenger jets in the 70-130 seat range. The move was a direct result of the tie-up between Airbus and small jet producer Bombardier (OTCQX:BDRBF). Since 2008, ERJ has averaged slightly more than 200 commercial aircraft deliveries per year. ERJ also manufactures military aircraft for the Brazilian Air Force which is not part of the BA acquisition, and the reason for the less than 100% stake.
A review of BA would be incomplete if it did not discuss the Chinese entry into the commercial aviation business. The Chinese-made C919 will make its debut in 2020/2021, and is aimed to compete with the 737 Max and the Airbus A320Neo. There are about 300 firm orders, but only two have been built so far. While China is a substantial market with a 20-yr estimated demand for 7,500 new aircraft. Within the big picture, and based on the substantial backlog of orders, the loss of 375 single-isle annual aircraft orders should not impact BA's overall business for the foreseeable future. Within a 5-yr investment horizon, the C919 should not impact BA performance. Past mid-decade, the newest China competitor could cause some ripples in the aviation waters.
Over the past few years, management has grown earnings per share by 11% annually and provided dividend growth in the 13% range. Investors should expect more of the same. Boeing has earned a SPGMI Quality Rating of A+ for 10-yr earnings and dividend growth. As described in previous articles, there are only about 35 companies that qualify for the A+ ratings. BA carries an A credit rating from S&P.
In addition, New Concepts offers the following 5-yr graph of return on invested capital ROIC and weighted average cost of capital WACC. Of interest to investors should be the rising ROIC numbers vs the stable WACC numbers, and that ROIC is comfortably above WACC.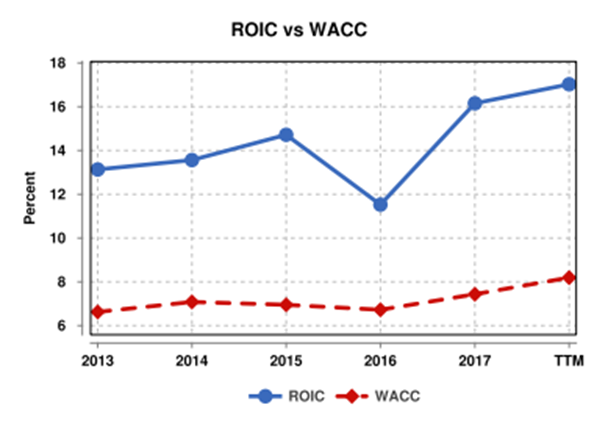 Source: newconcepts.com Boeing 5-yr ROIC and WACC
The following graph from fastgraph.com shows the drop in BA share price in the current market sell-off. Share prices have given up all the 2018 gains and are trading close to the 20-yr average PE of 20.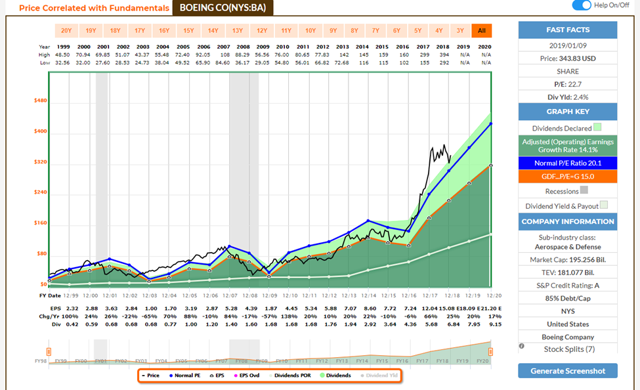 TD Ameritrade offers the following 3-yr performance graph of BA stock to its defense peers. As shown, BA stock has vastly outperformed its rivals.

With a target price of $415 to $425 within 24 months and 2020 EPS estimates of $21.00, BA should provide annual total returns in the 13.1% range. I plan on adding more shares with any drop below $325, but if I didn't own any, the current valuation should be a good price to begin a starter position.
Investors looking for a combination of technology and industrial firm should review the aviation sector. Boeing should be considered as the Best in Class.
Author's Note: Refer to my profile page for the standard article disclosures.
Disclosure: I am/we are long BA, NOC, TMO. I wrote this article myself, and it expresses my own opinions. I am not receiving compensation for it (other than from Seeking Alpha). I have no business relationship with any company whose stock is mentioned in this article.