Main Thesis
The purpose of this article is to discuss the merits of the Vanguard High Dividend Yield ETF (VYM) as an investment option at its current market price. While the fund has "high yield" in the name, and its yield is higher than many dividend ETFs, it is markedly lower than ETFs with a specific "high yield" focus. Similarly, VYM's return over the past year has lagged some of these high yield alternatives, which tells me VYM may not be the best option if high yield is an investor's main objective. That said, the fund does offer a fairly good value at current levels, trading at a multiple below the broader market. It is comprised of many high-quality companies, many of which saw strong dividend growth in 2018. Similarly, the fund is long two sectors I favor this year, Financials and Healthcare. Therefore, while I believe the overall make-up of the portfolio could be attractive, investors need to evaluate why they are buying this fund, and whether the actual strategy (and not just the fund's name) aligns with their respective goals.
Background
First, a little about VYM. The fund seeks "to track the performance of the FTSE High Dividend Yield Index, which measures the investment return of common stocks of companies characterized by high-dividend yields." It is currently trading at $80.30/share and yields 3.30% annually, based on its four most recent distributions. I reviewed VYM back in August, and was generally impressed with the fund. While I felt confident in my recommendation, that did not stop the fund from getting caught up in the market sell-off, and it is actually down a little over 6% since that time. However, given VYM's dividend focus and attractive valuation, I feel the fund could trend higher from here. However, there are a few reasons why I believe investors need to really evaluate their objectives for owning this fund before purchasing it, and I will explain why in detail below.
Under-Performing High Yield Alternatives
To begin, I want to provide a comparison between VYM and some other popular high dividend ETFs, to illustrate how similar the performance has been in the short term. To do so, I compared the 1-year share price return of the Invesco S&P 500 High Dividend Low Volatility Portfolio ETF (SPHD), the SPDR Portfolio S&P 500 High Dividend ETF (SPYD), the iShares Core High Dividend ETF (HDV), and the WisdomTree Equity Income ETF (DHS) against VYM, as illustrated in the graph below:
As you can see, VYM is at the bottom of the pack over the past year, compared to these alternatives. Importantly, these returns are fairly similar to the major indices' returns, once accounting for dividends, so high-yield dividend funds as a whole did not diverge much from the market last year.
That said, VYM's lagging performance is noticeable, especially when we consider the dividend yields of the other funds, all of which are higher than VYM, as illustrated in the chart below:
| | |
| --- | --- |
| Fund | Current Yield |
| VYM | 3.30% |
| SPHD | 4.23% |
| SPYD | 4.59% |
| HDV | 3.60% |
| DHS | 3.61% |
Source: Seeking Alpha
Therefore, while VYM saw the largest drop last year, it also returned the least in terms of dividends, and its yield is roughly a full percentage point below options like SPYD and SPHD.
My takeaway here is not to say that VYM is not a good fund, because I believe it is. Rather, I wanted to illustrate that it may not be the best option for "high yield" specifically, because there are other funds offering higher yields, while also performing better. Of course, there are plenty of other reasons to buy VYM, which I will discuss shortly, but its "high yield" title likely draws attention to investors searching for yield as a main objective. If that is the case, it is important to note superior options for that strategy may be out there.
Comparison To Value
Now, the good news. A point I want to emphasize on VYM is that while the fund does not offer an exceptional yield, it does trade at an attractive value compared to the broader market. In fact, with a price to earnings (P/E) ratio around 16, VYM is about 20% cheaper than the S&P 500, which has a P/E close to 20. Given this fact, it is not surprising that VYM's portfolio is very similar to value-oriented ETFs. To illustrate, here is the recent composition of VYM, with its top 10 holdings listed in the chart below: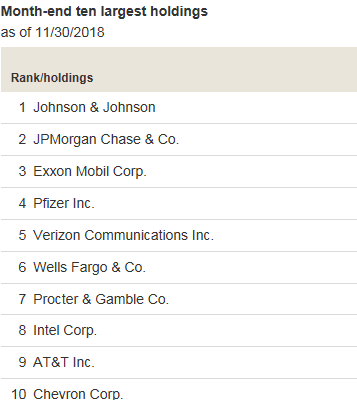 Source: Vanguard
For comparison, let us examine the top 10 holdings of the Schwab U.S. Large-Cap Value ETF (SCHV), which I positively reviewed last week: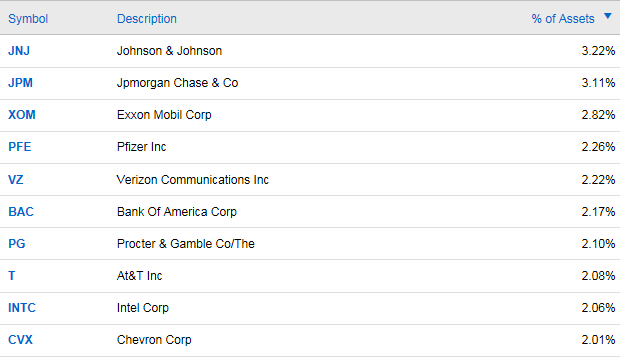 Source: Charles Schwab
As you can see, the top holdings are virtually identical, save for the swapping of Wells Fargo & Co. (WFC) for Bank of America (BAC) in SCHV. Furthermore, the top two sectors by weighting are the same for both funds, which are Financials and Healthcare. My takeaway here is straightforward. Rather than evaluating VYM has a high dividend play, I am going to evaluate it as a value play, since that seems to be more in line with its actual holdings, valuation, and yield. With that mindset, I am a bit more optimistic on the fund, and I will discuss why I am bullish on VYM's top two sectors.
Financials - Consumers Have Room For More Debt
Starting with Financials, this is an area I was recommending in 2018, only to see under-performance materialize. However, rather than lightening up on the sector, I believe the current market is a good time to add to long positions, for a few reasons. On the surface, the sector looks attractive enough. The major banks, such as JPMorgan Chase (JPM), BAC, and WFC (all of which are in both funds) are trading at reasonable P/E multiples, recorded revenue and profit growth in 2018, and raised their dividends.
Additionally, there is an important macroeconomic reason why I believe the Financials sector could rally, and that has to do with the U.S. consumer. Specifically, the American consumer is experiencing low unemployment, accelerating wage growth, and, perhaps most importantly, manageable financial obligations. In fact, while wage growth has picked up over the last couple years, consumer debt levels have fallen, illustrated in the graph below: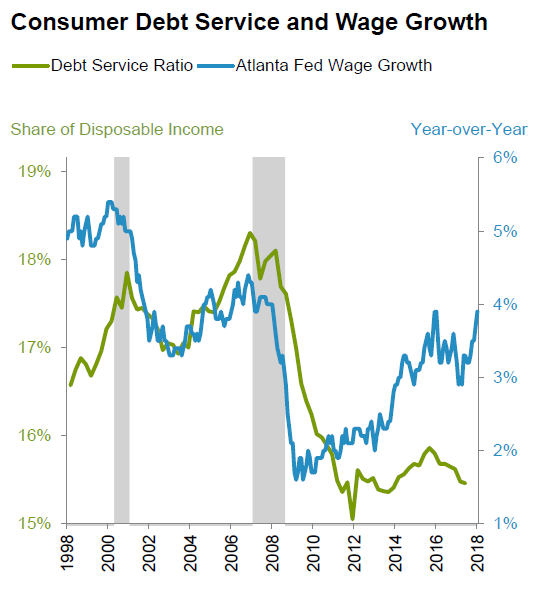 Source: Fidelity
My takeaway here is that consumers have room to take on more credit and, if they do, this will boost consumer spending and the economy along with it. Furthermore, it will directly help banks, credit card companies, and other lenders if consumers increase their demand for the services and products those companies offer. Simply put, Financials are cheaply priced, and there are some tailwinds on the horizon that should benefit the sector going forward.
Healthcare: Expect Continued Out-Performance in 2019
While my 2018 recommendation on Financials has not panned out as planned, I was also bullish on the Healthcare sector, and that play has been rewarded. In fact, Healthcare was the top performing sector in 2018, and it has led the S&P 500 by a healthy margin over the past year, illustrated below: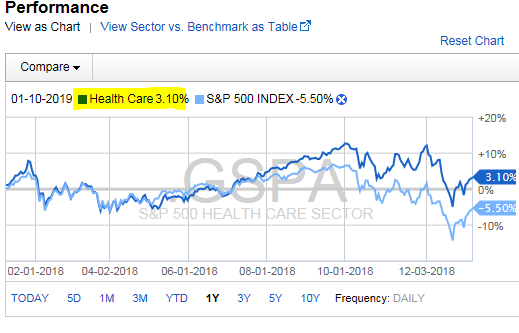 Source: Fidelity
While some investors may be tempted to take some profits here and rotate funds into beaten down sectors, Healthcare remains an area I want to be overweight, in the short term and long term. This is a topic I have covered many times over the course of 2018 in prior articles and the trends I discussed, such as an aging population, rising costs of care, higher demand for senior living, and rising obesity rates, all remain relevant in 2019 as well. Despite a national push towards eating healthier and exercising more, Americans remain stubbornly unhealthy. A large percentage of the population suffers from obesity and chronic disease, which has been driving up demand for the services and products provided by the Healthcare sector. In fact, chronic diseases are a primary driver of health-related spending, and that does not appear to be changing any time soon. To see why, consider this visual published by the Center of Disease Control (CDC):

Source: CDC
As you can see, the picture is not pretty and, with so many adults suffering from diseases with high, recurring healthcare costs, I do not see a decline in demand occurring any time soon.
Furthermore, as the population ages, healthcare spending will likely continue pushing higher for that reason as well, as demand for services tends to increase with age. With life expectancy on the rise, our population is not only skewing older, but also living longer, which should keep that trend in place for some time. In fact, over the past decade, life expectancy for U.S. adults has increased by almost a full year, as illustrated in the chart below:

Source: CDC
My takeaway here is that the trends that are making the Healthcare sector outperform are here to stay. Americans are aging and falling victim to expensive-to-treat diseases. While I want everyone to live a long and healthy life, that is not our current reality, and investors should position themselves accordingly.
Bottom line
VYM is a fund I regularly review (and own), but in 2018 I moved into alternative dividend strategies as I focused mainly on dividend growth. As I rotate back into the high-yield arena, VYM leaves something to be desired, as the fund has been yielding less and performing worse than other high-yield options. That said, I believe VYM has other positive attributes that make it worth buying, even if it falls short of its "high yield" objective. Specifically, the fund is very similar to a traditional value fund, as its holdings are priced cheaper than the market, while its greater than 3% yield is higher than the market average. Furthermore, the top sector holdings are especially attractive. The Financials sector remains undervalued (in my opinion) and an improving consumer backdrop makes the demand for credit likely to go higher. Concurrently, the Healthcare sector continues to outperform, and demographic trends suggest this is likely to remain a profitable play for years to come. Therefore, I believe in the long-term story of VYM at these levels, but caution investors to understand exactly why they are purchasing this fund. If they want "high yield," the best option might be elsewhere. But if they want a solid fund with long-term growth potential, VYM could very well be it.
Disclosure: I am/we are long JPM, SCHV. I wrote this article myself, and it expresses my own opinions. I am not receiving compensation for it (other than from Seeking Alpha). I have no business relationship with any company whose stock is mentioned in this article.