Quick Summary
Carlyle Group's (NASDAQ:CG) strong brand name, track record, and management team are the driving force behind its ability to grow assets, and with it, fees and profits.
Alternative assets continue to gain market share as expected returns for traditional equities and fixed income decline while also providing favorable correlation ratios and durability during recessions.
While I consider some of its peers attractively valued, such as Blackstone Group (BX), Carlyle appears to be the best among the group at today's pricing. Note these companies are Limited Partnerships and investors are issued a K-1. K-1s are more difficult come tax season for some investors.
There are risks associated with the investment as is the case with any security yielding 10%. With Carlyle, however, they are mostly mitigated and the unusually high yield is 100% covered by cash flow.
Carlyle Group
What are the firm's major divisions and how are they performing?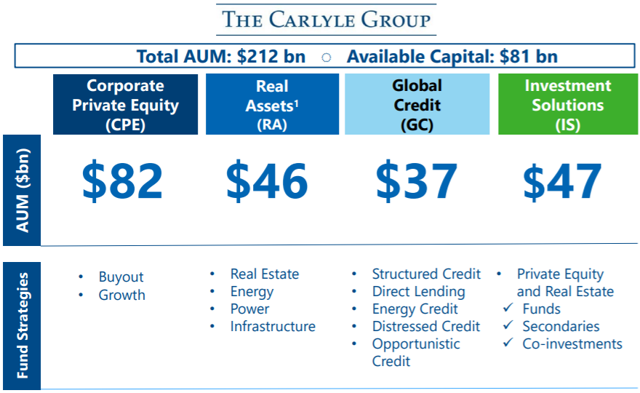 Carlyle is able to shift resources and focus across its four major divisions as market environments change. Importantly, the Corporate Private Equity, Real Assets, and Global Credit divisions all consist of funds and subsequently portfolio company equity or debt investments that behave differently with unique risk and return profiles. Why is this important? Carlyle and its peers are, in a way, truly paid for their performance. Carlyle becomes rich alongside its clients and only alongside its clients.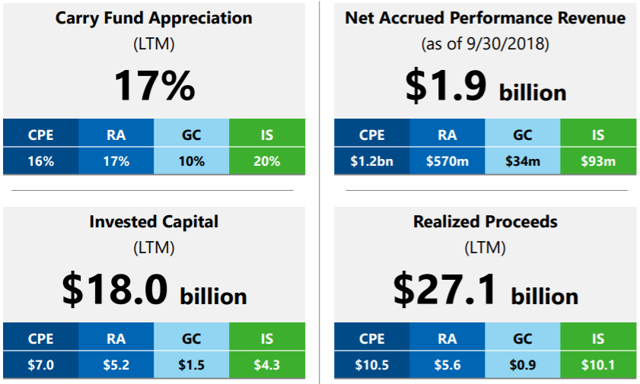 Given that's the case, we know many active and real asset managers don't perform well despite the high fees charged. High fees with a few years of underperformance equates to assets under management flowing right back out the door.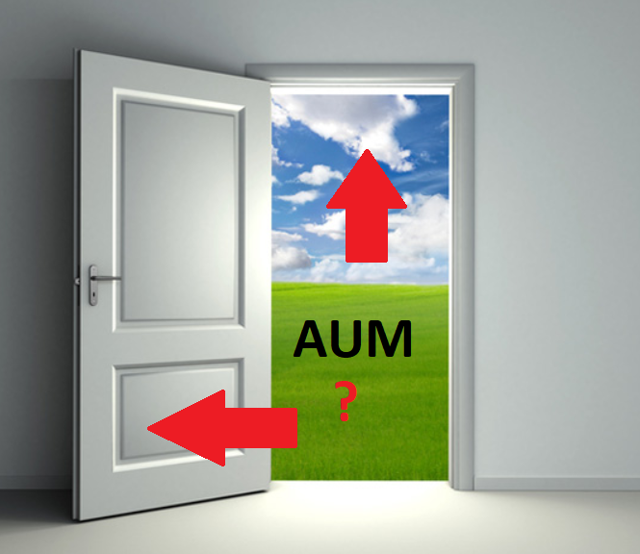 Source: WER
Looking Back
How often is Carlyle beating its benchmarks for clients, and if so, by what degree?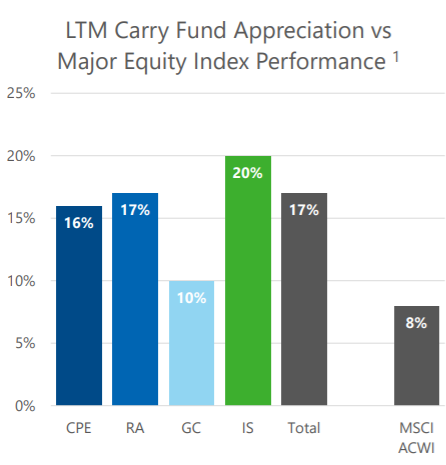 This unassuming chart tells quite the story. In the last year, Carlyle's fund appreciation has outpaced the MSCI ACWI global equity index by 900 basis points (9%) in the last 12 months ("LTM"). Realized and partially realized Corporate Private Equity investments generated a 2.5x multiple on invested capital ("MOIC") and 27% gross internal rate of return ("IRR") since inception. Here's a good, common sense explanation of the two return measures for those less familiar with the obscure world of private equity. Carlyle's private equity division, with similar performance figures to that of Blackstone Group, has decimated public indices. Assets will continue to flow as long as the performance is there. Note that these figures are only "realized" investments meaning they were already sold - there is no uncertainty of the portfolio company's price nor will a market downturn impact those figures whatsoever. Collateralized Loan Obligations ("CLO") are another term many may be unfamiliar with, but they are very common in the broader fixed income and institutional investing space.
CLO performance is determined primarily by default rates as the spreads to common benchmarks, such as treasuries, do not fluctuate considerably in terms of what price Carlyle receives versus another buyer. The key is to select the highest quality assets given its tranche and relative position in the capital stack. Carlyle's CLO default rate was only 0.7% for the U.S. (since inception in 1999) and 1.6% (since inception in 2005) in the more challenging European market. The credit division as a whole has had exceptional performance as of late with management fees increasing 27% year over year ("y/o/y"). Private credit has unarguably been the fastest growing, most popular institutional investing asset class in the last 2-3 years. Working with these managers on the private institutional side has given me great insight into how they treat their publicly traded entities such as BDCs and interval funds.
Carlyle itself recently launched an interesting credit interval fund through a partnership with Oppenheimer. Institutional Income Plus subscribers will receive my detailed thoughts and recommendations on this new investment vehicle in the next 1-2 weeks.

Carlyle's TCG BDC, Inc. (CGBD) is performing well and aggressively supported by management through share repurchases and insider buying yet trading at an unjustified 30% discount to NAV. It's yielding 9.1% on NAV and just recently announced a $0.20 special distribution on top of its standard quarterly dividend of $0.37. I'll be writing a piece on this fund soon but recommend BDC Buzz's article for the time being (it will not be locked behind the paywall for a few more days). At this point I'd go over the Investment Solutions division, but there is not a ton of relevant changes to discuss. Growth has been paltry and realized proceeds are up modestly from 2012 (1.8 billion or 7.1%) but down from the highs of $29.4 billion achieved in 2014 and 2016. Performance in this division, however, has been stable.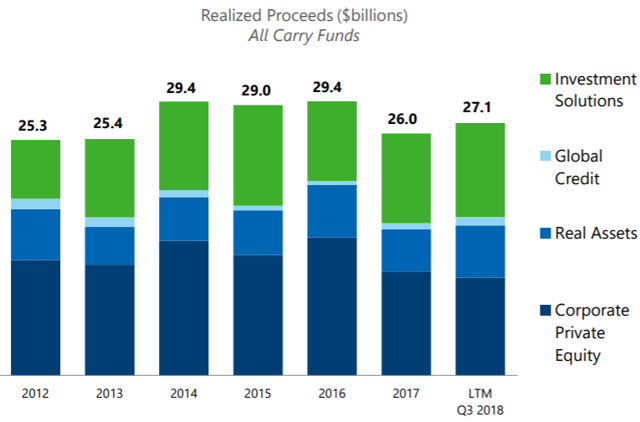 We now have a fundamental understanding of Carlyle's performance. We also know they charge a "carry" or incentive fee in which they receive a portion of a fund's profits, usually above a certain minimum level called a "hurdle." If performance is below this level, or if it exceeds it but not enough to make up for poor performance in the past (a "high water mark"), Carlyle is only paid its management fee. Carlyle's funds are very labor intensive and the quality of employees required to execute these strategies effectively is extremely expensive. We must ensure that the strong performance is generating large and consistent fee revenue.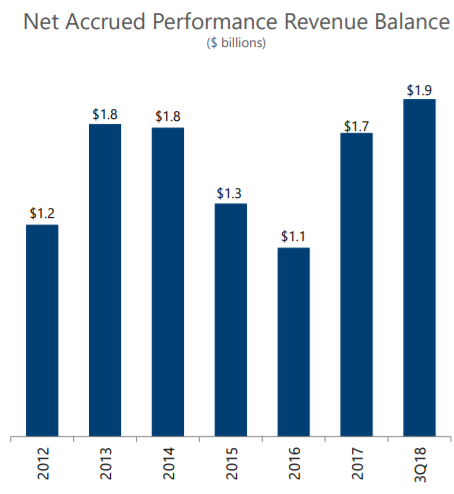 Looking back to 2012, in no year did Carlyle generate less than $1.1 billion in net performance fees accrued with an average of $1.5 billion. Take another look at the last bar in the graph - accrued fees through third quarter of 2018 were already higher than the full-year results of any of the last six years.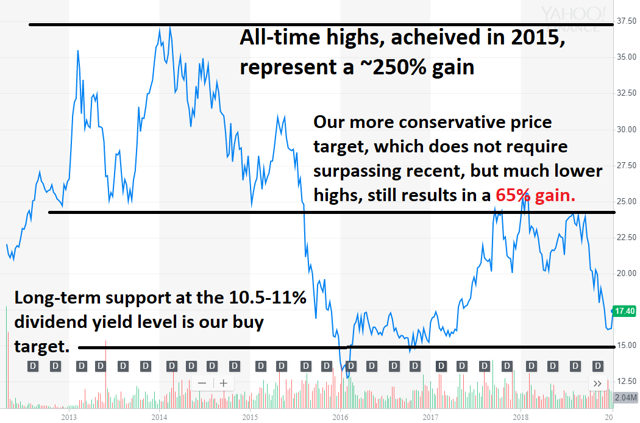 Source: Yahoo! Finance & WER
Despite the most critical earnings metric assuredly reaching all-time highs when Q3 2018's results are released, Carlyle's stock is trading near the bottom of its historical range.
Looking Forward
69% or over two-thirds of the remaining fair value (e.g. dollar amount) in Carlyle's three fund oriented divisions was accruing performance revenue as of 9/30/2018. In terms of gauging future financial performance, we need to evaluate what degree Carlyle may be relying on old funds rather than new ones. The point is it was not difficult to be successful in private equity with a fund inception date of 2010-2014. That, however, is changing and increasingly more difficult in recent years as competition has increased and valuations continue to rise. A solid way to measure this is the percentage of fee revenue derived from older compared to new Carlyle funds. Current generation funds, which include CP VI, CEP IV, CAP IV, CJP III, CGFSP II, CEOF II, CEPT III, CGP, CRP VII, NGP XI, CIEP, CPP II, CSP IV, and CEMOF II, represented 0% of net accrued performance revenue at the end of 2015 but 60% at the end of last quarter. For the time being, the new generation of funds are working.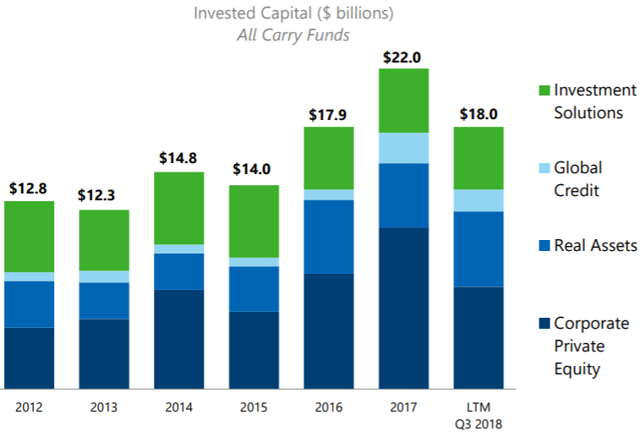 Earnings for firms like Carlyle and Blackstone boil down to two components: AUM and how successful it's being invested. $1 billion in AUM with a 40% IRR over a typical fund's life will still result in less performance fees than $5 billion in AUM earning a more "modest" 25% IRR. Carlyle's invested capital across its platform is growing and near all-time highs. It's no surprise then that trailing 12-month Q3 2018 revenues, coupled with the last 12 months' performance we've already discussed, are the second highest since Carlyle's IPO. This moderate decrease versus 2017 is one reason the stock is off its highs but not early enough to justify its current trading level (down 40% since January of this year).
Earnings & AUM Trends
Carlyle's flagship funds experienced substantial capital raise activity causing fee related earnings ("FRE") to accelerate in 2018. Growing AUM has permitted Carlyle to reduce expenses across the platform and drive higher margins. Carlyle has raised an impressive $83 billion of its $100 billion four-year target raise capital and is in line to hit or exceed its objective.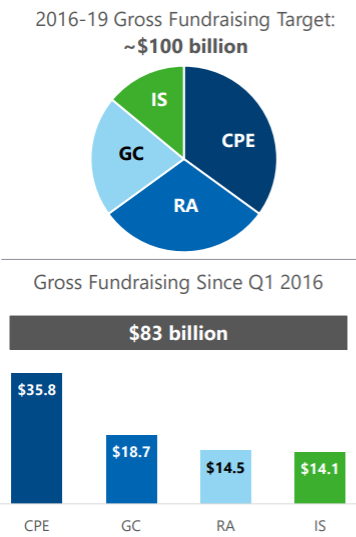 For the time being, effectively all (99%) of Carlyle's fee earning AUM is locked up capital for several more years. This capital is not subject to quarterly redemption and investors are not permitted to except via exceptions granted by the fund GP (Carlyle in this case).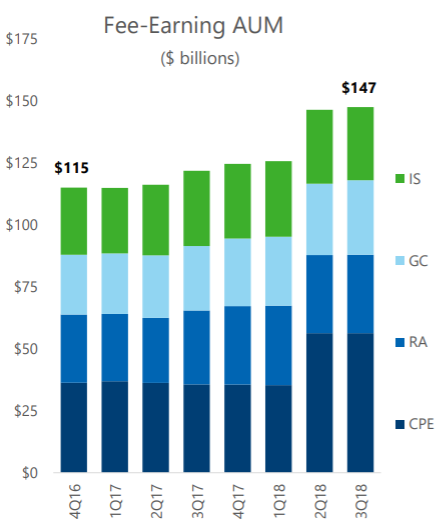 We know running a business like Carlyle's is expensive. How are profit margins?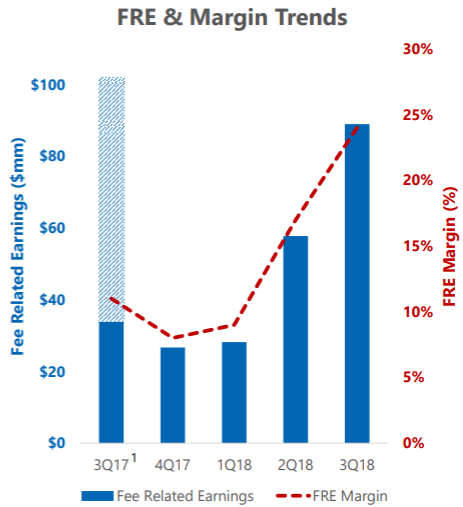 Source
Carlyle's largest funds hit the point activity wise that permitted significant fee earnings. Early in a private fund's life, it is not possible to earn material performance fees, for instance, because estimates need to be sourced, due diligence performed, careful legal/contact work completed, and the actual transaction take place on each portfolio company equity and or debt investment. Only then can Carlyle pull its many levers to improve company performance and subsequently value. FRE margins have tripled since late 2017 but are volatile. Sustained 25% margins for an additional 1-2 quarters will have a significant, positive, and likely unexpected impact on earnings. The Global Credit division represents $37 billion of AUM or approximately 18% of firm AUM and represents both 1) the greatest potential for net fee growth by division and 2) is the most resilient in a market downturn. This will only partially offset the high market sensitivity of the much larger $82 billion in Corporate Private Equity.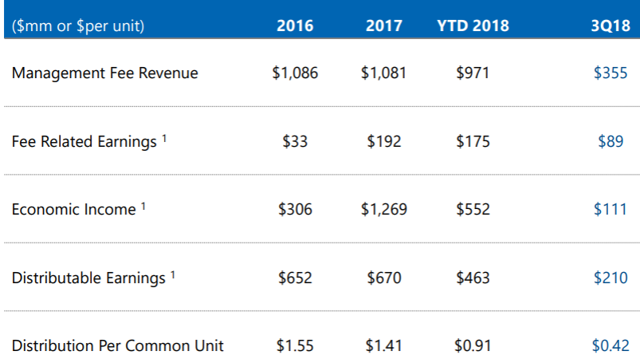 A reasonable albeit incomplete criticism of Carlyle is recent trends in fee earnings within its Corporate Private Equity division.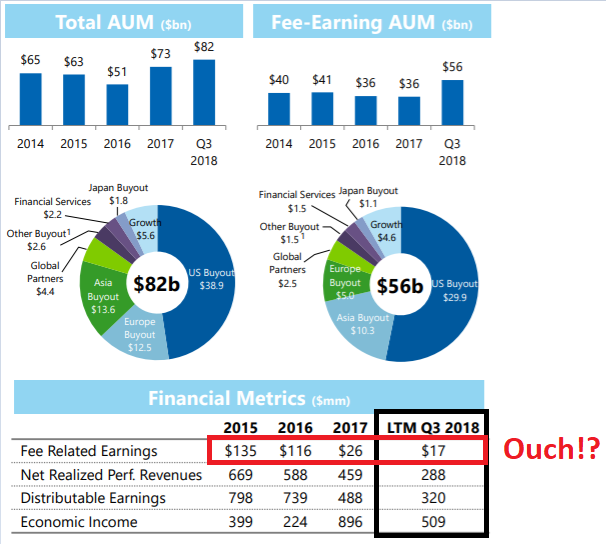 Fee related earnings have seemingly collapsed in the last two years. This is part of the reason firms like Carlyle Group and Blackstone Group struggle to receive favorable opinions from public market equity analysts. Private equity compensation, something I have studied carefully as a complex investment due diligence officer at large financial institutions, occurs in cycles depending on when capital is raised, how those funds perform, and to a lesser extent variability in the fee structure charged by the general partner (in this case Carlyle).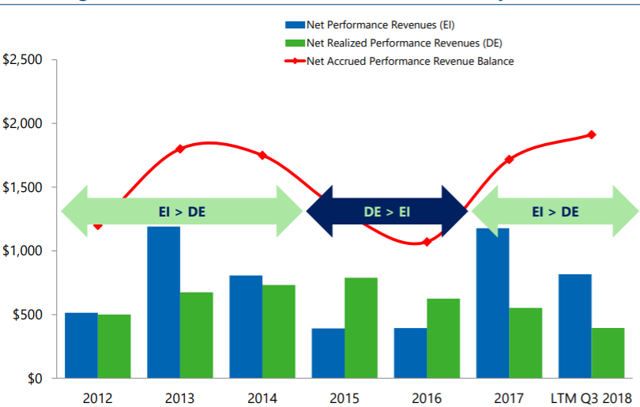 Periods of strong performance result in accrued fees which are not realized until later dates. Sometimes this occurs as individual portfolio companies are sold and other times only when the entire fund goes full cycle and is fully liquidated. The exact structure depends on the legal language in the private equity fund's offering documents. They key is 2017 and 2018 experienced approximately double the net performance fees accrued as compared to those actually realized. In most cases, these fees are effectively guaranteed to be paid to Carlyle and simply pending. Carlyle is toward the tail end of the accrual period and getting closer to the beginning (<12 months) of the realization period.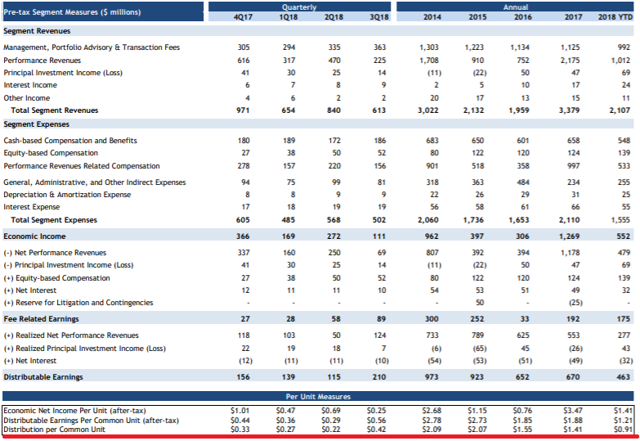 Concentrate near the red line I drew at the bottom. Distributable earnings indicate the amount Carlyle can pay to unit holders which varies depending on past Economic Net Income and other related factors such as taxes. The general equation is:
Distributable Net Income = Taxable Income - Capital Gain (or + Capital Loss) + Tax Exemption
Distributable Earnings per Common Unit (after-tax) was approximately $2.75 per share in 2014 and 2015 and $1.85 per share in 2017 and 2017. This figure was up to $1.21 using only the first three quarters of 2018 or approximately $1.50 annualized. The story is similar for distributions with full year 2018 coming in at a conservative $1.15-1.35 or mid-point of $1.25. That's an 8.5% yield at the buy target of $15.50. Using Q3's distribution of $0.42, however, results in a distribution of 10.8%. The financial metrics evaluated suggest a path toward increasing Distributable earnings, on average, in the coming quarters so a stated yield of 10% is reasonable.
At the current valuation, Carlyle is a reasonably solid investment in the context of a long-only portfolio even if a moderate economic downturn takes place, albeit with a lower target return and longer investment horizon. Specific entry and exit targets are reserved for Institutional Income Plus subscribers but Carlyle is favorably priced at recent lows.
Final Summary
Carlyle's strong brand name, track record, and management team are the driving force behind its ability to grow assets and fees.
Alternative assets continue to gain market share and Carlyle is participating in this trend.
Note that Carlyle and some of its peers are structured as Limited Partnerships and investors are issued a K-1.
Carlyle and firms like it have a unique business "cycle" due to how they generate fees from the funds under their management. It's near a trough and we should see cash flow accelerate in the coming quarters.
Carlyle's business structure ensures distributions are covered by cash flow. Distributions of just a couple years ago would result in a fully-covered 20%+ yield at today's stock price. I don't expect that level of performance in the next 1-2 quarters, but it is possible after that.
While higher risk and more volatile, Carlyle is set up for a 50%+ total return at today's levels.