As I have coughed and sputtered over the last weeks, dodging others who are doing the same, I fantasize about more effective vaccines. Novavax (NVAX), a stock I have been following over the last few years, comes to mind. It is having an interesting news flow with more to come.
I have been struggling with how I ought to proceed with my small Novavax stake. One commenter to my last Novavax article suggested when it comes to Novavax, I am like a teenage boy unsure of whether he wants a boyfriend or a girlfriend. The analogy escapes me; however, I agree that I am of two minds on this subject.
In the instant article, I will continue setting out this dilemma. In the process, I will work hard to provide way-posts for others who are unsure (about Novavax, not friends).
Novavax with its thirty-year record of failure is on the verge of more of the same (it's the worst of times)
Seasonal flu and RSV F are recurring afflictions that take an awful toll of human suffering across the world. These are the targets for Novavax's lead therapeutic candidates. In "Novavax: The Little Engine That Couldn't", written back in 2016 when I was young and handsome, I documented the sad litany of Novavax's ineptitude.
In the intervening years, I have checked in from time to time, most recently here, with generally dour but hopeful filings. Throughout it all, I have traded at the margins, always maintaining a small long position in the stock. Per the chart below, Novavax has made little runs. It is doing so currently.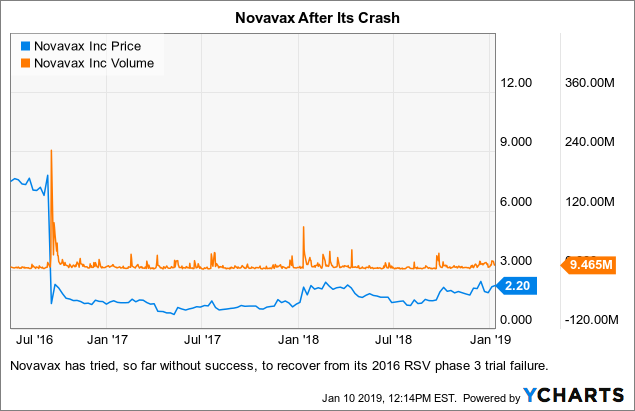 All the excitement about its upcoming trial readouts tends to obscure some inconvenient financial metrics that have built up over the years. Unlike many little biotechs that have yet to successfully manage product sales, Novavax already has >382 million issued and outstanding shares along with ~$318 million in convertible debt due in 2023 per its latest 10-K (pp. 31, 32).
As staggering as that might seem, we got a New Year's Eve jolt that even more is likely forthcoming. Novavax signed up for a $100 million ATM offering, which cleverly hit the wires on 12/31/18 (champagne anyone?). Nor is that a complete picture. Novavax also has commitments to issue shares as set out in the following excerpt from the offering prospectus:

Suffice it to say, when you own a share of the Novavax stock, it's likely to be a very small share ~1/500 million.
Imminent derisked data from Novavax's phase 3 RSV F vaccine for infants via maternal immunization will provide a glorious new future for this downtrodden hero (it's the best of times)
Investing is about the future, not the past. Sure, Novavax has had some issues, but soon all will be forgiven. The future for the company is blazingly bright. RSV is the pathogen (slide 7) which infects nearly everyone on this earth before their second birthday.
In the United States, it is the leading cause of hospitalization of infants under six months of age. In the world, it is the second leading cause of death of babies under a year. Despite intense efforts, there are no existing vaccines to treat this disease. Novavax is the lone David twirling his slingshot; none of the pharma Goliaths who have tried to solve this riddle have managed to achieve what it has.
Now in the final stages of its Phase 3 RSV trial, Novavax has made the long slog over four consecutive flu seasons to vaccinate and track 4,636 women with their infants every week for the first 6 months after birth. I have to say that I questioned whether Novavax could pull it off. It seems to have done so and data will be unblinded this quarter.
At its 1/10/19 JPMorgan conference presentation, CEO Erck advised as follows:
The last day 180 visit was made and so we are now in the process of getting the data together so that we can block a database, and as we promised for the last year we expect to unwind the trial and announce data this quarter. And I've been asked by I think virtually every investor in my one-on-ones over the past three days, when in the first quarter is it going to happen? I've excluded January, but we have a target date, but it will be - we are confident it will be in the second quarter - in the first quarter.
The study in question, NCT02624947, had a study start date of December 2015. Clinicaltrials.gov describes the phase 3 study as follows:
...a randomized, observer-blind, placebo-controlled trial enrolling third-trimester pregnant women in the Northern and Southern hemispheres, for up to four consecutive RSV seasons in each hemisphere. The trial will enroll 4636 third-trimester pregnant subjects. Women in the third trimester of a singleton uncomplicated pregnancy and 18 to 40 years of age (inclusive) will be enrolled...

All maternal subjects will receive a single intramuscular (IM) injection on Day 0 with the assigned test article, the RSV F vaccine or placebo. Study participation for maternal subjects will span approximately nine (9) months from the first dose, ending six (6) months post-delivery. Study follow-up for infant subjects who are consented will span approximately one (1) year post-delivery.
Novavax is optimistic that once unblinded and tallied, it will have a successful trial. The FDA allowed one of its data safety monitoring board statisticians to preview unblinded results from the first third of the trial and to provide a yes/no response to Novavax's question as to whether it showed at least a 45% efficacy.
The data from this group will be among the data being unblinded and reported this quarter, raising the prospect that the entire set will be positive. This provides a comforting rebuttal to one of the key points raised in "We Believe Novavax's RSV F Vaccine Is Likely To Fail Again And That Novavax Is Hurtling Toward Insolvency".
After long wanderings in the desert of futility, Novavax faces an exciting near-term future as shown by slides from its 1/9/19 JPMorgan presentation. Slide 12 shows the imminency of its phase 3 RSV results and subsequent filing potential as follows: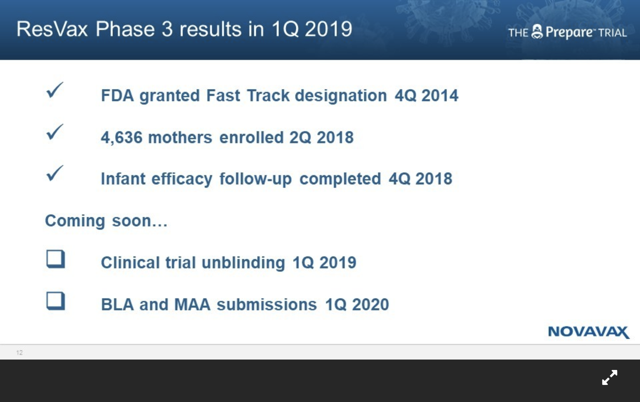 In addition, Novavax's second lead program, NanoFlu, will be coming on with its own follow-up catalysts. It has earmarked Q2 2019 for end of NanoFlu phase 2 meetings with the FDA. The ensuing NanoFlu trajectory (slide 30) would see phase 3 starting in Q4 2019, and phase 3 data in Q1 2020.
It's best to play Novavax carefully
As Novavax goes forward over the next year, I expect it to garner significant attention. As I write on 1/13/18, it trades for $2.20. It has already nearly doubled in price from its late July 2018 52-week low of $1.15. With its RSV F data promised sometime this quarter, it will likely show continued buoyancy until the data is reported.
How high it might reach would take a chartist/seer far more skilled than myself. TipRanks shows that the highest 12-month analyst Novavax estimate that has been revised in the last three months is $4.00 and an earlier target set $5.00. I can see a range of $4.00 to $5.00 as an upper boundary in 2019, although in 2016 when investors were hopeful/sure that Novavax adult RSV F vaccine phase 3 data readout would show high efficacy, the company soared to over a $3 billion market cap, very roughly equivalent to $9.00 share price today.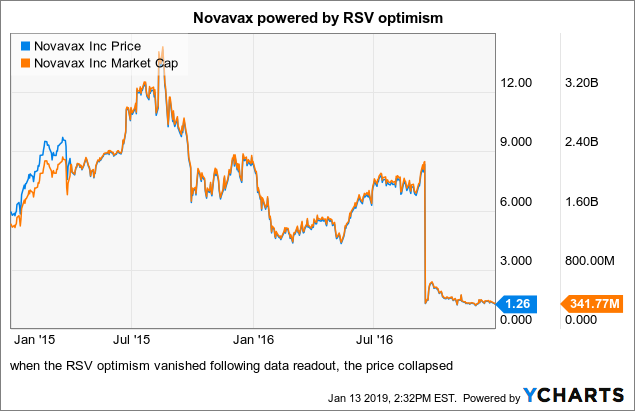 Slide 10 from the JPMorgan conference pegs a peak sales opportunity at $1.5 billion worldwide as shown below: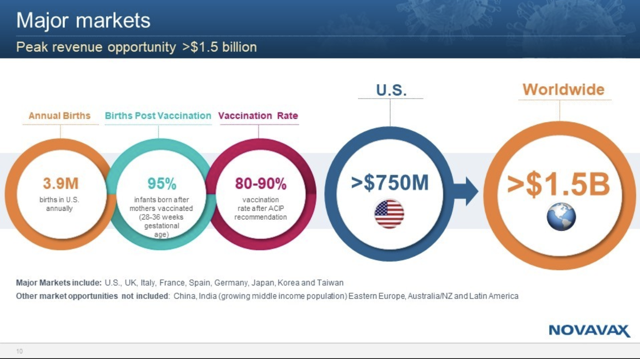 If one gives a 2.5 multiple to peak sales, that would support a market cap potential of $3.75 billion for Nanovax, following FDA approval of its RSV F vaccine that is just coming up to the plate.
Without a solid data readout, FDA approval of Novavax's RSV F infant via maternal vaccination product is a moot point. Surely, in such a case, Novavax shares would implode to the <$1.00 range. FDA approval is still only a 2020 opportunity at best. Then, as we know from sad experience, there are still more steps to a successful rollout.
In common with all biotechs, Novavax has a sobering suite of risk factors listed in its latest 10-K (pp 14-33). Ones which caught my attention as not simply generic issues include the following headings:
Current or future regional relationships may hinder ... [Novavax's] ability to engage in larger transactions. (p. 17)

... [Novavax] may need to license intellectual property from third-parties and, if ... [its] right to use the intellectual property ... [it] license[s] is affected, ... [its] ability to develop and commercialize ... [its] vaccine candidates may be harmed. (p. 30)

... [Novavax] may not have the ability to raise the funds necessary to repurchase the Notes as required upon a fundamental change, and ... future debt may contain limitations on ... ability to repurchase the Notes. (p. 32)

Provisions of ... [Novavax's] Second Amended and Restated Certificate of Incorporation and Amended and Restated By-Laws and Delaware law could delay or prevent the acquisition of the Company, even if such acquisition would be beneficial to stockholders, and could impede changes in ... [Novavax's] Board. (p. 33)
Conclusion
If I were not already invested in this name, I doubt whether I would start a new position in it. As it stands, I am invested both financially and in terms of time committed to due diligence. I am unwilling to sell my small stake at the current market price.
If all goes well over the next few years, Novavax could find itself on the winning end of clinical trials for vaccines against both seasonal flu and RSV F, both of infants through maternal immunization and later of adults. Novavax could even hit a superfecta if it were to hit on one or other of its pending clinical trials as shown on its JPMorgan pipeline slide 4 below: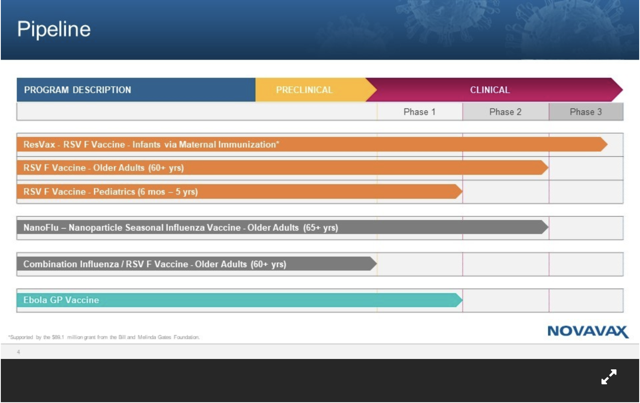 The pipeline is heavily tilted towards RSV F. A failure in this quarter's RSV F data, unless it is clearly attributed to the maternal delivery aspect, would be devastating across the pipeline. By the same token, favorable data would be huge.
NanoFlu has a significant addressable market per slide 29 below; however, it will be quite difficult for Novavax, ex any RSV F successes, to stay solvent long enough to develop it. As an adjunct to RSV F success, NanoFlu is icing on the cake.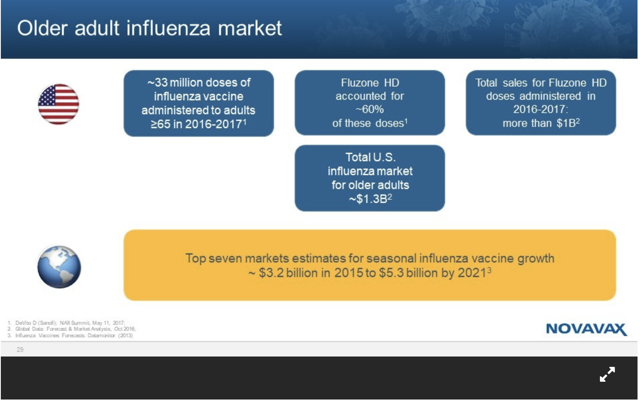 The choice here is stark. Anyone invested in this name needs to keep alert and informed. Share price swings are likely to prove imminent and sharp.
Disclosure: I am/we are long NVAX. I wrote this article myself, and it expresses my own opinions. I am not receiving compensation for it (other than from Seeking Alpha). I have no business relationship with any company whose stock is mentioned in this article.
Additional disclosure: I may buy or sell shares in Novavax over the next 72 hours.