Quarter 1 FY19 Earnings Summary
SGH came in very close to expected earnings at $1.75 EPS, missing analysts' expectations by $0.02. They had a record high quarterly sales of $393.3M, beating Q1'18 by 48%, and reduced their operating expenses by 2% as well.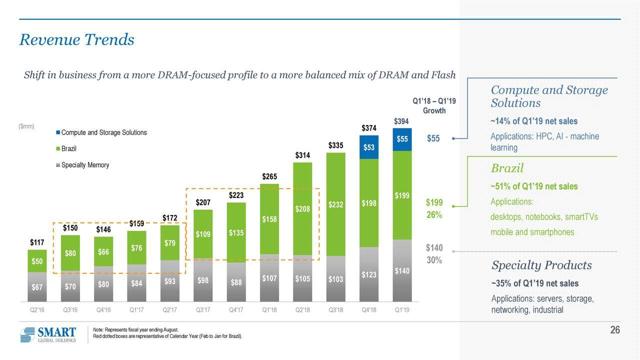 (SGH's business segments visualized. Source: SGH investor slideshow)
As you can see above they are continuing to work in diversifying their sources of income. Of particular note is the nice bump in revenue they got from Penguin at $55M to their top line - 14% of Q1's sales. Brazil remained flat from the previous quarter, however grew 26% from Q1'18. And their specialty memory segment showed a 30% increase from Q1'18 and a slight increase over the previous quarter. They have also began shipping their batteries in Brazil and are expecting to see that showing up in revenue in Q3.
Diving further into the financials let's take a look at their 10-Q Form.
On the balance sheet the biggest surprise to me is that their debt went up. The long term debt went from $184M to $201M. Not a big jump but I was expecting them to work on paying it off. They also have a good chunk of cash on hand at $71M, up from $39M, which I definitely like.
Over on the income sheet no big surprises here as we've already discussed the earnings for the quarter, however it's of note that their net income is up to $31M against $21M a year ago. Same on the cash flow sheet - they're looking healthy with a nice increase of $26M in cash for the quarter against a miserly $1M a year ago.
Overall their results for Q1'19 look good and consistent with a growing company that's doing well. But of course the market looks forward, not backward, and that brings us to the next topic.
Q2'19 Guidance Lowered Dramatically
In a nutshell, management lowered their guidance from around a $1.70 EPS to $0.53. It looks like most analysts right now are predicting $0.75 so their guidance might be low in order to give a positive surprise. Let's look at why management claims the earnings are going down.
They chocked it up to a few reasons:
Seasonality in Brazil.
Weakening memory market worldwide.
Local content rules staying at the current 50% instead of the 60% the government had announced previously.
We'll break these reasons down. Firstly, seasonality. Apparently Brazil pretty much shuts down for around three weeks at the end of the year - from approximately December 15th to January 5th. So three weeks of no business is certainly going to hurt. Looking back in their earnings however they've been growing so rapidly I don't really see it showing up there so it's difficult to quantify the impact this might have. It seems that customers might just delay their purchases until they return from vacation and the purchases would still be made so I don't really put much faith in this explanation.
Secondly, and I think this is the vast majority of the reason, the weakening memory market. As the cryptocurrency mining boom comes to an end the demand for memory is sharply decreasing. There is no more shortage for memory and customers are delaying orders in an attempt to get the lowest price possible.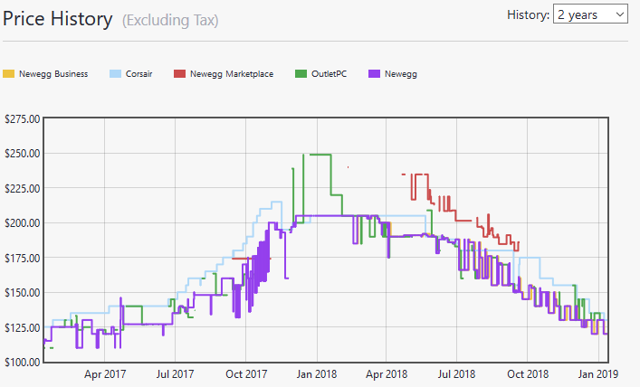 (Source: PCPartPicker.com)
The graphic above shows the price over the last two years for two sticks of memory from Corsair used in gaming PCs. Specifically it's the DDR4-3000 16GB set. It's a very common purchase for gamers as it's a good price/performance choice. We can see it peaked in early 2018 and has been dropping hard since then. It approximately doubled in price in that time frame - something which is borne out in other price charts as well. However this also shows something else - it was cheap back in APR-2017 as well. How was SGH doing at the time?
Due to their fiscal cycle that was during Q3'17. Looking back to the chart at the top of the article we can see that they were indeed growing. Slower growth certainly, but still a respectable 38% over Q3'16. Did they benefit from the RAM shortage? Absolutely - so did every memory maker and supplier. But were they still growing their business then? Absolutely.
The third reason is local content rules. If you're not familiar with what that is, it's simply the percentage of a product that, in order to be sold in that country, must be made with components sourced from that country. There's more to it than that, but that's the gist of it. Obviously the higher the content percentage must be the more it'll benefit companies like SGH who sell locally produced components. In this case the Brazilian government had previously announced an upgrade from 50% to 60% for the local content.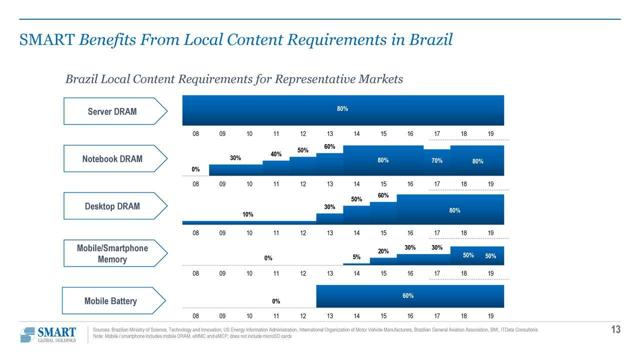 (Source: SGH investor slideshow)
Remember we talked about their previous growth before? Take a look at the chart above. They had that growth in 2017 with a lower 30% local content rule for memory. What does this mean? The current content level remaining at 50% isn't something that is going to massively affect them. I personally have no worries about this particular change by the Brazilian government.
Conclusions
Firstly they have continued to show a lot of positives in the management of the company and diversifying their income streams. This has all been a plus to them and their revenue has reflected that, with more positives coming in the future such as their new batteries shipping in Brazil.
They have continued to grow their customer base with the inclusion of Penguin and its large potential market in AI driven high performance computing. It's worth noting that the memory prices in this segment have been largely unaffected by the bubble as they are mostly more mature memory types - not DDR4. Take a look at their slideshow and you can see the customers they serve in this segment - they have a ton of "blue chip" customers that are looking for quality of product - I think it speaks a lot of positives about that segment of the business.
The bad part? They've been affected by the worldwide slowdown in the memory market. So has every other manufacturer and supplier of DDR4 memory. It's simply the cyclical nature of memory, and semiconductors in general. Brazil has a strong and growing economy - demand overall isn't going to drop there, just prices. The consumers will in all likely hood continue their purchasing habits without a care in the world as to the prices of the memory in their new smartphone.
Overall I believe SGH will continue to grow. It won't have a tailwind of cyclical memory prices and will have to rely more on management of its business - but that's something CEO Ajay Shah has shown he's very competent at with the inclusion of diversified yet synergistic product lines and consistent cutting of expenses and increased efficiency.
In terms of price targets lets take a look at the forward looking P/E. For reference the current average TTM P/E for semiconductors is 16.2.
| | | | |
| --- | --- | --- | --- |
| | Analyst EPS | P/E at $24.60/share | Growth YoY |
| FY19 | $4.45 | 5.52 | -30% |
| FY20 | $5.08 | 4.84 | +14% |
(Source: Fidelity)
Based on the above numbers we can see that even at this lowered EPS estimate SGH is still relatively cheap, and even cheaper looking forward. The rest of the numbers follow suit with P/CF, P/S, and P/B all coming in well under the semiconductors average. If price moved up to meet semiconductors average P/E in FY20 we'd see a potential price target of $81.28/share. Using a different calculation of Growth Percentage x Expected EPS (14x5.08) we see a possible price target of $71.12.
Personally I recommend holding or even buying more if you have the time horizon for it (5+ years) at this junction. I took advantage of the price drop and bought a significant amount of shares at $22.90. The company, fundamentally speaking, is the same good company they were before. Market conditions have affected them but they'll continue growing.
Disclosure: I am/we are long SGH. I wrote this article myself, and it expresses my own opinions. I am not receiving compensation for it (other than from Seeking Alpha). I have no business relationship with any company whose stock is mentioned in this article.