During the last week, the iShares iBoxx $ High Yield Corporate Bond ETF (NYSEARCA:HYG) gained 1.82% (182 bps) due to higher oil prices, dovish comments from Fed policymakers, as well as renewed talks on trade beginning. It was the third consecutive week when HYG gained positive return. There was negative sentiment regarding U.S. high yield bonds in December. Moreover, no U.S. high yield bonds were offered in December marked the first month since the 2008 crisis without any junk bonds being issued. However, investors waited any positive news and when Fed Chair Powell gave support to markets, the investors have changed their view on the U.S. high yield in January and quickly increased their allocation to the asset class. Last week, subsidiary of Targa Resources (TRGP), an oil and natural gas pipeline company, issued a high-yield bond and was able to raise $1.5 billion, twice as much as the company originally expected.
Figure 1. HYG ETF price dynamics during the week ending January 11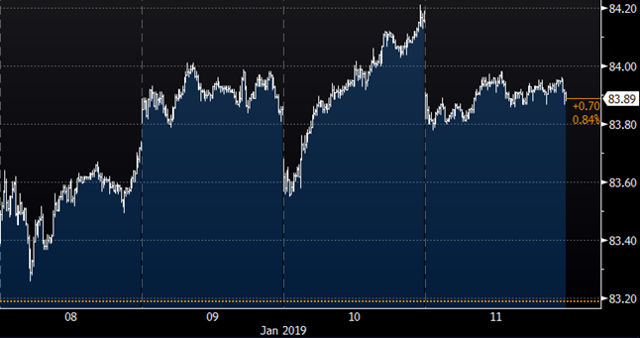 Source: Bloomberg Terminal
The US Treasury Curve slightly shifted upward last week. The yields on all maturities increased by 3-4 bps. 10-year UST reached 2.70% by the end of the week. It is the first week when UST 10Y increased after falling since 14 December. The UST 10Y yield was almost 2.90% that time. A dovish comments from Fed and the minutes of the central bank's December meeting — played to market expectations for a pause in the US interest rate cycle. Mr Powell reiterated that the US central bank had the ability to be patient regarding monetary policy The continued stability of core inflation could give the Fed more opportunities not to increase rates, as officials assess the impact of the slowdown in global growth and tightening in financial conditions on the U.S. economy. The probability of interest rate hiking on the meeting in March is almost 0% while the probability was 40% at the end of November. Investors significantly adjusted their expectations regarding interest rates path after Powell's comments at the start of the year.
Figure 2. Change in US Treasury Active Contracts Curve for the last week
The underlying HYG portfolio was up 156 bps, while positive premium and other discrepancies added almost 26 bps, causing its price to increase by 182 bps. The main reason for positive premium is almost $1.0 billion inflow in HYG ETF last week.
Figure 3. Contribution of sectors to changes in HYG over the week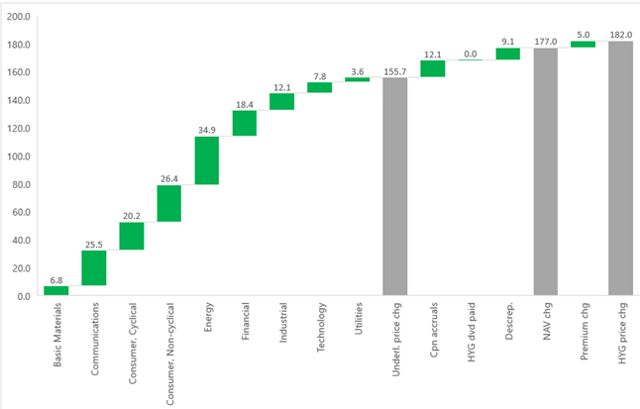 Source: Bloomberg Terminal
All the sectors had positive returns last week. Energy and Financial sectors were the leaders as they gained more than 2% last week.
Energy sector continued to gain positive returns following oil prices recovery. Brent price gained 6% while WTI price increased by more than 7%.
Financial sector outperformed almost all other sectors last week. The main gainers were mortgage lenders and companies that offer student loans. They benefit from higher long-term rates (10+ years) and were supported because UST 10Y slightly increased last week after significant falling from 3% level.
Other sectors followed overall positive U.S. high-yield environment and inflows in HY bond ETF's.
Figure 4. HYG sectors price changes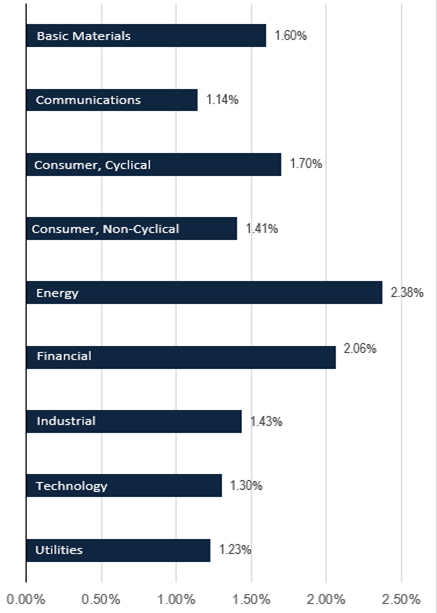 Source: Bloomberg Terminal
The future HYG price dynamics will be determined by Fed policy and comments, U.S. economic indicators, oil prices and political issues including trade wars and government shutdown. Our message is that current HYG price gains would be temporary and based primarily on investors' risk appetite, but investors should take some time and see at least earnings season results. Moreover, Emerging Markets High yield bonds remain a competitive alternative for HYG given stable US dollar, less near-term political risks in many EM countries and attractive yields.
The potential slowdown of the U.S. economy is an important concern for many investors that have exposure to the U.S. assets including U.S. high yield bonds. We see it as one of the main risks in 2019. Domestically oriented sectors, that represent 70% of the bonds included in HYG, could be put under pressure in case of the weaker U.S. economy. The earnings season will start next week when banks publish their 4Q reports. Investors will watch whether banks to boost provisions for bad loans as indicator of the economy weakness. Moreover, aggregate weak earnings results would give signs of weaker U.S. economy that would make investors pull money from risky U.S. assets. Powell's dovish comments and his high attention to financial markets are positively perceived by HYG investors because they believe Fed will adjust its monetary policy in order to support financial markets. We do not see some near-term inflection points next week as the next FOMC meeting will take place on January, 30.
Thank you for reading!
P.S.: We welcome your comments and suggestions on other things we can add to the HYG report that we intend to publish on a weekly basis.
Vladimir Nikulin
Disclosure: I/we have no positions in any stocks mentioned, and no plans to initiate any positions within the next 72 hours. I wrote this article myself, and it expresses my own opinions. I am not receiving compensation for it (other than from Seeking Alpha). I have no business relationship with any company whose stock is mentioned in this article.