Introduction
The Gap, Inc. (NYSE:GPS) had a disappointing 2018 falling 22% from its high of $32.31 in September 2017. The stock has trended slightly upward with interludes of meteoric rise and fall. The interludes in question are the years 1996-2001 and 2011-2015. I reviewed their past annual reports to figure out how GPS went from a sole department store in San Francisco to a household name and back down to a struggling retailer. After reviewing their recent Q3 earnings, I utilized my analysis of their past filings to assemble a broad strategy that could set them on the path to another meteoric rise. Finally, I reinforced my investment thesis with a discounted cash flow valuation model.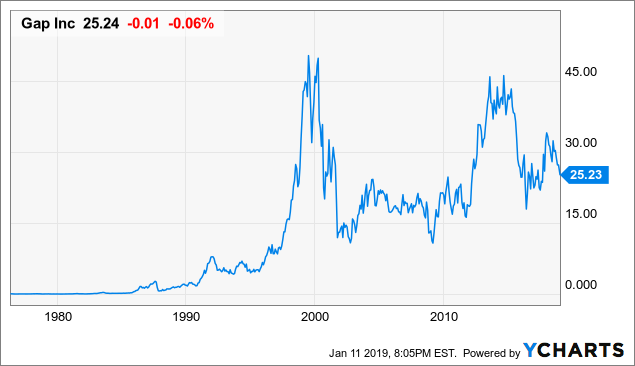 Investment Thesis
GPS has been stagnating after two meteoric rises over the last two decades. After analyzing their past filings to identify the sources of their successes and failures, I identified a few strategies that could set them on course for a third meteoric rise. Those strategies will be needed to justify GPS as a long-term investment because, without any changes in cash flow trajectory, my valuation currently points to a mere 20% upside.
Quarter in Review
GPS released mixed results for their FY18 Q3 back in November. Old Navy and Banana Republic came out on top again with 4% and 2% comparable sales growth for the quarter. During FY17's Q3, Old Navy saw 4% comp growth while Banana Republic was down 1%. Gap performed the worst, slowing down 7% as opposed to a 1% gain this time last year. Comps are expected to hover around 3% and flat or slightly up going into Q4.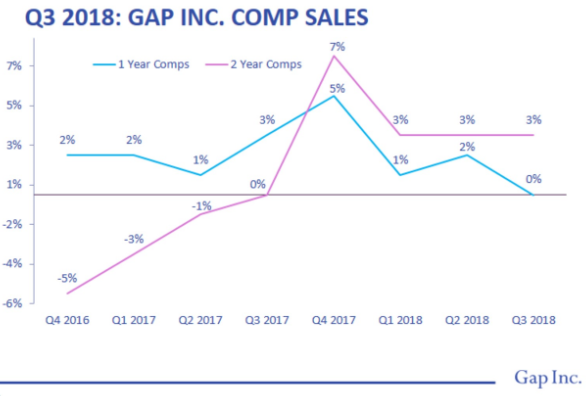 Source: Q3 Earnings Slides
During the Q3 earnings call, CEO Art Peck discussed GPS's highlights during the quarter. They are closely tracking consumer preferences in the $22 billion performance lifestyle space with the emergence of their Hill City brand. 95% of their Athleta brand comped positively, although this article from the New York Post implies that consumer preferences are shifting away from "athleisure" to more formal wear. Athleta should take notice and adapt their product offerings accordingly. Net sales were up 7%, continuing their strong turnaround trend since their trough in 2015. Comps also fared better GPS has also embraced e-commerce, generating 20% of revenues online.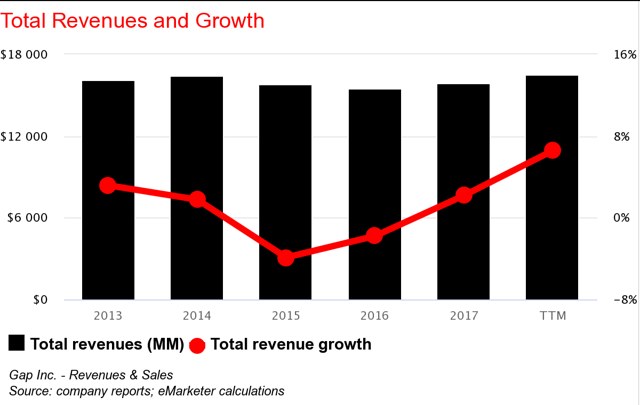 Source: eMarketer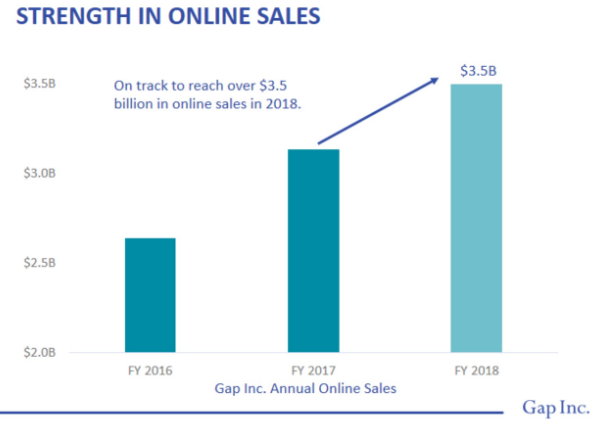 Source: Q3 Earnings Slides
GPS experienced a few shortcomings during Q3 with slowing traffic and squeezed margins. Management attributes slowing traffic to a usually cold and wet start to the winter season as well as assortment architecture issues at Gap. Management included an imbalanced top-to-bottom ratio and an aggressive 30% reduction in stock-keeping units within the scope of these assortment architecture issues. Gross margins were flat at 39.7% while operating margins fell 90 basis points to 8.9%. Merchandise margins declined, rent and occupancy margins improved, and shipping costs increased.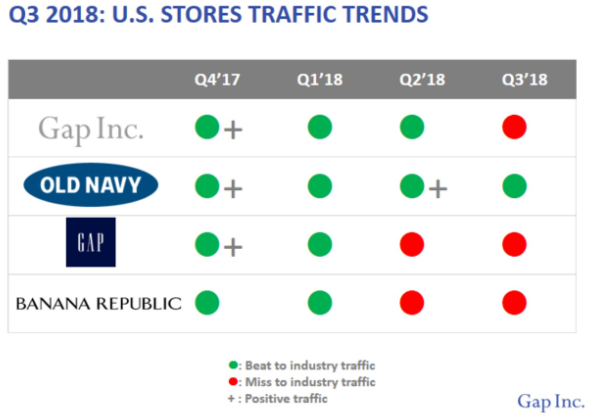 Source: Q3 Earnings Slides
The First Rise
GPS's first meteoric rise started in June 1996 at $10.37. By December 1999, the stock peaked at $48.31, a whopping 366% return over the course of three-and-a-half years. What did management do so well? I analyzed the strategies they outlined in their 1996 Annual Report to find out. The answer lies in management's flexibility, focus, the popularity of American style, and e-commerce.
Management was not one to stick with a sinking ship. Case in point, after sales-per-square-foot fell for three consecutive years, management abandoned its 6,000- and 7,000-square-foot Gap store format and experimented with smaller layouts that allowed them to penetrate niche markets with lower overhead. Sales-per-square-foot improved immediately from $425 in FY95 to $441 in FY96. Capital expenditures went towards a constant reinvestment in their stores, new openings, and distribution center construction that set them up for future sales growth.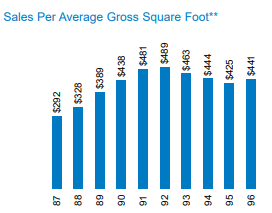 Source: 1996 Annual Report
Management was adamant about stating the identity of their brands, something that is lost on a majority of retailers today. In 1996, GPS had three brands: Banana Republic, Old Navy, and Gap. Banana Republic was branded as "casual but sophisticated lifestyle apparel" catering to a "sophisticated upscale market." Old Navy was the "category killer" replete with "lower-priced business" for the "mass apparel market." Old Navy had found its rhythm and was offering new merchandise every 4-6 weeks, 80% of which was priced below $25. Gap was "occupying [the] all-important middle segment" with an emphasis on apparel for children and babies. Management was quick to admit that they had taken on too many initiatives in pursuit of "greater ubiquity," but they had fixed the issue by decreasing offering variety to ameliorate margins.
1996 was incidentally a perfect year for GPS's product offerings. American Style had enormous global demand throughout the 1990s. For a company whose vision is "Sharing American Style Around the World," the stage was set for global expansion. In FY96, GPS opened 203 new stores, expanded 42, and only closed 30. This expansion continued to fuel impressive sales growth, with net sales growing 20.5% from FY95 to FY96 and at a shocking 10-year CAGR of 20%. The adage in their Annual Report rang true: "Nothing sells like American Style." The Gap advertisement below features one of their top-dollar items: denim.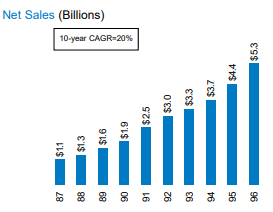 Source: 1996 Annual Report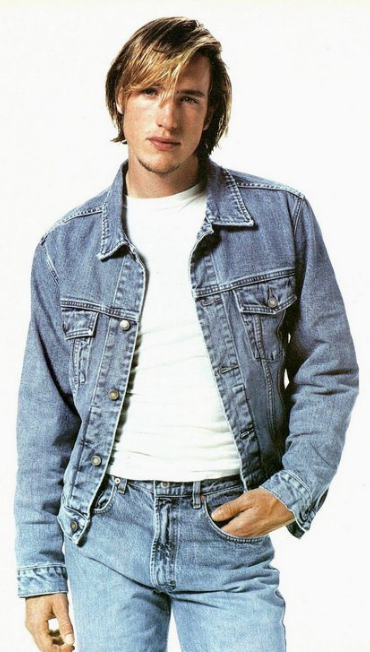 Source: Blogspot
Finally, GPS embraced the potential of e-commerce by opening up their company website in early 1996. That initiative positioned them ahead of retail's online learning curve and helped them generate billions of dollars in online sales before many of their competitors caught on. While their website did not play a significant role in their first meteoric rise, it would alleviate future pressures on their margins and contributed to their second meteoric rise.
The First Fall
As with many meteoric rises, management eventually loses their direction and exponential growth turns into exponential decay. From their December 1999 peak at $48.31, GPS fell 76% to $11.97 by December 2001. I combed through their 2001 Annual Report to find out what happened. GPS's failure could be boiled down to severe macroeconomic events, shifts in consumer tastes, and major inefficiencies.
The dotcom bubble finally burst in March 2000 that led online companies fueled by easy venture capital to fold as their financials did not match the Internet hype. Additionally, the September 11 attacks made investors recoil even further. By the recession's end in 2002, $5 trillion in market capitalization had disappeared into thin air. GPS was not immune to these macroeconomic tribulations, but their relatively sound financial footing saved them from any real danger of bankruptcy.
During the first two years of the 21st century, management was extremely hesitant on shifting away from their product offerings. Understandably so, after their wildly popular 1998 Khaki Swing commercial branded them as the vendor of light-colored, semi-formal clothes. As a result, management ignored the change in consumer tastes towards monochromatic casual wear, a process that started in early 2000. The Piper Jaffray graph below depicts retail's sales nosedive leading up to and after the dotcom bubble and subsequent shifts in consumer tastes.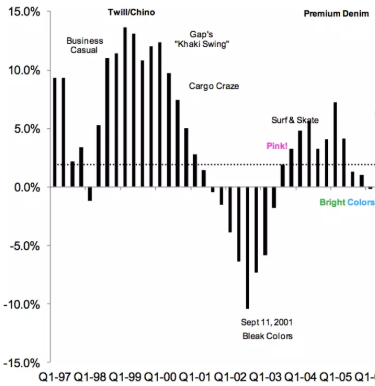 Source: Quartz
The inefficiencies created from management's refusal to track consumer tastes took a disastrous toll of GPS's financials. FY01 saw stagnant sales, while EBIT fell 83% year-over-year and net earnings fell 101%. Comps ended FY00 down 5% while FY01 saw them fall 13%. These disappointing results were driven mainly by "poor product acceptance by customers, particularly in the men's division." Poor product acceptance led to a greater percentage of GPS inventory sold at high discounts.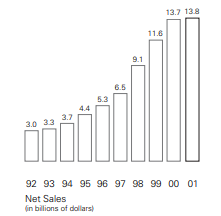 Source: 2001 Annual Report
GPS's practice of selling slow-moving inventory and broken assortments - items without a sufficient range of sizes - at steep discounts killed their margins. A 1.3% increase in net sales was accompanied by an 11% increase in cost of goods sold and occupancy expenses. In addition to steep discounts, the large size of GPS stores depressed their key sales-per-square-foot metric down to $394, a level not seen since the 80s. Management finally caught on and started canceling orders, but the $52 million canceled order charges contributed to an additional 0.4% decrease in FY01 merchandise margins.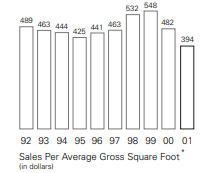 Source: 2001 Annual Report
The issues continued piling on as problems with GPS's accounting systems led to a $131 million tax audit settlement that brought tax rates up from 36.5% in FY00 to 103.2% in FY01. Without the tax charge, the effective tax rate for GPS would have been only 49%. By this point, GPS's cash flows were shot to the point that they had to increase their long-term debt levels by 151% from FY00 to $1.96 billion to bolster operations. Their short-term credit ratings fell out of investment grade and stuck them with a sizable interest expense that would not normalize until FY05. Needless to say, GPS's earnings in FY01 were relatively horrific.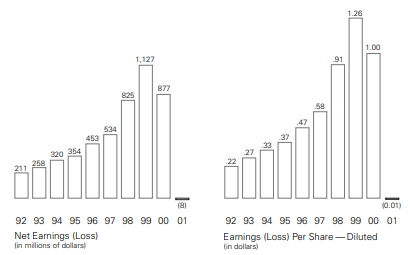 Source: 2001 Annual Report
The Second Rise
From FY01 on, GPS fluctuated for nearly a decade as it struggled to regain its brand's identity and get in sync with consumer trends. From December 2001 to December 2010, the stock increased 88% reflecting a substantial rebound from December's crash but significantly slower growth than previous years. Then came FY11 and flipped the slow and steady growth forecast on its head. From June 2011's price of $16.52, GPS soared 179% to June 2014's high of $46.15. An analysis of GPS's 2011 and 2012 Annual Reports reveals that their second rise is attributable management's focus, corporate strategies, and a clean balance sheet.
After gradually regaining their focus, management decided to embrace their stores' new "outlet" identity as opposed to faltering specialty stores. Consumers were looking to cheaper and larger warehouses for increased variety. Management began rebalancing their store fleet by adding more outlets and ramping up specialty store closures. Sales-per-square-feet jumped up to $364 in FY12 from $337 in FY11. Once again, they managed to refine their stores' identity without sacrificing the authenticity of their brands.
Management decided to hone in on promoting their brand. They shifted their energy towards reintroducing the Gap brands as household names through a widespread advertising campaign. In 2011, Old Navy signed a deal with the National Football League, Banana Republic partnered with AMC's Mad Men television series, and their 2008 acquisition Athleta came out with their first "Power to the She" promotion. GPS increased their advertising expense to $548 million, up 6.2% from $516 million in FY10. GPS continued to expand their brands' marketing platforms with a 19% increase in advertising expenditures in FY12 to $653 million.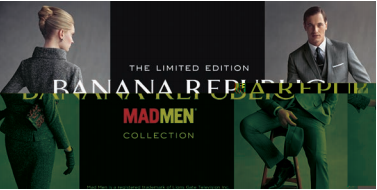 Source: 2011 Annual Report
Management won one for the shareholders when they authorized an enormous share repurchase program in FY10 and expanded upon it in FY11. GPS was among the first retailers to dedicate large portions of their cash flows towards purchasing their undervalued stock. After paying off all of their long-term debt in 2008, GPS remained debt-free until April 2011 when they issued $1.6 billion in long-term debt to buy back their stock at an average price of $18.88. Stock repurchases were $0.5, $2.0, and $2.1 billion in FY09, FY10, and FY11, respectively. In 2012, management followed up with an additional $1.0 billion share repurchase at an average price of $29.89.These repurchases served to buoy GPS's stock price and helped created upward momentum and investor confidence towards the tail end of 2011 and throughout 2012.
Throughout 2010 and 2011, management worked to create a solid base for GPS in terms of expansion. In 2012, management honed in on creating more efficiencies and their work came to fruition. They continued to harness the power of e-commerce, invested more in their flagship stores to position Gap in the public eye, and focused on their supply chain to speed up merchandise deliveries. The result? FY12 net sales rose to $15.7 billion, up 8% from FY11's $14.7 billion. Diluted earnings per share jumped 49% from $1.56 in FY11 to $2.33 in FY12. Comparable sales were up 5% in FY12. GPS generated $1.5 billion in online sales in 2011, set a $2 billion goal for online revenues by 2014, and continued to invest in their online product offerings until they hit $2.5 billion in online sales in 2014, smashing their goal by $500 million.
The Second Fall
In less than two years, GPS fell 61% from $46.15 in June 2014 to $17.99 in March 2016. An analysis of GPS's 2015 and 2016 Annual Reports revealed that misplaced focus and executive turnover had dragged the retailer back into the abyss.
After 2014's Annual Report, management stopped commenting on how they were reviewing their store fleet and outlays to define their stores' identity. Instead, descriptions of their brands were left up to the SEC's boilerplate requirements. Management has since been very quiet on whether they were thinking about revising their stores at all.
GPS also took their foot off the pedal when it came to advertising. From 2012 to 2015, money spent on advertising declined 11.5% to $578 million. 2016 saw only marginal improvements. Without the backing of advertisers and missing consumer trends, many of GPS's brands slipped from shoppers' minds.
The fatal blow struck when CEO Glenn Murphy, the seven-year chief who had guided them through their 2011 turnaround, retired in February 2015. Mr. Murphy had revitalized many of GPS's brands through strategic investments such as centralized dressing rooms and on-site stylists. When consumer preferences switched towards more colorful styles and floral patterns in late 2013, Mr. Murphy acted decisively to adjust product offerings accordingly. Upon news of his retirement, GPS shares immediately fell 8%.
A tumultuous two years ensued after GPS's high-flying years. FY16 net sales stood at $15.5 billion, down 5.6% from their FY14 highs and lower than FY12 levels. FY15's gross margins fell to 36.2% from FY12's high of 39.4% on merchandising inefficiencies and a strengthening dollar. FY16 saw a mere 0.1% improvement to 36.3%. FY15's operating margins fell to 9.6% and again in FY16 to 7.7%. Sales-per-square-foot fell from $365 in FY13 to $334 in FY16. FY15's comparable sales were down 4%, but FY16 did see a 2% improvement at -2%.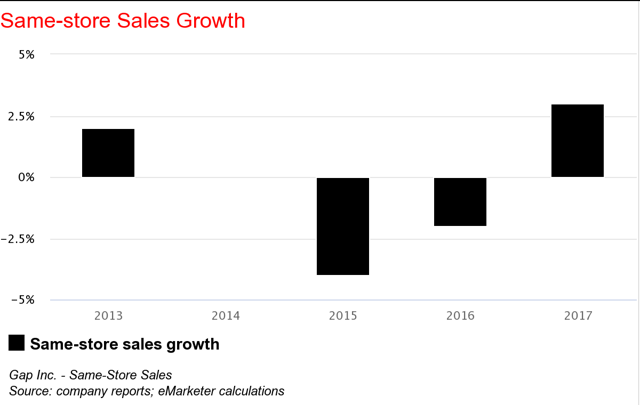 Source: eMarketer
Valuation
My DCF model assumes business as usual for GPS without any significant setbacks or upgrades in their financial position. I gave GPS three years of high growth at a 10.5% internal rate of return and a 2% terminal growth rate. I believe constant reinvestment in their stores, I calculated their -$5 million net debt using their most recent 10-Q's $958 million cash balance and $296 million in short-term investments subtracted from their $1,249 million long-term debt. TTM FCFF of $628 million, at an 8.96% WACC, yielded an intrinsic value of $30.26, or a 19.9% upside.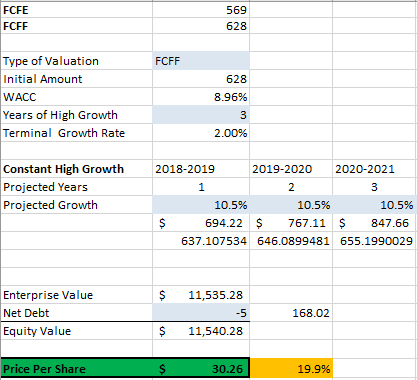 The sensitivity table below demonstrates the neutral outlook for GPS. Even slight misses on projected revenues or earnings imply significant downside for investors. At the same time, 15% growth and an 8% WACC is not outside the realm of possibility for GPS. A successful strategy could get them to $36.61 and beyond within a few years.

Source: Author's Calculations, Numbers from Morningstar
Looking Ahead
While the DCF model does not justify acquiring a significant stake in GPS as a long-term investment, I will be on the lookout to see whether management takes a page from their own annual reports to implement another turnaround. The general strategy I want to see is a focus on brand identity and capitalizing on sales trends.
Management's flexibility with adapting their store formats to better fit consumer tastes has been a key component of GPS's success. The degree of their success is easily measured by their sales-per-square-foot metric, which has been stagnant recently. Additionally, management's ability to define the identity of their individual brands in terms of merchandise offerings has been crucial in getting their inventory out the doors. While the argument could be made that steep discounts on slow-moving inventory stimulate sales, 75% markdowns certainly do not contribute to robust margins.
This article from Behavior Analytics Retail determined that GPS's exposure to malls may not be as detrimental as people think. Consumer preferences are shifting from traditional mall formats to lifestyle centers and the "store-in-a-store" concept has worked wonders for the big box stores that embraced it. Additionally, Piper Jaffray's Fall 2018 Survey revealed that consumer preferences are shifting back towards 1990s fashion and streetwear, indicating good tidings for GPS's current product offerings. Other important trends include a 46% uptick in shopping online and picking up in-store and the rising importance of omnichannel offerings. The strategies outlined above will help close the gap for The Gap.