When we first added Reata Pharmaceuticals (RETA) to our portfolio, it was trading in the $20s. At some point in the months thereafter, the stock hit $99, although it failed to break through the $100 ceiling. Currently, it trades at $72, and we wanted to explore whether the stock has any further upside. So we ran it through our four-factor test called IOMachine, a device to figure out investibility of biopharma stocks by analysing each specific indication where the company operates. Here we will focus on bardoxolone's trials in connective tissue disorder-related pulmonary arterial hypertension or CKD-PAH.
PAH is a lung disease which produces narrowed arteries in the lungs, forcing one side of the heart to pump more blood, leading to a number of serious and often fatal complications. 30% of PAH patients have narrowed arteries due to an underlying connective tissue disease like scleroderma or lupus erythematosus. According to experts:
"The exact pathophysiological process of PAH is yet to be determined, but is characterised by vascular remodelling within small-calibre pulmonary arteries resulting from endothelial injury, which in CTDs is probably caused by the systemic disease itself. The endothelial injury causes overproduction of mediators such as endothelin-1, angiotensin II and serotonin, leading to vasoconstriction and smooth-muscle cell proliferation, as well as decreased production of vasodilating mediators such as nitric oxide and prostacyclin."
CTD-PAH patients have a poorer survival rate than PAH patients in general. While there are various symptomatic treatments for PAH in general, there is no curative therapy, and there is no specific treatment addressing the difficulties of CTD. Bardoxolone is targeting this indication along with PAH standard of care.
Catalyst
RETA has two ongoing Phase 3 trials. The CATALYST trial for bardoxolone in CTD-PAH will be completed in June 2020. The CARDINAL trial for bardoxolone in Chronic Kidney Disease Caused by Alport Syndrome will be out by the end of 2019.
Previous trial data
The CATALYST trial is based on results from the LARIAT study, which is itself based on data from a previous failed study of bardoxolone in chronic kidney disease.
The LARIAT study enrolled 24 PAH patients in three dosage cohorts of 2.5mg, 5mg and 10mg of bardoxolone, out of which a total of 6 patients, 2 in 2.5mg, 3 in 5mg and 1 in 10mg cohorts had an etiology of CTD for their PAH. These patients were compared to a placebo group of 2 patients also with CTD-PAH.
Primary endpoint of the study was change in 6MWT (6-minute walk test) at 16 weeks from baseline, and safety and tolerability. The study does not appear to have provided detailed data specifically for CTD as far as we could see, but there's a brief sketch of the CTD-related data. In terms of efficacy, the company says that "Bardoxolone methyl-treated CTD patients (n=6) showed a numerical 6MWD increase relative to the overall group." For the walk test, there was "+30 m increase from baseline and +44 m placebo-corrected change."
This data is interesting because CTD patients are known to be more difficult to treat than other PAH patients, and their 6MWT tests usually produce poorer results ("Also, 6MWT results in CTD patients are in general lower than the score achieved by the general PAH population.")
Also important are the safety data, which says bardoxolone was generally safe and well-tolerated, there were no treatment-related SAEs and few discontinuations. Specifically, for higher grade advanced CTD patients, no signs or symptoms of fluid retention was seen. There have been reports of massive pulmonary edema caused by such fluid retention in PAH-specific SoCs like prostaglandin. Since these drug infusions form a mainstay of current PAH treatment, it is interesting to see no such fluid retention in the PAH data here. Nausea was the only dose-related AE.
Execution
The company is well-funded, with a market cap of $2.1B, a cash balance of $379.8M as of the September quarter, and operating expenses of roughly $30M. So, cash is not a problem, and there's no real risk of dilution.
Here's a chart showing recent insider buy/sells.

As we see here, there's been a lot of recent insider purchases, and the few sales are almost all of them option exercise. So insiders seem to be bullish about their own company, which is always a good sign.
Here's a quick snapshot of fund ownership, which also shows smart money is in line with insider buying: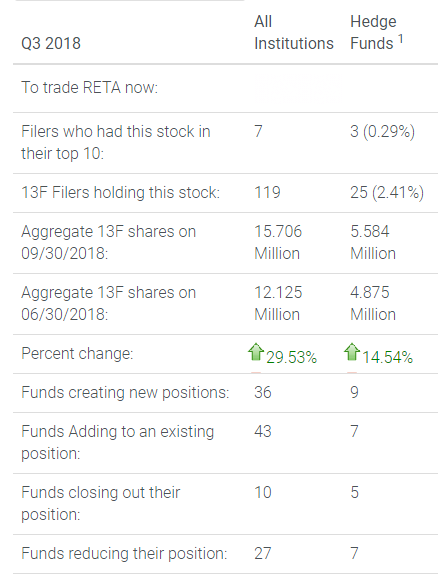 Competition
Selexipag (UPTRAVI) from Actelion Pharma is approved for PAH and has been studied for CTD-PAH specific efficacy. It has been shown to have clinical efficacy in CTD-PAH. Other PAH-specific drugs like macitentan (SERAPHIN trial) and ambrisentan and tadalafil (AMBITION trial) have also been studied in treating CTD-PAH, with good results. Such combination studies have also shown that the generally held idea that CTD-PAH patients exhibit worse prognosis than other PAH patients after treatment may not be true any longer.
The USP of bardoxolone, according to Reata, are the following:
Directly improves mitochondrial function and energy production in skeletal muscle cells.

Does not influence systemic hemodynamics.
The LARIAT study also showed how bardoxolone is able to increase eGFR in a large percentage of subjects through a long duration. Bardoxolone is at the forefront of a number of pipeline drugs targeting PAH and specifically CTD-PAH.
Upside prospects and opinion
PAH is a $6bn market. 40% of PAH patients present with CTD etiology. That makes CTD-PAH a $2.4bn market. Taking into consideration existing PAH therapies that will be used by patients in CTD-PAH, and the upcoming pipeline drugs and so on, we can conservatively assume a 20% market penetration at peak for bardoxolone in CTD-PAH alone. Composition of matter patents for bardoxolone expire 2029, so, given a 2021 approval, they have roughly 8 years in the market. So, they might make around $3bn from the drug over its lifetime, given a simple back of the envelope calculation. Moreover, there are 2 other pivotal trials ongoing for bardoxolone. Given everything together, we think that, at $2.1bn in market cap, there is room for further upside in the next one year.
This idea was discussed in more in-depth with our subscribers. That means, long before the catalyst became news, Total Pharma Tracker members knew why they should buy or sell it. We
discussed the catalyst,

ran the stock through our IOMachine,

gave them price targets, and

guided our members as the stock went through its pre-catalyst phase.
What you are getting now is after the story is done.
To get these ideas before others, subscribe to Total Pharma Tracker. That may mean the difference between making 5% by buying today or making 50% by buying early.
Disclosure: I/we have no positions in any stocks mentioned, and no plans to initiate any positions within the next 72 hours. I wrote this article myself, and it expresses my own opinions. I am not receiving compensation for it (other than from Seeking Alpha). I have no business relationship with any company whose stock is mentioned in this article.