The S&P 500 (SPY) has rallied close to 10% since making a near-term trough around 2,350. Is it all going to be fine and dandy then?
Far from it. To the contrary, we are about to go through a battlefield of macroeconomic catalysts that could see volatility remain at elevated levels for the rest of Q1'2019.
Chart: S&P 500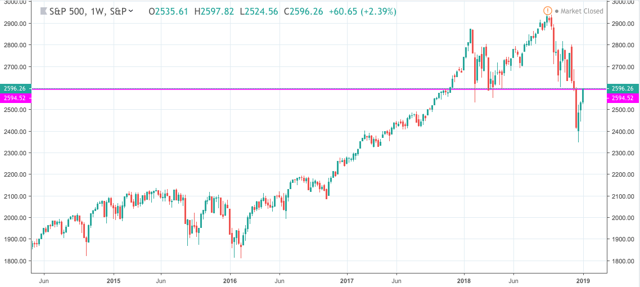 Source: Tradingview.com
For appetisers, we have a key Brexit parliamentary vote on 15th January. Theresa May is expected to do her best to convince fellow parliamentary members to vote for her Brexit deal. It would not be an exaggeration to say that a rejection of her deal would equate to a very hard landing for the UK, given that they are expected to leave the European Union by the end of March. A hard Brexit is likely to inject fresh volatility and uncertainty back into the equity markets, especially for European markets.
Already, the vote is shaping up to be a rejection for May's Brexit deal, which May has stated would be "a catastrophic and unforgivable breach of trust in our democracy.
Next up for the main course, referring to my S&P 500 chart above, you will notice that the index is testing the breakout level of 2,600. This was the crucial level that gave way under the selling pressure, as it represents the neckline of a potential bearish double top formation. If the S&P 500 fails to break back above this level, prices will likely reverse and turn lower again.
Next week sees the start of the US earnings season, which will give more clarity on the state of the economy. Already leading up to this blockbuster of an earnings season, we have seen Apple (AAPL) cut its revenue forecast, warning of slowing sales in China. Subsequently, shares of economy bellwether companies like Boeing (BA) and Caterpillar (CAT) slid as investors fretted about a slowing global economy.
Technically, the S&P 500 is trading at an absolutely crucial inflection point. A strong earnings season might help it break higher, while a disappointing one could see the index trade lower from here, therefore confirming 2,600 as a resistance level.
Lastly for desserts, have the markets already priced in a high probability that US-China trade talks will be a success?
US and China appear to be warming to each other this year, which is a stark contrast to the cold turkey of a relationship served up in 2018. Already, both sides seem to be having productive trade talks, with mid-level talks just recently concluded on a good note in Beijing last week. Xi Jinping's top economic adviser Liu He will reportedly meet with the Trump administration for higher-level talks at the end of January.
Arguably, the approximately 3.5% rally in the S&P 500 on a year-to-date basis and 10% rally from the trough of 2,350 have been due to conciliatory US-China talks hitting the headlines, helped on by optimistic tweets by Trump himself of course. Most recently, he tweeted that there was "big progress" in the trade talks, which the equity markets have responded to in kind.
As such, my view is that the markets have already priced in a relatively high probability of a warming US-China relationship, and now any disappointments or setbacks will likely spring a negative surprise on the markets.
To round off my article, my view is that the equity markets have rallied a nice 10% from the trough of 2,350 largely on positive US-China trade talks, to the extent that any setbacks on this issue will likely lead to an equity market sell-off. We are also approaching a minefield of macro events including UK's Brexit parliamentary vote and the US earnings season - both which are flashing danger signs and could re-inject volatility into the equity markets. Investors should take the opportunity to lighten up on equity positions on the recent rally, especially as the S&P 500 is trading close to a crucial technical inflection point where the index could move lower from here.
Disclosure: I/we have no positions in any stocks mentioned, and no plans to initiate any positions within the next 72 hours. I wrote this article myself, and it expresses my own opinions. I am not receiving compensation for it (other than from Seeking Alpha). I have no business relationship with any company whose stock is mentioned in this article.