"A politician's mouth will always be bigger than their brain, but not as big as their self importance." - Anthony T. Hincks
The market had its third straight week of gains as equities continue to put a horrid end to 2018 behind them. Last week, both the Dow and the S&P 500 were up approximately two and a half percent.

High beta parts of the market performed even better with the Russell 2000 up 4.8% on the week. Biotech continued to rally off oversold levels in 2019. The sector was helped by all the presentations given at the big JP Morgan Healthcare conference in San Francisco last week.
For a good recap on some of the presentations at this conference on NASH, as well as important NASH trial milestones in 2019, click here for this solid summary.
So can biotech continue to rally in the coming week? We shall see. Here are two small caps I will be watching early this week.
Aratana Therapeutics (PETX) was one of the weakest stocks in the market on Friday, falling over 25% on the day. The direct cause was a downgrade from Stifel Nicolaus which withdrew its Buy rating and reduced its price target from $8 to $5. Ironically this came from the same analyst that just reiterated his Buy rating on Aratana two months. He cited a disappointing sales potential for recently approved Entyce as one of the core reasons. In addition, the company's COO left Aratana at the end of 2018 and Engaged Capital had cut its stake in half.

This shows that the biotech space can have as much consistency and logic on a daily basis as a schizophrenic with a meth problem. The previous Friday the shares were up double digits after hours on buyout rumors that obviously didn't materialize this past week. A lot of this daily action is due to algorithmic driven computer programs that can drive 80% of trading volume on any given day.
I personally think the slide in PETX was a substantial overreaction by the market. I would be more concerned if the CEO or CFO left the company, and turnover in the C-suite is hardly unusual in the small cap space. There is also no heavy insider selling in the stock. The company ended the third quarter with approximately $55 million in cash on hand and gets a $15 million milestone payment this quarter from a sales milestone payment from Elanco around Galliprant. So the company's financial position is solid there. I think the stock will claw back some of losses next week and then hopefully Q4 results in two weeks helps reassures investors that company still on course. I added some exposure to Aratana late Friday via a buy-write option order.
Going in the opposite direction last week was Exelixis (EXEL) which continued its recent rally.

Today, the FDA is scheduled to approve its emerging blockbuster drug Cabometyx for Advanced hepatocellular cancer or HCC. The drug has already been approved for first-line renal cell carcinoma or RCC as well as Metastatic renal cell cancer. Cabometyx is in several trials for other indications as well.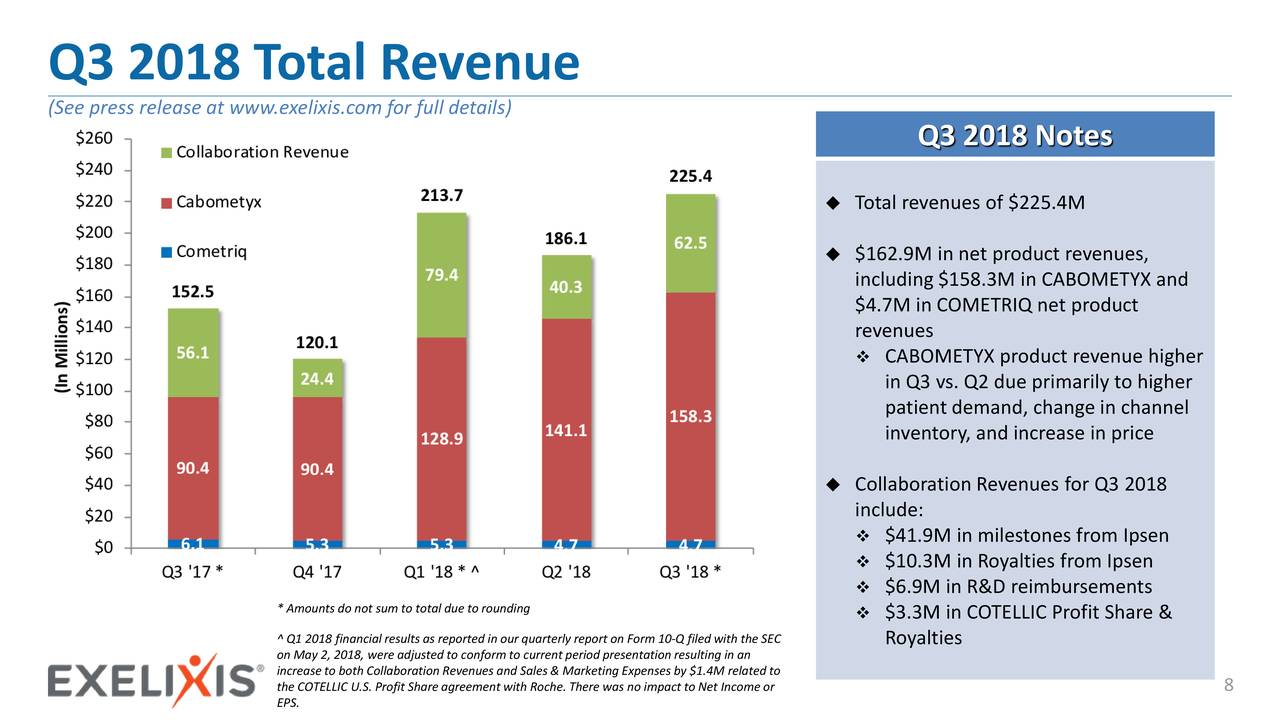 Source: Earnings Call Slides
Cabometyx powered a very strong third quarter where the company easily beat on both top and bottom line expectations as overall revenues grew nearly 70% on a year-over-over basis. We made EXEL one of our top five small caps to watch in the New Year in our recently published 2019 outlook that went out exclusively to Biotech Forum members last Wednesday. We like Exelixis as a stand-alone entity, but given the recent uptick in M&A within the oncology space (Celgene (CELG), Tesoro (TSRO), Loxo Oncology (LOXO)), the company makes a logical takeout target as well given the growth of Cabometyx and its market cap of approximately $7 billion.
Elsewhere in biotech this week, Sotagliflozin had an Ad Comm Panel meeting Thursday for treating Type 1 diabetes. This could affect the sentiment on Lexicon Pharmaceuticals (LXRX) which is working with Sanofi (SNY) to commercialize sotagliflozin.
While there aren't any big events like JPM's big shindig last week, the ASCO Gastrointestinal Cancers Symposium does kick off down the road in San Diego late in the week. Tyme Technologies (TYME), Tracon Pharmaceuticals (TCON) and Five Prime Therapeutics (FPRX) among myriad concerns scheduled to present data from early to mid-stage trials. ASLAN Pharmaceuticals (ASLN) is also scheduled to present, but the company just announced that its Phase 2 effort targeting HER1/HER2-positive advanced/metastatic gastric cancer failed to hit its primary endpoint.
And those are some events I have on my "watch item" calendar in the week ahead in biotech.
"Monarchs are made on the backs of indolent men who would rather bow their heads for their daily bread than save the starving men beside them." - Michelle Franklin
Bret Jensen is the Founder of and authors articles for The Biotech Forum,Busted IPO Forum and The Insiders Forum
Disclosure: I am/we are long CELG,EXEL,LXRX,PETX,TCON. I wrote this article myself, and it expresses my own opinions. I am not receiving compensation for it (other than from Seeking Alpha). I have no business relationship with any company whose stock is mentioned in this article.
Editor's Note: This article covers one or more microcap stocks. Please be aware of the risks associated with these stocks.