As we near retirement, as I am, it makes sense to batten down the hatches on our investments and to 1) protect our capital, and 2) generate income.
Maybe ten years prior to retirement, numbers 1&2 above may well be reversed as we are willing to take on more risk to build our nest egg. But once we leave the workforce and no longer have the income stream associated with a full-time job, it becomes necessary to reorder our priorities.
In an upcoming article, I will discuss in detail Harry Browne's Permanent Portfolio for Fail-Safe Investing. In this article however, I will detail the acquisition and management of the more complex of the portfolio asset elements, gold bullion.
In a nutshell, Browne's permanent portfolio is constructed as follows: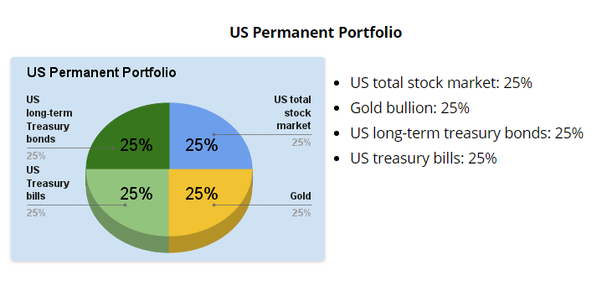 Image Source: bogleheads.org
25% in U.S. stocks, to provide a strong return during times of prosperity. For this portion of the portfolio, Browne recommends a basic S&P 500 index fund such as VFINX (Vanguard 500 Index) or FSMKX (Fidelity Spartan 500 Index).
25% in long-term U.S. Treasury bonds, which do well during prosperity and during deflation (but which do poorly during other economic cycles).
25% in cash in order to hedge against periods of "tight money" or recession. In this case, "cash" means U.S. Treasury bills.
25% in precious metals in order to provide protection during periods of inflation. Browne recommends gold bullion coins.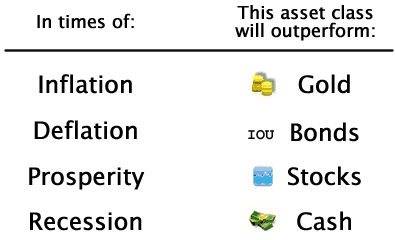 But why physical gold and not an ETF?
There are several well known gold ETFs: iShares Gold Trust (IAU), SPDR Gold Trust (GLD), and Physical Swiss Gold Shares (SGOL). But all of these have nontrivial expense ratios.
A helpful illustration of these expenses would be if you owned say $1 million of GLD. Your annual fees would be a $4,000, ($2,500 for IAU.) In 30 years the fees paid to iShares would be a whopping $120,000.
In addition, and in the case of IAU, the fund will sell "your" gold to pay the sponsor's fee and trust expenses. Also true for GLD1, and SGOL2
The amount of gold represented by shares of the Trust will decrease over the life of the Trust due to sales of gold necessary to pay the sponsor's fee and trust expenses. Without increases in the price of gold sufficient to compensate for that decrease, the price of the shares will also decline, and investors will lose money on their investment. (emphasis added.)
Source: blackrock.com, ishares.com
As an individual investor, you are unlikely to ever be able to take possession of the gold behind your ETF shares.
The Trust intends to issue Shares on a continuous basis. The Trust issues and redeems Shares only in blocks of 50,000 or integral multiples thereof. A block of 50,000 Shares is called a "Basket." These transactions take place in exchange for gold. Only registered broker-dealers that become authorized participants by entering into a contract with the Sponsor and the Trustee ("Authorized Participants") may purchase or redeem Baskets. Shares will be offered to the public from time to time at prices that will reflect the price of gold and the trading price of the Shares on NYSE Arca at the time of the offer. (emphasis added.)
Source: ishares.com
Physical gold on the other hand, and in the way I explain here, has no such fees. No selling of your gold to pay expenses, no such administrative nonsense. And you can not only cash out in kind (take physical possession of your gold,) but also schedule a time with the depository see your gold and hold it in your hot little hands!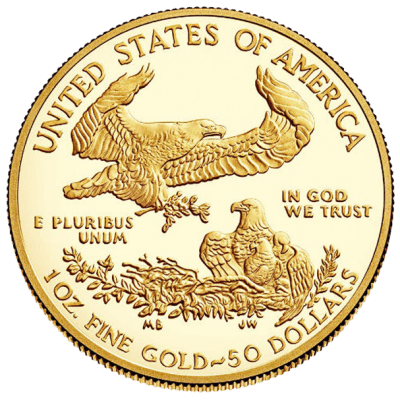 The gold coins or bars you buy are the exact same coins or bars you will see at the depository, and are the exact same coins or bars delivered to you on request.
The mechanics of funding your IRA with gold bullion
There are three components to creating an IRA containing gold bullion.
The broker of record.
The Trustee.
The physical gold depository.
I chose the PATRIOT GOLD GROUP because of their high standing with Consumer Affairs and no fees for life on qualifying IRAs.
To get started, you will call the Patriot Gold Group to fill out an application. You can also open your IRA online. You'll need a minimum $15,000 investment to open an account. You can then rollover your existing IRA, ROTH IRA or 401K. You can even rollover your 401K if you are still working if you are 59 ½ or older.
In order to get the no fees for life treatment, you will need to deposit $100k or more. I confirmed with a senior advisor/owner that you will continue to get this treatment even if the value of your investment dips below $100K.
After funding your IRA with cash, it's time to go shopping for IRA approved gold. Not all precious metals products are approved for an IRA. You will want to be extra careful when making an IRA contribution, as non-approved metals will be rejected by the depository. To qualify as an IRA-approved product, precious metals must meet minimum fineness levels mentioned here.
Any products falling outside of these ranges, excluding American Gold Eagles, are not approved for IRA contributions. Examples of non-approved precious metals products include pre-1933 gold, gold Krugerrands, and 90% US silver coins.
Fortunately, Patriot Gold Group, our broker of record, lists all IRA approved gold in section devoted to this purpose.
I recommend avoiding any gold coins that have commemorative or other premium value associated with them like being "proof", or "uncirculated", or a particular year. These coins are harder to sell if you want to recover the premium. The (BU) designation means bullion, and bullion has no commemorative or other associated premium. So when it comes time to sell, you will be selling for "melt-value", or basically gold's spot price. Cheapest gold to buy, easiest to sell.
So your IRA is now funded with gold bullion. But is it safe?
Before investing any money, I looked up the depository facility, Delaware Depository. I watched the videos, called to speak to them personally, and even viewed the area via Google Maps.
What I learned was impressive. 21 inch thick reinforced concrete walls, Hamilton level III vaults, dual custody on all asset and records access, redundant power generation, redundant communications systems, redundant, secure offline storage of all asset records, and personnel metal profile scanning (do they have a gun or a pocket full of coins.) Etc., etc.
Source: delawaredepository.com
When I spoke to the folks at Patriot, they assured me that I owned the gold on deposit over at the Delaware Depository. I decided to ask the folks at Delaware Depository this question directly. The woman I spoke to asked who my custodian was, I told her it was Equity Institutional. She then confirmed for me that the gold on deposit would be tagged as being assets of Equity Institutional FBO (for the benefit of) "my name". I then asked her about coming to visit my gold and she said that all I would need to do would be to schedule an appointment at Delaware Depository through Equity Institutional.
What about insurance?
To supplement its experience and security, Delaware Depository maintains $1,000,000,000.00 in all-risk, precious metals storage insurance through Lloyd's of London. There is no such insurance with the ETF's mentioned above.
Who is Equity Institutional, and what is there role?
Equity Institutional is #2 from our bullet list midway through this article. Equity Institutional acts as the custodian for our newly created IRA. Equity Institutional will send you statements and provide the online access to your account where you can view your holdings, value, reports, etc.
If my account is free of fees for life, who is paying Delaware Depository to store my gold?
Yeah, this was my question. So I asked!
Delaware Depository bills Equity Institutional, and Equity Institutional bills you the customer if your deposit was less than $100K, or bills Patriot Gold Group if you made a $100K deposit (purchase of gold) or more.
When buying your gold, it's good to know the Patriot Gold Group has competitive prices. The way it works is that you pay a small markup on the gold bullion, something like $55 per ounce or about 4.23%. Patriot then pays Equity Institutional from the aggregate pool of fees collected from gold sales.
Fortunately, there is no fee associated with the liquidation of gold, for say, an IRA required minimum withdrawal. You get spot price locked in from the time you make the call. They contact Delaware Depository, Delaware Depository has the gold to be liquidated assayed, and after that, it is sold and you are cut a check. You will, however, need to pay for shipping and insurance if you require your physical bullion coins/bars to be delivered to you.
Summary:
It may feel complicated, but that's because I shared with you all of the gory, details. In practice, it's much simpler.
You create your IRA account with Patriot Gold Group, rollover an existing IRA, select your gold, and you're off to the races. You'll be contacted by Equity Institutional with account/login details.
I'll be updating two of my three portfolios to include gold bullion. One will be Harry Browne's Permanent Portfolio, and the other will be my attempt at an optimized version of this strategy. I will be writing all this up in a future article.
If you enjoyed this article and would like to be notified when I publish again, please click "Follow" next to my name.
Disclosure: I/we have no positions in any stocks mentioned, and no plans to initiate any positions within the next 72 hours. I wrote this article myself, and it expresses my own opinions. I am not receiving compensation for it (other than from Seeking Alpha). I have no business relationship with any company whose stock is mentioned in this article.