Editor's note: Seeking Alpha is proud to welcome Zach Ott as a new contributor. It's easy to become a Seeking Alpha contributor and earn money for your best investment ideas. Active contributors also get free access to the SA PRO archive. Click here to find out more »
Investing in gold has historically been a successful hedge against extreme events. There are two current and one future event that could push up the price of gold in the short term. The two current events are the trade war with China and the current government shutdown. Both are having a negative effect on the economy, as well as current and future earnings.
The future event is the coming release of Robert Mueller's report, maybe as soon as February, which could add another element of uncertainty and potential turmoil to the markets. I believe that two countries publicly connected to the investigation, are preparing for this future chaos by purchasing gold in advance of this report. Investors should consider hedging their portfolio with a position in gold, because of these risks.
Why Invest in Gold Now?
Gold has a long history of being a hedge against instability and panic. According to CNBC's Jim Cramer, investors concerned about the Trade War and the Fed's direction on interest rates, should "take a stake in gold here." If the post-2008 spot gold price chart at the end of this article isn't convincing enough, it is known that holding gold in times of extreme events and uncertainty can significantly mitigate the potential for wealth to be eroded by extreme events.
Two investment options are a gold ETF or holding physical gold. My personal investment choice has been SPDR Gold Trust ETF (GLD) and iShares Gold Trust ETF (IAU). A gold ETF gives yourself the ability to generate wealth during potential chaos, based on an increasing gold price, while keeping the flexibility to sell your position quickly and take advantage of falling equity prices. Holdings of either physical gold or a gold ETF, should see price appreciation during periods of market instability.
America in Chaos
The first ongoing event causing panic for many Americans, is the government shutdown. The shutdown will begin to effect consumer spending and potentially the U.S. credit rating, especially if the shutdown becomes a preview to a future impasse on the debt ceiling. Fitch put out a warning on January 9th that a continued shutdown could put the U.S. AAA rating in jeopardy. According to The Washington Post, there are over 800,000 federal workers across all 50 states that are affected by the government shutdown. The impact of their missing paychecks should hit Q1 earnings for many companies relying on consumer spending. I expect company CEOs to cite the shutdown, as a reason for future downside earnings revisions.
The trade war with China is already affecting Q1 earnings. Look no further than Apple (AAPL), whose CEO Tim Cook cited the trade war with China as a reason to lower Q1 guidance. My expectation is that we will continue to see companies cite the trade war as a reason for lower earnings and downside earnings revisions in the near future. The damage caused to the Chinese economy by the trade war could be pushing their government to increase their gold purchases, creating increased demand for gold. The near-term instability caused by the trade war and effect on earnings, likely already had a negative impact on the equity markets in the last 3 months. In that same period, the price of spot gold has been steadily rising.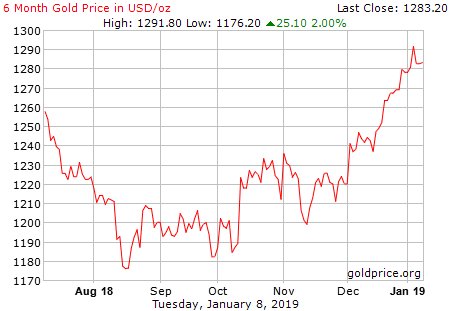 Source: Spot gold price chart from goldprice.org
Hedge Prior to Mueller's Report
The expected release of Mueller's first report has the potential to create national and global uncertainty. If you have followed the public facts of this inquiry, there can be little certainty that the president and his closest family members are not in legal jeopardy. A hedge in gold could prove prudent, if there turns out to be evidence of conspiracy with foreign adversaries. At a minimum, this will bring a period of unrest and instability. This will likely push down the price of the equities market and increase demand for gold. It is important to consider the potential effects on the financial markets, if this report turns out to be truly damning.
Let's go over a couple of examples why the release of Mueller's report and future indictments have a high likelihood to create panic in the financial markets. According to Malcolm Nance, counterterrorism and intelligence consultant and author of the book The Plot to Destroy Democracy, the President is a witting asset for the Russian Government. What happens to a drafted new NAFTA agreement, spearheaded by a president that is proven to be working for a foreign government and potentially on the verge of impeachment, prior to indictment? If the president is accused of working in the interest of foreign countries, he is breaking his oath to work for U.S. interests. When this comes to light, it increases the likelihood that this pending agreement would be torn up or renegotiated. Any model analyzing future earnings based on this potential agreement would need to be thrown out.
What about the geopolitical uncertainty that could be caused by this report? Let's take cooperating witness and former National Security Advisor Michael Flynn's case as an example, since he has a known connection to Turkey. What happens to the post-WWII alliance system, if Mueller accuses our Nato ally Turkey, with the second largest army in Nato, of being involved in a plot to subvert an American election for their own interests? If the U.S. pulls out of a Russian-controlled Syria and Mueller makes this accusation to our ally on the northern border of Syria, there could be a legitimate fear that we will not only lose our foothold on a section of the Middle East, but also hand it to foreign adversaries. The accusation could cause a complete deterioration of the U.S. relationship with the Turkish government. This could create short to long-term fears of war against countries with legitimate armies and has the potential to push investors into a flight for safety out of equities, and into gold, until the geopolitical crisis is clarified.
The Russian and Turkish central banks are also increasing their position in gold. Both countries have increased their gold positions to near-term record amounts. The government of Russia even changed the policy of their National Wealth Fund in order to increase their gold holdings. If a conspiracy with the president did occur, both countries would be in a unique position to prepare for the effects of Mueller's report, allocating their assets in a way that would benefit them most in a period of global uncertainty. I find it telling that both countries are currently allocating their assets to prepare for global panic ahead of the release of Mueller's report.
The Time Is Now for a Gold Hedge
The price of gold has been range-bound throughout the last four years. The 10-year price chart below shows how high the price of gold went after the global financial crisis in 2008. There is a historic precedent for a gold price above $1,500/ounce, in times of high uncertainty. That is likely the time period we have entered in the last few months and I expect uncertainty to increase for the reasons stated above. The trade war will continue to have a negative effect on company earnings and both countries lose until an agreement is reached. The government shutdown and potential debt ceiling impasse, could have a negative effect on our credit rating and on consumer spending.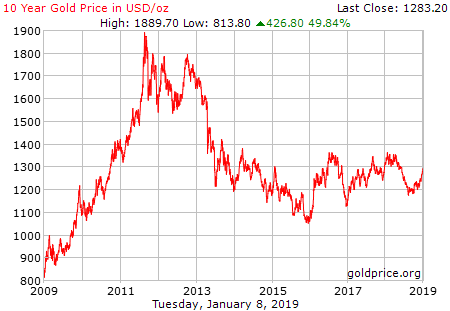 Source: Spot gold price chart from goldprice.org
Lastly, I am concerned that the public is not connecting the release of Mueller's report to the financial markets and the potential uncertainty that will come with its release. Two countries already publicly connected to the conspiracy, are preparing for future chaos through purchases of gold by their respective central banks. Investors might be blindsided if they don't hedge with gold positions in a similar fashion prior to future indictments and the report's release.