The latest Wall Street consensus forecast for S&P 500 earnings per share is $174, according to Yardeni Research. The S&P 500 stock index is selling at 15 times that estimate. That's a perfectly reasonable multiple in this era of low interest rates and with a Federal Reserve committed to keeping interest rates low, as I discussed in my last macro piece ("Ignore The Fed"). Can Corporate America deliver on that $174 EPS, or at least get pretty close? I believe it can, based on the following analysis of corporate profit margins. I analyze profit margins, not sales, because they are the critical component of bottom line earnings.
Corporate America's amazing profit margins
Check out this chart, which measures corporate after-tax profits as a share of national income (akin to GDP):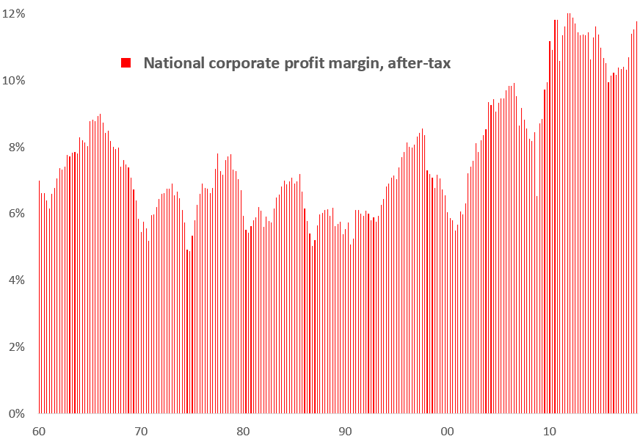 Source: Bureau of Economic Analysis
The chart shows that corporate profit margins are near their all-time high, which was set only a few years ago and which is part of a secular rise over the past three decades. We are truly in a Golden Age of business profits, an overlooked story in the past decade's bull market. Can it continue? The only way to intelligently answer that question is to understand how we got here in the first place.
I believe the profit margin boom has largely been a function of three factors:
Business has been winning its war with labor.
Managements have become much more disciplined about delivering earnings.
Tax rates have steadily declined, obviously for 2018 in particular.
Let's drill down into each of the factors.
Business has been winning its war with labor
National income looks at the size of the US economy through the lens of its recipients, namely employees, business proprietorships and corporations. Here's how employees and corporations have shared national income since 1980: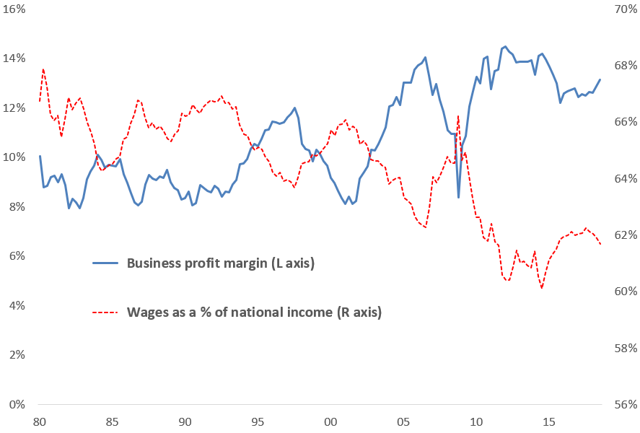 Source: Bureau of Economic Analysis
As makes logical sense when you think about it, they move in opposite directions. And since 1990, the direction has been up for corporations and down for employees. Which you actually knew, right? The next question, then, is why this path? Again, you probably can guess. Businesses have been able to replace relatively expensive American workers with machinery and software, and also with cheaper overseas workers: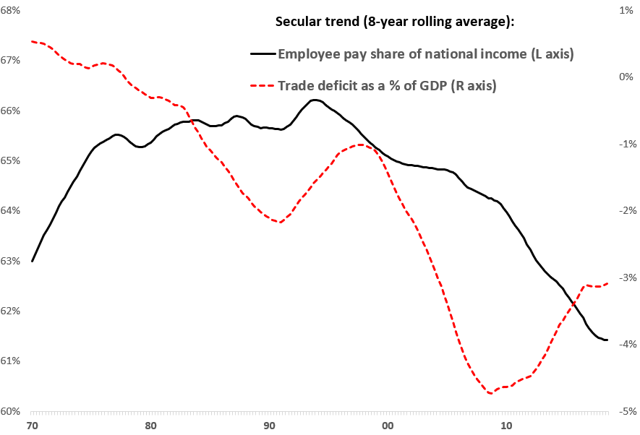 Source: Bureau of Economic Analysis
Managements have become much more disciplined about delivering earnings
Those suits understand the game - if their company earns more, they get paid more. And if they don't get it, increasingly there is a private equity firm or activist fund manager to remind them. It was no coincidence that the movie Wall Street, with Gordon Gekko's stirring calls to arms - "Greed is good" and "Money never sleeps, pal" - was made in 1987, just three years before the profit margin boom began.
A critical strategy for maximizing profits is to reduce competition. While competition is great for the customer, it stinks for earnings. How to reduce competition? Mergers among industry players is one tactic. Another is industry-wide discipline on capacity expansion. Both tactics are evident across a wide swath of American industries.
One example of reduced competition that I am intimately familiar with (and probably so are you) is the airline industry. Check out this chart showing the percent of available seats occupied: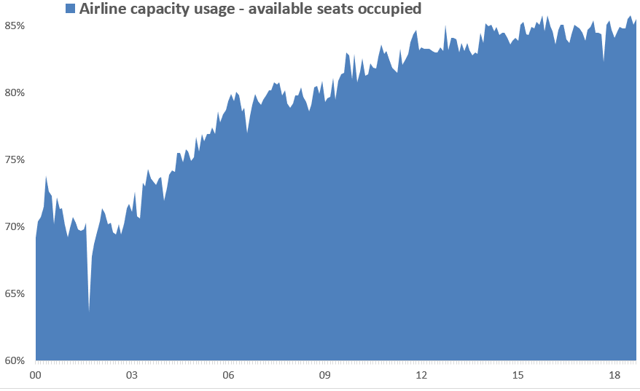 Source: Bureau of Transportation Statistics
The airline industry was plagued by excess capacity at the turn of this century, setting off a wave of bankruptcies. But that crisis led to consolidation that resulted in just four dominant domestic airlines by 2010, as well as two inches of legroom on your last flight. Since then, industry profits have soared. Investors still don't believe this stability will last (American Airlines (AAL) is selling at an absurd 5.4 multiple of this year's expected EPS). But that's another story I'll tell down the road.
Another tactic for limiting competition is to expand conservatively. The airlines improved their capacity usage by restraining the growth of their fleets. While there are exceptions, Corporate America as a whole has done the same, as this chart shows: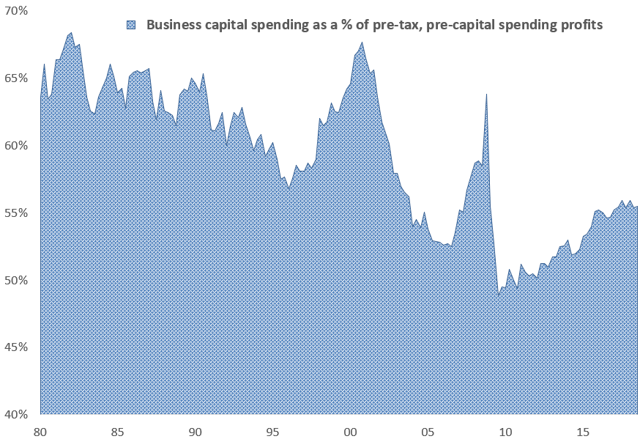 Source: Bureau of Economic Analysis
Yes, companies got carried away during the internet and housing bubbles, but only temporarily; their restraint over the past decade has been remarkable.
One final sign of discipline is the use of capital. So far in my story, we have companies earning record profit margins and not spending it on profitless expansion. What are they doing with the extra earnings? This chart shows you: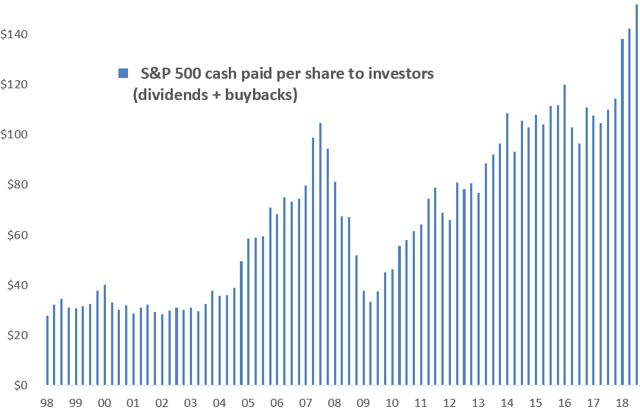 Source: Standard & Poor's
Companies are steadily returning their extra profits back to investors, through both dividends and share buybacks. The chart shows that cash being returned to shareholders increased by nearly five-fold over the past two decades! Pretty amazing.
Tax rates have steadily declined, obviously for 2018 in particular
This picture certainly tells the story: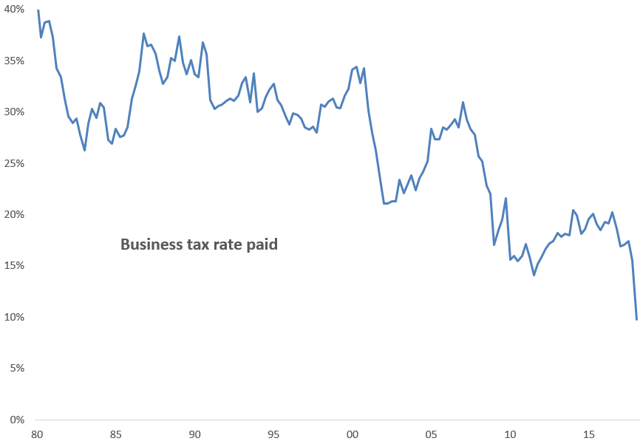 Source: Bureau of Economic Analysis
Another fun way to analyze corporate taxes is to measure them as a share of national income (remember, a version of GDP). Back in the '50s that ratio was 5%. By the '80s and 90s, it was down to 3%. Last year? A measly 1%. Cool for investors, although not so much for the federal deficit. But only geeks like me worry about the deficit.
Can businesses hold their current profit margins? My forecast
Further margin expansion is too much to hope for; I'll take all bets that business profit margins will be lower 10 years from now. But can we squeeze a few more years out of this Golden Age? I expect only a modest near-term erosion, based on these pros and cons:
Profit margin positives:
Managements will remain disciplined. Their personal rewards are too great to do otherwise. And private equity and activist firms ever more quickly swoop in on any backsliders. So don't expect an irrational surge in business capital spending or a drop-off in competition-draining mergers. For example, Bristol-Myers Squibb (BMY) and Celgene (CELG) just announced a $74 billion merger. (If they act fast, they can change the name of the merged entity to Big Pharma, Inc.)
The corporate tax rate is good for another two years. A Democratic Administration and Congress will almost certainly raise it, but that's at least two years away.
Profit margin negatives. Labor costs are at risk on three fronts:
The 3.9% unemployment rate. The number of unfilled jobs keeps growing, so companies are increasingly having to pay up to get the needed skilled and experienced labor.
Immigration restrictions. Less immigration means a smaller pool of labor that American companies can draw from. A simple fact, regardless of where you stand on The Wall (Was that a pun? Sorry).
Trade wars reduce the capacity of American companies to source product, and the labor that makes that product, from cheaper foreign sources. Again, a fact that is separate from one's political view.
Bottom line: Corporate profit are likely to hold up well enough not to derail the stock market
Net-net, U.S. company profit margins should get only modestly squeezed over the next few years. Sales growth and share buybacks should roughly offset the margin squeeze, leaving S&P 500 EPS roughly flat, give or take a few percentage points.
Disclosure: I/we have no positions in any stocks mentioned, and no plans to initiate any positions within the next 72 hours. I wrote this article myself, and it expresses my own opinions. I am not receiving compensation for it (other than from Seeking Alpha). I have no business relationship with any company whose stock is mentioned in this article.