Will the price of sugar turn around in 2019? That's the million dollar question commodity traders are asking right now. With sugar futures prices hitting a multi-year low in late 2018, the current futures price relative to sugar production levels and anticipated demand is quite attractive. For many traders, sugar represents a bargain too big to ignore. In this report, we'll discuss both the near-term and longer-term sugar outlook in light of the prevailing technical and fundamental backdrop. If my assessment is correct, we should see a meaningful increase in sugar prices in the coming months.
The sugar market has been plagued in recent years by heavy supply relative to demand. In the last two years, record global production levels relative to consumption have exerted a downward influence on prices and have pushed Sugar #11, the global benchmark contract for raw sugar trading, to levels not seen in years. The record world sugar production in 2017/2018 was partly attributable to higher output from top producer Brazil.
In response to this notable supply increase, Brazil and the EU are expected to reduce sugar output in the next couple of years. From a projected surplus of 4-5 million tons in the current 2018/2019 season, the sugar market could reverse to a deficit of 2 million tons by the 2019/2020 season, according to ADM Investor Services International.
Yet, despite the potential for a supply reduction, the sugar market will still likely face headwinds from the continuing trend of declining consumption in the U.S. and other developed countries. ADMSI forecasts global sugar demand at 1 to 1.5 percent annually, which is down from the historical average of around 2 percent per year.
On the domestic front, the outlook is a bit more promising. U.S. production for the marketing year 2018/2019 is predicted to be down 3 percent to 8.2 million tons, according to USDA statistics. Projected imports of 2.5 million tons are 14.5 percent lower based on projected quota programs and other factors.
Despite the mixed supply/demand projections for global sugar, few analysts foresee a major price recovery in sugar prices in the coming year. A combination of declining demand from health-conscious consumers in Western countries, plus a spillover of the over-supply from the last two years, is widely predicted to keep sugar prices from having a substantial rally in 2019. Some even predict lower sugar prices in the coming year, which given prevailing price levels, would almost imply deflationary conditions.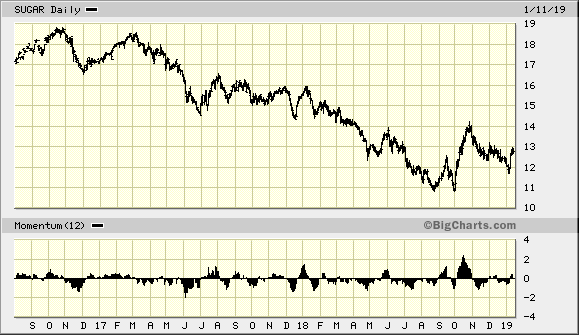 Source: BigCharts
But what if instead of deflation or continued low inflation, the coming 1-2 years witnesses a gradual pickup in inflationary pressures? Would sugar benefit from this? It should be noted that sugar has historically been faster than most commodities in reacting to rising inflation expectations. For this reason, sugar futures have served as an excellent inflation hedge for long-term-oriented investors.
One of the factors which strongly influence sugar prices is the Brazilian real currency (see chart below). As the world's largest producer of sugar, fluctuations in sugar prices have typically moved in line with the real's trend. A stronger real encourages sugarcane growers to hold off on selling their crop in order to avoid lower profits, while a weaker real stimulates sales among Brazil's sugar producers. Consequently, a falling real often sees hedge funds and large speculators initiating bearish bets against sugar.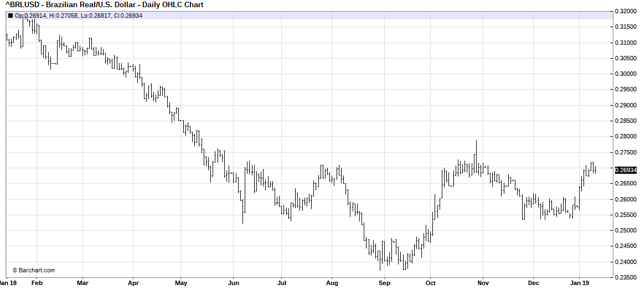 Source: BarChart
The turnaround attempt in the real currency since last bottoming last September has put the squeeze on short sellers in the sugar market. It has also caused many to speculate that perhaps Brazil's commodity-sensitive economy could be in for some improvement in 2019. A stronger economy would naturally reflect positively in Brazil's currency, which, in turn, would bode well for the country's sugar producers. Analysts with Fitch Ratings predict that Brazil's economy will expand 2.2% in 2019 and 2.7% in 2020. Admittedly, this is a small amount, but it's nonetheless a step in the right direction for an economy which has been plagued with major setbacks in recent years.
There is not only a correlation between the sugar price and the currencies of countries like Brazil but also the stock markets of many emerging countries. The sugar price can even be used as a leading indicator for the emerging market stocks in the aggregate. Over the last several years, leadership in the sugar price has preceded major turning points for the emerging markets. The following graph shows the most recent instance of this happening. After bottoming in August 2015, the sugar price commenced a sustained rally until peaking in October 2016. Sugar then continued declining through 2017 before bottoming in late 2018. Sugars reversal of fortunes in both instances anticipated the longer-term trend for the emerging markets.
Shown here is a graph comparing the Sugar #11 futures price with the iShares MSCI Emerging Markets ETF (EEM). Here you can see not only the correlation between sugar prices and the emerging markets but also the fact that sugar bottomed several weeks before EEM in late 2018. Note also the higher low in the sugar price between September '18 and January. This conspicuous example of relative price strength carries a potentially bullish implication for the emerging market stocks. If the historical leadership of sugar over the EEM is still intact, we should see some recovery in emerging market stocks over the next few months. More importantly, the prospect of economic recovery in the emerging markets in 2019 should boost the sugar price.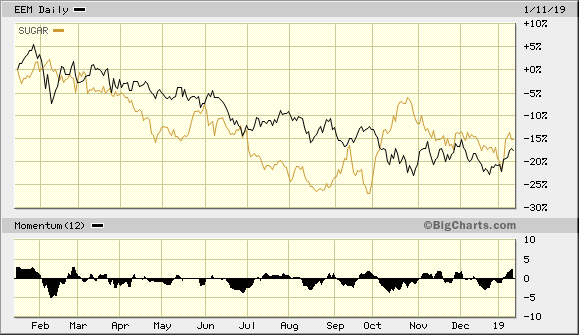 Source: BigCharts
There are enough factors in support of an intermediate-term (3-9 month) turnaround for the sugar price based on my assessment of the market. Moreover, if the overall natural resource market as reflected by the Thomson Reuters/CoreCommodity CRB Index (CRB) has in fact bottomed, sugar should get a lift from the residual strength in the commodities broad market. With the U.S. dollar index showing signs of weakening, commodities are overdue a strong technical rebound if nothing else. Sugar stands to benefit from both developments, and my expectation is for sugar prices to rise over the first half of 2019.
Disclosure: I/we have no positions in any stocks mentioned, but may initiate a long position in CANE over the next 72 hours. I wrote this article myself, and it expresses my own opinions. I am not receiving compensation for it (other than from Seeking Alpha). I have no business relationship with any company whose stock is mentioned in this article.