2019: Shift to Value?
While in the last 10 years ETF and Indexing (passive investing) have led to great returns, pessimism and recession can change the game.
When the stock market goes straight up the case is very compelling for passive investing. Instead when the market is choppy, (which means the next bear market is going to happen sooner, rather than later), the case for active management is very strong.
We noticed that the difference between cheap and expensive has widened significantly.
Value stocks have radically underperformed since the financial crisis, as investors have flooded into racier "growth" stocks. In 2019, it could happen a huge shift out of growth back to value investing.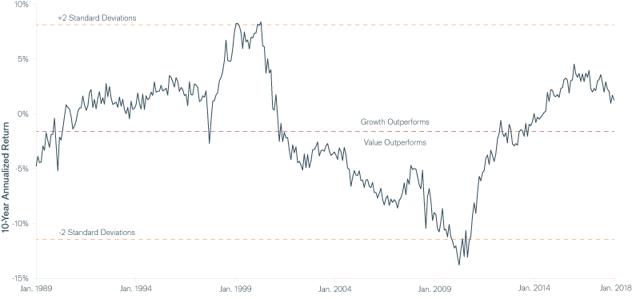 Exhibit 1: Growth vs Value - Source: Value Vs. Growth? How About Fundamental Research Bloomberg. Data as of 01/31/18.
Euclidean Technologies Management noticed that when overall market valuations come down, it appears that index investors would have generally realized poor returns.
During these pessimistic periods, however, they found better returns in the least expensive companies - low P/E (e.g., the 100% weighted EY portfolio)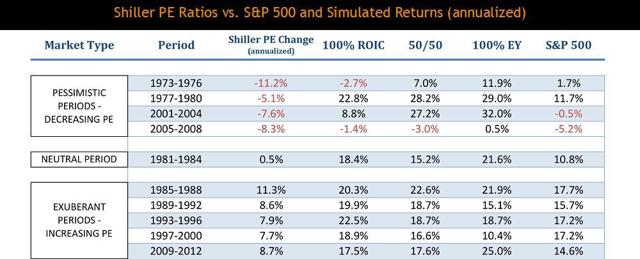 Exhibit 2: Shiller PE Ratio vs S&P500 - Source: Euclidean Technologies Management - What Happens When Valuations Decline
How to invest in Europe?
Since we believe passive investing will realize poor returns in the next years, how can an investor start investing in Europe in 2019?
We noticed that here at Seeking Alpha ("SA") (SKNG) there is not a lot of coverage for European companies. This doesn't help informed investors that have the time and skill to manage their own funds and want to invest part of their money in Europe.
For this reason, we decided to change the way we present our ideas through SA. Instead of posting one idea every few months, we want to give access to one of our European equal weight portfolio.
We'll discuss how to buy dozens or hundreds of stocks at a reasonable price. By posting one article per month we'll update with the new buy/sell as many other contributors do here at SA.
Our European Value Portfolio (NYSEMKT:EVP) has long and short exposures comprised of individual equity positions. The EVP intends to target a net exposure, which is the value of the long positions minus its short positions, of approximately 100%.
Long: 20 stocks
Short 10 stocks
The components of our long positions are:
Undervalued characteristic (low P/E, P/B, P/FCF, P/S, High Dividend Yield)

High-quality ratio (high ROIC, Gross Margin, Net Margin, FCF/asset)

Low debt
The components of our short positions are:
Overvalued characteristic (High P/E, P/B, P/FCF, P/S)

Low-quality ratio (Low ROIC, Gross Margin, Net Margin, FCF/asset)

High debt
The EVP is quarterly rebalancing only if fundamental data of components change or there is a more attractive stock.
While the quarterly rebalance can be expensive it is a better way to update our portfolio. This makes much easier to compare the portfolio with our benchmark: iShares Core MSCI Europe ETF.
EVP – January 2019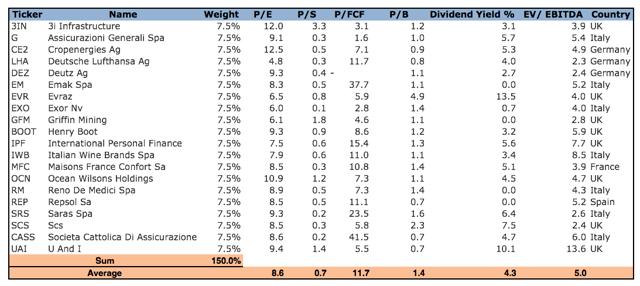 Exhibit 3: Long positions EVP portfolio – Source: Author data

Exhibit 4: Short positions EVP portfolio – Source: Author data
For a deep analysis of our holdings you can start reading below articles:
Crop Energies: Suedzucker: Look At Its Subsidiary
Deutsche Lufthansa: Consolidation Is Changing The Airline Industry
Others will follow in the next months.
Please check here the full table of EVP holding:
| | |
| --- | --- |
| Ticker | Name |
| | 3i Infrastructure |
| | Assicurazioni Generali Spa |
| CE2 | Cropenergies Ag |
| | Deutsche Lufthansa Ag |
| | Deutz Ag |
| EM | Emak Spa |
| | Evraz |
| | Exor Nv |
| GFM | Griffin Mining |
| BOOT | Henry Boot |
| | International Personal Finance |
| IWB | Italian Wine Brands Spa |
| MFC | Maisons France Confort Sa |
| | Ocean Wilsons Holdings |
| RM | Reno De Medici Spa |
| | Repsol Sa |
| | Saras Spa |
| SCS | Scs |
| | Societa Cattolica Di Assicurazione |
| UAI | U And I |
| HFG | Hellofresh Se |
| SXX | Sirius Minerals |
| KOOV | Koovs |
| J TWO | J2 Acquisition |
| ALCLS | Cellectis Sa |
| | Delivery Hero Se |
| PURP | Purplebricks |
| FCH | Funding Circle Holdings |
| | Hutchison China Meditech |
| GNFT | Genfit Sa |
Disclosure: I am/we are long EXXRF. I wrote this article myself, and it expresses my own opinions. I am not receiving compensation for it (other than from Seeking Alpha). I have no business relationship with any company whose stock is mentioned in this article.
Editor's Note: This article discusses one or more securities that do not trade on a major U.S. exchange. Please be aware of the risks associated with these stocks.