The Number
The most recent jobs report of 300k was an eye-opener, as was November's upward revision by over 50,000 jobs to 176,000. Nevertheless, the consensus outlook for the economy has seemed inordinately tied to the mood of the stock markets rather than economic data. Given that most of the underlying fundamentals of the economy remain sound, why the disconnect with stock movements?
It has been a long-held notion that the stock market is a good predictor of where the economy is headed. Repeatedly debunked, it still resides in the back of investors' minds. But clearly, the recent weakness in the stock market isn't a reflection of weak economic activity, even looking forward. It's more likely the by-product of a contractionary monetary policy that seeks to reverse the support that Quantitative Easing delivered to asset prices and the economy in the prior year.
The Conundrum
The sheer sizes of the December number and the November revision have important implications. Since it is still conventional wisdom that tighter labor markets lead to higher wages, which then leads to higher inflation (despite the absence of convincing evidence), we expect that the Fed will continue its efforts to tighten further either with more hikes, further shrinking its balance sheet holdings, or a combination of the two.
Continuation of contractionary monetary policy, or quantitative tightening, implies a repeat of the sequence where stock prices rally on economic activity (as in January and September), only to fall again (as in February and October) as money dries up.
So, Friday's good news might be its own undoing.
The S&P 500 has fallen each Fed rate hike this year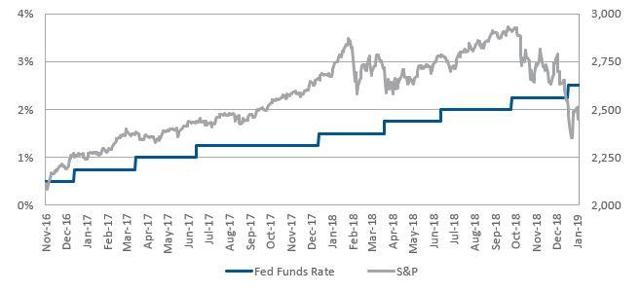 (Source: Bloomberg, accessed 1/4/19)
Fed Balance Sheet Reduction Process

(Source: Bloomberg, accessed 1/4/19)
Addendum
Speaking at the Economics Club in Washington, DC, last week, Chairman Powell reiterated his view that the US economy is strong, but that he has concerns about China and Europe. Additionally, he warned that a long government shutdown would eventually have a negative impact on the US economy.
But it was his contention that the Federal Reserve's balance sheet should be "substantially smaller' than it is now - essentially reiterating the Fed's quantitative tightening policy, that seemed to rattle the markets. Just after the comment, stocks turned lower, US Treasury yields inched downward, and oil prices dropped.1 While Powell did not provide any specifics regarding how much smaller that would be, he said that that he expected the balance sheet to be "smaller than it is now, but nowhere near where it was before."2 The market seems to be recognizing that the monetary contraction that would result from further shrinkage of the balance sheet would have a noticeably negative impact on economic growth and corporate profits.
Sources:
1 (BN) Stocks Fall During Powell Remarks on Balance Sheet: Markets
2 Powell says Fed's balance sheet will be 'substantially smaller,' indicating more tightening ahead, CNBC.com, published January 10, 2019
Editor's Note: The summary bullets for this article were chosen by Seeking Alpha editors.