Earnings season (Q4) started up Monday with Citigroup's (NYSE:C) report ahead of the open. As you can see below, though, this week is still a relatively slow one on the earnings front. Next week things start to really pick up with more than 50 reports scheduled on both Wednesday and Thursday, and then after that, there are multiple days in the following weeks where over 100 companies will report each day.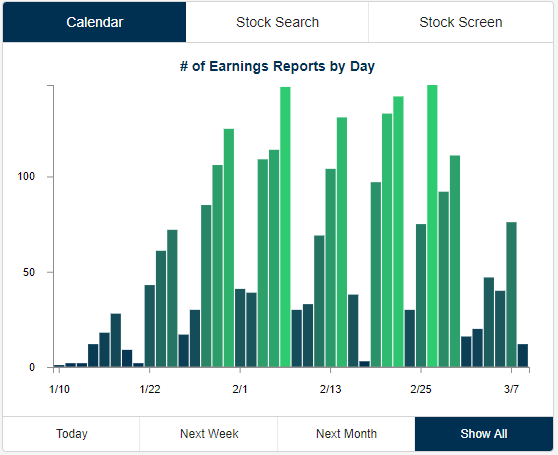 As we do at the start of each earnings season, below is our list of the most volatile stocks on earnings. These are the stocks that have historically experienced the biggest moves (on an absolute basis) on their earnings reaction days (the first trading day following a quarterly release).
The first list below only includes stocks from our Earnings Screener (available to Bespoke Institutional members) that have at least 10 years' worth of earnings reports (40 quarters or more). The names that made the list have all experienced an average one-day change of more than +/-10% on their earnings reaction days over a 10+ year period. That's big volatility!
Infinera (NASDAQ:INFN) ranks at the top of the list with an average move of +/-15% on its earnings reaction days. In second is Netflix (NASDAQ:NFLX) with an average one-day change of +/-13.12% on earnings. NFLX's earnings volatility is remarkable because it has by far the largest market cap ($145 billion) of any stock on the list. The next closest is Align Tech (NASDAQ:ALGN) with a market cap of just $15.7 billion.
Travelzoo (NASDAQ:TZOO), YRC Worldwide (NASDAQ:YRCW) and Town Sports International (NASDAQ:CLUB) rank 3rd through 5th, while other notables in the top 10 include iRobot (NASDAQ:IRBT), First Solar (NASDAQ:FSLR), and Nutrisystem (NASDAQ:NTRI). Other volatile earnings stocks that you might recognize include Stamps.com (NASDAQ:STMP), Crocs (NASDAQ:CROX), Weight Watchers (WTW), and Akamai Tech (NASDAQ:AKAM).
As you'll notice, most stocks on the list are from the Technology and Consumer Discretionary sectors. If you own or follow any of these names, buckle up for their upcoming earnings reports in the coming weeks!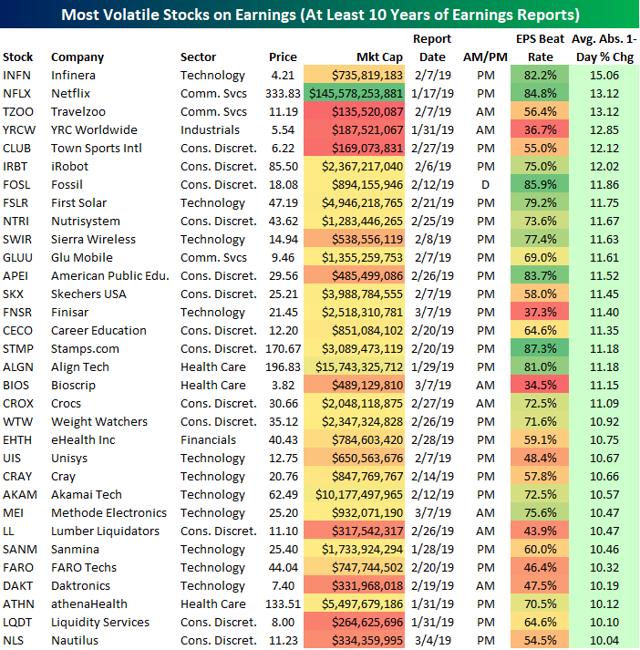 The list above only includes stocks that have at least 10 years of quarterly earnings data, but there are even more volatile stocks on earnings if we narrow the cut-off to just 2+ years of earnings reports. Below is a list of the most volatile stocks on earnings that currently trade for more than $10/share that have at least 8 quarters of earnings reports.
The Trade Desk (NASDAQ:TTD) ranks at the top of this list with an average one-day change of +/-18.78% on earnings. Impinj (NASDAQ:PI) ranks a close second with an average one-day change of +/-18.57%. Other notables on the list include LendingTree (NASDAQ:TREE), Twilio (NYSE:TWLO), Wayfair (NYSE:W), Twitter (NYSE:TWTR), Acacia (NASDAQ:ACIA), Tableau Software (NYSE:DATA), and Etsy (NASDAQ:ETSY).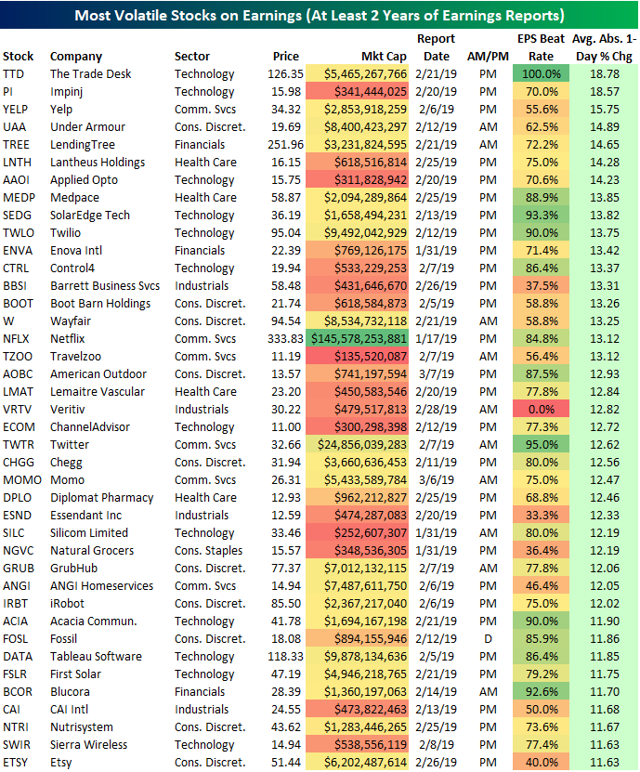 Editor's Note: The summary bullets for this article were chosen by Seeking Alpha editors.