There are dozens of ways to slice and dice the market and design a portfolio that tilts towards your favorite factor (value, growth, income, quality, etc).
The choices you make are linked to your overall investment goals. How much risk are you willing and able to take? Do you want to beat the market or match it? Do you want to minimize volatility or maximize growth? Is there a threshold income stream (yield) that you need to fund your lifestyle in retirement?
These are important questions for investors, and there are no easy answers. Ask 5 experts and you will get 5 different answers. How do you know which one is right for you? What follows is a review of various strategies that we track and how they performed during each of the last 10 years. The numbers are based on my own models, but what I don't show is the volatility of these numbers. That will come in a future article.
For now, review the track records and think about whether the strategy you are currently using is the right one for you.
Table 1. Annual returns of various investment strategies

The table above is sorted by the highest 10-year average return to the lowest. The "bogey" for these returns is the average return for the S&P 500 index, which I call "Buy & Hold." The only strategy that lagged Buy & Hold over the last ten years was Moving Average. This is a simple risk-reduction strategy that gets investors out of stocks when the one-month moving average drops below the ten-month moving average.
It's designed to reduce risk, and it does a very good job. But the cost to investors is mediocre-to-poor results relative to the broad market averages. This strategy has wide appeal to those who place safety of principal above all other considerations.
The best performer was Value, in spite of its dismal record over the past few years. It takes lots of courage to stick with a strategy like this when it is underperforming. But those who stuck it out were handsomely rewarded.
Table 2. The same data, but organized in a different way.
Chart 1. A visual display of the 10-year average of the above strategies.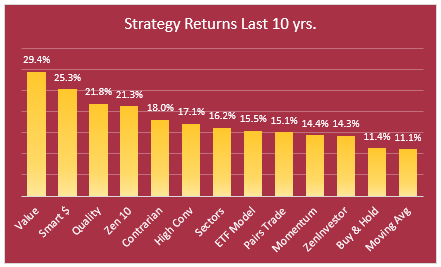 My observations
It would be easy to look at these numbers and come to the conclusion that the Value strategy is the best of the bunch. But that would be wrong. The Value strategy is the best performer for the past 10 years, but there is no assurance that it will continue to lead the pack.
If you noticed in Table 1, Value was down -21% last year. Ask yourself this question. Would you stick with a strategy that was down -21% in 12 months? You might say yes, but experience tells me that investors flee losing strategies in droves. It takes courage and conviction to stick with a long-term winning strategy when short-term results are bad.
As I said earlier, each of these strategies has its own characteristics, like volatility and Sharpe Ratio. You can't accurately judge the attractiveness of these strategies based on this article alone. You need to understand how volatile each of them are before making a commitment to them.
Editor's Note: The summary bullets for this article were chosen by Seeking Alpha editors.