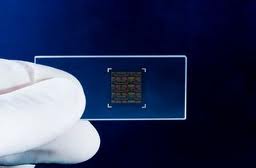 For as bad as it was last year in tech sector, investors have to be more than impressed with the rebound that the group has seen so far this year. Last year's poor sector performance was highly attributable to weakness in tech spending. Though there continues to be some early signs of a rebound in IT expenditures, it inspires little confidence that aside from a few companies, earnings from some of the sector's heavyweights have not moved the prices as high as most investors would like. That said, I am inclined to think that it is not reflective of any of the individual companies directly that have recently reported, but more of a consequence of a broader market concern - one that has reached (in my opinion) overbought territory.
After having more time to dissect some recent earnings results of various firms, it seems the concern centers more on the likelihood that operating margins have peaked for several of the top businesses in the U.S. If that is indeed the case, should investors continue to expect incremental improvement in this metric for many equities and thereby make investment decisions? Below, are five chip stocks that deserve consideration for their position in the continuing popularity of the smart phone and mobile devices market.
Broadcom (BRCM)
As the battle for chip supremacy continues, the question is, where does Broadcom rank among the other names such as Intel and Texas Instruments or even Qualcomm since it recently topped Wall Street estimates in its latest quarter? It earned an adjusted profit of 68 cents a share, on revenue of $1.82 billion. Analysts had expected 64 cents per share, on revenue of $1.81 billion, according to a consensus survey by FactSet Research. Its earnings as well as that of several of its competitors continue to affirm my view that semiconductors are ones to watch for the rest of 2012.
However, what makes Broadcom a standout from its peers is that it also generates revenue from another popular and highly profitable stream - routing and switching equipment, one where it competes with the likes of Cisco (NASDAQ:CSCO) and Hewlett Packard (NYSE:HPQ). So as great as the outlook appears for the coming year when discussing its growth potential in smart phones and devices chip technology, investors have to also be pleased in its overall business. All of that notwithstanding, during the conference call, the company issued a sales outlook for the current quarter that also topped what analysts had projected.
Intel (NASDAQ:INTC)
Chips are the wave of the future, and among the many names that I love to discuss there is the old reliable Intel - the firm that I envision rising above the rest. Investors should also feel encouraged by the fact that increased use of the Internet continues to drive demand for servers, where Intel processors are now the market leader. The company also is ready to launch one of the biggest marketing campaigns that it has endeavored since 2003 - one that will promote "ultrabooks," by Hewlett Packard - which are thin, light and powerful laptops that are not that far from Apple's popular MacBook Air. This is something that the company has always encouraged its PC partners to build, and it appears that they have finally obliged.
As much as Wall Street seems to be discounting Intel, it is hard for me to do the same. With a P/E of 11 and trading at $26 per share, the stock is relatively cheap and value investors should seize an opportunity at current levels. Although several threats remain, it is clear that the company is not yet ready to give up its reign as the top chip on the market. For this reason, I have set a $35 price target and feel that the company should be able to attain that mark by the end of this year.
Atmel (NASDAQ:ATML)
As with ARM, there is a case for a company such as Atmel for a lot of the same reasons. The company competes in a wide variety of different markets in the chip industry. The company's products include microcontrollers, programmable logic devices, and a wide range of proprietary system-on-chips and non-volatile memory chips. The company manufactured about 93% of its own chips in 2007. It sells its products into many different end markets, including communications, consumer electronics, computing as well as automotive.
Granted, as has been the case for most tech companies, it has had its own fundamental challenges at the onset of the recession. But not all companies succeed in self-improvement to the extent that Atmel has. This modest semiconductor company is a good example of the rewards that can accrue when patient shareholders and committed management intersect. From a fundamental standpoint, Atmel has outpaced its peers over the past several quarters. Its microcontroller business is healthy, and though I have pointed out the benefit of it being a part of Apple's ecosystem, it is worth noting that Atmel is also gaining share in the non-Apple gadget market, as well with its line of maXTouch controllers which basically run the touch-screen interfaces on several devices. Atmel is a buy.
ARM Holdings (NASDAQ:ARMH)
The very first name that I thought of was ARM Holdings. Not only has this once unknown company come out of nowhere to take a chunk out of Intel's market share, but it has also forged huge deals with Microsoft for use of its chip technology in the upcoming release of Windows 8. Furthermore, it is widely known that PCs are losing share while smart phones and tablets are becoming more ubiquitous in both the consumer and corporate environments.
So the question is, why not own a company that produces the technology being used by many smart phone and tablet manufacturers? It's really that simple, and ARM Holdings is now the clear cut answer, given that ARM already owns 75% of the mobile processing market that is only going to grow more in popularity.
Nvidia (NASDAQ:NVDA)
To its credit, Nvidia delivered a decent third quarter. In fact, I can say that it was a good quarter considering the fears that I had upon seeing the declines from the likes of Oracle that signaled weakness in technology spending - and to some extent, from Cisco as well. Both firms typically are used as a gauge for monitoring corporate spending habits. As with both ARM and Atmel, Nvidia stands to benefit immensely from Apple's success. The question is, can it make more ground in the tablet and smart phone market? This is the challenge that its management must address.
Nvidia still remains intriguing at this point. While the stock has indeed taken a significant beating for most of 2011, and has hovered near its 52-week low for quite some time, it may be prudent to wait one more quarter until all the dust settles before taking a position. But investors who have a high risk tolerance, and are willing to bet on its ability to secure the type of share required to generate growth from higher margins, may consider it at any point.