Out of curiosity, I have done some research on futures options and thought I would share some information with you. There are many different futures contracts and most have options that trade on these futures. Some markets are more liquid than others.
For option traders, liquidity is important when selecting an underlying asset to trade with. Liquidity keeps slippage down by keeping bid-ask spreads relatively tight and fair from competition between the crowd of traders interested. More important than getting a good price when you get into an option is the ability to get out, which also comes with liquidity.
Below is list of the top 20 futures contracts that trade options based on the volume traded on a single day: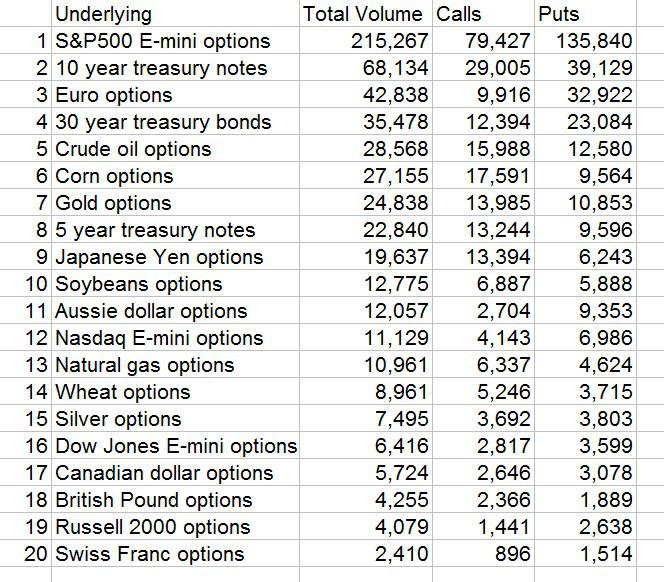 *List order subject to change based on market conditions
Notice how much more liquid the S&P 500 E-mini options are than the other index futures options. There are almost 20 times as many S&P options traded than Nasdaq options traded on this single day of observation. Dow Jones and Russell 2000 options trade even less.
In addition to finding the most liquid futures options, I was curious about the volume on S&P 500 E-mini options compared to S&P 500 ETF (NYSEARCA:SPY) options as well an S&P Index ($SPX) options. Below is the total option volume for a single day on the 3 S&P 500 products.

When looking at the different S&P 500 options volumes on the different products, keep in mind that they each have different values for each unit. The SPY options are the smallest and the SPX are the largest based on contract specifications and value per option.
This one I was already aware of, but I will share this observation on the Euro options as well. If you are not already aware, the Currency ETFs are still not extremely liquid as compared to Currency futures. The options on Euro futures and Euro ETF (NYSEARCA:FXE) options are below:

Keep in mind again that the value of each underlying is different. A single Euro futures contract option is about 12.5 times the size of an FXE option. Euro is the most liquid of the currency futures options and FXE is one of the most liquid currency ETFs. However, the currency futures options are deeper in size and liquidity than the currency ETFs, at least for now.
After looking at the list of options and how they rank in terms of option volume, it is good to see that there is a relatively high amount of option volume in the different commodities to allow diversification. Especially when volatility is low in one market as big as the stock market, it's important to have other choices to consider. Other than stocks, Bonds, Crude Oil, Currencies, Grains, and Metals are places to look for option trades. Although futures options on commodities bring more investment vehicles to choose from, I recognize the lack of diversification available in the markets when most markets are priced in dollars and inflation kicks in to seemingly push most assets higher or lower in deflation.
I hope the information shines some light for those who are curious about options on futures. If you are curious about comparing different markets to each other or have a question, feel free to comment.
Disclosure: I have no positions in any stocks mentioned, and no plans to initiate any positions within the next 72 hours.
Additional disclosure: Educational Purposes Only. Not a recommendation to buy or sell.